Lincoln City Libraries director Pat Leach is the current host of All About Books, a weekly book-review and discussion program on NET Radio (91.1 FM in the Lincoln area, and on various other stations across Nebraska) to discuss contemporary and classic literature.
Although it dates back over 40 years, in a variety of formats and venues, since 1991 All About Books has run on NET-Radio. For many years, Charles Stephen and Otis Young co-hosted, until Young's passing in 2009, after which Stephen was the lone host. Since August 2015, Pat Leach has served as host, with regular appearances by guest reviewers and interviews with regional authors. New episodes air every Thursday at 12:04 p.m. local time, following the NPR news.
The following is a listing of books discussed on episodes of All About Books during 2013. Episodes of All About Books are also available to be downloaded as audio Podcasts, via iTunes and various other web sources. All books owned by Lincoln City Libraries are hotlinked to their entries in our library catalog, so that you may check on their current availability. If you see a title on this list that is not hotlinked to our collection, please consider suggesting it as a purchase via our Suggest-a-Title online form, or ordering it through our Interlibrary Loan department.
Click here to visit the official NET: All About Books web site!
April 25, 2017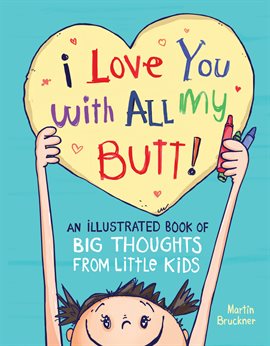 Title Discussed: I Love You With All My Butt
by Marty Bruckner (currently available only as a Hoopla eBook)
Additional Participants: Omaha author and artist Marty Bruckner — interview with the author
April 18, 2017
Title Discussed: I'm Thinking of Ending Things
by Iain Reid
April 11, 2017
Title Discussed: The Next Pandemic
by Dr. Ali Khan
Additional Participants: Dr. Ali Khan, Dean of the Department of Epidemiology at the University of Nebraska Medical Center — interview with the author
April 4, 2017
Title Discussed: Nebraska Poetry
by Eowyn Ivey
Additional Participants: Daniel Simon — editor of Nebraska Poetry: A Sesquicentennial Anthology
March 28, 2017
No Specific Title Discussed
Pat and UNL Professor of English Kenneth Price discuss how the University of Nebraska's Walt Whitman digital archives helped in a real-life detective story- the discovery of an unknown work by Whitman.
Additional Participants: Kenneth Price – UNL Professor of English
March 21, 2017
Title Discussed: To the Bright Edge of the World
by Eowyn Ivey
March 14, 2017
Title Discussed: Black Elk Speaks
by John G. Neihardt
Additional Participants: Amy Kucera – Executive Director of the John G. Neihardt Center
March 7, 2017
Title Discussed: Katharina and Martin Luther
by Michelle DeRusha
Additional Participants: Michelle DeRusha – interview with the author
February 28, 2017
Title Discussed: In the Darkroom
by Susan Faludi
February 21, 2017
Title Discussed: The Middle of Everywhere: The World's Refugees Come to Our Town
by Mary Pipher
Additional Participants: Mary Pipher – interview with the author
February 14, 2017
Title Discussed: You Will Know Mes
by Megan Abbott
Additional Participants: Cindy Lange-Kubick – guest reviewer
February 7, 2017
Title Discussed: Do Not Say We Have Nothing
by Madeleine Thien
January 31, 2017
Title Discussed: The Underground Railroad
by Colson Whitehead
Additional Participants: Scott Stansfield, Professor of English at Nebraska Wesleyan University
January 24. 2017
Title Discussed: If the Oceans Were Ink
by Carla Power
January 18, 2017
Title Discussed: Under the Harrow
by Flynn Berry
January 10, 2017
Title Discussed: Light of the World
by Elizabeth Alexander
January 4, 2017
Title Discussed: My Name is Lucy Barton
by Elizabeth Strout
Past Years: 2017 | 2016 | 2015 | 2014 | 2013 | 2012
This page last updated April 2017 sdc
Save
Save