Beginning in 1996, television talk-show host Oprah Winfrey launched a national book club featuring titles selected by Oprah personally. All the titles selected each achieved best-seller status following the announcements of their being picked. Oprah continued with her Oprah's Book Club designations until early 2002, announcing the end of the series with Toni Morrison's Sula, citing the difficulties in making the selections after so many good books as one of the primary reasons for ending the program. However, in 2003, she brought it back, this time focusing on older books that deserved another look. Her revamped Book Club selections, issued with somewhat less frequency, began again with John Steinbeck's East of Eden and continued to 2010, when it officially ended. [Visit the official Oprah's Book Club archive.] Oprah's Book Club 2.0 began officially in May 2012, and aims to bring together readers in a virtual setting, making use of social networking software. [You can read all about it at the official Oprah's Book Club 2.0 web page on the Oprah site.]
Oprah's Book Club 2.0 Selections – 2011 to present
2023 Selections
Hello Beautiful by Ann Napolitano (Napolitano)
William Waters grew up in a house silenced by tragedy, where his parents could hardly bear to look at him, much less love him — so when he meets the spirited and ambitious Julia Padavano in his freshman year of college, it's as if the world has lit up around him. With Julia comes her family, as she and her three sisters are inseparable: Sylvie, the family's dreamer, is happiest with her nose in a book; Cecelia is a free-spirited artist; and Emeline patiently takes care of them all. With the Padavanos, William experiences a newfound contentment; every moment in their house is filled with loving chaos.
But then darkness from William's past surfaces, jeopardizing not only Julia's carefully orchestrated plans for their future, but the sisters' unshakeable devotion to one another. The result is a catastrophic family rift that changes their lives for generations. Will the loyalty that once rooted them be strong enough to draw them back together when it matters most?
An exquisite homage to Louisa May Alcott's timeless classic, Little Women, Hello Beautiful is a profoundly moving portrait of what is possible when we choose to love someone not in spite of who they are, but because of it.
Bittersweet: How Sorrow and Longing Make Us Whole by Susan Cain (152.2 Cai)
With her mega-bestseller Quiet, Susan Cain urged our society to cultivate space for the undervalued, indispensable introverts among us, thereby revealing an untapped power hidden in plain sight. Now, she employs the same mix of research, storytelling, and memoir to explore why we experience sorrow and longing, and the surprising lessons these states of mind teach us about creativity, compassion, leadership, spirituality, mortality and love. Bittersweetness is a tendency to states of longing, poignancy, and sorrow; an acute awareness of passing time; and a curiously piercing joy when beholding beauty. It recognizes that light and dark, birth and death-bitter and sweet-are forever paired. A song in a minor key, an elegiac poem, or even a touching television commercial all can bring us to this sublime, even holy, state of mind-and, ultimately, to greater kinship with our fellow humans. But bittersweetness is not, as we tend to think, just a momentary feeling or event. It's also a way of being, a storied heritage. Our artistic and spiritual traditions–amplified by recent scientific and management research — teach us its power. Cain shows how a bittersweet state of mind is the quiet force that helps us transcend our personal and collective pain. If we don't acknowledge our own sorrows and longings, she says, we can end up inflicting them on others via abuse, domination, or neglect. But if we realize that all humans know–or will know–loss and suffering, we can turn toward each other. And we can learn to transform our own pain into creativity, transcendence, and connection. At a time of profound discord and personal anxiety, Bittersweet brings us together in deep and unexpected ways.
2022 Selections
Demon Copperhead by Barbara Kingsolver (Kingsolver)
Set in the mountains of southern Appalachia, this is the story of a boy born to a teenaged single mother in a single-wide trailer, with no assets beyond his dead father's good looks and copper-colored hair, a caustic wit, and a fierce talent for survival. In a plot that never pauses for breath, relayed in his own unsparing voice, he braves the modern perils of foster care, child labor, derelict schools, athletic success, addiction, disastrous loves, and crushing losses. Through all of it, he reckons with his own invisibility in a popular culture where even the superheroes have abandoned rural people in favor of cities. Many generations ago, Charles Dickens wrote David Copperfield from his experience as a survivor of institutional poverty and its damages to children in his society. Those problems have yet to be solved in ours. Dickens is not a prerequisite for readers of this novel, but he provided its inspiration. In transposing a Victorian epic novel to the contemporary American South, Barbara Kingsolver enlists Dickens' anger and compassion, and above all, his faith in the transformative powers of a good story. Demon Copperhead speaks for a new generation of lost boys, and all those born into beautiful, cursed places they can't imagine leaving behind.
That Bird Has My Wings: The Autobiography of an Innocent Man on Death Row by Jarvis Jay Masters (Biography Masters)
In 1990, while serving a sentence in San Quentin for armed robbery, Jarvis Masters was convicted of being an accessory in the murder of a prison guard. While in the "maximum security" section of Death Row Jarvis has written an astounding memoir that is a testament to the tenacity of the human spirit and the talent of a fine writer.
Nightcrawling by Leila Mottley (Mottley)
A dazzling, unforgettable novel about a young Black woman who walks the streets of Oakland and stumbles headlong into the failure of its justice system–a debut that announces a blazingly original voice. Kiara Johnson and her brother Marcus are barely scraping by in a squalid East Oakland apartment complex that calls itself, optimistically, the Royal-Hi. Both have dropped out of high school, their family fractured by death and prison. But while Marcus clings to his dream of rap stardom, Kiara hunts for work to pay their rent — which has now more than doubled–and to keep the 9-year-old boy next door, abandoned by his mother, safe and fed. What begins as a drunken misunderstanding with a stranger one night soon becomes the job Kiara never wanted but now desperately needs: nightcrawling. And her world breaks open even further when her name surfaces in an investigation that exposes her as a key witness in a massive scandal within the Oakland police department. Full of edge, raw beauty, electrifying intensity, and piercing vulnerability, Nightcrawling marks the stunning arrival of a voice unlike any we have heard before.
Finding Me by Viola Davis (Biography Davis)
This is Viola Davis' story, in her own words, and spans her incredible, inspiring life, from her coming-of-age in Rhode Island to her present day. Hers is a story of overcoming, a true hero's journey.
"In my book, you will meet a little girl named Viola who ran from her past until she made a life changing decision to stop running forever. This is my story, from a crumbling apartment in Central Falls, Rhode Island, to the stage in New York City, and beyond. This is the path I took to finding my purpose and my strength, but also to finding my voice in a world that didn't always see me. As I wrote Finding Me, my eyes were open to the truth of how our stories are often not given close examination. They are bogarted, reinvented to fit into a crazy, competitive, judgmental world. So I wrote this for anyone who is searching for a way to understand and overcome a complicated past, let go of shame, and find acceptance. For anyone who needs reminding that a life worth living can only be born from radical honesty and the courage to shed facades and be…you. Finding Me is a deep reflection on my past and a promise for my future. My hope is that my story will inspire you to light up your own life with creative expression and rediscover who you were before the world put a label on you."
The Way of Integrity: Finding the Path to Your True Self by Martha Beck (158.1 Bec)
As Martha Beck says in her book, "Integrity is the cure for psychological suffering. Period." In The Way of Integrity, Beck presents a four-stage process that anyone can use to find integrity, and with it, a sense of purpose, emotional healing, and a life free of mental suffering. Much of what plagues us–people pleasing, staying in stale relationships, negative habits–all point to what happens when we are out of touch with what truly makes us feel whole. Inspired by The Divine Comedy, Beck uses Dante's classic hero's journey as a framework to break down the process of attaining personal integrity into small, manageable steps. She shows how to read our internal signals that lead us towards our true path, and to recognize what we actually yearn for versus what our culture sells us. With techniques tested on hundreds of her clients, Beck brings her expertise as a social scientist, life coach and human being to help readers to uncover what integrity looks like in their own lives. She takes us on a spiritual adventure that not only will change the direction of our lives, but bring us to a place of genuine happiness.
2021 Selections
Bewilderment by Richard Powers
A heartrending new novel from the Pulitzer Prize-winning and #1 New York Times best-selling author of The Overstory. "Richard Powers, whose novels combine the wonders of science with the marvels of art, astonishes us in different ways with each new book." -Heller McAlpin, NPR Books. The astrobiologist Theo Byrne searches for life throughout the cosmos while single-handedly raising his unusual nine-year-old, Robin, following the death of his wife. Robin is a warm, kind boy who spends hours painting elaborate pictures of endangered animals. He's also about to be expelled from third grade for smashing his friend in the face. As his son grows more troubled, Theo hopes to keep him off psychoactive drugs. He learns of an experimental neurofeedback treatment to bolster Robin's emotional control, one that involves training the boy on the recorded patterns of his mother's brain. . . . With its soaring descriptions of the natural world, its tantalizing vision of life beyond, and its account of a father and son's ferocious love, Bewilderment marks Richard Powers's most intimate and moving novel. At its heart lies the question: How can we tell our children the truth about this beautiful, imperiled planet?
The Love Songs of W.E.B. DuBois by Honorée Fanonne Jeffers
The great scholar, W. E. B. Du Bois, once wrote about what he called "Double Consciousness," a sensitivity that every African American possesses in order to survive. From an early age, Ailey fights a battle for belonging that's made all the more difficult by a hovering trauma. To come to terms with her own identity, Ailey embarks on a journey through her family's past. In doing so Ailey must learn to embrace her full heritage, a legacy of oppression and resistance, bondage and independence, cruelty and resilience that is the story – and the song – of America itself.
The Sweetness of Water by Nathan Harris
In the waning days of the Civil War, brothers Prentiss and Landry, freed by the Emancipation Proclamation, seek refuge on the homestead of George Walker and his wife, Isabelle. The Walkers, wracked by the loss of their only son to the war, hire the brothers to work their farm, hoping through an unexpected friendship to stanch their grief. Prentiss and Landry, meanwhile, plan to save money for the journey north and a chance to reunite with their mother, who was sold away when they were boys. Parallel to their story runs a forbidden romance between two Confederate soldiers. The young men, recently returned from the war to the town of Old Ox, hold their trysts in the woods. But when their secret is discovered, the resulting chaos, including a murder, unleashes convulsive repercussions on the entire community. In the aftermath of so much turmoil, it is Isabelle who emerges as an unlikely leader, proffering a healing vision for the land and for the newly free citizens of Old Ox.
The Gilead Novels by Marilynne Robinson
From the Oprah's Book Club description: Oprah's latest Book Club pick is not one, but four books, by Marilynne Robinson. Together, this quartet is known as the Gilead novels: 2004's Gilead, 2008's Home, 2014's Lila, and 2020's Jack. "Marilynne Robinson is one of our greatest living authors," Oprah comments, "and in the Gilead novels she's written a quartet of masterpieces. The more closely I read them, the more I find to appreciate, and the more they show the way in seeing the beauty in the ordinary. I'm thrilled to share them all with you.
2020 Selections
Caste: The Origins of Our Discontents by Isabel Wilkerson (305.5 Wil)
"As we go about our daily lives, caste is the wordless usher in a darkened theater, flashlight cast down in the aisles, guiding us to our assigned seats for a performance. The hierarchy of caste is not about feelings or morality. It is about power–which groups have it and which do not." In this brilliant book, Isabel Wilkerson gives us a masterful portrait of an unseen phenomenon in America as she explores, through an immersive, deeply researched narrative and stories about real people, how America today and throughout its history has been shaped by a hidden caste system, a rigid hierarchy of human rankings. Beyond race, class, or other factors, there is a powerful caste system that influences people's lives and behavior and the nation's fate. Linking the caste systems of America, India, and Nazi Germany, Wilkerson explores eight pillars that underlie caste systems across civilizations, including divine will, bloodlines, stigma, and more. Using riveting stories about people–including Martin Luther King, Jr., baseball's Satchel Paige, a single father and his toddler son, Wilkerson herself, and many others–she shows the ways that the insidious undertow of caste is experienced every day. She documents how the Nazis studied the racial systems in America to plan their out-cast of the Jews; she discusses why the cruel logic of caste requires that there be a bottom rung for those in the middle to measure themselves against; she writes about the surprising health costs of caste, in depression and life expectancy, and the effects of this hierarchy on our culture and politics. Finally, she points forward to ways America can move beyond the artificial and destructive separations of human divisions, toward hope in our common humanity. Beautifully written, original, and revealing, Caste: The Origins of Our Discontents is an eye-opening story of people and history, and a reexamination of what lies under the surface of ordinary lives and of American life today.
Deacon King Kong by James McBride
From James McBride, author of the National Book Award-winning The Good Lord Bird, comes a wise and witty novel about what happens to the witnesses of a shooting. In September 1969, a fumbling, cranky old church deacon known as Sportcoat shuffles into the courtyard of the Cause Houses housing project in south Brooklyn, pulls a .45 from his pocket, and in front of everybody shoots the project's drug dealer at point-blank range. The reasons for this desperate burst of violence and the consequences that spring from it lie at the heart of Deacon King Kong, James McBride's funny, moving novel and his first since his National Book Award-winning The Good Lord Bird. In Deacon King Kong, McBride brings to vivid life the people affected by the shooting: the victim, the African-American and Latinx residents who witnessed it, the white neighbors, the local cops assigned to investigate, the members of the Five Ends Baptist Church where Sportcoat was deacon, the neighborhood's Italian mobsters, and Sportcoat himself. As the story deepens, it becomes clear that the lives of the characters–caught in the tumultuous swirl of 1960s New York–overlap in unexpected ways. When the truth does emerge, McBride shows us that not all secrets are meant to be hidden, that the best way to grow is to face change without fear, and that the seeds of love lie in hope and compassion. Bringing to these pages both his masterly storytelling skills and his abiding faith in humanity, James McBride has written a novel every bit as involving as The Good Lord Bird and as emotionally honest as The Color of Water. Told with insight and wit, Deacon King Kong demonstrates that love and faith live in all of us.
Hidden Valley Road: Inside the Mind of an American Family by Robert Kolker (616.898 Kol)
Don and Mimi Galvin seemed to be living the American dream. After World War II, Don's work with the Air Force brought them to Colorado, where their twelve children perfectly spanned the baby boom: the oldest born in 1945, the youngest in 1965. In those years, there was an established script for a family like the Galvins–aspiration, hard work, upward mobility, domestic harmony–and they worked hard to play their parts. But behind the scenes was a different story: psychological breakdown, sudden shocking violence, hidden abuse. By the mid-1970s, six of the ten Galvin boys, one after the other, were diagnosed as schizophrenic. How could all this happen to one family? What took place inside the house on Hidden Valley Road was so extraordinary that the Galvins became one of the first families to be studied by the National Institutes of Mental Health. Their story offers a shadow history of the science of schizophrenia, from the era of institutionalization, lobotomy, and the schizophrenogenic mother, to the search for genetic markers for the disease, always amidst profound disagreements about the nature of the illness itself. And unbeknownst to the Galvins, samples of their DNA informed decades of genetic research that continues today, offering paths to treatment, prediction, and even eradication of the disease for future generations. With clarity and compassion, bestselling and award-winning author Robert Kolker uncovers one family's unforgettable legacy of suffering, love and hope.
American Dirt by Jeannine Cummins [Oprah's support of this title was later rescinded due to a controversy]
Lydia Quixano Pérez lives in the Mexican city of Acapulco. She runs a bookstore. She has a son, Luca, the love of her life, and a wonderful husband who is a journalist. And while there are cracks beginning to show in Acapulco because of the drug cartels, her life is, by and large, fairly comfortable.
Even though she knows they'll never sell, Lydia stocks some of her all-time favorite books in her store. And then one day a man enters the shop to browse and comes up to the register with a few books he would like to buy–two of them her favorites. Javier is erudite. He is charming. And, unbeknownst to Lydia, he is the jefe of the newest drug cartel that has gruesomely taken over the city. When Lydia's husband's tell-all profile of Javier is published, none of their lives will ever be the same.
Forced to flee, Lydia and eight-year-old Luca soon find themselves miles and worlds away from their comfortable middle-class existence. Instantly transformed into migrants, Lydia and Luca ride la bestia–trains that make their way north toward the United States, which is the only place Javier's reach doesn't extend. As they join the countless people trying to reach el norte, Lydia soon sees that everyone is running from something. But what exactly are they running to?
American Dirt will leave readers utterly changed. It is a literary achievement filled with poignancy, drama, and humanity on every page. It is one of the most important books for our times.
Already being hailed as "a Grapes of Wrath for our times" and "a new American classic," Jeanine Cummins' American Dirt is a rare exploration into the inner hearts of people willing to sacrifice everything for a glimmer of hope."
2019 Selections
Olive, Again by Elizabeth Strout
Prickly, wry, resistant to change yet ruthlessly honest and deeply empathetic, Olive Kitteridge is "a compelling life force" (San Francisco Chronicle). The New Yorker has said that Elizabeth Strout "animates the ordinary with an astonishing force," and she has never done so more clearly than in these pages, where the iconic Olive struggles to understand not only herself and her own life but the lives of those around her in the town of Crosby, Maine. Whether with a teenager coming to terms with the loss of her father, a young woman about to give birth during a hilariously inopportune moment, a nurse who confesses a secret high school crush, or a lawyer who struggles with an inheritance she does not want to accept, the unforgettable Olive will continue to startle us, to move us, and to inspire us—in Strout's words—"to bear the burden of the mystery with as much grace as we can."
The Water Dancer by Ta-Nehisi Coates
Young Hiram Walker was born into bondage. When his mother was sold away, Hiram was robbed of all memory of her – but was gifted with a mysterious power. Years later, when Hiram almost drowns in a river, that same power saves his life. This brush with death births an urgency in Hiram and a daring scheme: to escape from the only home he's ever known.
So begins an unexpected journey that takes Hiram from the corrupt grandeur of Virginia's proud plantations to desperate guerrilla cells in the wilderness, from the coffin of the Deep South to dangerously idealistic movements in the North. Even as he's enlisted in the underground war between slavers and the enslaved, Hiram's resolve to rescue the family he left behind endures.
This is the dramatic story of an atrocity inflicted on generations of women, men, and children – the violent and capricious separation of families – and the war they waged to simply make lives with the people they loved. Written by one of today's most exciting thinkers and writers, The Water Dancer is a propulsive, transcendent work that restores the humanity of those from whom everything was stolen.
2018 Selections
Becoming by Michelle Obama
In a life filled with meaning and accomplishment, Michelle Obama has emerged as one of the most iconic and compelling women of our era. As First Lady of the United States of America—the first African American to serve in that role—she helped create the most welcoming and inclusive White House in history, while also establishing herself as a powerful advocate for women and girls in the U.S. and around the world, dramatically changing the ways that families pursue healthier and more active lives, and standing with her husband as he led America through some of its most harrowing moments. Along the way, she showed us a few dance moves, crushed Carpool Karaoke, and raised two down-to-earth daughters under an unforgiving media glare.
In her memoir, a work of deep reflection and mesmerizing storytelling, Michelle Obama invites readers into her world, chronicling the experiences that have shaped her—from her childhood on the South Side of Chicago to her years as an executive balancing the demands of motherhood and work, to her time spent at the world's most famous address. With unerring honesty and lively wit, she describes her triumphs and her disappointments, both public and private, telling her full story as she has lived it—in her own words and on her own terms. Warm, wise, and revelatory, Becoming is the deeply personal reckoning of a woman of soul and substance who has steadily defied expectations—and whose story inspires us to do the same.
The Sun Does Shine by Anthony Ray Hinton
In 1985, Anthony Ray Hinton was arrested and charged with two counts of capital murder in Alabama. Stunned, confused, and only twenty–nine years old, Hinton knew that it was a case of mistaken identity and believed that the truth would prove his innocence and ultimately set him free.
But with no money and a different system of justice for a poor black man in the South, Hinton was sentenced to death by electrocution. He spent his first three years on Death Row at Holman State Prison in agonizing silence―full of despair and anger toward all those who had sent an innocent man to his death. But as Hinton realized and accepted his fate, he resolved not only to survive, but find a way to live on Death Row. For the next twenty–seven years he was a beacon―transforming not only his own spirit, but those of his fellow inmates, fifty–four of whom were executed mere feet from his cell. With the help of civil rights attorney and bestselling author of Just Mercy, Bryan Stevenson, Hinton won his release in 2015.
With a foreword by Stevenson, The Sun Does Shine is an extraordinary testament to the power of hope sustained through the darkest times. Destined to be a classic memoir of wrongful imprisonment and freedom won, Hinton's memoir tells his dramatic thirty–year journey and shows how you can take away a man's freedom, but you can't take away his imagination, humor, or joy.
An American Marriage by Tayari Jones
Newlyweds Celestial and Roy are the embodiment of both the American Dream and the New South. He is a young executive, and she is an artist on the brink of an exciting career. But as they settle into the routine of their life together, they are ripped apart by circumstances neither could have imagined. Roy is arrested and sentenced to twelve years for a crime Celestial knows he didn't commit. Though fiercely independent, Celestial finds herself bereft and unmoored, taking comfort in Andre, her childhood friend, and best man at their wedding. As Roy's time in prison passes, she is unable to hold on to the love that has been her center. After five years, Roy's conviction is suddenly overturned, and he returns to Atlanta ready to resume their life together.
This stirring love story is a profoundly insightful look into the hearts and minds of three people who are at once bound and separated by forces beyond their control. An American Marriage is a masterpiece of storytelling, an intimate look deep into the souls of people who must reckon with the past while moving forward—with hope and pain—into the future.
2017 Selections
Behold the Dreamers by Imbolo Mbue
Jende Jonga, a Cameroonian immigrant living in Harlem, has come to the United States to provide a better life for himself, his wife, Neni, and their six-year-old son. In the fall of 2007, Jende can hardly believe his luck when he lands a job as a chauffeur for Clark Edwards, a senior executive at Lehman Brothers. Clark demands punctuality, discretion, and loyalty–and Jende is eager to please. Clark's wife, Cindy, even offers Neni temporary work at the Edwardses' summer home in the Hamptons. With these opportunities, Jende and Neni can at last gain a foothold in America and imagine a brighter future.
However, the world of great power and privilege conceals troubling secrets, and soon Jende and Neni notice cracks in their employers' fa#65533;ades.
When the financial world is rocked by the collapse of Lehman Brothers, the Jongas are desperate to keep Jende's job–even as their marriage threatens to fall apart. As all four lives are dramatically upended, Jende and Neni are forced to make an impossible choice.
2016 Selections
Love Warrior by Glennon Doyle Melton
Just when Glennon Doyle Melton was beginning to feel she had it all figured out – three happy children, a doting spouse, and a writing career so successful that her first book catapulted to the top of the New York Times bestseller list – her husband revealed his infidelity and she was forced to realize that nothing was as it seemed. A recovering alcoholic and bulimic, Glennon found that rock bottom was a familiar place. In the midst of crisis, she knew to hold on to what she discovered in recovery: that her deepest pain has always held within it an invitation to a richer life. Love Warrior is the story of one marriage, but it is also the story of the healing that is possible for any of us when we refuse to settle for good enough and begin to face pain and love head-on. This astonishing memoir reveals how our ideals of masculinity and femininity can make it impossible for a man and a woman to truly know one another – and it captures the beauty that unfolds when one couple commits to unlearning everything they've been taught so that they can finally, after thirteen years of marriage, commit to living true?true to themselves and to each other. Love Warrior is a gorgeous and inspiring account of how we are born to be warriors: strong, powerful, and brave; able to confront the pain and claim the love that exists for us all. This chronicle of a beautiful, brutal journey speaks to anyone who yearns for deeper, truer relationships and a more abundant, authentic life.
The Underground Railroad by Colson Whitehead
The Newest Oprah Book Club 2016 Selection – From prize-winning, bestselling author Colson Whitehead, a magnificent tour de force chronicling a young slave's adventures as she makes a desperate bid for freedom in the antebellum South. Cora is a slave on a cotton plantation in Georgia. Life is hell for all the slaves, but especially bad for Cora; an outcast even among her fellow Africans, she is coming into womanhood where even greater pain awaits. When Caesar, a recent arrival from Virginia, tells her about the Underground Railroad, they decide to take a terrifying risk and escape. Matters do not go as planned – Cora kills a young white boy who tries to capture her. Though they manage to find a station and head north, they are being hunted. In Whitehead's ingenious conception, the Underground Railroad is no mere metaphor – engineers and conductors operate a secret network of tracks and tunnels beneath the Southern soil. Cora and Caesar's first stop is South Carolina, in a city that initially seems like a haven. But the city's placid surface masks an insidious scheme designed for its black denizens. And even worse: Ridgeway, the relentless slave catcher, is close on their heels. Forced to flee again, Cora embarks on a harrowing flight, state by state, seeking true freedom. Like the protagonist of ;Gullivers Travels, Cora encounters different worlds at each stage of her journey – her's is an odyssey through time as well as space. As Whitehead brilliantly re-creates the unique terrors for black people in the pre-Civil War era, his narrative seamlessly weaves the saga of America from the brutal importation of Africans to the unfulfilled promises of the present day. The Underground Railroad is at once a kinetic adventure tale of one womans ferocious will to escape the horrors of bondage and a shattering, powerful meditation on the history we all share.
2015 Selection
Ruby by Cynthia Bond
Ephram Jennings has never forgotten the beautiful girl with the long braids running through the piney woods of Liberty, their small East Texas town. Young Ruby, "the kind of pretty it hurt to look at," has suffered beyond imagining, so as soon as she can, she flees suffocating Liberty for the bright pull of 1950s New York. Ruby quickly winds her way into the ripe center of the city–the darkened piano bars and hidden alleyways of the Village–all the while hoping for a glimpse of the red hair and green eyes of her mother. When a telegram from her cousin forces her to return home, thirty-year-old Ruby Bell finds herself reliving the devastating violence of her girlhood. With the terrifying realization that she might not be strong enough to fight her way back out again, Ruby struggles to survive her memories of the town's dark past. Meanwhile, Ephram must choose between loyalty to the sister who raised him and the chance for a life with the woman he has loved since he was a boy. Full of life, exquisitely written, and suffused with the pastoral beauty of the rural South, Ruby is a transcendent novel of passion and courage. This wondrous page-turner rushes through the red dust and gossip of Main Street, to the pit fire where men swill bootleg outside Bloom's Juke, to Celia Jennings's kitchen where a cake is being made, yolk by yolk, that Ephram will use to try to begin again with Ruby. Utterly transfixing, with unforgettable characters, riveting suspense, and breathtaking, luminous prose, Ruby offers an unflinching portrait of man's dark acts and the promise of the redemptive power of love.
2014 Selection
The Invention of Wings by Sue Monk Kidd
Writing at the height of her narrative and imaginative gifts, Sue Monk Kidd presents a masterpiece of hope, daring, the quest for freedom, and the desire to have a voice in the world—and it is now the newest Oprah's Book Club 2.0 selection. Hetty "Handful" Grimke, an urban slave in early nineteenth century Charleston, yearns for life beyond the suffocating walls that enclose her within the wealthy Grimke household. The Grimke's daughter, Sarah, has known from an early age she is meant to do something large in the world, but she is hemmed in by the limits imposed on women. Kidd's sweeping novel is set in motion on Sarah's eleventh birthday, when she is given ownership of ten year old Handful, who is to be her handmaid. We follow their remarkable journeys over the next thirty five years, as both strive for a life of their own, dramatically shaping each other's destinies and forming a complex relationship marked by guilt, defiance, estrangement and the uneasy ways of love. As the stories build to a riveting climax, Handful will endure loss and sorrow, finding courage and a sense of self in the process. Sarah will experience crushed hopes, betrayal, unrequited love, and ostracism before leaving Charleston to find her place alongside her fearless younger sister, Angelina, as one of the early pioneers in the abolition and women's rights movements. Inspired by the historical figure of Sarah Grimke, Kidd goes beyond the record to flesh out the rich interior lives of all of her characters, both real and invented, including Handful's cunning mother, Charlotte, who courts danger in her search for something better. This exquisitely written novel is a triumph of storytelling that looks with unswerving eyes at a devastating wound in American history, through women whose struggles for liberation, empowerment, and expression will leave no reader unmoved.
2012 Selections

The Twelve Tribes of Hattie by Ayana Mathis
The arrival of a major new voice in contemporary fiction. A debut of extraordinary distinction: Ayana Mathis tells the story of the children of the Great Migration through the trials of one unforgettable family. In 1923, fifteen-year-old Hattie Shepherd flees Georgia and settles in Philadelphia, hoping for a chance at a better life. Instead, she marries a man who will bring her nothing but disappointment and watches helplessly as her firstborn twins succumb to an illness a few pennies could have prevented. Hattie gives birth to nine more children whom she raises with grit and mettle and not an ounce of the tenderness they crave. She vows to prepare them for the calamitous difficulty they are sure to face in their later lives, to meet a world that will not love them, a world that will not be kind. Captured here in twelve luminous narrative threads, their lives tell the story of a mother's monumental courage and the journey of a nation. Beautiful and devastating, Ayana Mathis's The Twelve Tribes of Hattie is wondrous from first to last—glorious, harrowing, unexpectedly uplifting, and blazing with life. An emotionally transfixing page-turner, a searing portrait of striving in the face of insurmountable adversity, an indelible encounter with the resilience of the human spirit and the driving force of the American dream.
Wild: From Lost to Found on the Pacific Coast Trail by Cheryl Strayed
A powerful, blazingly honest memoir: the story of an eleven-hundred-mile solo hike that broke down a young woman reeling from catastrophe—and built her back up again. At twenty-two, Cheryl Strayed thought she had lost everything. In the wake of her mother's death, her family scattered and her own marriage was soon destroyed. Four years later, with nothing more to lose, she made the most impulsive decision of her life: to hike the Pacific Crest Trail from the Mojave Desert through California and Oregon to Washington State—and to do it alone. She had no experience as a long-distance hiker, and the trail was little more than "an idea, vague and outlandish and full of promise." But it was a promise of piecing back together a life that had come undone. Strayed faces down rattlesnakes and black bears, intense heat and record snowfalls, and both the beauty and loneliness of the trail. Told with great suspense and style, sparkling with warmth and humor, Wild vividly captures the terrors and pleasures of one young woman forging ahead against all odds on a journey that maddened, strengthened, and ultimately healed her.
Original Oprah's Book Club Selections [1996-2010]
2010 Selections
Great Expectations and A Tale of Two Cities by Charles Dickens
Two of Dickens' novels are republished. The first follows a group from the tranquil roads of London to the vengeful, bloodstained streets of Paris at the height of the Reign of Terror. The second follows the life of the orphaned Pip from the wild Kent marshes through a series of events as he abandons his humble origins to begin a new life as a gentleman.
Freedom by Jonathan Franzer
The idyllic lives of civic-minded environmentalists Patty and Walter Berglund come into question when their son moves in with aggressive Republican neighbors, green lawyer Walter takes a job in the coal industry, and go-getter Patty becomes increasingly unstable and enraged.
2009 Selections
Say You're One of Them by Uwem Akpan
This singular collection of five stories takes the reader inside Nigeria, Rwanda, Kenya, Gabon and Ethiopia, revealing in beautiful prose the harsh consequences for children of life in Africa.
2008 Selections
The Story of Edgar Sawtelle by David Wroblewski
A tale reminiscent of "Hamlet" that also celebrates the alliance between humans and dogs follows speech-disabled Wisconsin youth Edgar, who bonds with three yearling canines and struggles to prove that his sinister uncle is responsible for his father's death.
A New Earth: Awakening to Your Life's Purpose by Eckhart Tolle [204 Tol]
With his bestselling spiritual guide The Power of Now, Eckhart Tolle inspired millions of readers to discover the freedom and joy of a life lived "in the now." In A New Earth, Tolle expands on these powerful ideas to show how transcending our ego-based state of consciousness is not only essential to personal happiness, but also the key to ending conflict and suffering throughout the world. Tolle describes how our attachment to the ego creates the dysfunction that leads to anger, jealousy, and unhappiness, and shows readers how to awaken to a new state of consciousness and follow the path to a truly fulfilling existence. The Power of Now was a question-and-answer handbook. A New Earth has been written as a traditional narrative, offering anecdotes and philosophies in a way that is accessible to all. Illuminating, enlightening, and uplifting, A New Earth is a profoundly spiritual manifesto for a better way of life—and for building a better world.
2007 Selections
The Pillars of the Earth by Ken Follett
Ken Follett had long been a staple of the bestseller lists for his novels of intrigue and espionage. Then came The Pillars of the Earth, a grand novel of epic storytelling that readers and critics quickly hailed as his crowning achievement. Now, The Pillars of the Earth is available for the first time to a new audience of readers, in this attractive new trade paperback edition. In 12th-century England, the building of a mighty Gothic cathedral signals the dawn of a new age. This majestic creation will bond clergy and kings, knights and peasants together in a story of toil, faith, ambition and rivalry. A sweeping tale of the turbulent middle ages, The Pillars of the Earth is a masterpiece from one of the world's most popular authors.
Love in the Time of Cholera by Gabriel Garcia Marquez
In their youth, Florentino Ariza and Fermino Daza fall passionately in love. When Fermina eventually chooses to marry a wealthy, well-born doctor, Florentino is devastated, but he is a romantic. As he rises in his business career he whiles away the years in 622 affairs–yet he reserves his heart for Fermina. Her husband dies at last, and Florentino purposefully attends the funeral. Fifty years, nine months, and four days after he first declared his love for Fermina, he will do so again.
Middlesex by Jeffrey Eugenedies
A dazzling triumph from the bestselling author of The Virgin Suicides–the astonishing tale of a gene that passes down through three generations of a Greek-American family and flowers in the body of a teenage girl. In the spring of 1974, Calliope Stephanides, a student at a girls' school in Grosse Pointe, finds herself drawn to a chain-smoking, strawberry blond clasmate with a gift for acting. The passion that furtively develops between them–along with Callie's failure to develop–leads Callie to suspect that she is not like other girls. In fact, she is not really a girl at all. The explanation for this shocking state of affairs takes us out of suburbia- back before the Detroit race riots of 1967, before the rise of the Motor City and Prohibition, to 1922, when the Turks sacked Smyrna and Callie's grandparents fled for their lives. Back to a tiny village in Asia Minor where two lovers, and one rare genetic mutation, set in motion the metamorphosis that will turn Callie into a being both mythical and perfectly real: a hermaphrodite. Spanning eight decades–and one unusually awkward adolescence- Jeffrey Eugenides's long-awaited second novel is a grand, utterly original fable of crossed bloodlines, the intricacies of gender, and the deep, untidy promptings of desire. It marks the fulfillment of a huge talent, named one of America's best young novelists by both Granta and The New Yorker.
The Road by Cormac McCarthy
A searing, postapocalyptic novel destined to become Cormac McCarthy's masterpiece. A father and his son walk alone through burned America. Nothing moves in the ravaged landscape save the ash on the wind. It is cold enough to crack stones, and when the snow falls it is gray. The sky is dark. Their destination is the coast, although they don't know what, if anything, awaits them there. They have nothing; just a pistol to defend themselves against the lawless bands that stalk the road, the clothes they are wearting, a cart of scavenged food-and each other. The Road is the profoundly moving story of a journey. It boldly imagines a future in which no hope remains, but in which the father and his son, "each the other's world entire," are sustained by love. Awesome in the totality of its vision, it is an unflinching meditation on the worst and the best that we are capable of: ultimate destructiveness, desperate tenacity, and the tenderness that keeps two people alive in the face of total devastation.
The Measure of a Man: A Spiritual Autobiography by Sidney Poitier [791.432 Poi]
In this luminous memoir, a true American icon looks back on his celebrated life and career. His body of work is arguably the most morally significant in cinematic history, and the power and influence of that work are indicative of the character of the man behind the many storied roles. In "The Measure of a Man," Sidney Poitier explores these elements of character and personal values to take his own measure — as a man, as a husband and a father, and as an actor. He explores the nature of sacrifice and commitment, pride and humility, rage and forgiveness, and paying the price for artistic integrity. What emerges is a picture of a man seeking truth, passion, and balance in the face of limits — his own and the world's. A triumph of the spirit, "The Measure of a Man" captures the essential Poitier.
2006 Selections
Night by Elie Wiesel [362.29 Fre]
Night is one of the masterpieces of Holocaust literature. First published in 1960, it is the autobiographical account of an adolescent boy and his father in Auschwitz. Wiesel writes of their battle for survival, and of his battle with God for a way to understand the wanton cruelty he witnesses each day.
2005 Selections
A Million Little Pieces by James Frey [362.29 Fre]
Intense, unpredictable, and instantly engaging, this is a story of drug and alcohol abuse and rehabilitation as it has never been told before. Recounted in visceral, kinetic prose, and crafted with a forthrightness that rejects self-pity, it brings readers face-to-face with a provocative understanding of the nature of addiction and the meaning of recovery.
The Light in August by William Faulkner
Joe Christmas does not know whether he is black or white. Faulkner makes of Joe's tragedy a powerful indictment of racism; at the same time Joe's life is a study of the divided self and becomes a symbol of 20th century man.
The Sound and the Fury by William Faulkner
First published in 1929, Faulkner created his "heart's darling," the beautiful and tragic Caddy Compson, whose story Faulkner told through separate monologues by her three brothers–the idiot Benjy, the neurotic suicidal Quentin and the monstrous Jason.
As I Lay Dying by William Faulkner
At the heart of this 1930 novel is the Bundren family's bizarre journey to Jefferson to bury Addie, their wife and mother. Faulkner lets each family member–including Addie–and others along the way tell their private responses to Addie's life.
2004 Selections
The Good Earth by Pearl S. Buck
Though more than sixty years have passed since this remarkable novel won the Pulitzer Prize, it has retained its popularity and become one of the great modern classics. "I can only write what I know, and I know nothing but China, having always lived there", wrote Pearl Buck. In THE GOOD EARTH she presents a graphic view of a China when the last emperor reigned and the vast political and social upheavals of the twentieth century were but distant rumblings for the ordinary people. This moving, classic story of the honest farmer Wang Lung and his selfless wife O-lan is must reading for those who would fully appreciate the sweeping changes that have occurred in the lives of the Chinese people during this century. Nobel Prize winner PEARL S. BUCK traces the whole cycle of life: its terrors, its passions, its ambitions and rewards. Her brilliant novel — beloved by millions of readers — is a universal tale of the destiny of man.
Anna Karenina by Leo Tolstoy
A magnificent drama of vengeance, infidelity, and retribution, Anna Karenina portrays the moving story of people whose emotions conflict with the dominant social mores of their time. Sensual, rebellious Anna falls deeply and passionately in love with the handsome Count Vronsky. When she refuses to conduct the discreet affair that her cold, ambitious husband (and Russian high society) would condone, she is doomed. Set against the tragic love of Anna and Vronsky, the plight of the melancholy nobleman Konstantine Levin unfolds. In doubt about the meaning of life, haunted by thoughts of suicide, Levin's struggles echo Tolstoy's own spiritual crisis. But Anna's inner turmoil mirrors the own emotional imprisonment and mental disintegration of a woman who dares to transgress the strictures of a patriarchal world. In Anna Karenina Leo Tolstoy brought to perfection the novel of social realism and created a masterpiece that bared the Russian soul.
The Heart is a Lonely Hunter by Carson McCullers
With its profound sense of moral isolation and its compassionate glimpses into its characters' inner lives, the novel is considered McCullers' finest work, an enduring masterpiece first published by Houghton Mifflin in 1940.
One Hundred Years of Solitude by Gabriel Garcia Marquez
A classic of world literature for all time–and probably Marquez's most famous work. "The first piece of literature since the Book of Genesis that should be required reading for the entire human race . . . with more lucidity, wit, wisdom, and poetry than is expected from 100 years of novelists, let alone one man".–Washington Post Book World.
2003 Selections
Cry, the Beloved Country by Alan Paton
Paton's deeply moving story of Zulu pastor Stephen Kumalo and his son Absalom, set against the backdrop of a land and people riven by racial inequality and injustice, remains one of the most famous and important novels in South Africa's history.
East of Eden by John Steinbeck
This sprawling and often brutal novel, set in the rich farmlands of California's Salinas Valley, follows the intertwined destinies of two families–the Trasks and the Hamiltons–whose generations helplessly reenact the fall of Adam and Eve and the poisonous rivalry of Cain and Abel. "A strange and original work of art".–New York Times Book Review
2002 Selections
Sula by Toni Morrison
This rich and moving novel traces the lives of two black heroines–from their growing up together in a small Ohio town, through their sharply divergent paths of womanhood, to their ultimate confrontation and reconciliation.
Fall on Your Knees by Ann-Marie MacDonald
A bestseller in Canada, this riveting family saga takes readers from Cape Breton Island to the battlefields of World War I to New York City's jazz scene–and into the lives, and guilty secrets, of four remarkable sisters.
2001 Selections
A Fine Balance by Rohinton Mistry
With the compassionate realism of Dickens and a narrative sweep worthy of Balzac, this internationally acclaimed novel draws an unforgettable portrait of the cruelty and corruption, kindness and heroism of India. Set in 1975, A Fine Balance follows the destinies of four strangers who are forced to share a cramped apartment in an unnamed city by the sea.
The Corrections by Jonathan Franzen
A comic, tragic masterpiece of an American family breaking down in an age of easy fixes, Franzen's third novel brings an old-time America of freight trains and civic duty into wild collision with the era of home surveillance and New Economy speculation.
Cane River by Lalita Tademy
Based on the author's own search of her family's past, Cane River is an epic novel based on the lives of four generations of African-American women. Beginning with Tademy's great-great-great-great-grandmother, Elisabeth, this is a saga that sweeps from the early days of slavery through the Civil War and into a pre-Civil Rights South–a unique and moving slice of America's past that will resonate with readers for years to come. Photos throughout.
Stolen Lives: Twenty Years in a Desert Jail by Malika Oufkir
The adopted daughter of the king of Morocco, whose father was arrested and executed for a 1972 attempt to assassinate the king, tells the story of how she, her mother, and her five siblings endured years of imprisonment in a desert penal colony.
Icy Sparks by Gwyn Hyman Rubio
Written in the distinctive Southern tradition of such writers as Olive Ann Burns and Eudora Welty, this amazing first novel tells the sad, funny, transcendent story of a young girl growing up in Appalachia with Tourette's syndrome.
We Were the Mulvaneys by Joyce Carol Oates
This story spans 25 years in the life of one American family–its rise, fall, and ultimate redemption.
2000 Selections
House of Sand and Fog by Andre Dubus III
Drawn by their competing desires to the same small house in the California hills and doomed by their tragic inability to understand one another, three individuals converge in an explosive collision course: Colonel Behrani, a once-wealthy Iranian now a struggling immigrant desperate to restore his family's dignity; Kathy Nicolo, a troubled young woman trying to salvage all she has left in life and letting her mental stability slip away in the process; and Sheriff Lester Buron, a married man falling in love with Kathy, and becoming obsesses with her fight for justice.
Drowning Ruth by Christina Schwarz
Deftly written and emotionally powerful, Drowning Ruth is a stunning portrait of the ties that bind sisters together and the forces that tear them apart, of the dangers of keeping secrets and the explosive repercussions when they are exposed. A mesmerizing and achingly beautiful debut.
Open House by Elizabeth Berg
A woman recreates her life after divorce by opening her house to strangers–and her heart to the simple miracle of possibility–in this unforgettable, deeply felt story by the author of Talk Before Sleep and Range of Motion.
The Poisonwood Bible by Barbara Kingsolver
The family of a fierce evangelical Baptist missionary–Nathan Price, his wife, and his four daughters–begins to unravel after they embark on a 1959 mission to the Belgian Congo, where they find their lives transformed over the course of three decades.
While I Was Gone by Sue Miller
A decade after her phenomenal bestseller, The Good Mother, Miller delivers an exquisitely suspenseful novel about how casually a marriage can be destroyed and how a good wife can place all she holds dear at risk.
The Bluest Eye by Toni Morrison
The Bluest Eye, published in 1970, is the first novel written by Toni Morrison, winner of the 1993 Nobel Prize in Literature. It is the story of eleven-year-old Pecola Breedlove – a black girl in an America whose love for its blond, blue-eyed children can devastate all others – who prays for her eyes to turn blue: so that she will be beautiful, so that people will look at her, so that her world will be different. This is the story of the nightmare at the heart of her yearning and the tragedy of its fulfillment.
Back Roads by Tawni O'Dell
With his abusive father dead and his mother in jail, 19-year-old Harley Altmyer has given up on college to care for three needy younger sisters. Can he rise to the occasion? More important, will the sexy mom of his baby sister's best friend provide a much-needed tumble in the hay?
Daughter of Fortune by Isabel Allende
A dazzling new historical novel–a sweeping portrait of an unconventional Chilean woman who follows her lover to California during the Gold Rush in 1849.
Gap Creek by Robert Morgan
Gap Creek is the gripping story of one young woman's courage in the face of the hardships of 19th-century country life. In Julie Harmon, a woman of strength, grace and immeasurable courage, Robert Morgan has created one of the most admirable and unforgettable heroines in modern American literature.
1999 Selections
A Map of the World by Jane Hamilton
A vivid human drama of guilt and betrayal, A Map of the World chronicles the intricate geographies of the human heart and all its mysterious, uncharted terrain. The result is a piercing drama about family bonds and a disappearing rural American life.
Vinegar Hill by A. Manette Ansay
Dutifully accompanying her unemployed husband back to her in-law's cold and loveless house, Ellen Grier finds that she must struggle to keep her passionate spirit alive as she searches for the inner strength to endure an all-pervading darkness that threatens to destroy everything she is and everyone she loves.
River, Cross My Heart by Breena Clarke
Six-year-old Clara Bynum is dead, drowned in the Potomac River in the shadow of an apparently haunted rock outcropping known locally as the Three Sisters. In scenes alive with emotional truth, the story weighs the effect of Clara's absence on the people she has left behind: her parents; the family's friends and relatives in their Georgetown neighborhood; and, most especially, Clara's twelve-year-old sister Johnnie Mae, who must come to terms with her sister's death as she struggles to discover the kind of woman she will become.
Tara Road by Maeve Binchy
Binchy's most successful novel yet is the story of two women, one from Dublin, the other from England. For one fateful summer, they exchange houses and lives, discovering deep secrets about each other and themselves. "The Tara Road traveler can become drunk on Binchy's words in this unforgettable and intoxicating novel".–Philadelphia Inquirer.
Mother of Pearl by Melinda Haynes
Capturing all the rueful irony and racial ambiavalence of small-town Mississippi in the late 1950's, Melinda Haynes' celebrated novel is a wholly unforgettable exploration of family, identity, and redemption. Mother of Pearl revolves around twenty-eight-year-old Even Grade, a black man who grew up an orphan, and Valuable Korner, the fifteen-year-old white daughter of the town whore and an unknown father. Both are passionately determined to discover the precious things neither experienced as children: human connection, enduring commitment, and, above all, unconditional love.
White Oleander by Janet Fitch
Astrid's mother Ingrid is a beautiful poet with an overpowering personality, and she's quite mad. But Astrid adores her mother and the two are inseparable — until Ingrid murders her lover and is imprisoned for life. Suddenly Astrid enters foster care, where each home has a new set of realities. Tough, irrepressible, funny and warm, Astrid's determined search for an authentic sense of self and her place in the world makes her one of the most lovable and unforgettable characters in recent fiction.
The Pilot's Wife by Anita Shreve
When her husband, a pilot, dies in an airplane crash off the Irish coast, Kathryn Lyons finds herself in the media spotlight as rumors abound of her husband's shocking secret past.
The Reader by Bernhard Schlink
The former lover of a German attorney refuses to defend herself when she is accused of a hideous crime. The attorney gradually realizes that the woman may be guarding a secret she considers more shameful than murder.
Jewel by Bret Lott
Jewel is the story of how quickly a life can change; how an unforeseen event can set us on a course without reason or compass. In this story of a woman's devotion to the child who is both her burden and God's singular way of smiling on her, Bret Lott has created a mother-daughter relationship of matchless intensity and beauty, and one of the finest, most indomitable heroines in contemporary American fiction.
1998 Selections
Paradise by Toni Morrison
In this powerful work–extraordinary for its breathtaking drive, stylistic panache and enlivening moral gravitas–four young women are brutally attacked in a convent near an all-black town in America in the 1970s. Each of singular provenance, they together suggest the vicissitudes of the era–of the Civil Rights movement, the Vietnam War, the counter-culture, generational conflict. The inexorableness of the attack and efforts to avert it lie at the heart of Paradise.
Here on Earth by Alice Hoffman
A spellbinding tale of love and obsession. After nearly 20 years of living in California, March Murray and her daughter Gwen return to March's small Massachusetts hometown. Thrust into the world of her past, March slowly comes to realize the complexity of the choices made by those around her, including Hollis, the boy she loved–now the man she can't seem to stay away from.

Black and Blue by Anna Quindlen
From the author of One True Thing comes a stunning novel about a woman and her child on the run from the husband that loves her–and beats her. A heart-stopping story beautifully written with power, wisdom, and humor about the real lives of men and women, it is a remarkable work of fiction by the writer whom Alice Hoffman has called "a national treasure".
Breath, Eyes, Memory by Edwidge Danticat
An unforgettable novel that shimmers with the wonder and terror of its author's native Haiti. Set in the island's impoverished villages and in New York's Haitian community, this is the story of Sophie Caco, who was conceived in an act of violence, abandoned by her mother and then summoned to America. In New York, Sophie discovers that Haiti imposes harsh rules on its own.
I Know This Much is True by Wally Lamb
A contemporary retelling of an ancient Hindu myth, I Know This Much Is True begins as the nation limps toward the millennium, examining the past century of boom and bust and the ways in which history affects an individual family. A heartbreaking story and multigenerational saga of the bonds of destruction and the power of forgiveness, witnessed through the eyes of identical twin brothers.
What Looks Like Crazy on an Ordinary Day by Pearl Cleage
After more than a decade of living the high life, Ava Johnson returns to the sleepy little community in Northern Michigan where she grew up. But what Ava perceives as an end is only the beginning, because there is too much happening in her small hometown to ignore.
Midwives by Chris Bohjalian
On an icy winter night in an isolated house in rural Vermont, a seasoned midwife named Sibyl Danforth takes desperate measures to save a baby's life. She performs an emergency cesarean section on a mother she believes has died of a stroke. but what if Sibyl's patient wasn't dead – and Sibyl inadvertently killed her? As Sibyl faces the antagonism of the law, the hostility of traditional doctors, and the accusations of her own conscience, Midwives engages, moves, and transfixes us as only the very best novels ever do.
Where the Heart Is by Billie Letts
Talk about unlucky sevens. An hour ago, seventeen-year-old, seven months pregnant Novalee Nation was heading for California with her boyfriend. Now she finds herself stranded at a Wal-Mart in Sequoyah, Oklahoma, with just $7.77 in change. But Novalee is about to discover hidden treasures in this small Southwest town–a group of down-to-earth, deeply caring people willing to help a homeless, jobless girl living secretly in a Wal-Mart. From Bible-thumping blue-haired Sister Thelma Husband to eccentric librarian Forney Hull who loves Novalee more than she loves herself, they are about to take her–and you, too–on a moving, funny, and unforgettable journey.
1997 Selections
The Meanest Thing to Say, The Treasure Hunt, and The Best Way to Play by Bill Cosby
Three volumes in the Little Bill Books for Beginning Readers series were selected, dealing with subjects such as making friends without making fun of someone, the power of imagination, and the joy of storytelling.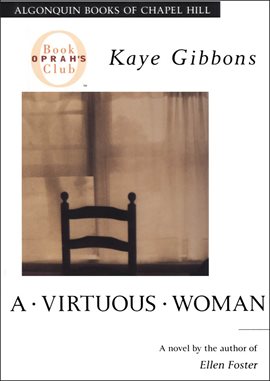 A Virtuous Woman by Kaye Gibbons
When Blinking Jack Stokes met Ruby Pitt Woodrow, she was twenty and he was forty. She was the carefully raised daughter of Carolina gentry and he was a skinny tenant farmer who had never owned anything in his life. She was newly widowed after a disastrous marriage to a brutal drifter. He had never asked a woman to do more than help him hitch a mule. They didn't fall in love so much as they simply found each other and held on for dear life. Gibbons creates a multilayered and indelibly convincing portrait of two seemingly ill-matched people who somehow miraculously make a marriage.
Ellen Foster by Kaye Gibbons
One of the most talked-about and endearing first novels in years bears the story of a female Huck Finn and her search for a true home. Having suffered abuse and misfortune for most of her life, a young girl searches for a better life and finally finds it in the home of a loving woman with several foster children.
A Lesson Before Dying by Ernest J. Gaines
Set in a small Cajun community in the late 1940s, A Lesson Before Dying is an enormously moving novel of one man condemned to die for a crime he did not commit and a young man who visits him in his cell. In the end, the two men forge a bond as they both come to understand the simple heroism of resisting–and defying–the expected.
Songs in Ordinary Time by Mary McGarry Morris
Mary McGarry Morris has been compared to both John Steinbeck and Carson McCullers. In this new novel–an ode to the American family, which in spite of turmoil and confusion refuses to be defeated–she weaves a tight and flawless tale that reveals the passionate and totally absorbing story of the Fermoyles and of life in the small town of Atkinson, Vermont, in the summer of 1960.
The Heart of a Woman by Maya Angelou
This engaging book chronicles the changes in Maya Angelou's life as she enters the hub of activity that is New York. There, at the Harlem Writers Guild, sherededicates herself to writing, and finds love at an unexpected moment. Reflecting on her many roles–from northern coordinator of Martin Luther King's history-making quest to mother of a rebellious teenage son–Angelou eloquently speaks to an awareness of the heart within us all.
The Rapture of Canaan by Shari Reynolds
A stunning story woven around the themes of innocence and miracles in everyday life. When the granddaughter of the founder of an isolated religious community in South Carolina is discovered to be pregnant, no amount of punishment will make her recant her statement that a holy child grows inside her.
Stones From the River by Ursula Hegi
A stunning novel about ordinary people living in extraordinary times–set in a small German town and spanning both world wars. Through the voice of the town's unofficial historian and conscience, Hegi explores the secrets, the actions, and lack of action that shapes the residents' fates.
She's Come Undone by Wally Lamb
In this extraordinary coming-of-age odyssey, readers will hitch a wild ride on a journey of love, pain, and renewal with one of the most heartbreakingly comical heroines to come along in years. Dolores Price is 13, wise-mouthed but wounded, having bid her childhood goodbye. Stranded in front of her bedroom TV, she spends the next few years nourishing herself with the Mallomars, potato chips, and Pepsi her anxious mother supplies. When she finally orbits into young womanhood at 257 pounds, Dolores is no stronger and life is no kinder. But this time she's determined to rise to the occasion and give herself one more chance before she really goes under.
1996 Selections
The Book of Ruth by Jane Hamilton
A standout in the crowd of first novels, Ruth narrates a story that confronts real-life issues of alienation and violence from which Hamilton creates a stunning testament to the human capacity for mercy, compassion, and love.
Song of Solomon by Toni Morrison
In Song of Solomon, Nobel Prize-winning author Toni Morrison creates a new way of rendering the contradictory nuances of black life in America. The novel's earthy, poetic language and striking use of folklore and myth helped establish Morrison as a major voice in contemporary fiction.
The Deep End of the Ocean by Jacquelyn Mitchard
A suspenseful and deeply moving novel that explores every mother's potential worst nightmare – the disappearance of a child. As a family struggles to endure the tragedy, against extraordinary odds, a story filled with compassion, humor and brilliant observations about the complexities of real life unfolds. This is a novel which will touch readers' hearts and have them celebrating the human emotions that bind us together.
last updated December 2019 sdc