The nationally-distributed magazine Real Simple started a book discussion club in late 2008, , emphasizing the "no obligation" angle by telling participants they could follow along with the magazine's editors on-line and contribute comments if they wished, or merely observe what other readers were saying about the book selections. The selection of titles is driven by group participants and a popular vote, with the winning selection each month having on-line reading guides and discussion forums posted for anyone to participate in. You can see the on-line resources for many of the following books if you go to the Real Simple No Obligation Book Club Web site (page no longer available).
2014 Selections
September
Big Little Lies by Liane Moriarty
A seemingly innocent annual school Trivia Night turns deadly when a riot leaves one parent dead and the school principal in shock as readers witness the horrors bred from broken families, ex-spouses, parenting, and politics.
July
Under the Wide and Starry Sky by Nancy Horan
In her masterful new novel, Nancy Horan has recreated a love story that is as unique, passionate, and overwhelmingly powerful as the one between Frank Lloyd Wright and Mamah Cheney depicted so memorably in Loving Frank. Under the Wide and Starry Sky chronicles the unconventional love affair of Scottish literary giant Robert Louis Stevenson, author of classics including Treasure Island and The Strange Case of Dr. Jekyll and Mr. Hyde, and American divorcee Fanny Van de Grift Osbourne. They meet in rural France in 1875, when Fanny, having run away from her philandering husband back in California, takes refuge there with her children. Stevenson too is escaping from his life, running from family pressure to become a lawyer. And so begins a turbulent love affair that will last two decades and span the world.
June
Rebecca by Daphne DuMaurier
"Last night I dreamt I went to Manderly again."
With these words, the reader is ushered into an isolated gray stone mansion on the windswept Cornish coast, as the second Mrs. Maxim de Winter recalls the chilling events that transpired as she began her new life as the young bride of a husband she barely knew. For in every corner of every room were phantoms of a time dead but not forgotten–a past devotedly preserved by the sinister housekeeper, Mrs. Danvers: a suite immaculate and untouched, clothing laid out and ready to be worn, but not by any of the great house's current occupants. With an eerie presentiment of evil tightening her heart, the second Mrs. de Winter walked in the shadow of her mysterious predecessor, determined to uncover the darkest secrets and shattering truths about Maxim's first wife–the late and hauntingly beautiful Rebecca.
May
Blame by Michelle Huneven
Patsy MacLemoore, a history professor in her late twenties with a brand-new Ph.D. from Berkeley and a wild streak, wakes up in jail–yet again–after another epic alcoholic blackout. However, this time two people are dead, and Patsy had been driving with a revoked license. She will spend the rest of her life in prison, getting sober, finding a new community and husband, and trying to atone for this unpardonable act. Then decades later, another unimaginable piece of information turns up.
April
The Liar's Club: A Memoir by Mary Karr
Wickedly funny and always movingly illuminating, thanks to kick-ass storytelling and a poet's ear." -Oprah.com The New York Times bestselling, hilarious tale of Mary Karr's hardscrabble Texas childhood that Oprah.com calls the best memoir of a generation. The Liars' Club took the world by storm and raised the art of the memoir to an entirely new level, bringing about a dramatic revival of the form. Karr's comic childhood in an east Texas oil town brings us characters as darkly hilarious as any of J. D. Salinger's-a hard-drinking daddy, a sister who can talk down the sheriff at age twelve, and an oft-married mother whose accumulated secrets threaten to destroy them all. This unsentimental and profoundly moving account of an apocalyptic childhood is as "funny, lively, and un-put-downable" (USA Today) today as it ever was.
March
The Fault in Our Stars by John Green
Despite the tumor-shrinking medical miracle that has bought her a few more years, Hazel has never been anything but terminal, her final chapter inscribed upon diagnosis, but when a gorgeous plot twist named Augustus Waters suddenly appears at the Cancer Kid Support Group, Hazel's story is about to be completely rewritten.
February
Embers by Sandor Marai
In a secluded woodland castle an old General prepares to receive a rare visitor, a man who was once his closest friend but who he has not seen in forty-one years. Over the ensuing hours host and guest will fight a duel of words and silences, accusations and evasions. They will exhume the memory of their friendship and that of the General's beautiful, long-dead wife. And they will return to the time the three of them last sat together following a hunt in the nearby forest–a hunt in which no game was taken but during which something was lost forever. Embers is a classic of modern European literature, a work whose poignant evocation of the past also seems like a prophetic glimpse into the moral abyss of the present.
January
Beautiful Ruins by Jess Walter
A novel that spans fifty years. The Italian housekeeper and his long-lost American starlet; the producer who once brought them together, and his assistant. A glittering world filled with unforgettable characters.
2013 Selections
December
The Partner Track by Helen Wan
Ingrid Yung's life is full of firsts. A first-generation Chinese American, the first lawyer in her family, she's about to collect the holy grail of "firsts" and become the first minority woman to make partner at the venerable old law firm Parsons Valentine & Hunt.
Ingrid has perfected the art of "passing" and seamlessly blends into the old-boy corporate culture. She gamely banters in the corporate cafeteria, plays in the firm softball league, and earnestly racks up her billable hours. But when an offensive incident at the summer outing threatens the firm's reputation, Ingrid's outsider status is suddenly thrown into sharp relief. Scrambling to do damage control, Parsons Valentine announces a new Diversity and Inclusion Initiative, commanding Ingrid to spearhead the effort. Only she's about to close an enormous transaction that was to be her final step in securing partnership.
For the first time, Ingrid must question her place in the firm. Pitted against her colleagues, including her golden-boy boyfriend, Ingrid begins to wonder whether the prestige of partnership is worth breaching her ethics. But can she risk throwing away the American dream that is finally within her reach?
November
Orange is the New Black by Piper Kerman
With a career, a boyfriend, and a loving family, Piper Kerman barely resembles the reckless young woman who delivered a suitcase of drug money ten years before. But that past has caught up with her. Convicted and sentenced to fifteen months at the infamous federal correctional facility in Danbury, Connecticut, the well-heeled Smith College alumna is now inmate #11187-424–one of the millions of people who disappear "down the rabbit hole" of the American penal system. From her first strip search to her final release, Kerman learns to navigate this strange world with its strictly enforced codes of behavior and arbitrary rules. She meets women from all walks of life, who surprise her with small tokens of generosity, hard words of wisdom, and simple acts of acceptance. Heartbreaking, hilarious, and at times enraging, Kerman's story offers a rare look into the lives of women in prison–why it is we lock so many away and what happens to them when they're there.
October
Visitation Street by Ivy Pochoda
It's summertime in Red Hook, Brooklyn, a blue-collar dockside neighborhood. June and Val, two fifteen-year-olds, take a raft out onto the bay at night to see what they can see. And then they disappear. Only Val will survive, washed ashore, semi-conscious in the weeds.
September
The Interestings by Meg Wolitzer
The summer that Nixon resigns, six teenagers at a summer camp for the arts become inseparable. Decades later the bond remains powerful, but so much else has changed. In The Interestings, Wolitzer follows these characters from the height of youth through middle age, as their talents, fortunes, and degrees of satisfaction diverge.The kind of creativity that is rewarded at age fifteen is not always enough to propel someone through life at age thirty; not everyone can sustain, in adulthood, what seemed so special in adolescence. Jules Jacobson, an aspiring comic actress, eventually resigns herself to a more practical occupation and lifestyle. Her friend Jonah, a gifted musician, stops playing the guitar and becomes an engineer. But Ethan and Ash, Jules' s now-married best friends, become shockingly successful— true to their initial artistic dreams, with the wealth and access that allow those dreams to keep expanding. The friendships endure and even prosper, but also underscore the differences in their fates, in what their talents have become and the shapes their lives have taken.Wide in scope, ambitious, and populated by complex characters who come together and apart in a changing New York City, The Interestings explores the meaning of talent; the nature of envy; the roles of class, art, money, and power; and how all of it can shift and tilt precipitously over the course of a friendship and a life.
August
The Silver Star by Jeannette Walls
Two motherless sisters–Bean and Liz–are shuttled to Virginia, where their Uncle Tinsley lives in the decaying mansion that's been in their family for generations. When school starts in the fall, Bean easily adjusts and makes friends, and Liz becomes increasingly withdrawn. Then something happens to Liz and Bean is left to challenge the injustice of the adult world.
July
Love Walked In by Marisa de los Santos
Thirty-one-year-old Cornelia Brown adores classic romantic films. Anything starring Jimmy Stewart or Cary Grant will do nicely, especially The Philadelphia Story. Unapologetically idealistic about love, Cornelia appears to catch the break of a lifetime when the dashing Martin Grace, her own personal Cary Grant, comes strolling into her life. But Cornelia's life truly changes one snowy day when she looks up to find troubled 11-year-old Clare Hobbes standing before her.
June
Wild by Cheryl Strayed
A powerful, blazingly honest memoir: the story of an eleven-hundred-mile solo hike that broke down a young woman reeling from catastrophe— and built her back up again. At twenty-two, Cheryl Strayed thought she had lost everything. In the wake of her mother's death, her family scattered and her own marriage was soon destroyed. Four years later, with nothing more to lose, she made the most impulsive decision of her life: to hike the Pacific Crest Trail from the Mojave Desert through California and Oregon to Washington State— and to do it alone. She had no experience as a long-distance hiker, and the trail was little more than " an idea, vague and outlandish and full of promise." But it was a promise of piecing back together a life that had come undone. Strayed faces down rattlesnakes and black bears, intense heat and record snowfalls, and both the beauty and loneliness of the trail. Told with great suspense and style, sparkling with warmth and humor, Wild vividly captures the terrors and pleasures of one young woman forging ahead against all odds on a journey that maddened, strengthened, and ultimately healed her.
May
The Burgess Boys by Elizabeth Strout
Haunted by the freak accident that killed their father when they were children, Jim and Bob Burgess escaped from their Maine hometown of Shirley Falls for New York City as soon as they possibly could. Jim, a sleek, successful corporate lawyer, has belittled his bighearted brother their whole lives, and Bob, a Legal Aid attorney who idolizes Jim, has always taken it in stride. But their long-standing dynamic is upended when their sister, Susan— the Burgess sibling who stayed behind— urgently calls them home. Her lonely teenage son, Zach, has gotten himself into a world of trouble, and Susan desperately needs their help. And so the Burgess brothers return to the landscape of their childhood, where the long-buried tensions that have shaped and shadowed their relationship begin to surface in unexpected ways that will change them forever.
April
What Alice Forgot by Liane Moriarty
Suffering an accident that causes her to forget the last ten years of her life, Alice is astonished to discover that she is thirty-nine years old, a mother of three children, and in the midst of an acrimonious divorce from a man she dearly loves.
March
Maine by J. Courtney Sullivan
Three generations of women converge on the family beach house in this wickedly funny, emotionally resonant story of love and dysfunction.
February
The End of Your Life Book Club by Will Schwalbe
That' s the question Will Schwalbe asks his mother, Mary Anne, as they sit in the waiting room of the Memorial Sloan-Kettering Cancer Center. In 2007, Mary Anne returned from a humanitarian trip to Pakistan and Afghanistan suffering from what her doctors believed was a rare type of hepatitis. Months later she was diagnosed with a form of advanced pancreatic cancer, which is almost always fatal, often in six months or less.This is the inspiring true story of a son and his mother, who start a " book club" that brings them together as her life comes to a close. Over the next two years, Will and Mary Anne carry on conversations that are both wide-ranging and deeply personal, prompted by an eclectic array of books and a shared passion for reading. Their list jumps from classic to popular, from poetry to mysteries, from fantastic to spiritual. The issues they discuss include questions of faith and courage as well as everyday topics such as expressing gratitude and learning to listen. Throughout, they are constantly reminded of the power of books to comfort us, astonish us, teach us, and tell us what we need to do with our lives and in the world. Reading isn' t the opposite of doing; it' s the opposite of dying.Will and Mary Anne share their hopes and concerns with each other— and rediscover their lives— through their favorite books. When they read, they aren' t a sick person and a well person, but a mother and a son taking a journey together. The result is a profoundly moving tale of loss that is also a joyful, and often humorous, celebration of life: Will' s love letter to his mother, and theirs to the printed page.
January
Where'd You Go Bernadette by Maria Semple
When her notorious, hilarious, volatile, talented, troubled, and agoraphobic mother goes missing, teenage Bee begins a trip that takes her to the ends of the earth to find her.
2012 Selections
December
Mr. Penumbra's 24-Hour Bookstore by Robin Sloan
After a layoff during the Great Recession sidelines his tech career, Clay Jannon takes a job at the titular bookstore in San Francisco, and soon realizes that the establishment is a facade for a strange secret.
November
The Awakening by Kate Chopin
Kate Chopin's riveting, daring story of one woman's search for personal freedom was so far ahead of its time that its publication in 1899 aroused a storm of controversy violent enough to end its author's career.  
With an effortless, sure-handed artistry, Chopin tells the story of Edna Pontellier, a young mother and model wife, whose romantic involvement with a young man during a vacation at a seaside resort allows her for the first time to imagine a new, freer life.  Upon her return to New Orleans, Edna leaves her husband's home for her own cottage and begins an affair, only to discover that the constraints of social custom may be more powerful than she thought.  Contemporary readers and reviewers were shocked by the frank, unapologetic treatment of adultery in The Awakening.  The fact that we have the book at all is the most convincing tribute to its enduring, irrepressible power.
October
In the Garden of Beasts by Erik Larson
The bestselling author of "Devil in the White City" turns his hand to a remarkable story set during Hitler's rise to power. The time is 1933, the place, Berlin, when William E. Dodd becomes America's first ambassador to Hitler's Germany in a year that proved to be a turning point in history..
September
The Light Between Oceans by M.L. Stedman
A novel set on a remote Australian island, where a childless couple live quietly running a lighthouse, until a boat carrying a baby washes ashore.
August
The History of Love by Nicole Krauss
A long-lost book reappears, mysteriously connecting an old man searching for his son, and a girl seeking a cure for her widowed mother's loneliness. Leo Gursky taps his radiator each evening to let his upstairs neighbor know he's still alive. But it wasn't always like this: in the Polish village of his youth, he fell in love and wrote a book… Sixty years later and half a world away, fourteen-year-old Alma, who was named after a character in that book, undertakes an adventure to find her namesake and save her family. With virtuosic skill, and soaring imaginative power, Nicole Krauss gradually draws these stories together toward a climax of "extraordinary depth and beauty."
July
Gone Girl by Gillian Flynn
Marriage can be a real killer. One of the most critically acclaimed suspense writers of our time, New York Times bestseller Gillian Flynn takes that statement to its darkest place in this unputdownable masterpiece about a marriage gone terribly, terribly wrong. The Chicago Tribune proclaimed that her work "draws you in and keeps you reading with the force of a pure but nasty addiction." Gone Girl's toxic mix of sharp-edged wit and deliciously chilling prose creates a nerve-fraying thriller that confounds you at every turn. On a warm summer morning in North Carthage, Missouri, it is Nick and Amy Dunne's fifth wedding anniversary. Presents are being wrapped and reservations are being made when Nick's clever and beautiful wife disappears from their rented McMansion on the Mississippi River. Husband-of-the-Year Nick isn't doing himself any favors with cringe-worthy daydreams about the slope and shape of his wife's head, but passages from Amy's diary reveal the alpha-girl perfectionist could have put anyone dangerously on edge. Under mounting pressure from the police and the media—as well as Amy's fiercely doting parents—the town golden boy parades an endless series of lies, deceits, and inappropriate behavior. Nick is oddly evasive, and he's definitely bitter—but is he really a killer? As the cops close in, every couple in town is soon wondering how well they know the one that they love. With his twin sister, Margo, at his side, Nick stands by his innocence. Trouble is, if Nick didn't do it, where is that beautiful wife? And what was in that silvery gift box hidden in the back of her bedroom closet? With her razor-sharp writing and trademark psychological insight, Gillian Flynn delivers a fast-paced, devilishly dark, and ingeniously plotted thriller that confirms her status as one of the hottest writers around.
June
I Totally Meant to Do That by Jane Borden
Jane Borden is a hybrid too horrifying to exist: a hipster-debutante. She was reared in a propert Southern home in Greensboro, North Carolina, sent to boarding school in Virginia, and then went on to join a sorority in Chapel Hill. She next moved to New York and discovered that none of this grooming meant a lick to anyone. In fact, she hid her upbringing for many years–it was easier than explaining what a debutante "does" (the short answer: not much). Anyone who has moved away from home or lived in (or dreamed of living in) New York will appreciate the hilarity of Jane's musings on the intersections of and altercations between Southern hospitality and Gotham cool.
May
The Night Circus by Erin Morgenstern
The circus arrives without warning. No announcements precede it. It is simply there, when yesterday it was not. Within the black-and-white striped canvas tents is an utterly unique experience full of breathtaking amazements. It is called Le Cirque des Rêves, and it is only open at night. But behind the scenes, a fierce competition is underway: a duel between two young magicians, Celia and Marco, who have been trained since childhood expressly for this purpose by their mercurial instructors. Unbeknownst to them both, this is a game in which only one can be left standing. Despite the high stakes, Celia and Marco soon tumble headfirst into love, setting off a domino effect of dangerous consequences, and leaving the lives of everyone, from the performers to the patrons, hanging in the balance.
April
Bossypants by Tina Fey
Before Liz Lemon, before "Weekend Update," before "Sarah Palin," Tina Fey was just a young girl with a dream: a recurring stress dream that she was being chased through a local airport by her middle-school gym teacher. She also had a dream that one day she would be a comedian on TV. She has seen both these dreams come true. At last, Tina Fey's story can be told. From her youthful days as a vicious nerd to her tour of duty on Saturday Night Live; from her passionately halfhearted pursuit of physical beauty to her life as a mother eating things off the floor; from her one-sided college romance to her nearly fatal honeymoon — from the beginning of this paragraph to this final sentence. Tina Fey reveals all, and proves what we've all suspected: you're no one until someone calls you bossy.
March
Cold Comfort Farm by Stella Gibbons
'We are not like other folk, maybe, but there have always been Starkadders at Cold Comfort Farm'. Sensible, sophisticated Flora Poste has been expensively educated to do everything but earn a living. When she is orphaned at twenty, she decides her only option is to descend on relatives – the doomed Starkadders at the aptly named Cold Comfort Farm. There is Judith in a scarlet shawl, heaving with remorse for an unspoken wickedness; raving old Ada Doom, who once saw something nasty in the woodshed; lustful Seth and despairing Reuben, Judith's two sons; and there is Amos, preaching fire and damnation to one and all. As the sukebind flowers, Flora takes each of the family in hand and brings order to their chaos. "Cold Comfort Farm" is a sharp and clever parody of the melodramatic and rural novel.
February
Rules of Civility by Amor Towles
This sophisticated and entertaining first novel presents the story of a young woman whose life is on the brink of transformation. On the last night of 1937, twenty-five-year-old Katey Kontent is in a second-rate Greenwich Village jazz bar when Tinker Grey, a handsome banker, happens to sit down at the neighboring table. This chance encounter and its startling consequences propel Katey on a year-long journey into the upper echelons of New York society—where she will have little to rely upon other than a bracing wit and her own brand of cool nerve. With its sparkling depiction of New York's social strata, its intricate imagery and themes, and its immensely appealing characters, Rules of Civility won the hearts of readers and critics alike.
January
Is Everyone Hanging Out Without Me? (And Other Concerns) by Mindy Kaling
Mindy Kaling has lived many lives: the obedient child of immigrant professionals, a timid chubster afraid of her own bike, a Ben Affleck–impersonating Off-Broadway performer and playwright, and, finally, a comedy writer and actress prone to starting fights with her friends and coworkers with the sentence "Can I just say one last thing about this, and then I swear I'll shut up about it?" Perhaps you want to know what Mindy thinks makes a great best friend (someone who will fill your prescription in the middle of the night), or what makes a great guy (one who is aware of all elderly people in any room at any time and acts accordingly), or what is the perfect amount of fame (so famous you can never get convicted of murder in a court of law), or how to maintain a trim figure (you will not find that information in these pages). If so, you've come to the right book, mostly! In Is Everyone Hanging Out Without Me?, Mindy invites readers on a tour of her life and her unscientific observations on romance, friendship, and Hollywood, with several conveniently placed stopping points for you to run errands and make phone calls. Mindy Kaling really is just a Girl Next Door—not so much literally anywhere in the continental United States, but definitely if you live in India or Sri Lanka.
2011 Selections
December
A Tree Grows in Brooklyn by Betty Smith
The beloved American classic about a young girl's coming-of-age at the turn of the century, Betty Smith's A Tree Grows in Brooklyn is a poignant and moving tale filled with compassion and cruelty, laughter and heartache, crowded with life and people and incident. The story of young, sensitive, and idealistic Francie Nolan and her bittersweet formative years in the slums of Williamsburg has enchanted and inspired millions of readers for more than sixty years. By turns overwhelming, sublime, heartbreaking, and uplifting, the daily experiences of the unforgettable Nolans are raw with honesty and tenderly threaded with family connectedness — in a work of literary art that brilliantly captures a unique time and place as well as incredibly rich moments of universal experience.
November
The Heights by Peter Hedges
Tim and Kate Welch are seemingly the last middle- class family in the exclusive neighborhood of Brooklyn Heights, NewYork. Tim is a popular history teacher, and an ordinary guy. Kate is not ordinary, but she aspires to be. Brought up by a hippie mother, Kate stays home with their two young sons trying to be the responsible parent she never had. But their neat and tidy world is turned upside down when Anna Brody- beautiful, wealthy, and impulsive-moves into the most expensive brownstone in Brooklyn, and draws Kate and Tim into her world.
October
The Imperfectionists by Tom Rachman
One of most acclaimed books of the year, Tom Rachman's debut novel follows the topsy-turvy private lives of the reporters and editors of an English-language newspaper in Rome.
September
Unbroken: A World War II Story of Survival, Resilience and Redemption by Laura Hillenbrand
On a May afternoon in 1943, an Army Air Forces bomber crashed into the Pacific Ocean and disappeared, leaving only a spray of debris and a slick of oil, gasoline, and blood. Then, on the ocean surface, a face appeared. It was that of a young lieutenant, the plane's bombardier, who was struggling to a life raft and pulling himself aboard. So began one of the most extraordinary odysseys of the Second World War. The lieutenant's name was Louis Zamperini. In boyhood, he'd been a cunning and incorrigible delinquent, breaking into houses, brawling, and fleeing his home to ride the rails. As a teenager, he had channeled his defiance into running, discovering a prodigious talent that had carried him to the Berlin Olympics and within sight of the four-minute mile. But when war had come, the athlete had become an airman, embarking on a journey that led to his doomed flight, a tiny raft, and a drift into the unknown. Ahead of Zamperini lay thousands of miles of open ocean, leaping sharks, a foundering raft, thirst and starvation, enemy aircraft, and, beyond, a trial even greater. Driven to the limits of endurance, Zamperini would answer desperation with ingenuity; suffering with hope, resolve, and humor; brutality with rebellion. His fate, whether triumph or tragedy, would be suspended on the fraying wire of his will. In her long-awaited new book, Laura Hillenbrand writes with the same rich and vivid narrative voice she displayed in Seabiscuit. Telling an unforgettable story of a man's journey into extremity, Unbroken is a testament to the resilience of the human mind, body, and spirit.
August
The Paris Wife by Paula McLain
A deeply evocative story of ambition and betrayal, The Paris Wife captures the love affair between two unforgettable people: Ernest Hemingway and his wife Hadley. Chicago, 1920: Hadley Richardson is a quiet twenty-eight-year-old who has all but given up on love and happiness—until she meets Ernest Hemingway. Following a whirlwind courtship and wedding, the pair set sail for Paris, where they become the golden couple in a lively and volatile group—the fabled "Lost Generation"—that includes Gertrude Stein, Ezra Pound, and F. Scott Fitzgerald. Though deeply in love, the Hemingways are ill prepared for the hard-drinking, fast-living, and free-loving life of Jazz Age Paris. As Ernest struggles to find the voice that will earn him a place in history and pours himself into the novel that will become The Sun Also Rises, Hadley strives to hold on to her sense of self as her roles as wife, friend, and muse become more challenging. Eventually they find themselves facing the ultimate crisis of their marriage—a deception that will lead to the unraveling of everything they've fought so hard for. A heartbreaking portrayal of love and torn loyalty, The Paris Wife is all the more poignant because we know that, in the end, Hemingway wrote that he would rather have died than fallen in love with anyone but Hadley.
July
The Space Between Us by Thrity Umrigar
Poignant, evocative, and unforgettable, The Space Between Us is an intimate portrait of a distant yet familiar world. Set in modern-day India, it is the story of two compelling and achingly real women: Sera Dubash, an upper-middle-class Parsi housewife whose opulent surroundings hide the shame and disappointment of her abusive marriage, and Bhima, a stoic illiterate hardened by a life of despair and loss, who has worked in the Dubash household for more than twenty years. A powerful and perceptive literary masterwork, author Thrity Umrigar's extraordinary novel demonstrates how the lives of the rich and poor are intrinsically connected yet vastly removed from each other, and how the strong bonds of womanhood are eternally opposed by the divisions of class and culture.
June
Talking to Girls About Duran Duran by Rob Sheffield
Growing up in the eighties, you were surrounded by mysteries. These were the years of MTV and John Hughes movies, the era of big dreams and bigger shoulder pads. Like any teenage geek, Rob Sheffield spent the decade searching for true love and maybe a cooler haircut. Talking to Girls About Duran Duran is his tale of stumbling into adulthood with a killer soundtrack. Inept flirtations. Dumb crushes. Deplorable fashion choices. Girls, every last one of whom was madly in love with the bassist of Duran Duran. In his first book, the national bestseller Love Is a Mix Tape, Sheffield shared a heartbreaking true story of love and grief. With Talking to Girls About Duran Duran, he returns with a smart, funny, and emotionally pitch-perfect trip through the music and memories of the eighties. As a confused teenager stranded in the suburbs, mowing lawns, and playing video games, Rob had a lot to learn about women, love, music, and himself. But he was sure his radio had all the answers, whether he was driving an ice cream truck through Boston to "Purple Rain," slam dancing to The Replacements, or pondering the implications of Madonna lyrics. From Bowie to Bobby Brown, from hair metal to hip-hop, he loved them all. Talking to Girls About Duran Duran is a journey through pop culture of an American adolescence that will remind you of your first crush, first car, and first kiss. But it's not just a book about music. This is a book about moments in time, and the way we obsess over them through the years. Every song is a snapshot of a moment that helps form the rest of your life. Whenever you grew up, and whatever your teenage obsessions, Talking to Girls About Duran Duran brings those moments to life.
May
The Prime of Miss Jean Brodie by Muriel Sparks
At the staid Marcia Blaine School for Girls, in Edinburgh, Scotland, teacher extraordinaire Miss Jean Brodie is unmistakably, and outspokenly, in her prime. She is passionate in the application of her unorthodox teaching methods, in her attraction to the married art master, Teddy Lloyd, in her affair with the bachelor music master, Gordon Lowther, and—most important—in her dedication to "her girls," the students she selects to be her crème de la crème. Fanatically devoted, each member of the Brodie set—Eunice, Jenny, Mary, Monica, Rose, and Sandy—is "famous for something," and Miss Brodie strives to bring out the best in each one. Determined to instill in them independence, passion, and ambition, Miss Brodie advises her girls, "Safety does not come first. Goodness, Truth, and Beauty come first. Follow me." And they do. But one of them will betray her.
April
The Immortal Life of Henrietta Lacks by Rebecca Skloot
Her name was Henrietta Lacks, but scientists know her as HeLa. She was a poor Southern tobacco farmer who worked the same land as her slave ancestors, yet her cells—taken without her knowledge—became one of the most important tools in medicine. The first "immortal" human cells grown in culture, they are still alive today, though she has been dead for more than sixty years. If you could pile all HeLa cells ever grown onto a scale, they'd weigh more than 50 million metric tons—as much as a hundred Empire State Buildings. HeLa cells were vital for developing the polio vaccine; uncovered secrets of cancer, viruses, and the atom bomb's effects; helped lead to important advances like in vitro fertilization, cloning, and gene mapping; and have been bought and sold by the billions. Yet Henrietta Lacks remains virtually unknown, buried in an unmarked grave. Now Rebecca Skloot takes us on an extraordinary journey, from the "colored" ward of Johns Hopkins Hospital in the 1950s to stark white laboratories with freezers full of HeLa cells; from Henrietta's small, dying hometown of Clover, Virginia—a land of wooden slave quarters, faith healings, and voodoo—to East Baltimore today, where her children and grandchildren live and struggle with the legacy of her cells.
March
Room: A Novel by Emma Donoghue
To five-year-old-Jack, Room is the world. . . . It's where he was born, it's where he and his Ma eat and sleep and play and learn. At night, his Ma shuts him safely in the wardrobe, where he is meant to be asleep when Old Nick visits. Room is home to Jack, but to Ma it's the prison where she has been held for seven years. Through her fierce love for her son, she has created a life for him in this eleven-by-eleven-foot space. But with Jack's curiosity building alongside her own desperation, she knows that Room cannot contain either much longer. Room is a tale at once shocking, riveting, exhilarating–a story of unconquerable love in harrowing circumstances, and of the diamond-hard bond between a mother and her child.
February
Half Broke Horses by Jeannette Walls
"Those old cows knew trouble was coming before we did." So begins the story of Lily Casey Smith, Jeannette Walls's no-nonsense, resourceful, and spectacularly compelling grandmother. By age six, Lily was helping her father break horses. At fifteen, she left home to teach in a frontier town—riding five hundred miles on her pony, alone, to get to her job. She learned to drive a car and fly a plane. And, with her husband, Jim, she ran a vast ranch in Arizona. She raised two children, one of whom is Jeannette's memorable mother, Rosemary Smith Walls, unforgettably portrayed in The Glass Castle. Lily survived tornadoes, droughts, floods, the Great Depression, and the most heartbreaking personal tragedy. She bristled at prejudice of all kinds—against women, Native Americans, and anyone else who didn't fit the mold. Rosemary Smith Walls always told Jeannette that she was like her grandmother, and in this true-life novel, Jeannette Walls channels that kindred spirit. Half Broke Horses is Laura Ingalls Wilder for adults, as riveting and dramatic as Isak Dinesen's Out of Africa or Beryl Markham's West with the Night. Destined to become a classic, it will transfix readers everywhere.
January
One Day by David Nicholls
It's 1988 and Dexter Mayhew and Emma Morley have only just met. But after only one day together, they cannot stop thinking about one another. Over twenty years, snapshots of that relationship are revealed on the same day—July 15th—of each year. Dex and Em face squabbles and fights, hopes and missed opportunities, laughter and tears. And as the true meaning of this one crucial day is revealed, they must come to grips with the nature of love and life itself.
2010 Selections
December
I Capture the Castle by Dodie Smith
I Capture the Castle tells the story of seventeen-year-old Cassandra and her family, who live in not-so-genteel poverty in a ramshackle old English castle. Here she strives, over six turbulent months, to hone her writing skills. She fills three notebooks with sharply funny yet poignant entries. Her journals candidly chronicle the great changes that take place within the castle's walls, and her own first descent into love. By the time she pens her final entry, she has "captured the castle"–and the heart of the reader–in one of literature's most enchanting entertainments.
November
The Postmistress by Sarah Blake
In 1940, Iris James is the postmistress in coastal Franklin, Massachusetts. Iris knows more about the townspeople than she will ever say, and believes her job is to deliver secrets. Yet one day she does the unthinkable: slips a letter into her pocket, reads it, and doesn't deliver it. Meanwhile, Frankie Bard broadcasts from overseas with Edward R. Murrow. Her dispatches beg listeners to pay heed as the Nazis bomb London nightly. Most of the townspeople of Franklin think the war can't touch them. But both Iris and Frankie know better… The Postmistress is a tale of two worlds-one shattered by violence, the other willfully naïve-and of two women whose job is to deliver the news, yet who find themselves unable to do so. Through their eyes, and the eyes of everyday people caught in history's tide, it examines how stories are told, and how the fact of war is borne even through everyday life.
October
When You Reach Me by Rebecca Stead
This remarkable novel holds a fantastic puzzle at its heart. By sixth grade, Miranda and her best friend, Sal, know how to navigate their New York City neighborhood. They know where it's safe to go, and they know who to avoid. Like the crazy guy on the corner. But things start to unravel. Sal gets punched by a kid on the street for what seems like no reason, and he shuts Miranda out of his life. The apartment key that Miranda's mom keeps hidden for emergencies is stolen. And then a mysterious note arrives, scrawled on a tiny slip of paper. The notes keep coming, and Miranda slowly realizes that whoever is leaving them knows things no one should know. Each message brings her closer to believing that only she can prevent a tragic death. Until the final note makes her think she's too late.
September
97 Orchard: An Edible History of Five Immigrant Families in One New York Tenement by Jame Ziegelman
In 97 Orchard, Jane Ziegelman explores the culinary life that was the heart and soul of New York's Lower East Side around the turn of the twentieth century—a city within a city, where Germans, Irish, Italians, and Eastern European Jews attempted to forge a new life. Through the experiences of five families, all of them residents of 97 Orchard Street, Ziegelman takes readers on a vivid and unforgettable tour, from impossibly cramped tenement apartments, down dimly lit stairwells, beyond the front stoops where housewives congregated, and out into the hubbub of the dirty, teeming streets. Ziegelman shows how immigrant cooks brought their ingenuity to the daily task of feeding their families, preserving traditions from home but always ready to improvise. 97 Orchard lays bare the roots of our collective culinary heritage.
August
The Particular Sadness of Lemon Cake by Aimee Bender
On the eve of her ninth birthday, unassuming Rose Edelstein bites into her mother's homemade lemon-chocolate cake and discovers she has a magical gift: she can taste her mother's emotions in the slice. To her horror, she finds that her cheerful mother tastes of despair. Soon, she's privy to the secret knowledge that most families keep hidden: her father's detachment, her mother's transgression, her brother's increasing retreat from the world. But there are some family secrets that even her cursed taste buds can't discern.
July
Await Your Reply by Dan Chaon
The lives of three strangers interconnect in unforeseen ways–and with unexpected consequences–in acclaimed author Dan Chaon's gripping, brilliantly written new novel. Longing to get on with his life, Miles Cheshire nevertheless can't stop searching for his troubled twin brother, Hayden, who has been missing for ten years. Hayden has covered his tracks skillfully, moving stealthily from place to place, managing along the way to hold down various jobs and seem, to the people he meets, entirely normal. But some version of the truth is always concealed. A few days after graduating from high school, Lucy Lattimore sneaks away from the small town of Pompey, Ohio, with her charismatic former history teacher. They arrive in Nebraska, in the middle of nowhere, at a long-deserted motel next to a dried-up reservoir, to figure out the next move on their path to a new life. But soon Lucy begins to feel quietly uneasy. My whole life is a lie, thinks Ryan Schuyler, who has recently learned some shocking news. In response, he walks off the Northwestern University campus, hops on a bus, and breaks loose from his existence, which suddenly seems abstract and tenuous. Presumed dead, Ryan decides to remake himself–through unconventional and precarious means.
June
Hotel on the Corner of Bitter and Sweet by Jamie Ford
In the opening pages of Jamie Ford's stunning debut novel, Hotel on the Corner of Bitter and Sweet, Henry Lee comes upon a crowd gathered outside the Panama Hotel, once the gateway to Seattle's Japantown. It has been boarded up for decades, but now the new owner has made an incredible discovery: the belongings of Japanese families, left when they were rounded up and sent to internment camps during World War II. As Henry looks on, the owner opens a Japanese parasol. This simple act takes old Henry Lee back to the 1940s, at the height of the war, when young Henry's world is a jumble of confusion and excitement, and to his father, who is obsessed with the war in China and having Henry grow up American. While "scholarshipping" at the exclusive Rainier Elementary, where the white kids ignore him, Henry meets Keiko Okabe, a young Japanese American student. Amid the chaos of blackouts, curfews, and FBI raids, Henry and Keiko forge a bond of friendship–and innocent love–that transcends the long-standing prejudices of their Old World ancestors. And after Keiko and her family are swept up in the evacuations to the internment camps, she and Henry are left only with the hope that the war will end, and that their promise to each other will be kept. Forty years later, Henry Lee is certain that the parasol belonged to Keiko. In the hotel's dark dusty basement he begins looking for signs of the Okabe family's belongings and for a long-lost object whose value he cannot begin to measure. Now a widower, Henry is still trying to find his voice–words that might explain the actions of his nationalistic father; words that might bridge the gap between him and his modern, Chinese American son; words that might help him confront the choices he made many years ago. Set during one of the most conflicted and volatile times in American history, Hotel on the Corner of Bitter and Sweet is an extraordinary story of commitment and enduring hope. In Henry and Keiko, Jamie Ford has created an unforgettable duo whose story teaches us of the power of forgiveness and the human heart.
May
House Rules by Jodi Picoult
When your son can't look you in the eye . . . does that mean he's guilty? Jacob Hunt is a teen with Asperger's syndrome. He's hopeless at reading social cues or expressing himself well to others, though he is brilliant in many ways. But he has a special focus on one subject—forensic analysis. A police scanner in his room clues him in to crime scenes, and he's always showing up and telling the cops what to do. And he's usually right. But when Jacob's small hometown is rocked by a terrible murder, law enforcement comes to him. Jacob's behaviors are hallmark Asperger's, but they look a lot like guilt to the local police. Suddenly the Hunt family, who only want to fit in, are directly in the spotlight. For Jacob's mother, Emma, it's a brutal reminder of the intolerance and misunderstanding that always threaten her family. For his brother, Theo, it's another indication why nothing is normal because of Jacob. And over this small family, the soul-searing question looms: Did Jacob commit murder?
April
A Moveable Feast by Ernest Hemingway
Published posthumously in 1964, A Moveable Feast remains one of Ernest Hemingway's most enduring works. Widely celebrated and debated by critics and readers everywhere, A Moveable Feast brilliantly evokes the exuberant mood of Paris after World War I and the unbridled creativity and unquenchable enthusiasm that Hemingway himself epitomized.
March
Truth and Beauty: A Friendship by Ann Patchett
Ann Patchett and the late Lucy Grealy met in college in 1981, and, after enrolling in the Iowa Writers' Workshop, began a friendship that would be as defining to both of their lives as their work. In Grealy's critically acclaimed memoir, Autobiography of a Face, she wrote about losing part of her jaw to childhood cancer, years of chemotherapy and radiation, and endless reconstructive surgeries. In Truth & Beauty, the story isn't Lucy's life or Ann's life, but the parts of their lives they shared. This is a portrait of unwavering commitment that spans twenty years, from the long winters of the Midwest, to surgical wards, to book parties in New York. Through love, fame, drugs, and despair, this is what it means to be part of two lives that are intertwined . . . and what happens when one is left behind. This is a tender, brutal book about loving the person we cannot save. It is about loyalty, and being lifted up by the sheer effervescence of someone who knew how to live life to the fullest.
February
The Happiness Project: Or, Why I Spent a Year Trying to Sing in the Morning, Clean My Closets, Fight Right, Read Aristotle, and Generally Have More Fun by Gretchen Rubin
Gretchen Rubin had an epiphany one rainy afternoon in the unlikeliest of places: a city bus. "The days are long, but the years are short," she realized. "Time is passing, and I'm not focusing enough on the things that really matter." In that moment, she decided to dedicate a year to her happiness project. In this lively and compelling account, Rubin chronicles her adventures during the twelve months she spent test-driving the wisdom of the ages, current scientific research, and lessons from popular culture about how to be happier. Among other things, she found that novelty and challenge are powerful sources of happiness; that money can help buy happiness, when spent wisely; that outer order contributes to inner calm; and that the very smallest of changes can make the biggest difference.
January
My Life in France by Julia Child and Alex Prud-homme
Julia Child single handedly awakened America to the pleasures of good cooking with her cookbook Mastering the Art of French Cooking and her television show The French Chef, but as she reveals in this bestselling memoir, she didn't know the first thing about cooking when she landed in France. Indeed, when she first arrived in 1948 with her husband, Paul, she spoke no French and knew nothing about the country itself. But as she dove into French culture, buying food at local markets and taking classes at the Cordon Bleu, her life changed forever. Julia's unforgettable story unfolds with the spirit so key to her success as as a cook and teacher and writer, brilliantly capturing one of the most endearing American personalities of the last fifty years.
2009 Selections
December
The Guernsey Literary and Potato Peel Pie Society by Mary Ann Shaffer and Annie Barrows
January 1946: writer Juliet Ashton receives a letter from a stranger, a founding member of the Guernsey Literary and Potato Peel Pie Society. And so begins a remarkable tale of the island of Guernsey during the German occupation, and of a society as extraordinary as its name.
November
The Art of Racing in the Rain by Garth Stein
A heart-wrenching but deeply funny and ultimately uplifting story of family, love, loyalty, and hope–a captivating look at the wonders and absurdities of human life . . . as only a dog could tell it.
October
A Gate at the Stairs by Lorrie Moore
Twenty-year-old Tassie Keltjin, the daughter of a gentleman farmer, has come to a university town as a student. When she takes a job as a part-time nanny for a mysterious and glamorous family, she finds herself drawn deeper into their world and forever changed. Told through the eyes of this memorable narrator, A Gate at the Stairs is a piercing novel of race, class, love, and war in America.
September
The Time Traveler's Wife by Andrey Niffenegger
A dazzling novel in the most untraditional fashion, this is the remarkable story of Henry DeTamble, a dashing, adventuresome librarian who travels involuntarily through time, and Clare Abshire, an artist whose life takes a natural sequential course. Henry and Clare's passionate love affair endures across a sea of time and captures the two lovers in an impossibly romantic trap, and it is Audrey Niffenegger's cinematic storytelling that makes the novel's unconventional chronology so vibrantly triumphant. An enchanting debut and a spellbinding tale of fate and belief in the bonds of love, The Time Traveler's Wife is destined to captivate readers for years to come.
August
The Help by Kathryn Stockett
Aibileen is a black maid in 1962 Jackson, Mississippi, who's always taken orders quietly, but lately she's unable to hold her bitterness back. Her friend Minny has never held her tongue but now must somehow keep secrets about her employer that leave her speechless. White socialite Skeeter just graduated college. She's full of ambition, but without a husband, she's considered a failure. Together, these seemingly different women join together to write a tell-all book about work as a black maid in the South, that could forever alter their destinies and the life of a small town….
July
Sag Harbor by Colson Whitehead
From the award-winning author of John Henry Days and The Intuitionist: a tender, hilarious, and supremely original novel about coming-of-age in the 80s. Benji Cooper is one of the few black students at an elite prep school in Manhattan. But every summer, Benji escapes to the Hamptons, to Sag Harbor, where a small community of African American professionals have built a world of their own. The summer of '85 won't be without its usual trials and tribulations, of course. There will be complicated new handshakes to fumble through and state-of-the-art profanity to master. Benji will be tested by contests big and small, by his misshapen haircut (which seems to have a will of its own), by the New Coke Tragedy, and by his secret Lite FM addiction. But maybe, just maybe, this summer might be one for the ages.
June
Busy Woman Seeks Wife by Annie Sanders
To a casual observer, Londoner Alex Hill is every inch the calm and collected executive of a global sportswear company. In reality, she's constantly frantic, with barely enough time to take out the trash. When her demanding mother, a 1960s style icon, has a bad fall and has to move in with her indefinitely, Alex realizes she needs someone more committed than a maid-what she needs is a wife. An ad in the local paper soon produces a young woman who seems both enthusiastic and capable. But something odd is definitely happening behind the scenes of Alex's new, perfectly ordered existence. Someone distinctly male is charming her mother as well as doing all the ironing. He's no one Alex would ordinarily ever notice, never mind date. But now she can't help wondering if her new "wife" could perhaps have husband potential….
May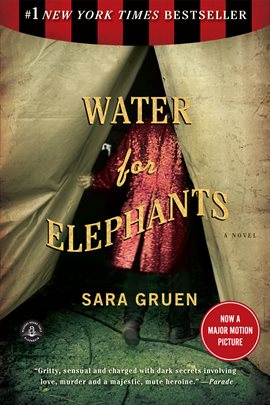 Water for Elephants by Sara Gruen
Though he may not speak of them, the memories still dwell inside Jacob Jankowski's ninety-something-year-old mind. Memories of himself as a young man, tossed by fate onto a rickety train that was home to the Benzini Brothers Most Spectacular Show on Earth. Memories of a world filled with freaks and clowns, with wonder and pain and anger and passion; a world with its own narrow, irrational rules, its own way of life, and its own way of death. The world of the circus: to Jacob it was both salvation and a living hell. Jacob was there because his luck had run out—orphaned and penniless, he had no direction until he landed on this locomotive "ship of fools." It was the early part of the Great Depression, and everyone in this third-rate circus was lucky to have any job at all. Marlena, the star of the equestrian act, was there because she fell in love with the wrong man, a handsome circus boss with a wide mean streak. And Rosie the elephant was there because she was the great gray hope, the new act that was going to be the salvation of the circus; the only problem was, Rosie didn't have an act—in fact, she couldn't even follow instructions. The bond that grew among this unlikely trio was one of love and trust, and ultimately, it was their only hope for survival. Surprising, poignant, and funny, Water for Elephants is that rare novel with a story so engrossing, one is reluctant to put it down; with characters so engaging, they continue to live long after the last page has been turned; with a world built of wonder, a world so real, one starts to breathe its air.
April
My Abandonment by Peter Rock
A thirteen-year-old girl and her father live in Forest Park, an enormous nature preserve in Portland, Oregon. They inhabit an elaborate cave shelter, wash in a nearby creek, store perishables at the water's edge, use a makeshift septic system, tend a garden, even keep a library of sorts. Once a week they go to the city to buy groceries and otherwise merge with the civilized world. But one small mistake allows a backcountry jogger to discover them, which derails their entire existence, ultimately provoking a deeper flight. Inspired by a true story and told through the startlingly sincere voice of its young narrator, Caroline, My Abandonment is a riveting journey into life at the margins and a mesmerizing tale of survival and hope.
March
December by Elizabeth Hartley Winthrop
Centered on a young girl who inexplicably stops speaking, December is a riveting and insightful portrait of a family in crisis.Nine months after eleven-year-old Isabelle suddenly fell silent, her parents, Wilson and Ruth, are at their wits' end. And what began as self-protection has spiraled beyond Isabelle's control; she has become trapped in her silence, horrified by the pain she is causing and terrified of losing her old self to this cold young girl she barely recognizes. Isabelle must confront her overwhelming anger and love for her family, a cast of charming yet dangerous characters, and her own fears, before finally finding her voice.
February
Testimony by Anita Shreve
At a New England boarding school, a sex scandal is about to break. Even more shocking than the sexual acts themselves is the fact that they were caught on videotape. A Pandora's box of revelations, the tape triggers a chorus of voices–those of the men, women, teenagers, and parents involved in the scandal–that details the ways in which lives can be derailed or destroyed in one foolish moment. Writing with a pace and intensity surpassing even her own greatest work, Anita Shreve delivers in TESTIMONY a gripping emotional drama with the impact of a thriller. No one more compellingly explores the dark impulses that sway the lives of seeming innocents, the needs and fears that drive ordinary men and women into intolerable dilemmas, and the ways in which our best intentions can lead to our worst transgressions.
January
Dear American Airlines by Jonathan Miles
Bennie Ford, a fifty-three-year-old failed poet turned translator, is traveling to his estranged daughter's wedding when his flight is canceled. Stuck with thousands of fuming passengers in the purgatory of O'Hare International Airport, he watches the clock tick and realizes that he will miss the ceremony. Frustrated, irate, and helpless, Bennie does the only thing he can: he starts to write a letter. But what begins as a hilariously excoriating demand for a refund soon becomes a lament for a life gone awry, for years misspent, talent wasted, and happiness lost. Bennie's writing is infused with a sense of remorse for the actions of a lifetime—and made all the more urgent by the fading hope that if he can just make it to the wedding, he might have a chance to do something right. A margarita blend of outrage, humor, vulnerability, intelligence, and regret, Dear American Airlines gives new meaning to the term "airport novel" and announces the emergence of a major new talent in American fiction.
2008 Selections
December

I Was Told There'd Be Cake: Essays by Sloane Crosley
Wry, hilarious, and profoundly genuine, this debut collection of literary essays is a celebration of fallibility and haplessness in all their glory. From despoiling an exhibit at the Natural History Museum to provoking the ire of her first boss to siccing the cops on her mysterious neighbor, Crosley can do no right despite the best of intentions-or perhaps because of them. Together, these essays create a startlingly funny and revealing portrait of a complex and utterly recognizable character that's aiming for the stars but hits the ceiling, and the inimitable city that has helped shape who she is. I Was Told There'd Be Cake introduces a strikingly original voice, chronicling the struggles and unexpected beauty of modern urban life.
November
Revolutionary Road by Richard Yates
In the hopeful 1950s, Frank and April Wheeler appear to be a model couple: bright, beautiful, talented, with two young children and a starter home in the suburbs. Perhaps they married too young and started a family too early. Maybe Frank's job is dull. And April never saw herself as a housewife. Yet they have always lived on the assumption that greatness is only just around the corner. But now that certainty is about to crumble. With heartbreaking compassion and remorseless clarity, Richard Yates shows how Frank and April mortgage their spiritual birthright, betraying not only each other, but their best selves.
October
Run by Ann Patchett
Since their mother's death, Tip and Teddy Doyle have been raised by their loving, possessive, and ambitious father. As the former mayor of Boston, Bernard Doyle wants to see his sons in politics, a dream the boys have never shared. But when an argument in a blinding New England snowstorm inadvertently causes an accident that involves a stranger and her child, all Bernard cares about is his ability to keep his children—all his children—safe.
September
I Feel Bad About My Neck: And Other Thoughts on Being a Woman by Nora Ephron
With her disarming, intimate, completely accessible voice, and dry sense of humor, Nora Ephron shares with us her ups and downs in I Feel Bad About My Neck, a candid, hilarious look at women who are getting older and dealing with the tribulations of maintenance, menopause, empty nests, and life itself. Ephron chronicles her life as an obsessed cook, passionate city dweller, and hapless parent. But mostly she speaks frankly and uproariously about life as a woman of a certain age. Utterly courageous, uproariously funny, and unexpectedly moving in its truth telling, I Feel Bad About My Neck is a scrumptious, irresistible treat of a book, full of truths, laugh out loud moments that will appeal to readers of all ages.
last updated April 2020 sdc