Reese's Book Club at Hello Sunshine

As described directly on the Hello, Sunshine website :
Every month, actress Reese Witherspoon picks one book she loves, with a woman at the center of the story, and shares it with her book club.
A community propelled by meaningful connections with stories, authors and fellow members, Reese's Book Club sparks thought, joy, and conversation–online and in real life. Join the conversation @ReesesBookClub across social media. It's all about the love of story. #ReadWithReese
2023 Selections
February — Adult
The House of Eve by Sadeqa Johnson (Johnson)
1950s Philadelphia: fifteen-year-old Ruby Pearsall is on track to becoming the first in her family to attend college, in spite of having a mother more interested in keeping a man than raising a daughter. But a taboo love affair threatens to pull her back down into the poverty and desperation that has been passed on to her like a birthright.
Eleanor Quarles arrives in Washington, DC, with ambition and secrets. When she meets the handsome William Pride at Howard University, they fall madly in love. But William hails from one of DC's elite wealthy Black families, and his par­ents don't let just anyone into their fold. Eleanor hopes that a baby will make her finally feel at home in William's family and grant her the life she's been searching for. But having a baby — and fitting in — is easier said than done.
With their stories colliding in the most unexpected of ways, Ruby and Eleanor will both make decisions that shape the trajectory of their lives.
January — Adult
The House in the Pines by Ana Reyes (Reyes)
A captivating psychological suspense debut about a young woman still haunted by her teenage best friend's death who learns of an eerily similar death and must find her way back to a cabin in the New England woods, armed only with hazy memories, to finally find out the truth that has eluded her. Maya was a high school senior when her best friend Aubrey mysteriously dropped dead in front of the enigmatic man, Frank, they'd been hanging around with all summer. Seven years later, Maya is just managing to move on; she lives in Boston with a loving boyfriend and is finally kicking the secret Klonopin habit that's allowed her to cope with what happened all those years ago. But her past comes back to haunt her when she discovers a recent YouTube video in which a young woman suddenly keels over in a diner sitting across from none other than Frank. Plunged back into the trauma that has defined her life, Maya heads to her small Berkshires hometown to finally figure out the truth about what happened. With guidance from the half-written book by the father in Guatemala she never knew, Maya's quest for answers forces her to relive that fateful summer-the influence Frank once had on her and the jealousy that nearly destroyed her friendship with Aubrey-finally leading her back to Frank's cabin in the woods. The House in the Pines is an utterly unique and surprising thriller about the subtlety of memory and manipulation, confronting the past, and the powerful and lasting bonds of family and friendship.
2022 Selections
December — Adult
The Marriage Portrait by Maggie O'Farrell (O'Farrell)
Florence, the 1550s. Lucrezia, third daughter of the grand duke, is comfortable with her obscure place in the palazzo: free to wonder at its treasures, observe its clandestine workings, and to devote herself to her own artistic pursuits. But when her older sister dies on the eve of her wedding to the ruler of Ferrara, Moderna and Regio, Lucrezia is thrust unwittingly into the limelight: the duke is quick to request her hand in marriage, and her father just as quick to accept on her behalf. Having barely left girlhood behind, Lucrezia must now make her way in a troubled court whose customs are opaque and where her arrival is not universally welcomed. Perhaps most mystifying of all is her new husband himself, Alfonso. Is he the playful sophisticate he appeared to be before their wedding, the aesthete happiest in the company of artists and musicians, or the ruthless politician before whom even his formidable sisters seem to tremble? As Lucrezia sits in constricting finery for a painting intended to preserve her image for centuries to come, one thing becomes worryingly clear. In the court's eyes, she has one duty: to provide the heir who will shore up the future of the Ferranese dynasty. Until then, for all of her rank and nobility, the new duchess's future hangs entirely in the balance.
November — Adult
Tiny Beautiful Things (Advice on Love and Life From Dear Sugar) by Cheryl Strayed (070.444 Str)
NATIONAL BESTSELLER * Soon to be a Hulu Original series * The internationally acclaimed author of Wild collects the best of The Rumpus's Dear Sugar advice columns plus never-before-published pieces. Rich with humor and insight–and absolute honesty–this "wise and compassionate" (New York Times Book Review) book is a balm for everything life throws our way.
Life can be hard: your lover cheats on you; you lose a family member; you can't pay the bills–and it can be great: you've had the hottest sex of your life; you get that plum job; you muster the courage to write your novel. Sugar — the once-anonymous online columnist at The Rumpus, now revealed as Cheryl Strayed, author of the bestselling memoir Wild — is the person thousands turn to for advice.
October — Adult
Our Missing Hearts by Celeste Ng (Ng)
From the number one bestselling author of Little Fires Everywhere, a deeply suspenseful and heartrending novel about the unbreakable love between a mother and child in a society consumed by fear. Twelve-year-old Bird Gardner lives a quiet existence with his loving but broken father, a former linguist who now shelves books in Harvard University's library. Bird knows to not ask too many questions, stand out too much, or stray too far. For a decade, their lives have been governed by laws written to preserve 'American culture' in the wake of years of economic instability and violence. To keep the peace and restore prosperity, the authorities are now allowed to relocate children of dissidents, especially those of Asian origin, and libraries have been forced to remove books seen as unpatriotic — including the work of Bird's mother, Margaret, a Chinese American poet who left the family when he was nine years old. Bird has grown up disavowing his mother and her poems; he doesn't know her work or what happened to her, and he knows he shouldn't wonder. But when he receives a mysterious letter containing only a cryptic drawing, he is drawn into a quest to find her. His journey will take him back to the many folktales she poured into his head as a child, through the ranks of an underground network of librarians, into the lives of the children who have been taken, and finally to New York City, where a new act of defiance may be the beginning of much-needed change. Our Missing Hearts is an old story made new, of the ways supposedly civilized communities can ignore the most searing injustice. It's a story about the power–and limitations — of art to create change, the lessons and legacies we pass on to our children, and how any of us can survive a broken world with our hearts intact.
September — Adult
On the Rooftop by Margaret Wilkerson Sexton (McAllister)
A stunning novel about a mother whose dream of musical stardom for her three daughters collides with the daughters' ambitions for their own lives–set against the backdrop of gentrifying 1950s San Francisco
At home they are just sisters, but on stage, they are The Salvations. Ruth, Esther, and Chloe have been singing and dancing in harmony since they could speak. Thanks to the rigorous direction of their mother, Vivian, they've become a bona fide girl group whose shows are the talk of the Jazz-era Fillmore.
Now Vivian has scored a once-in-a-lifetime offer from a talent manager, who promises to catapult The Salvations into the national spotlight. Vivian knows this is the big break she's been praying for. But sometime between the hours of rehearsal on their rooftop and the weekly gigs at the Champagne Supper Club, the girls have become women, women with dreams that their mother cannot imagine.
The neighborhood is changing, too: all around the Fillmore, white men in suits are approaching Black property owners with offers. One sister finds herself called to fight back, one falls into the comfort of an old relationship, another yearns to make her own voice heard. And Vivian, who has always maintained control, will have to confront the parts of her life that threaten to splinter: the community, The Salvations, and even her family.
Warm, gripping, and wise, with echoes of Fiddler on the Roof, Margaret Wilkerson Sexton's latest novel is a moving family portrait from "a writer of uncommon nerve and talent" (New York Times Book Review).
August — Adult
Wrong Place Wrong Time by Gillian McAllister (McAllister)
Can you stop a murder after it's already happened?
Late October. After midnight. You're waiting up for your seventeen-year-old son. He's late. As you watch from the window, he emerges, and you realize he isn't alone: he's walking toward a man, and he's armed.
You can't believe it when you see him do it: your funny, happy teenage son, he kills a stranger, right there on the street outside your house. You don't know who. You don't know why. You only know your son is now in custody. His future shattered.
That night you fall asleep in despair. All is lost. Until you wake . . .
…and it is yesterday.
And then you wake again…
…and it is the day before yesterday.
Every morning you wake up a day earlier, another day before the murder. With another chance to stop it. Somewhere in the past lies an answer. The trigger for this crime — and you don't have a choice but to find it.
July — Adult
Honey & Spice by Bolu Babalola (Babalola)
Introducing internationally bestselling author Bolu Babalola's dazzling debut novel, full of passion, humor, and heart, that centers on a young Black British woman who has no interest in love and unexpectedly finds herself caught up in a fake relationship with the man she warned her girls about
Sweet like plantain, hot like pepper. They taste the best when together…
Sharp-tongued (and secretly soft-hearted) Kiki Banjo has just made a huge mistake. As an expert in relationship-evasion and the host of the popular student radio show Brown Sugar, she's made it her mission to make sure the women of the African-Caribbean Society at Whitewell University do not fall into the mess of "situationships", players, and heartbreak. But when the Queen of the Unbothered kisses Malakai Korede, the guy she just publicly denounced as "The Wastemen of Whitewell," in front of every Blackwellian on campus, she finds her show on the brink.
They're soon embroiled in a fake relationship to try and salvage their reputations and save their futures. Kiki has never surrendered her heart before, and a player like Malakai won't be the one to change that, no matter how charming he is or how electric their connection feels. But surprisingly entertaining study sessions and intimate, late-night talks at old-fashioned diners force Kiki to look beyond her own presumptions. Is she ready to open herself up to something deeper?
A gloriously funny and sparkling debut novel, Honey & Spice is full of delicious tension and romantic intrigue that will make you weak at the knees.
June — Adult
Counterfeit by Kirsten Chen (Chen)
Ava Wong has always played it safe. As a strait-laced, rule-abiding Chinese American lawyer with a successful surgeon as a husband, a young son, and a beautiful home, she's built the perfect life. But beneath this facade, Ava's world is crumbling: her marriage is falling apart, her expensive law degree hasn't been used in years, and her toddler's tantrums are pushing her to the breaking point. Enter Winnie Fang, Ava's enigmatic college roommate from Mainland China, who abruptly dropped out under mysterious circumstances. Now, twenty years later, Winnie is looking to reconnect with her old friend. But the shy, awkward girl Ava once knew has been replaced with a confident woman of the world, dripping in luxury goods, including a coveted Birkin in classic orange. The secret to her success? Winnie has developed an ingenious counterfeit scheme that involves importing near-exact replicas of luxury handbags and now she needs someone with a U.S. passport to help manage her business, someone who'd never be suspected of wrongdoing, someone like Ava. But when their spectacular success is threatened and Winnie vanishes once again, Ava is left to face the consequences….Peering behind the curtain of the upscale designer storefronts and the Chinese factories where luxury goods are produced, Kirstin Chen interrogates the myth of the model minority through two unforgettable women determined to demand more from life.
May — Adult
The Dictionary of Lost Words by Pip Williams (Williams)
The Dictionary of Lost Words is a work of fiction. All incidents and dialogue, and all characters with the exception of some well-known historical figures, are products of the author's imagination and are not to be construed as real. Before the lost word, there was another. It arrived at the Scriptorium in a second-hand envelope, the old address crossed out and Dr Murray, Sunnyside, Oxford, written in its place. It was Da's job to open the post and mine to sit on his lap, like a queen on her throne, and help him ease each word out of its folded cradle. He'd tell me what pile to put it on and sometimes he'd pause, cover my hand with his, and guide my finger up and down and around the letters, sounding them into my ear. He'd say the word, and I would echo it, then he'd tell me what it meant.
April — Adult
True Biz by Sara Novic (Novic)
True biz? The students at the River Valley School for the Deaf just want to hook up, pass their history final, and have doctors, politicians, and their parents stop telling them what to do with their bodies. This revelatory novel plunges readers into the halls of a residential school for the deaf, where they'll meet Charlie, a rebellious transfer student who's never met another deaf person before; Austin, the school's golden boy, whose world is rocked when his baby sister is born hearing; and February, the headmistress, who is fighting to keep her school open and her marriage intact, but might not be able to do both at the same time. As a series of crises both personal and political threaten to unravel each of them, Charlie, Austin, and February find their lives inextricable from one another-and changed forever. This is a story of sign language and lip-reading, cochlear implants and civil rights, isolation and injustice, first love and loss, and, above all, great persistence, daring, and joy. Absorbing and assured, idiosyncratic and relatable, this is an unforgettable journey into the Deaf community and a universal celebration of human connection.
March — Adult
The Club by Ellery Lloyd (Lloyd)
Envisioned as a luxurious home-away from-home for Very Important People, The Home Group is a collection of celebrity members clubs dotted across the globe where the rich and famous can party hard and then crash out in its five-star suites, far from the prying eyes of fans and the media. But behind the scenes, tensions are at breaking point. As tempers fray and behavior worsens, as things get more sinister by the hour and the body count piles up, some of Home's members begin to wish they'd never RSVP'd at all.
February — Adult
The Christie Affair by Nina de Gramont (Gramont)
Nina de Gramont's The Christie Affair is a beguiling novel of star-crossed lovers, heartbreak, revenge, and murder-and a brilliant re-imagination of one of the most talked-about unsolved mysteries of the twentieth century. Every story has its secrets. Every mystery has its motives. "A long time ago, in another country, I nearly killed a woman. It's a particular feeling, the urge to murder. It takes over your body so completely, it's like a divine force, grabbing hold of your will, your limbs, your psyche. There's a joy to it. In retrospect, it's frightening, but I daresay in the moment it feels sweet. The way justice feels sweet." The greatest mystery wasn't Agatha Christie's disappearance in those eleven infamous days, it's what she discovered. London, 1925: In a world of townhomes and tennis matches, socialites and shooting parties, Miss Nan O'Dea became Archie Christie's mistress, luring him away from his devoted and well-known wife, Agatha Christie. The question is, why? Why destroy another woman's marriage, why hatch a plot years in the making, and why murder? How was Nan O'Dea so intricately tied to those eleven mysterious days that Agatha Christie went missing?
Winter — YA
Anatomy: A Love Story by Dana Schwartz (YA Schwartz)
Edinburgh, 1817. Hazel Sinnett is a lady who wants to be a surgeon more than she wants to marry. Jack Currer is a resurrection man who is just trying to survive in a city where it is too easy to die. They have a chance encounter outside the Edinburgh Anatomist's Society. After she gets kicked out of Dr. Beecham's lectures for being the wrong gender, she realizes that her new acquaintance might be very helpful. Hazel makes a deal with Dr. Beecham: if she can pass the medical examination on her own, the university will allow her to enroll. Without official lessons, though, Hazel will need bodies to study, corpses to dissect. Jack has his own problems: strange men have been seen skulking around cemeteries, his friends are disappearing off the streets. Hazel and Jack work together to uncover the secrets buried in the very heart of Edinburgh society.
January — Adult
Honor by Thrity Umrigar (CALL)
Indian American journalist Smita has returned to India to cover a story, but reluctantly: long ago she and her family left the country with no intention of ever coming back. As she follows the case of Meena–a Hindu woman attacked by members of her own village and her own family for marrying a Muslim man–Smita comes face to face with a society where tradition carries more weight than one's own heart, and a story that threatens to unearth the painful secrets of Smita's own past. While Meena's fate hangs in the balance, Smita tries in every way she can to right the scales. She also finds herself increasingly drawn to Mohan, an Indian man she meets while on assignment. But the dual love stories of Honor are as different as the cultures of Meena and Smita themselves: Smita realizes she has the freedom to enter into a casual affair, knowing she can decide later how much it means to her.
2021 Selections
December — Adult
Lucky by Marissa Stapley (Stapley)
A compelling and thrilling road-trip novel about a talented grifter named Lucky whose past comes back to haunt her."– Provided by publisher.
Lucky Armstrong is a tough, talented grifter who has just pulled off a million-dollar heist with her boyfriend, Cary. She's ready to start a brand-new life, with a new identity, when things go sideways. Alone for the first time, navigating the world without the help of either her father or her boyfriend, Lucky discovers that a lottery ticket she bought on a whim is worth millions. There's one big problem: cashing in the winning ticket means she'll be arrested for her crimes, go to prison, and have no chance to redeem her fortune. Will she be able to make a future for herself, without her dark past catching up with her?
November — Adult
The Island of Missing Trees by Elif Shafak (Shafak)
Two teenagers, a Greek Cypriot and a Turkish Cypriot, meet at a taverna on the island they both call home. In the taverna, hidden beneath garlands of garlic, chili peppers and creeping honeysuckle, Kostas and Defne grow in their forbidden love for each other. A fig tree stretches through a cavity in the roof, and this tree bears witness to their hushed, happy meetings and eventually, to their silent, surreptitious departures. The tree is there when war breaks out, when the capital is reduced to ashes and rubble, and when the teenagers vanish. Decades later, Kostas returns. He is a botanist looking for native species, but really, he's searching for lost love. Years later a Ficus carica grows in the back garden of a house in London where Ada Kazantzakis lives. This tree is her only connection to an island she has never visited — her only connection to her family's troubled history and her complex identity as she seeks to untangle years of secrets to find her place in the world. A moving, beautifully written, and delicately constructed story of love, division, transcendence, history, and eco-consciousness, The Island of Missing Trees is Elif Shafak's best work yet.
Fall — YA
Within These Wicked Walls by Lauren Blackwood (YA Blackwood)
Andromeda is a debtera — an exorcist hired to cleanse households of the Evil Eye. She would be hired, that is, if her mentor hadn't thrown her out before she could earn her license. Now her only hope of steady work is to find a patron — a rich, well-connected individual who will vouch for her abilities. When a handsome young heir named Magnus Rochester reaches out to hire her, Andromeda takes the job without question. Never mind that he's rude and demanding and eccentric, that the contract comes with a number of outlandish rules… and that almost a dozern debtera had quit before her. If Andromeda wants to learn a living, she has no choice. But she quickly realizes this is a job like no other, with horrifying manifestations at every turn, and that Magnus is hiding far more than she has been trained for. Death is the most likely outcome if she stays, and the reason every debtera before her has quit. Leaving Magnus to live out his curse alone isn't an option because — heaven hlep her — she's fallen for him.
October — Adult
Sankofa by Chibundo Onuzo (Onuzo)
A funny, gripping and surprising story of a mixed-race British woman who goes in search of the African father she never knew, by award-winning author Chibundu Onuzo. Anna grew up in England with her white mother and knowing very little about her African father. In middle age, after separating from her husband and with her daughter all grown up, she finds herself alone and wondering who she really is. Her mother's death leads her to find her father's student diaries, chronicling his involvement in radical politics in 1970s London. She discovers that he eventually became the president – some would say the dictator – of Bamana in West Africa. She also discovers that he is still alive. She decides to track him down and so begins a funny, painful, fascinating journey, and an exploration of race, identity and what we pass on to our children.
September — Adult
L.A. Weather by Maria Amparo Escandon (Escandon)
FORECAST: Storm clouds are on the horizon in L.A. Weather, a fun, fast-paced novel of an affluent Mexican-American family from the author of the #1 Los Angeles Times bestseller Esperanza's Box of Saints. L.A. is parched, dry as a bone, and all Oscar, the weather-obsessed patriarch of the Alvarado family, desperately wants is a little rain. He's harboring a costly secret that distracts him from everything else. His wife, Keila, desperate for a life with a little more intimacy and a little less Weather Channel, feels she has no choice but to end their marriage. Their three daughters–Claudia, a television chef with a hard-hearted attitude; Olivia, a successful architect who suffers from gentrification guilt; and Patricia, a social media wizard who has an uncanny knack for connecting with audiences but not with her lovers–are blindsided and left questioning everything they know. Each will have to take a critical look at her own relationships and make some tough decisions along the way. With quick-wit and humor, Maria Amparo Escandón follows the Alvarado family as they wrestle with impending evacuations, secrets, deception, and betrayal, and their toughest decision yet: whether to stick together or burn it all down.
August — Adult
We Were Never Here by Andrea Bartz (Bartz)
Emily is having the time of her life–she's in the mountains of Chile with her best friend, Kristen, on their annual reunion trip, and the women are feeling closer than ever. But on the last night of the trip, Emily enters their hotel suite to find blood and broken glass on the floor. Kristen says the cute backpacker she brought back to their room attacked her, and she had no choice but to kill him in self-defense. Even more shocking: The scene is horrifyingly similar to last year's trip, when another backpacker wound up dead. Emily can't believe it's happened again — can lightning really strike twice? Back home in Wisconsin, Emily struggles to bury her trauma, diving headfirst into a new relationship and throwing herself into work. But when Kristen shows up for a surprise visit, Emily is forced to confront their violent past. The more Kristen tries to keep Emily close, the more Emily questions her motives. As Emily feels the walls closing in on their cover-ups, she must reckon with the truth about her closest friend. Can Emily outrun the secrets she shares with Kristen, or will they destroy her relationship, her freedom — even her life?
Late Summer — YA
The Downstairs Girl by Stacey Lee (YA Lee)
By day, seventeen-year-old Jo Kuan works as a lady's maid for the cruel daughter of one of the wealthiest men in Atlanta. But by night, Jo moonlights as the pseudonymous author of a newspaper advice column for the genteel Southern lady, "Dear Miss Sweetie." When her column becomes wildly popular, she uses the power of the pen to address some of society's ills, but she's not prepared for the backlash that follows when her column challenges fixed ideas about race and gender. While her opponents clamor to uncover the secret identity of Miss Sweetie, a mysterious letter sets Jo off on a search for her own past and the parents who abandoned her as a baby. But when her efforts put her in the crosshairs of Atlanta's most notorious criminal, Jo must decide whether she, a girl used to living in the shadows, is ready to step into the light. With prose that is witty, insightful, and at times heartbreaking, Stacey Lee masterfully crafts an extraordinary social drama set in the New South.
July — Adult
The Paper Palace by Miranda Cowley Heller (Heller)
It is a perfect August morning, and Elle, a fifty-year-old happily married mother of three, awakens at "The Paper Palace"–the family summer place which she has visited every summer of her life. But this morning is different: last night Elle and her oldest friend Jonas crept out the back door into the darkness and had sex with each other for the first time, all while their spouses chatted away inside. Now, over the next twenty-four hours, Elle will have to decide between the life she has made with her genuinely beloved husband, Peter, and the life she always imagined she would have had with her childhood love, Jonas, if a tragic event hadn't forever changed the course of their lives. As Heller colors in the experiences that have led Elle to this day, we arrive at her ultimate decision with all its complexity. Tender yet devastating, The Paper Palace considers the tensions between desire and dignity, the legacies of abuse, and the crimes and misdemeanors of families.
June — Adult
Seven Days in June by Tia Williams (Williams)
Seven days to fall in love, fifteen years to forget, and seven days to get it all back again…Eva Mercy is a single mom and bestselling erotica writer who is feeling pressed from all sides. Shane Hall is a reclusive, enigmatic, award‑winning novelist, who, to everyone's surprise, shows up in New York. When Shane and Eva meet unexpectedly at a literary event, sparks fly, raising not only their buried traumas, but the eyebrows of the Black literati. What no one knows is that fifteen years earlier, teenage Eva and Shane spent one crazy, torrid week madly in love. While they may be pretending not to know each other, they can't deny their chemistry–or the fact that they've been secretly writing to each other in their books through the years. Over the next seven days, amidst a steamy Brooklyn summer, Eva and Shane reconnect–but Eva's wary of the man who broke her heart, and wants him out of the city so her life can return to normal. Before Shane disappears though, she needs a few questions answered…With its keen observations of creative life in America today, as well as the joys and complications of being a mother and a daughter, Seven Days in June is a hilarious, romantic, and sexy‑as‑hell story of two writers discovering their second chance at love.
Summer — YA
Tokyo Ever After by Emiko Jean (YA Jean)
Izumi Tanaka has never really felt like she fit in–it isn't easy being Japanese American in her small, mostly white, northern California town. Raised by a single mother, it's always been Izumi–or Izzy, because "It's easier this way"–and her mom against the world. But then Izumi discovers a clue to her previously unknown father's identity…and he's none other than the Crown Prince of Japan. Which means outspoken, irreverent Izzy is literally a princess. In a whirlwind, Izumi travels to Japan to meet the father she never knew and discover the country she always dreamed of. But being a princess isn't all ball gowns and tiaras. There are conniving cousins, a hungry press, a scowling but handsome bodyguard who just might be her soulmate, and thousands of years of tradition and customs to learn practically overnight. Izumi soon finds herself caught between worlds, and between versions of herself–back home, she was never "American" enough, and in Japan, she must prove she's "Japanese" enough. Will Izumi crumble under the weight of the crown, or will she live out her fairy tale, happily ever after?
May — Adult
The Last Thing He Told Me by Laura Dave (Dave)
Before Owen Michaels disappears, he smuggles a note to his beloved wife of one year: Protect her. Despite her confusion and fear, Hannah Hall knows exactly to whom the note refers–Owen's sixteen-year-old daughter, Bailey. Bailey, who lost her mother tragically as a child. Bailey, who wants absolutely nothing to do with her new stepmother. As Hannah's increasingly desperate calls to Owen go unanswered, as the FBI arrests Owen's boss, as a US marshal and federal agents arrive at her Sausalito home unannounced, Hannah quickly realizes her husband isn't who he said he was. And that Bailey just may hold the key to figuring out Owen's true identity–and why he really disappeared. Hannah and Bailey set out to discover the truth. But as they start putting together the pieces of Owen's past, they soon realize they're also building a new future–one neither of them could have anticipated. With its breakneck pacing, dizzying plot twists, and evocative family drama, The Last Thing He Told Me is a riveting mystery, certain to shock you with its final, heartbreaking turn.
April — Adult
Northern Spy by Flynn Berry (Berry)
A producer at the BBC and mother to a new baby, Tessa is at work in Belfast one day when the news of another raid comes on the air. The IRA may have gone underground in the two decades since the Good Friday Agreement, but they never really went away, and lately bomb threats, security checkpoints, and helicopters floating ominously over the city have become features of everyday life. As the news reporter requests the public's help in locating those responsible for the robbery, security footage reveals Tessa's sister, Marian, pulling a black ski mask over her face. The police believe Marian has joined the IRA, but Tessa is convinced she must have been abducted or coerced; the sisters have always opposed the violence enacted in the name of uniting Ireland. And besides, Marian is vacationing on the north coast. Tessa just spoke to her yesterday. When the truth about Marian comes to light, Tessa is faced with impossible choices that will test the limits of her ideals, the bonds of her family, her notions of right and wrong, and her identity as a sister and a mother. Walking an increasingly perilous road, she wants nothing more than to protect the one person she loves more fiercely than her sister: her infant son, Finn. Riveting, atmospheric, and exquisitely written, Northern Spy is at once a heart-pounding story of the contemporary IRA and a moving portrait of sister- and motherhood, and of life in a deeply divided society.
Spring — YA
Fire Keeper's Daughter by Angeline Boulley (YA Boulley)
Eighteen-year-old Daunis Fontaine has never quite fit in, both in her hometown and on the nearby Ojibwe reservation. She dreams of a fresh start at college, but when family tragedy strikes, Daunis puts her future on hold to look after her fragile mother. The only bright spot is meeting Jamie, the charming new recruit on her brother Levi's hockey team. Yet even as Daunis falls for Jamie, she senses the dashing hockey star is hiding something. Everything comes to light when Daunis witnesses a shocking murder, thrusting her into an FBI investigation of a lethal new drug. Reluctantly, Daunis agrees to go undercover, drawing on her knowledge of chemistry and Ojibwe traditional medicine to track down the source. But the search for truth is more complicated than Daunis imagined, exposing secrets and old scars. At the same time, she grows concerned with an investigation that seems more focused on punishing the offenders than protecting the victims. Now, as the deceptions–and deaths–keep growing, Daunis must learn what it means to be a strong Anishinaabe kwe (Ojibwe woman) and how far she'll go for her community, even if it tears apart the only world she's ever known.
March — Adult
Infinite Country by Patricia Engel (Engel)
Talia is being held at a correctional facility for adolescent girls in the forested mountains of Colombia after committing an impulsive act of violence that may or may not have been warranted. She urgently needs to get out and get back home to Bogotá, where her father and a plane ticket to the United States are waiting for her. If she misses her flight, she might also miss her chance to finally be reunited with her family in the north. How this family came to occupy two different countries, two different worlds, comes into focus like twists of a kaleidoscope. We see Talia's parents, Mauro and Elena, fall in love in a market stall as teenagers against a backdrop of civil war and social unrest. We see them leave Bogotá with their firstborn, Karina, in pursuit of safety and opportunity in the United States on a temporary visa, and we see the births of two more children, Nando and Talia, on American soil. We witness the decisions and indecisions that lead to Mauro's deportation and the family's splintering–the costs they've all been living with ever since. Award-winning, internationally acclaimed author Patricia Engel, herself a dual citizen and the daughter of Colombian immigrants, gives voice to all five family members as they navigate the particulars of their respective circumstances. And all the while, the metronome ticks: Will Talia make it to Bogotá in time? And if she does, can she bring herself to trade the solid facts of her father and life in Colombia for the distant vision of her mother and siblings in America? Rich with Bogotá urban life, steeped in Andean myth, and tense with the daily reality of the undocumented in America, Infinite Country is the story of two countries and one mixed-status family–for whom every triumph is stitched with regret, and every dream pursued bears the weight of a dream deferred.
February — Adult
The Sanatorium by Sarah Pearse (Pearse)
Half-hidden by forest and overshadowed by threatening peaks, Le Sommet has always been a sinister place. Long plagued by troubling rumors, the former abandoned sanatorium has since been renovated into a five-star minimalist hotel. An imposing, isolated getaway spot high up in the Swiss Alps is the last place Elin Warner wants to be. But Elin's taken time off from her job as a detective, so when her estranged brother, Isaac, and his fiancée, Laure, invite her to celebrate their engagement at the hotel, Elin really has no reason not to accept. Arriving in the midst of a threatening storm, Elin immediately feels on edge–there's something about the hotel that makes her nervous. And when they wake the following morning to discover Laure is missing, Elin must trust her instincts if they hope to find her. With the storm closing off all access to the hotel, the longer Laure stays missing, the more the remaining guests start to panic. Elin is under pressure to find Laure, but no one has realized yet that another woman has gone missing. And she's the only one who could have warned them just how much danger they are all in…
Spring — YA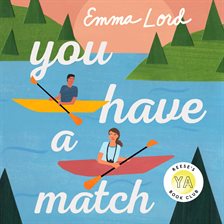 You Have a Match by Emma Lord (Libraries currently own only as a downloadable audiobook) — YA Picks in Reese's Book Club change to quarterly instead of monthly
When Abby signs up for a DNA service, it's mainly to give her friend and secret love interest, Leo, a nudge. After all, she knows who she is already: Avid photographer. Injury-prone tree climber. Best friend to Leo and Connie…although ever since the B.E.I. (Big Embarrassing Incident) with Leo, things have been awkward on that front. But she didn't know she's a younger sister. When the DNA service reveals Abby has a secret sister, shimmery-haired Instagram star Savannah Tully, it's hard to believe they're from the same planet, never mind the same parents ― especially considering Savannah, queen of green smoothies, is only a year and a half older than Abby herself. The logical course of action? Meet up at summer camp (obviously) and figure out why Abby's parents gave Savvy up for adoption. But there are complications: Savvy is a rigid rule-follower and total narc. Leo is the camp's co-chef, putting Abby's growing feelings for him on blast. And her parents have a secret that threatens to unravel everything. But part of life is showing up, leaning in, and learning to fit all your awkward pieces together. Because sometimes, the hardest things can also be the best ones.
January — Adult
Outlawed by Anna North (North)
The day of her wedding, 17 year old Ada's life looks good; she loves her husband, and she loves working as an apprentice to her mother, a respected midwife. But after a year of marriage and no pregnancy, in a town where barren women are routinely hanged as witches, her survival depends on leaving behind everything she knows. She joins up with the notorious Hole in the Wall Gang, a band of outlaws led by a preacher-turned-robber known to all as the Kid. Charismatic, grandiose, and mercurial, the Kid is determined to create a safe haven for outcast women. But to make this dream a reality, the Gang hatches a treacherous plan that may get them all killed. And Ada must decide whether she's willing to risk her life for the possibility of a new kind of future for them all. Featuring an irresistibly no-nonsense, courageous, and determined heroine,Outlawed dusts off the myth of the old West and reignites the glimmering promise of the frontier with an entirely new set of feminist stakes. Anna North has crafted a pulse-racing, page-turning saga about the search for hope in the wake of death, and for truth in a climate of small-mindedness and fear.
2020 Selections
December — Adult
The Chicken Sisters by KJ Dell'Antonia (Dell'Antonia)
"Fannie Flagg meets Elin Hilderbrand in this deliciously charming debut novel about fried chicken, family feuds, and the foibles of the human heart" — Provided by publisher.
Merinac, Kansas. Chicken Mimi's and Chicken Frannie's have spent a century vying to serve up the best friend chicken in the state. The legendary feud between the owners– the Moores and the Pogociellos — has caught widow Amanda Moore in the middle. She had worked for her mom at Mimi's before marrying Frank Pogociello and working for Frannie's. When she convinces Food Wars, a reality-TV competition, to cover the feud, Amanda and her sister Mae must choose whether to fight with each other, or for their heritage.
December — YA
The Light in Hidden Places: A Novel Based on the True Story of Stefania Podgórska by Sharon Cameron (YA Cameron)
Sixteen-year-old Catholic Stefania Podgórska has worked in the Diamant family's grocery store for four years, even falling in love with one of their sons, Izio; but when the Nazis came to Przemsyl, Poland, the Jewish Diamants are forced into the ghetto (and worse) and only Izio's brother Max manages to escape, and Stefania embarks on a dangerous course–protecting thirteen Jews in her attic, caring for her younger sister, Helena, and keeping everything secret from the two Nazi officers who are living in her house.
November — Adult
Group: How One Therapist and a Circle of Strangers Saved My Life by Christie Tate (Biography Tate)
Tate had just been named the top student in her law school class and finally had her eating disorder under control. Why then was she envisioning putting an end to the isolation and sadness that still plagued her despite her achievements? Enter Dr. Rosen, a therapist who calmly assured her that if she joins one of his psychotherapy groups, he can transform her life. All she has to do is show up and be honest. About everything: her eating habits, childhood, sexual history, etc. Rosen's nine-word prescription : "You don't need a cure. You need a witness." As Tate's defenses break down and she comes to trust Dr. Rosen and to depend on the sessions and the prescribed nightly phone calls with various group members, she begins to understand what it means to connect.
November — YA
A Cuban Girl's Guide to Tea and Tomorrow by Laura Taylor Namey (YA Namey)
After graduation, everything Lila Reyes had planned for her life fell apart. Her worried parents make a new plan for her: Spend three months with family friends in Winchester, England, to relax and reset. But with the lack of sun, a grumpy inn cook, and a small town lacking Miami flavor (both in food and otherwise), what would be a dream trip for some feels more like a nightmare to Lila. Until she meets Orion Maxwell. A teashop clerk with troubles of his own, Orion appoints himself as Lila's personal tour guide. Soon a new future is beginning to form in Lila's mind– one that would mean leaving everything she ever planned behind.
October — Adult
His Only Wife by Peace Adzo Medie (Medie)
A seamstress in Gana, Afi Tekple is smart; she is pretty; and she has been convinced by her mother to marry a man she does not know. Elikem is a wealthy businessman whose mother has chosen Afi in the hopes that she will distract him from his relationship with a woman his family claims is inappropriate. But Afi is not prepared for the shift her life takes when she comes to live in Accra, Ghana's gleaming capital, where she has days of nothing to do but cook meals for a man who may or may not show up to eat them. She has agreed to this marriage in order to give her mother the financial security she desperately needs, and so she must see it through — or does she?
October — YA
Fable by Adrienne Young (YA Young)
As the daughter of the most powerful trader in the Narrows, the sea is the only home Fable has ever known. Four years ago she watched her mother drown during a storm– and the next day her father abandoned her on a legendary island filled with thieves and little food. To survive she kept to herself, learned to trust no one and relied on the unique skills her mother taught her. Fable enlists the help of a young trader named West to get her off the island and across the Narrows to demand her rightful place beside her father. But his rivalries and the dangers of his trading enterprise have multiplied since she last saw him — and Fable soon finds that West isn't who he seems.
September — Adult
The Last Story of Mina Lee by Nancy Jooyoun Kim (Kim)
Riveting and unconventional, The Last Story of Mina Lee traces the far-reaching consequences of secrets in the lives of a Korean immigrant mother and her daughter. Margot Lee's mother is ignoring her calls. Margot can't understand why, until she makes a surprise trip home to Koreatown, LA, and finds that her mother has suspiciously died. Determined to discover the truth, Margot unravels her single mother's past as a Korean War orphan and an undocumented immigrant, only to realize how little she truly knew about her mother, Mina. Thirty years earlier, Mina Lee steps off a plane to take a chance on a new life in America. Stacking shelves at a Korean grocery store, the last thing she expects is to fall in love. But that moment leads to repercussions for Mina that echo through the decades, leading up to the truth of what happened the night of her death. Told through the intimate lens of a mother and daughter who have struggled all their lives to understand each other, The Last Story of Mina Lee is a powerful and exquisitely woven debut novel that explores identity, family, secrets, and what it truly means to belong.
September — YA
Furia by Yamile Saied Mendez (YA Mendez)
In Rosario, Argentina, Camila Hassan lives a double life. At home, she is a careful daughter, living within her mother's narrow expectations, in her rising-soccer-star brother's shadow, and under the abusive rule of her short-tempered father. On the field, she is La Furia, a powerhouse of skill and talent. When her team qualifies for the South American tournament, Camila gets the chance to see just how far those talents can take her. In her wildest dreams, she'd get an athletic scholarship to a North American university. But the path ahead isn't easy. Her parents don't know about her passion. They wouldn't allow a girl to play fútbol – and she needs their permission to go any farther. And the boy she once loved is back in town. Since he left, Diego has become an international star, playing in Italy for the renowned team Juventus. Camila doesn't have time to be distracted by her feelings for him. Things aren't the same as when he left: she has her own passions and ambitions now, and La Furia cannot be denied. As her life becomes more complicated, Camila is forced to face her secrets and make her way in a world with no place for the dreams and ambition of a girl like her. Filled with authentic details and the textures of day-to-day life in Argentina, heart-soaring romance, and breathless action on the pitch, Furia is the story of a girl's journey to make her life her own.
August — Adult
Everything Inside: Stories by Edwidge Danticat (Danticat)
From the internationally acclaimed, best-selling author of Brother, I'm Dying, a collection of vividly imagined stories about community, family, and love. Rich with hard-won wisdom and humanity, set in locales from Miami and Port-au-Prince to a small unnamed country in the Caribbean and beyond, Everything Inside is at once wide in scope and intimate, as it explores the forces that pull us together, or drive us apart, sometimes in the same searing instant. In these eight powerful, emotionally absorbing stories, a romance unexpectedly sparks between two wounded friends; a marriage ends for what seem like noble reasons, but with irreparable consequences; a young woman holds on to an impossible dream even as she fights for her survival; two lovers reunite after unimaginable tragedy, both for their country and in their lives; a baby's christening brings three generations of a family to a precarious dance between old and new; a man falls to his death in slow motion, reliving the defining moments of the life he is about to lose. This is the indelible work of a keen observer of the human heart — a master at her best.
August — YA — first appearance of the YA Picks in Reese's Book Club

You Should See Me in a Crown by Leah Johnson (YA Johnson)
The very first book pick for Reese Witherspoon's YA Book Club! '[A] super funny, joyful story that'll have you reliving your high school prom days!'— Reese's YA Book Club. Becky Albertalli meets Jenny Han in a smart, hilarious, black girl magic, own voices rom-com by fantastic debut talent, Leah Johnson. Liz has always believed she's too black, too poor, too awkward to shine in her small, rich, prom-obsessed town. But Liz has an escape plan to attend an uber-elite college, play in their world-famous orchestra, and become a doctor. But when the financial aid she was counting on unexpectedly falls through, Liz's plans come crashing down…until she's reminded of her school's scholarship for prom king and queen. There's nothing Liz wants to do less than endure a gauntlet of social media trolls, catty competitors, and humiliating public events, but despite her devastating fear of the spotlight she's willing to do whatever it takes to get to college. The only thing that makes it halfway bearable is the new girl in school, Mack. She's smart, funny, and just as much of an outsider as Liz. But Mack is also in the running for queen. Will falling for the competition keep Liz from her dreams…or make them come true?
July
I'm Still Here: Black Dignity in a World Made for Whiteness by Austin Channing Brown (305.8 Bro)
Austin Channing Brown's first encounter with a racialized America came at age seven, when she discovered her parents named her Austin to deceive future employers into thinking she was a white man. Growing up in majority-white schools and churches, Austin writes, "I had to learn what it means to love blackness," a journey that led to a lifetime spent navigating America's racial divide as a writer, speaker, and expert helping organizations practice genuine inclusion. In a time when nearly every institution (schools, churches, universities, businesses) claims to value diversity in its mission statement, Austin writes in breathtaking detail about her journey to self-worth and the pitfalls that kill our attempts at racial justice. Her stories bear witness to the complexity of America's social fabric–from Black Cleveland neighborhoods to private schools in the middle-class suburbs, from prison walls to the boardrooms at majority-white organizations. For readers who have engaged with America's legacy on race through the writing of Ta-Nehisi Coates and Michael Eric Dyson, I'm Still Here is an illuminating look at how white, middle-class, Evangelicalism has participated in an era of rising racial hostility, inviting the reader to confront apathy, recognize God's ongoing work in the world, and discover how blackness–if we let it–can save us all.
June
The Guest List by Lucy Foley (Foley)
The bride – The plus one – The best man – The wedding planner – The bridesmaid – The body. On an island off the coast of Ireland, guests gather to celebrate two people joining their lives together as one. The groom: handsome and charming, a rising television star. The bride: smart and ambitious, a magazine publisher. It's a wedding for a magazine, or for a celebrity: the designer dress, the remote location, the luxe party favors, the boutique whiskey. The cell phone service may be spotty and the waves may be rough, but every detail has been expertly planned and will be expertly executed. But perfection is for plans, and people are all too human. As the champagne is popped and the festivities begin, resentments and petty jealousies begin to mingle with the reminiscences and well wishes. The groomsmen begin the drinking game from their school days. The bridesmaid not-so-accidentally ruins her dress. The bride's oldest (male) friend gives an uncomfortably caring toast. And then someone turns up dead. Who didn't wish the happy couple well? And perhaps more important, why?
May
The Henna Artist by Alka Joshi (Joshi)
Vivid and compelling in its portrait of one woman's struggle for fulfillment in a society pivoting between the traditional and the modern, The Henna Artist opens a door into a world that is at once lush and fascinating, stark and cruel. Escaping from an abusive marriage, seventeen-year-old Lakshmi makes her way alone to the vibrant 1950s pink city of Jaipur. There she becomes the most highly requested henna artist–and confidante — to the wealthy women of the upper class. But trusted with the secrets of the wealthy, she can never reveal her own…Known for her original designs and sage advice, Lakshmi must tread carefully to avoid the jealous gossips who could ruin her reputation and her livelihood. As she pursues her dream of an independent life, she is startled one day when she is confronted by her husband, who has tracked her down these many years later with a high-spirited young girl in tow–a sister Lakshmi never knew she had. Suddenly the caution that she has carefully cultivated as protection is threatened. Still she perseveres, applying her talents and lifting up those that surround her as she does.
April
Untamed by Glennan Doyle (Biography Doyle)
There is a voice of longing inside every woman. We strive so mightily to be good: good mothers, daughters, partners, employees, citizens, and friends. We believe all this striving will make us feel alive. Instead, it leaves us feeling weary, stuck, overwhelmed, and underwhelmed. We look at our lives, relationships, and world, and wonder: Wasn't it all supposed to be more beautiful than this? We quickly silence that question, telling ourselves to be grateful. We hide our simmering discontent–even from ourselves. Until we reach our boiling point. Four years ago, Glennon Doyle–bestselling Oprah-endorsed author, renowned activist and humanitarian, wife and mother of three–was speaking at a conference when a woman entered the room. Glennon looked at her and fell instantly in love. Three words flooded her mind: There She Is. At first, Glennon assumed these words came to her from on high. Soon she realized that they came to her from within. Glennon was finally hearing her own voice–the voice that had been silenced by decades of cultural conditioning, numbing addictions, and institutional allegiances. This was the voice of the girl Glennon had been before the world told her who to be. She vowed to never again abandon herself. She decided to build a life of her own–one based on her individual desire, intuition, and imagination. She would reclaim her true, untamed self. Soulful and uproarious, forceful and tender, Untamed is both a memoir and a galvanizing wake-up call. It offers a piercing, electrifying examination of the restrictive expectations women are issued from birth; shows how hustling to meet those expectations leaves women feeling dissatisfied and lost; and reveals that when we quit abandoning ourselves and instead abandon the world's expectations of us, we become women who can finally look at our lives and recognize: There She Is. Untamed shows us how to be brave. As Glennon insists: The braver we are, the luckier we get.
March
The Jetsetters by Amanda Eyre Ward
When seventy-year-old Charlotte Perkins submits a sexy essay to the "Become a Jetsetter" contest, she dreams of reuniting her estranged children: Lee, an almost-famous actress; Cord, a handsome Manhattan venture capitalist who can't seem to find a bride; and Regan, a harried mother who took it all wrong when Charlotte bought her a Weight Watchers gift certificate for her birthday. Charlotte yearns for the years when her children were young and she was a single mother who meant everything to them. When she wins the cruise, the family packs all their baggage – literal and figurative – and spends ten days traveling from sun-drenched Athens through glorious Rome to tapas-laden Barcelona on an over-the-top cruise ship, the Splendido Marveloso. As lovers new and old join the adventure, long-buried secrets are revealed, and the Perkins family is forced to confront the defining choices in their lives. Can four lost adults find the peace they've been seeking by reconciling their childhood aches and coming back to each other?
February
The Scent Keeper by Erica Bauermeister
Erica Bauermeister, the national bestselling author of The School of Essential Ingredients, presents a moving and evocative coming-of-age novel about childhood stories, families lost and found, and how a fragrance conjures memories capable of shaping the course of our lives. The Scent Keeper explores the provocative beauty of scent, the way it can reveal hidden truths, lead us to the person we seek, and even help us find our way back home"– Provided by publisher.
Emmeline lives on a remote island with her father, who teaches her about the natural world through her senses. What he won't explain are the mysterious scents stored in the drawers that line the walls of their cabin, or the origin of the machine that creates them. One day the unforeseen happens, and Emmeline is vaulted out into the real world– a place of love, betrayal, ambition, and revenge. To understand her past, Emmeline must unlock the clues to her identity, a quest that challenges the limits of her heart and imagination.
January
Such a Fun Age by Kiley Reid
Alix Chamberlain is a woman who gets what she wants and has made a living, with her confidence-driven brand, showing other women how to do the same. So she is shocked when her babysitter, Emira Tucker, is confronted while watching the Chamberlains' toddler one night, walking the aisles of their local high-end supermarket. The store's security guard, seeing a young black woman out late with a white child, accuses Emira of kidnapping two-year-old Briar. A small crowd gathers, a bystander films everything, and Emira is furious and humiliated. Alix resolves to make things right. But Emira herself is aimless, broke, and wary of Alix's desire to help. At twenty-five, she is about to lose her health insurance and has no idea what to do with her life. When the video of Emira unearths someone from Alix's past, both women find themselves on a crash course that will upend everything they think they know about themselves, and each other.
2019 Selections
December
Conviction by Denise Mina
An upper-class Edinburgh housewife who enjoys listening to the sordid details of true-crime podcasts has her world turned upside down when a new podcast turns out to have connections to her own dark past.
November
The Giver of Stars by Jojo Moyes
Set in Depression-era America, a breathtaking story of five extraordinary women and their remarkable journey through the mountains of Kentucky and beyond, from the author of Me Before You and The Peacock Emporium. Alice Wright marries handsome American Bennett Van Cleve hoping to escape her stifling life in England. But small-town Kentucky quickly proves equally claustrophobic, especially living alongside her overbearing father-in-law. So when a call goes out for a team of women to deliver books as part of Eleanor Roosevelt's new traveling library, Alice signs on enthusiastically. The leader, and soon Alice's greatest ally, is Margery, a smart-talking, self-sufficient woman who's never asked a man's permission for anything. They will be joined by three other singular women who become known as the Horseback Librarians of Kentucky. What happens to them–and to the men they love–becomes a classic drama of loyalty, justice, humanity and passion. Though they face all kinds of dangers, they're committed to their job–bringing books to people who have never had any, sharing the gift of learning that will change their lives. Based on a true story rooted in America's past, The Giver of Stars is unparalleled in its scope. At times funny, at others heartbreaking, this is a richly rewarding novel of women's friendship, of true love, and of what happens when we reach beyond our grasp for the great beyond.
October
Fair Play: A Game-Changing Solution For When You Have Too Much To Do (and More Life to Live) by Eve Rodsky (650.1 Rod)
It started with the Sh*t I Do List. Tired of being the "shefault" parent responsible for all aspects of her busy household, Eve Rodsky counted up all the unpaid, invisible work she was doing for her family — and then sent that list to her husband, asking for things to change. His response was… underwhelming. Rodsky realized that simply identifying the issue of unequal labor on the home front wasn't enough: She needed a solution to this universal problem. Her sanity, identity, career, and marriage depended on it. The result is Fair Play: a time- and anxiety-saving system that offers couples a completely new way to divvy up domestic responsibilities. Rodsky interviewed more than five hundred men and women from all walks of life to figure out what the invisible work in a family actually entails and how to get it all done efficiently. With four easy-to-follow rules, 100 household tasks, and a figurative card game you play with your partner, Fair Play helps you prioritize what's important to your family and who should take the lead on every chore from laundry to homework to dinner. "Winning" this game means rebalancing your home life, reigniting your relationship with your significant other, and reclaiming your Unicorn Space — as in, the time to develop the skills and passions that keep you interested and interesting. Are you ready to try Fair Play? Let's deal you in.
September
The Secrets We Kept by Lara Prescott
At the height of the Cold War, two secretaries are pulled out of the typing pool at the CIA and given the assignment of a lifetime. Their mission: to smuggle Doctor Zhivago out of the USSR, where no one dare publish it, and help Pasternak's magnum opus make its way into print around the world. Glamorous and sophisticated Sally Forrester is a seasoned spy who has honed her gift for deceit all over the world–using her magnetism and charm to pry secrets out of powerful men. Irina is a complete novice, and under Sally's tutelage quickly learns how to blend in, make drops, and invisibly ferry classified.
August
The Last House Guest by Megan Miranda
From the acclaimed New York Times bestselling author of All the Missing Girls, a suspenseful new novel about an idyllic town in Maine dealing with the suspicious death of one of their own–and her best "summer" friend, who is trying to uncover the truth…before fingers point her way.
July
Whisper Network by Chandler Baker
Sloane, Ardie, Grace, and Rosalita have worked at Truviv, Inc. for years. The sudden death of Truviv's CEO means their boss, Ames, will likely take over the entire company. Each of the women has a different relationship with Ames, who has always been surrounded by whispers about how he treats women. Those whispers have been ignored, swept under the rug, hidden away by those in charge. But the world has changed, and the women are watching this promotion differently. This time, when they find out Ames is making an inappropriate move on a colleague, they aren't willing to let it go. This time, they've decided enough is enough. Sloane and her colleagues' decision to take a stand sets in motion a catastrophic shift in the office. Lies will be uncovered. Secrets will be exposed. And not everyone will survive. All of their lives–as women, colleagues, mothers, wives, friends, even adversaries–will change dramatically as a result.
June
The Cactus by Sarah Haywood
For Susan Green, messy emotions don't fit into the equation of her perfectly ordered life. She has a flat that is ideal for one, a job that suits her passion for logic and an 'interpersonal arrangement' that provides cultural and other, more intimate, benefits. But suddenly confronted with the loss of her mother and the news that she is about to become a mother herself, Susan's greatest fear is realized. She is losing control. When she learns that her mother's will inexplicably favors her indolent brother, Edward, Susan's already dismantled world is sent flying into a tailspin. As Susan's due date draws near and her family problems become increasingly difficult to ignore, Susan finds help and self-discovery in the most unlikely of places.
May
From Scratch: A Memoir of Love, Sicily and Finding Home by Tembi Locke (Biography Locke)
A poignant and transporting cross-cultural love story set against the lush backdrop of the Sicilian countryside, where one woman discovers the healing powers of food and family in her darkest hour. It was love at first sight when Tembi met professional chef, Saro, on a street in Florence. There was just one problem: Saro's traditional Sicilian family did not approve of him marrying a black American woman, an actress no less. However, the couple, heartbroken but undeterred, forges on. They build a happy life in Los Angeles, with fulfilling careers, deep friendships and the love of their lives: a baby girl they adopt at birth. Eventually, they reconcile with Saro's family just as he faces a formidable cancer that will consume all their dreams. From Scratch chronicles three summers Tembi spends in Sicily with her daughter, Zoela, as she begins to piece together a life without her husband in his tiny hometown hamlet of farmers. Where once Tembi was estranged from Saro's family and his origins, now she finds solace and nourishment–literally and spiritually–at her mother in law's table. In the Sicilian countryside, she discovers the healing gifts of simple fresh food, the embrace of a close knit community, and timeless traditions and wisdom that light a path forward. All along the way she reflects on her and Saro's incredible romance–an indelible love story that leaps off the pages. In Sicily, it is said that every story begins with a marriage or a death–in Tembi Locke's case, it is both. Her story is about loss, but it's really about love found. Her story is about travel, but it's really about finding a home. It is about food, but it's really about chasing flavor as an act of remembrance. From Scratch is for anyone who has dared to reach for big love, fought for what mattered most, and needed a powerful reminder that life is…delicious.
April
The Night Tiger by Tangsze Choo
Quick-witted, ambitious Ji Lin is stuck as an apprentice dressmaker, moonlighting as a dancehall girl to help pay off her mother's Mahjong debts. But when one of her dance partners accidentally leaves behind a gruesome souvenir, Ji Lin may finally get the adventure she has been longing for. Eleven-year-old houseboy Ren is also on a mission, racing to fulfill his former master's dying wish: that Ren find the man's finger, lost years ago in an accident, and bury it with his body. Ren has 49 days to do so, or his master's soul will wander the earth forever. As the days tick relentlessly by, a series of unexplained deaths racks the district, along with whispers of men who turn into tigers. Ji Lin and Ren's increasingly dangerous paths crisscross through lush plantations, hospital storage rooms, and ghostly dreamscapes. Yangsze Choo's The Night Tiger pulls us into a world of servants and masters, age-old superstition and modern idealism, sibling rivalry and forbidden love. But anchoring this dazzling, propulsive novel is the intimate coming-of-age of a child and a young woman, each searching for their place in a society that would rather they stay invisible.
March
Daisy Jones & The Six by Taylor Jenkins-Reid
Daisy is a girl coming of age in L.A. in the late sixties, sneaking into clubs on the Sunset Strip, sleeping with rock stars, and dreaming of singing at the Whisky a Go-Go. The sex and drugs are thrilling, but it's the rock and roll she loves most. By the time she's twenty, her voice is getting noticed, and she has the kind of heedless beauty that makes people do crazy things. Another band getting noticed is The Six, led by the brooding Billy Dunne. On the eve of their first tour, his girlfriend Camila finds out she's pregnant, and with the pressure of impending fatherhood and fame, Billy goes a little wild on the road. Daisy and Billy cross paths when a producer realizes the key to supercharged success is to put the two together. What happens next will become the stuff of legend. The making of that legend is chronicled in this riveting and unforgettable novel, written as an oral history of one of the biggest bands of the seventies. Taylor Jenkins Reid is a talented writer who takes her work to a new level with Daisy Jones & The Six, brilliantly capturing a place and time in an utterly distinctive voice.
February
The Proposal by Jasmine Guillory
When someone asks you to spend your life with him, it shouldn't come as a surprise–or happen in front of 45,000 people. When freelance writer Nikole Paterson goes to a Dodgers game with her actor boyfriend, his man bun, and his bros, the last thing she expects is a scoreboard proposal. Saying no isn't the hard part–they've only been dating for five months, and he can't even spell her name correctly. The hard part is having to face a stadium full of disappointed fans… At the game with his sister, Carlos Ibarra comes to Nik's rescue and rushes her away from a camera crew. He's even there for her when the video goes viral and Nik's social media blows up–in a bad way. Nik knows that in the wilds of LA, a handsome doctor like Carlos can't be looking for anything serious, so she embarks on an epic rebound with him, filled with food, fun, and fantastic sex. But when their glorified hookups start breaking the rules, one of them has to be smart enough to put on the brakes.
January
The Library Book by Susan Orlean (027.4 Orl)
Orlean chronicles the LAPL fire and its aftermath to showcase the larger, crucial role that libraries play in our lives; delves into the evolution of libraries across the country and around the world, from their humble beginnings as a metropolitan charitable initiative to their current status as a cornerstone of national identity; brings each department of the library to vivid life through on-the-ground reporting; studies arson attempts to burn a copy of a book herself; reflects on her own experiences in libraries; and reexamines the case of Harry Peak, the blond-haired actor long suspected of setting fire to the LAPL more than thirty years ago.
2018 Selections
December
One Day in December by Josie Silver
Two people. Ten chances. One unforgettable love story. Laurie is pretty sure love at first sight doesn't exist anywhere but the movies. But then, through a misted-up bus window one snowy December day, she sees a man who she knows instantly is the one. Their eyes meet, there's a moment of pure magic…and then her bus drives away. Certain they're fated to find each other again, Laurie spends a year scanning every bus stop and cafe in London for him. But she doesn't find him, not when it matters anyway. Instead they "reunite" at a Christmas party, when her best friend Sarah giddily introduces her new boyfriend to Laurie. It's Jack, the man from the bus. It would be. What follows for Laurie, Sarah and Jack is ten years of friendship, heartbreak, missed opportunities, roads not taken, and destinies reconsidered. One Day in December is a joyous, heartwarming and immensely moving love story to escape into and a reminder that fate takes inexplicable turns along the route to happiness.
November
The Other Woman by Sandie Jones
Emily thinks Adam's perfect; the man she thought she'd never meet. But lurking in the shadows is a rival; a woman who shares a deep bond with the man she loves. Emily chose Adam, but she didn't choose his mother Pammie. There's nothing a mother wouldn't do for her son, and now Emily is about to find out just how far Pammie will go to get what she wants: Emily gone forever. The Other Woman is an addictive, fast-paced psychological thriller about the destructive relationship between Emily, her boyfriend Adam, and his manipulative mother Pammie.
October
This is How It Always Is by Laurie Frankel
This is how a family keeps a secret…and how that secret ends up keeping them. This is how a family lives happily ever after…until happily ever after becomes complicated. This is how children change…and then change the world. When Rosie and Penn and their four boys welcome the newest member of their family, no one is surprised it's another baby boy. At least their large, loving, chaotic family knows what to expect. But Claude is not like his brothers. One day he puts on a dress and refuses to take it off. He wants to bring a purse to kindergarten. He wants hair long enough to sit on. When he grows up, Claude says, he wants to be a girl. Rosie and Penn aren't panicked at first. Kids go through phases, after all, and make-believe is fun. But soon the entire family is keeping Claude's secret. Until one day it explodes. This is How It Always Is is a novel about revelations, transformations, fairy tales, and family. And it's about the ways this is how it always is: Change is always hard and miraculous and hard again; parenting is always a leap into the unknown with crossed fingers and full hearts; children grow but not always according to plan. And families with secrets don't get to keep them forever.
September
Where the Crawdads Sing by Delia Owens
Fans of Barbara Kingsolver will love this stunning debut novel from a New York Times bestselling nature writer, about an unforgettable young woman determined to make her way in the wilds of North Carolina, and the two men that will break her isolation open. For years, rumors of the "Marsh Girl" have haunted Barkley Cove, a quiet town on the North Carolina coast. She's barefoot and wild; unfit for polite society. So in late 1969, when handsome Chase Andrews is found dead, the locals immediately suspect Kya Clark. But Kya is not what they say. Abandoned at age ten, she has survived on her own in the marsh that she calls home. A born naturalist with just one day of school, she takes life lessons from the land, learning from the false signals of fireflies the real way of this world. But while she could have lived in solitude forever, the time comes when she yearns to be touched and loved. Drawn to two young men from town, who are each intrigued by her wild beauty, Kya opens herself to a new and startling world–until the unthinkable happens. In Where the Crawdads Sing, Owens juxtaposes an exquisite ode to the natural world against a heartbreaking coming of age story and a surprising murder investigation. Thought-provoking, wise, and deeply moving, Owens's debut novel reminds us that we are forever shaped by the children we once were, and that we are all subject to the beautiful and violent secrets that nature keeps.
August
Still Lives by Maria Hummel
Kim Lord's grounbreaking new exhibition, Still Lives, features portraits in which she depicts herself as famous murdered women, and the works are as compelling as they are disturbing, implicating a culture that is too accustomed to violence against women. When Lord never shows up to her own gala, editor Maggie Richter gets drawn into her own investiation of Lord's disappearance, fearful that the artist might have met the same fate as the women in her paintings.
July
Next Year in Havana by Chanel Cleeton
After the death of her beloved grandmother, a Cuban-American woman travels to Havana, where she discovers the roots of her identity–and unearths a family secret hidden since the revolution … Havana, 1958. The daughter of a sugar baron, nineteen-year-old Elisa Perez is part of Cuba's high society, where she is largely sheltered from the country's growing political unrest–until she embarks on a clandestine affair with a passionate revolutionary … Miami, 2017. Freelance writer Marisol Ferrera grew up hearing romantic stories of Cuba from her late grandmother Elisa, who was forced to flee with her family during the revolution. Elisa's last wish was for Marisol to scatter her ashes in the country of her birth. Arriving in Havana, Marisol comes face-to-face with the contrast of Cuba's tropical, timeless beauty and its perilous political climate. When more family history comes to light and Marisol finds herself attracted to a man with secrets of his own, she'll need the lessons of her grandmother's past to help her understand the true meaning of courage–and what it means to be Cuban.
June
Something in the Water by Catherine Steadman
Erin is a documentary filmmaker on the brink of a professional breakthrough, Mark a handsome investment banker with big plans. Passionately in love, they embark on a dream honeymoon to the tropical island of Bora Bora, where they enjoy the sun, the sand, and each other. Then, while scuba diving in the crystal blue sea, they find something in the water…Suddenly the newlyweds must make a dangerous choice: to speak out or to protect their secret. After all, if no one else knows, who would be hurt? Their decision will trigger a devastating chain of events…
May
You Think It, I'll Say It: Stories by Curtis Sittenfeld
A dazzling collection of short stories from the New York Times bestselling author of Prep, American Wife, and Eligible. With moving insight and uncanny precision, Curtis Sittenfeld pinpoints the questionable decisions, missed connections, and sometimes extraordinary coincidences that make up a life. Indeed, she writes what we're all thinking, if only we could express it with the wit of a master satirist, the storytelling gifts of an old-fashioned raconteur, and the vision of an American original.
April
Happiness: The Crooked Little Road to Semi-Ever After: A Memoir by Heather Harpham (Biography Harpham)
Happiness begins with a charming courtship between hopelessly attracted opposites: Heather, a world-roaming California girl, and Brian, an intellectual, homebody writer, kind and slyly funny, but loath to leave his Upper West Side studio. Their magical interlude ends, full stop, when Heather becomes pregnant, Brian is sure he loves her, only he doesn't want kids. Heather returns to California to deliver their daughter alone, buoyed by family and friends. Mere hours after Gracie's arrival, Heather's bliss is interrupted when a nurse wakes her, "Get dressed, your baby is in trouble." This is not how Heather had imagined new motherhood, alone, heartsick, an unexpectedly solo caretaker of a baby who smelled "like sliced apples and salted pretzels" but might be perilously ill. Brian reappears as Gracie's condition grows dire; together Heather and Brian have to decide what they are willing to risk to ensure their girl sees adulthood. The grace and humor that ripple through Harpham's writing transform the dross of heartbreak and parental fears into a clear-eyed, warm-hearted view of the world. Profoundly moving and subtly written, Happiness radiates in many directions, new, romantic love; gratitude for a beautiful, inscrutable world; deep, abiding friendship; the passion a parent has for a child; and the many unlikely ways to build a family. Ultimately it's a story about love and happiness, in their many crooked configurations.
March
Erotic Stories for Punjabi Widows by Balli Kaur Jaswal
Nikki has spent most of her life distancing herself from the traditional Sikh community. After her father's death she takes a job teaching a creative writing course in the heart of the Punjabi community. When one of the women students brings a book of erotica to class, Nicki use it as the basis for helping these modest women unleash creativity by telling their own stories.
February
The Light We Lost by Jill Santopolo
Lucy is faced with a life-altering choice. But before she can make her decision, she must start her story–their story–at the very beginning. Lucy and Gabe meet as seniors at Columbia University on a day that changes both of their lives forever. Together, they decide they want their lives to mean something, to matter. When they meet again a year later, it seems fated–perhaps they'll find life's meaning in each other. But then Gabe becomes a photojournalist assigned to the Middle East and Lucy pursues a career in New York. What follows is a thirteen-year journey of dreams, desires, jealousies, betrayals, and, ultimately, of love… Their journey will take Lucy and Gabe continents apart, but never out of each other's hearts. Was it fate that brought them together? Is it choice that has kept them away?
January
Braving the Wilderness: The Quest for True Belonging and the Courage to Stand Alone by Brene Brown (158 Bro)
True belonging doesn't require us to change who we are. It requires us to be who we are." Social scientist Brené Brown, PhD, LMSW, has sparked a global conversation about the experiences that bring meaning to our lives–experiences of courage, vulnerability, love, belonging, shame, and empathy. In Braving the Wilderness, Brown redefines what it means to truly belong in an age of increased polarization. With her trademark mix of research, storytelling, and honesty, Brown will again change the cultural conversation while mapping a clear path to true belonging.
2017 Selections
December
The Last Mrs. Parrish by Liv Constantine
Some women get everything. Some women get everything they deserve. Amber Patterson is fed up. She's tired of being a nobody: a plain, invisible woman who blends into the background. She deserves more–a life of money and power like the one blond-haired, blue-eyed goddess Daphne Parrish takes for granted. To everyone in the exclusive town of Bishops Harbor, Connecticut, Daphne–a socialite and philanthropist–and her real-estate mogul husband, Jackson, are a couple straight out of a fairy tale. Amber's envy could eat her alive … if she didn't have a plan. Amber uses Daphne's compassion and caring to insinuate herself into the family's life–the first step in a meticulous scheme to undermine her. Before long, Amber is Daphne's closest confidante, traveling to Europe with the Parrishes and their lovely young daughters, and growing closer to Jackson. But a skeleton from her past may undermine everything that Amber has worked towards, and if it is discovered, her well-laid plan may fall to pieces. With shocking turns and dark secrets that will keep you guessing until the very end, The Last Mrs. Parrish is a fresh, juicy, and utterly addictive thriller from a diabolically imaginative talent.
November
This is the Story of a Happy Marriage by Ann Patchett (Biography Patchett)
Sometimes you have to walk through the desert before you can find your oasis. Essays reveal the trials and tribulations that Ann Patchett overcame, revealing how writing also led her from the wrong marriage to the right one. Discover how her writing carried her around the world, making friends and learning from the battles that made the writer she is today.
October
The Rules of Magic by Alice Hoffman
From beloved author Alice Hoffman comes the spellbinding prequel to her bestseller, Practical Magic. Find your magic. For the Owens family, love is a curse that began in 1620, when Maria Owens was charged with witchery for loving the wrong man. Hundreds of years later, in New York City at the cusp of the sixties, when the whole world is about to change, Susanna Owens knows that her three children are dangerously unique. Difficult Franny, with skin as pale as milk and blood red hair, shy and beautiful Jet, who can read other people's thoughts, and charismatic Vincent, who began looking for trouble on the day he could walk. From the start Susanna sets down rules for her children: No walking in the moonlight, no red shoes, no wearing black, no cats, no crows, no candles, no books about magic. And most importantly, never, ever, fall in love. But when her children visit their Aunt Isabelle, in the small Massachusetts town where the Owens family has been blamed for everything that has ever gone wrong, they uncover family secrets and begin to understand the truth of who they are. Back in New York City each begins a risky journey as they try to escape the family curse. The Owens children cannot escape love even if they try, just as they cannot escape the pains of the human heart. The two beautiful sisters will grow up to be the revered, and sometimes feared, aunts in Practical Magic, while Vincent, their beloved brother, will leave an unexpected legacy. Thrilling and exquisite, real and fantastical, The Rules of Magic is a story about the power of love reminding us that the only remedy for being human is to be true to yourself.
September
Little Fires Everywhere by Celeste Ng
In Shaker Heights, a placid, progressive suburb of Cleveland, everything is planned – from the layout of the winding roads, to the colors of the houses, to the successful lives its residents will go on to lead. And no one embodies this spirit more than Elena Richardson, whose guiding principle is playing by the rules. Enter Mia Warren – an enigmatic artist and single mother – who arrives in this idyllic bubble with her teenaged daughter Pearl, and rents a house from the Richardsons. Soon Mia and Pearl become more than tenants: all four Richardson children are drawn to the mother-daughter pair. But Mia carries with her a mysterious past and a disregard for the status quo that threatens to upend this carefully ordered community. When old family friends of the Richardsons attempt to adopt a Chinese-American baby, a custody battle erupts that dramatically divides the town–and puts Mia and Elena on opposing sides. [A 2019 One Book – One Lincoln finalist.]

August
The Lying Game by Ruth Ware
The text message arrives in the small hours of the night. It's just three words: I need you. Isa drops everything, takes her baby daughter and heads straight to Salten. She spent the most significant days of her life at boarding school on the marshes there, days which still cast their shadow over her. At school Isa and her three best friends used to play the Lying Game. They competed to convince people of the most outrageous stories. Now, after seventeen years of secrets, something terrible has been found on the beach. Something which will force Isa to confront her past, together with the three women she hasn't seen for years, but has never forgotten.
July
The Alice Network by Kate Quinn
It's 1947 and American college girl Charlie St. Clair is pregnant, unmarried, and on the verge of being thrown out of her very proper family. She's also nursing a fervent belief that her beloved French cousin Rose, who disappeared in Nazi-occupied France during the war, might still be alive somewhere. So when Charlie's family banishes her to Europe to have her "little problem" take care of, Charlie breaks free and heads to London determined to find out what happened to the cousin she loves like a sister. In 1915, Eve Gardiner burns to join the fight against the Germans and unexpectedly gets her chance to serve when she's recruited to work as a spy for the English. Sent into enemy-occupied France during The Great War, she's trained by the mesmerizing Lili, the "Queen of Spies", who manages a vast network of secret agents, right under the enemy's nose. Thirty years later, haunted by the betrayal that ultimately tore apart the Alice Network, Eve spends her days drunk and secluded in her crumbling London house. Until a young American barges in uttering a name Eve hasn't heard in decades, and launching them both on a mission to find the truth … no matter where it leads.
June
Eleanor Oliphant is Completely Fine by Gail HOneyman
Meet Eleanor Oliphant: she struggles with appropriate social skills and tends to say exactly what she's thinking. That, combined with her unusual appearance (scarred cheek, tendency to wear the same clothes year in, year out), means that Eleanor has become a creature of habit (to say the least) and a bit of a loner. Nothing is missing in her carefully timetabled life of avoiding social interactions, where weekends are punctuated by frozen pizza, vodka, and phone chats with Mummy. But everything changes when Eleanor meets Raymond, the bumbling and deeply unhygienic IT guy from her office. When she and Raymond together save Sammy, an elderly gentleman who has fallen on the sidewalk, the three become the kind of friends who rescue each other from the lives of isolation they have each been living. And it is Raymond's big heart that will ultimately help Eleanor find the way to repair her own profoundly damaged one.
last updated May 2021 sdc