The 2022 Booker Prize Longlist
South Branch BooksTalk, October 13, 2022 and Bethany Branch BooksTalk, October 14, 2022
Jodi R. (Anderson and Bethany Branch Libraries)
The 13 Books on the 2021 Booker Prize Longlist
After Sappho
by Selby Wynn Schwartz (not currently in the libraries' collection)
. . . feminists at the turn of the twentieth century.
The first thing we did was change our names. We were going to be Sappho," so begins this intrepid debut novel, centuries after the Greek poet penned her lyric verse. Ignited by the same muse, a myriad of women break from their small, predetermined lives for seemingly disparate paths: in 1892, Rina Faccio trades her needlepoint for a pen; in 1902, Romaine Brooks sails for Capri with nothing but her clotted paintbrushes; and in 1923, Virginia Woolf writes: "I want to make life fuller and fuller." Writing in cascading vignettes, Selby Wynn Schwartz spins an invigorating tale of women whose narratives converge and splinter as they forge queer identities and claim the right to their own lives. A luminous meditation on creativity, education, and identity, After Sappho announces a writer as ingenious as the trailblazers of our past.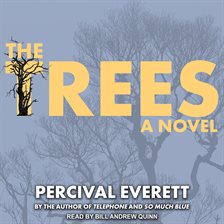 The Trees
by Percival Everett (currently available from the libraries only as a Hoopla E-Audiobook)
. . . a page-turner that opens with a series of brutal murders in the rural town of Money, Mississippi. When a pair of detectives from the Mississippi Bureau of Investigation arrive, they meet expected resistance from the local sheriff, his deputy, the coroner, and a string of racist White townsfolk. The murders present a puzzle, for at each crime scene there is a second dead body: that of a man who resembles Emmett Till.
The detectives suspect that these are killings of retribution, but soon discover that eerily similar murders are taking place all over the country. Something truly strange is afoot. As the bodies pile up, the MBI detectives seek answers from a local root doctor who has been documenting every lynching in the country for years, uncovering a history that refuses to be buried. In this bold, provocative book, Everett takes direct aim at racism and police violence, and does so in a fast-paced style that ensures the reader can't look away.
Glory
by NoViolet Bulawayo (Bulawayo)
NoViolet Bulawayo's bold new novel follows the fall of the Old Horse, the long-serving leader of a fictional country, and the drama that follows for a rumbustious nation of animals on the path to true liberation. Inspired by the unexpected fall by coup in November 2017 of Robert G. Mugabe, Zimbabwe's president of nearly four decades, Glory shows a country's imploding, narrated by a chorus of animal voices that unveil the ruthlessness required to uphold the illusion of absolute power and the imagination and bulletproof optimism to overthrow it completely. By immersing readers in the daily lives of a population in upheaval, Bulawayo reveals the dazzling life force and irresistible wit that lie barely concealed beneath the surface of seemingly bleak circumstances.
Case Study
by Graeme Macrae Burnet (not currently in the libraries' collection)
London, 1965. An unworldly young woman believes that a charismatic psychotherapist, Collins Braithwaite, has driven her sister to suicide. Intent on confirming her suspicions, she assumes a false identity and presents herself to him as a client, recording her experiences in a series of notebooks. But she soon finds herself drawn into a world in which she can no longer be certain of anything. Even her own character. In Case Study, Graeme Macrae Burnet presents these notebooks interspersed with his own biographical research into Collins Braithwaite. The result is a dazzling—and often wickedly humorous—meditation on the nature of sanity, identity and truth itself, by one of the most inventive novelists writing today.
Nightcrawling
by Leila Mottley (Mottley)
Kiara and her brother, Marcus, are scraping by in an East Oakland apartment complex optimistically called the Regal-Hi. Both have dropped out of high school, their family fractured by death and prison.
But while Marcus clings to his dream of rap stardom, Kiara hunts for work to pay their rent—which has more than doubled—and to keep the nine-year-old boy next door, abandoned by his mother, safe and fed. One night, what begins as a drunken misunderstanding with a stranger turns into the job Kiara never imagined wanting but now desperately needs: nightcrawling. Her world breaks open even further when her name surfaces in an investigation that exposes her as a key witness in a massive scandal within the Oakland Police Department.
Treacle Walker
by Alan Garner (not currently in the libraries' collection)
An introspective young boy, Joseph Coppock squints at the world with his lazy eye. Living alone in an old house, he reads comics, collects birds' eggs and plays with his marbles. When, one day, a rag-and-bone man called Treacle Walker appears, exchanging an empty jar of a cure-all medicine and a donkey stone for a pair of Joseph's pyjamas and a lamb's shoulder blade, a mysterious friendship develops between them.
Maps of Our Spectacular Bodies
by Maddie Mortimer (not currently in libraries' collection)
Lia, her husband Harry, and their beloved daughter, Iris, are a precisely balanced family of three. With Iris struggling to navigate the social tightrope of early adolescence, their tender home is a much-needed refuge. But when a sudden diagnosis threatens to derail each of their lives, the secrets of Lia's past come rushing into the present, and the world around them begins to transform.
Deftly guided through time, we discover the people who shaped Lia's youth; from her deeply religious mother to her troubled first love. In turn, each will take their place in the shifting landscape of Lia's body; at the center of which dances a gleeful narrator, learning her life from the inside, growing more emboldened by the day.
Trust
by Hernan Diaz (Diaz)
Even through the roar and effervescence of the 1920s, everyone in New York has heard of Benjamin and Helen Rask. He is a legendary Wall Street tycoon; she is the daughter of eccentric aristocrats. Together, they have risen to the very top of a world of seemingly endless wealth—all as a decade of excess and speculation draws to an end. But at what cost have they acquired their immense fortune? This is the mystery at the center of Bonds, a successful 1937 novel that all of New York seems to have read. Yet there are other versions of this tale of privilege and deceit.
Hernan Diaz's TRUST elegantly puts these competing narratives into conversation with one another—and in tension with the perspective of one woman bent on disentangling fact from fiction. The result is a novel that spans over a century and becomes more exhilarating with each new revelation.
The Colony
by Awdrey Magee (Magee)
It is the summer of 1979. An English painter travels to a small island off the west coast of Ireland. Mr. Lloyd takes the last leg by currach, though boats with engines are available and he doesn't much like the sea. He wants the authentic experience, to be changed by this place, to let its quiet and light fill him, give him room to create. He doesn't know that a Frenchman follows close behind. Jean-Pierre Masson has visited the island for many years, studying the language of those who make it their home. He is fiercely protective of their isolation, deems it essential to exploring his theories of language preservation and identity.
But the people who live on this rock―three miles long and half a mile wide―have their own views on what is being recorded, what is being taken, and what ought to be given in return. Over the summer, each of them―from great-grandmother Bean Uí Fhloinn, to widowed Mairéad, to fifteen-year-old James, who is determined to avoid the life of a fisherman―will wrestle with their values and desires. Meanwhile, all over Ireland, violence is erupting. And there is blame enough to go around.
The Seven Moons of Maali Almeida
by Shehan Karunatilaka (Sahota)
LA searing, mordantly funny, state-of-the-nation satire set amid the murderous mayhem of Sri Lanka beset by civil war.
Colombo, 1990. Maali Almeida, war photographer, gambler and closet queen, has woken up dead in what seems like a celestial visa office. His dismembered body is sinking in the Beira Lake and he has no idea who killed him. At a time when scores are settled by death squads, suicide bombers and hired goons, the list of suspects is depressingly long, as the ghouls and ghosts who cluster around him can attest.
But even in the afterlife, time is running out for Maali. He has seven moons to try and contact the man and woman he loves most and lead them to a hidden cache of photos that will rock Sri Lanka.
Oh William!
by Elizabeth Strout (Strout)
Lucy Barton is a writer, but her ex-husband, William, remains a hard man to read. 'William,' she confesses, 'has always been a mystery to me.' Another mystery is why the two have remained connected after all these years. They just are.
So Lucy is both surprised and not surprised when William asks her to join him on a trip to investigate a recently uncovered family secret—one of those secrets that rearrange everything we think we know about the people closest to us. What happens next is nothing less than another example of what Hilary Mantel has called Elizabeth Strout's "perfect attunement to the human condition." There are fears and insecurities, simple joys and acts of tenderness, and revelations about affairs and other spouses, parents and their children. On every page of this exquisite novel we learn more about the quiet forces that hold us together—even after we've grown apart.
Booth
by Karen Joy Fowler (Fowler)
In 1822, a secret family moves into a secret cabin some thirty miles northeast of Baltimore, to farm, to hide, and to bear ten children over the course of the next sixteen years. Junius Booth—breadwinner, celebrated Shakespearean actor, and master of the house in more ways than one—is at once a mesmerizing talent and a man of terrifying instability. One by one the children arrive, as year by year, the country draws frighteningly closer to the boiling point of secession and civil war.
As the tenor of the world shifts, the Booths emerge from their hidden lives to cement their place as one of the country's leading theatrical families. But behind the curtains of the many stages they have graced, multiple scandals, family triumphs, and criminal disasters begin to take their toll, and the solemn siblings of John Wilkes Booth are left to reckon with the truth behind the destructively specious promise of an early prophecy.
Small Things Like These
by Claire Keegan (Keegan)
It is 1985 in a small Irish town. During the weeks leading up to Christmas, Bill Furlong, a coal merchant and family man faces into his busiest season. Early one morning, while delivering an order to the local convent, Bill makes a discovery which forces him to confront both his past and the complicit silences of a town controlled by the church.
Already an international bestseller, Small Things Like These is a deeply affecting story of hope, quiet heroism, and empathy from one of our most critically lauded and iconic writers.
The 2021 International Booker Prize Winner
Tomb of Sand
by Geetaniali Shree (not currently in libraries' collection)
Translated from Hindi by Daisy Rockwell
An eighty-year-old woman slips into a deep depression at the death of her husband, then resurfaces to gain a new lease on life. Her determination to fly in the face of convention including striking up a friendship with a hijra (trans) woman confuses her bohemian daughter, who is used to thinking of herself as the more "modern" of the two. At the older woman's insistence they travel back to Pakistan, simultaneously confronting the unresolved trauma of her teenage experiences of Partition, and re-evaluating what it means to be a mother, a daughter, a woman, a feminist.
The 2022 International Booker Prize shortlist:
Heaven by Mieko Kawakami, translated from Japanese
A New Name: Septology VI-VII by Jon Fosse, translated from Norwegian

The Books of Jacob

by Olga Tokarczu, translated from Polish

Tomb of Sand

by Geetanjali Shree, translated from Hindi

Cursed Bunny

by Bora Chung, translated from Korean
Elena Knows by Claudia Piñeiro, translated from Argentinian Spanish
Books from the 2022 International Booker Prize longlist that didn't make the shortlist:
---
2022 Booker Prize Longlist announced: July 26, 2022
2022 Booker Prize Shortlist announced: September 6, 2022
2022 Booker Prize Winner announced: October 17, 2022
Descriptions above come from the Amazon.com blurbs for these books.
Posted to BookGuide in July 2022 — JR