Dark Academia
South Branch BooksTalk, April 7, 2022
Maddie O. (Gere and South Branch Libraries)
A Little Life
by Hanya Yanagihara (Yanagihara)
When four classmates from a small Massachusetts college move to New York to make their way, they're broke, adrift, and buoyed only by their friendship and ambition … Over the decades, their relationships deepen and darken, tinged by addiction, success, and pride. Yet their greatest challenge, each comes to realize, is [their center of gravity] Jude, … by midlife a terrifyingly talented litigator yet an increasingly broken man, his mind and body scarred by an unspeakable childhood, and haunted by what he fears is a degree of trauma that he'll not only be unable to overcome–but that will define his life forever.
The Secret History
by Donna Tartt (Tartt)
Under the influence of their charismatic classics professor, a group of clever, eccentric misfits at an elite New England college discover a way of thinking and living that is a world away from the humdrum existence of their contemporaries. But when they go beyond the boundaries of normal morality their lives are changed profoundly and forever, and they discover how hard it can be to truly live and how easy it is to kill.
Never Let Me Go
by Kazuo Ishiguro (Ishiguro)
As children, Kathy, Ruth, and Tommy were students at Hailsham, an exclusive boarding school secluded in the English countryside. It was a place of mercurial cliques and mysterious rules where teachers were constantly reminding their charges of how special they were. Now, years later, Kathy is a young woman. Ruth and Tommy have reentered her life. And for the first time she is beginning to look back at their shared past and understand just what it is that makes them special–and how that gift will shape the rest of their time together.
Special Topics in Calamity Physics
by Marisha Pessl (Pessl)
The mesmerizing New York Times bestseller by the author of Night Film Marisha Pessl's dazzling debut sparked raves from critics and heralded the arrival of a vibrant new voice in American fiction. At the center of Special Topics in Calamity Physics is clever, deadpan Blue van Meer, who has a head full of literary, philosophical, scientific, and cinematic knowledge. But she could use some friends. Upon entering the elite St. Gallway School, she finds some—a clique of eccentrics known as the Bluebloods. One drowning and one hanging later, Blue finds herself puzzling out a byzantine murder mystery. Nabokov meets Donna Tartt (then invites the rest of the Western Canon to the party) in this novel—with visual aids drawn by the author—that has won over readers of all ages.
Kill Your Darlings
directed by John Krokidas (DVD Kill)
A true story of obsession and murder. When Allen Ginsberg is accepted at Columbia, he finds stuffy tradition clashing with the daringly modern ideas and attitudes- embodied by Lucien Carr. Lucien is an object of fascination for shy, unsophisticated Allen, and soon he is drawn into Lucien's hard-drinking, jazz-clubbing circle of friends, including William Burroughs and David Kammerer, who clearly resents Allen's position as Lucien's new sidekick. A true story of friendship, love and murder, Kill Your Darlings recounts the pivotal year that changed Allen Ginsberg's life forever and provided the spark for him to start his creative revolution.
Dead Poets Society
directed by Peter Weir (DVD Dead)
Robin Williams portrays English professor John Keating, who, in an age of crew cuts, sport coats and cheerless conformity, inspires his students to live life to the fullest, exclaiming "Carpe Diem, lads! Seize the day. Make your lives extraordinary!" The charismatic teacher's emotionally charged challenge is met by his students with irrepressible enthusiasm–changing their lives forever.
The Prime of Miss Jean Brodie
by Muriel Spark (Spark)
At the staid Marcia Blaine School for Girls, in Edinburgh, Scotland, teacher extraordinaire Miss Jean Brodie is unmistakably, and outspokenly, in her prime. She is passionate in the application of her unorthodox teaching methods, in her attraction to the married art master, Teddy Lloyd, in her affair with the bachelor music master, Gordon Lowther, and-most important-in her dedication to "her girls," the students she selects to be her crème de la crème. Fanatically devoted, each member of the Brodie set-Eunice, Jenny, Mary, Monica, Rose, and Sandy-is "famous for something," and Miss Brodie strives to bring out the best in each one. Determined to instill in them independence, passion, and ambition, Miss Brodie advises her girls, "Safety does not come first. Goodness, Truth, and Beauty come first. Follow me." And they do. But one of them will betray her.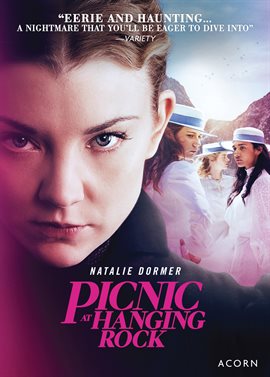 Picnic at Hanging Rock
TV series based on the novel by Joan Lindsay (DVD Picnic and/or Hoopla Television)
"A penetrating reimagining of the iconic and timeless Australian novel, Picnic at Hanging Rock depicts the mysterious disappearances of three schoolgirls and their governess on Valentine's Day, 1900. The complex, interwoven narrative charts the subsequent investigation and the event's far-reaching impact on the students, families, and staff of Appleyard College and on the nearby township. Theories abound, long-held secrets are exposed, and paranoia and hysteria set in, as in vastly differing ways their lives are changed forever.