Debbie's Reads – 2019
Bethany Branch, April 19, 2019 [temporarily relocated to Anderson Branch on this date] Debbie A. [former Lincoln City Libraries' staff]
The Girl Before
by J.P. Delaney [Delaney]
Please make a list of every possession you consider essential to your life. The request seems odd, even intrusive and for the two women who answer, the consequences are devastating.
Frog Music
by Emma Donoghue [Donoghue]
In San Francisco during the summer of 1876, a young woman named Jenny Bonnet is shot dead. Over the next three days, the survivor, her friend Blanche Beunon, will risk everything to bring Jenny's murderer to justice.
Bloody Lies: A CSI Scandal in the Heartland
by John Ferak [364.152 Fer]
The remote farming community of Murdock, Nebraska, seemed to be the least likely setting for one of the heartland's most ruthless and bloody double murders in decades.
Blue Monday
by Nicci French [French]
After a five-year-old boy is abducted, psychotherapist Frieda Klein is left troubled: one of her patients has been relating dreams in which he has a hunger for a child.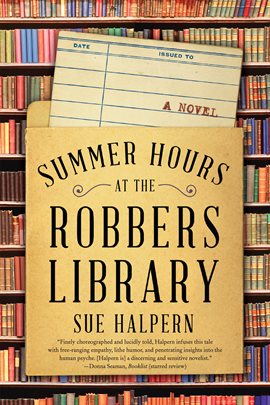 Summer Hours at the Robbers Library
by Sue Halpern [Halpern]
In the little library that has become the heart of this small town, a cast of offbeat regulars are drawn together to come to terms with how their lives have unraveled, and to discover how they might knit them together again.
Into the Water
by Paula Hawkins [Hawkins]
Jules has been dragged back to the one place she hoped she had escaped for good. But Jules is afraid. Of her long-buried memories, of the old Mill House, and most of all she's afraid of the water, and the place they call the Drowning Pool.
Thunder Dog: The True Story of a Blind Man, his Guide Dog, and the Triumph of Trust at Ground Zero
by Michael Hingson [973.931 Hin]
"I trust Roselle with my life, every day. She trusts me to direct her. And today is no different, except the stakes are higher."
The Guinea Pig Diaries: My life as an Experiment
by A.J. Jacobs [502 Jac]
A collection of the authors most hilarious and thought-provoking experiments. In his role as human guinea pig, Jacobs fearlessly takes on a series of life-altering challenges that provides readers with equal parts insight and humor.
The Last Equation of Isaac Severy: A Novel in Clues
by Jova Jacobs [Jacobs]
In this literary mystery, a struggling bookseller whose recently deceased grandfather, a famed mathematician, left behind a dangerous equation for her to track down—and protect—before others can get their hands on it.
The Outsider
by Stephen King [King]
An unspeakable crime. A confounding investigation. At a time when the King brand has never been stronger, he has delivered one of his most unsettling and compulsively readable stories.
A Stranger in the House
by Shari Lapena [Lapena]
Because in this house, everyone's a stranger. Everyone has something they'd rather keep hidden. Something they might even kill to keep quiet.
Dead Wake: The Last Crossing of the Lusitania
by Erik Larson [940.451 Lar]
From the #1 New York Times bestselling author and master of narrative nonfiction comes the enthralling story of the sinking of the Lusitania.
Save Me
by Lisa Scottoline [Scottoline]
Save Me will have readers wondering just how far they would go to save the ones they love. Lisa Scottoline is writing about real issues that resonate with real women, and the results are emotional, heartbreaking and honest.
Broken Girls
by Simone St. James [St. James]
Idlewild Hall. A place for the girls whom no one wants–the troublemakers, the illegitimate, the too smart for their own good. Four roommates bond over their whispered fears, their budding friendship blossoming—until one of them mysteriously disappears.