Fascinating Books on Medical History: Medicine, Psychiatry and Pandemics
Library BooksTalks (Virtual) – October 2nd, 2020
Marcy G. (South Branch Library)
Rabid: A Cultural History of the World's Most Diabolical Virus
by Bill Wasik (614.563 Was)
The White Death: A History of Tuberculosis
by Thomas Dormandy (616.995 Dor)
For a DVD on tuberculosis try: The Forgotten Plague by Chana Gazit (An American Experience) (DVD 616.995 For)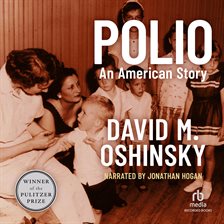 Polio: An American Story
by David Oshinsky (Hoopla Audio only)
Pandemic: Tracking Contagions From Cholera to Ebola and Beyond
by Sonia Shah (615.51 Sha)
For another book about cholera try: The Ghost Map: The Story of London's Most Terrifying Epidemic — And How it Changed Science, Cities, and the Modern World by Stephen Johnson (616.932 Joh)
The Fantastic Laboratory of Dr. Weigl: How Two Brave Scientists Battled Typhus and Sabotaged the Nazis
by Arthur Allen (614.526 All)
If you'd like another book about Typhus try: The Illustrious Dead: The Terrifying Story of How Typhus Killed Napoleon's Greatest Army by Stephan Talty (Downloadable Audio only)
Pox: An American History
by Michael Willrich (614.521 Wil)
If you'd like another book on smallpox try: The Speckled Monster: A Historical Tale of Battling Smallpox by Jennifer Lee Carrell (614.521 Car)
Bad Blood: The Tuskegee Syphilis Experiment
by James Jones (364.142 Jon)
Another book to try: The immortal life of Henrietta Lacks by Rebecca Skloot (Biography Lacks). Or The Radium Girls: The Dark Story of America's Shining Women by Kate Moore (363.179 Moo).
Pale Rider: The Spanish Flu of 1918 and How It Changed the World
by Laura Spinney (614.518 Spi)
For some other titles on the 1918 pandemic try: Influenza: the hundred-year hunt to cure the deadliest disease in history by Jeremy Brown (614.518 Bro). Or The Great Influenza: The Epic Story of the Deadliest Plague in History by John M. Barry (614.518 Bar). Or Flu: The Story of the GreaInfluenza Pandemic of 1918 and the Search for the Virus that Caused It by Gina Kolata (614.518 Kol)
The Neuroscientist Who Lost Her Mind: My Tale of Madness and Recovery
by Barbara Lipska (Biography Lipska)
For a similar book try: Brain on Fire: My Month of Madness by Susannah Cahalan (Biography Cahalan)
Lithium: A Doctor, a Drug, a Breakthrough
by Walter Brown (616.895 Bro)
For a similar book try: Shrinks: The untold story of psychiatry by Jeffrey A. Lieberman (Downloadable Audio only). Or Opening Skinner's Box: Great Psychological Experiments of the Twentieth Century by Lauren Slater (150.7 Sla).
The Butchering Art: Joseph Lister's Quest to Transform the Grisly World of Victorian Medicine
by Lindsey Fitzharris (Biography Lister)
For another book about a surgeon try: Another Day in the Frontal Lobe: A Brain Surgeon Exposes Life on the Inside by Katrina Firlik (617.481 Fir)
The Secret Life of Fat: The Science Behind the Body's Least Understood Organ and What It Means for You
by Sylvia Tara (613.2 Tar)
For a similar book try: Rethinking Thin: The New Science of Weight Loss–And the Myths and Realities of Dieting by Gina Kolata (613.25 Kol)