Latest & Greatest Non-Fiction
Bethany Branch, October 7, 2016
Shannon K. [Walt Branch]
Click here to listen to the audio podcast of this booktalk.
Do No Harm: Stories of Life, Death and Brain Surgery
by Henry Marsh [Biography Marsh]
What is it like to be a brain surgeon? How does it feel to hold someone's life in your hands, to cut into the stuff that creates thought, feeling, and reason? How do you live with the consequences of performing a potentially lifesaving operation when it all goes wrong?
In neurosurgery, more than in any other branch of medicine, the doctor's oath to "do no harm" holds a bitter irony. Operations on the brain carry grave risks. Every day, leading neurosurgeon Henry Marsh must make agonizing decisions, often in the face of great urgency and uncertainty.
If you believe that brain surgery is a precise and exquisite craft, practiced by calm and detached doctors, this gripping, brutally honest account will make you think again. With astonishing compassion and candor, Marsh reveals the fierce joy of operating, the profoundly moving triumphs, the harrowing disasters, the haunting regrets, and the moments of black humor that characterize a brain surgeon's life.
Do No Harm provides unforgettable insight into the countless human dramas that take place in a busy modern hospital. Above all, it is a lesson in the need for hope when faced with life's most difficult decisions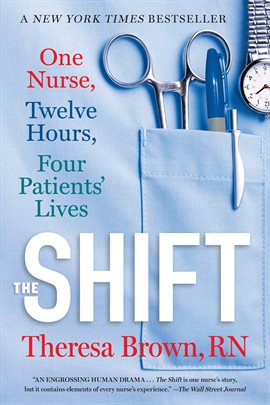 The Shift: One Nurse, Twelve Hours, Four Patients' Lives
by Theresa Brown [Biography Brown]
Practicing nurse and New York Times columnist Theresa Brown invites us to experience not just a day in the life of a nurse but all the life that happens in just one day on a busy teaching hospital's cancer ward. In the span of twelve hours, lives can be lost, life-altering treatment decisions made, and dreams fulfilled or irrevocably stolen. Unfolding in real time–under the watchful eyes of this dedicated professional and insightful chronicler of events– The Shift gives an unprecedented view into the individual struggles as well as the larger truths about medicine in this country. By shift's end, we have witnessed something profound about hope and humanity.
Valiant Ambition: George Washington, Benedict Arnold, and the Fate of the American Revolution
by Nathaniel Philbrick [973.382 Phi]
In September 1776, the vulnerable Continental Army under an unsure George Washington (who had never commanded a large force in battle) evacuates New York after a devastating defeat by the British Army. Three weeks later, near the Canadian border, one of his favorite generals, Benedict Arnold, miraculously succeeds in postponing the British naval advance down Lake Champlain that might have ended the war. Four years later, as the book ends, Washington has vanquished his demons and Arnold has fled to the enemy after a foiled attempt to surrender the American fortress at West Point to the British. After four years of war, America is forced to realize that the real threat to its liberties might not come from without but from within.
Valiant Ambition is a complex, controversial, and dramatic portrait of a people in crisis and the war that gave birth to a nation. The focus is on loyalty and personal integrity, evoking a Shakespearean tragedy that unfolds in the key relationship of Washington and Arnold, who is an impulsive but sympathetic hero whose misfortunes at the hands of self-serving politicians fatally destroy his faith in the legitimacy of the rebellion. As a country wary of tyrants suddenly must figure out how it should be led, Washington's unmatched ability to rise above the petty politics of his time enables him to win the war that really matters
Bunker Hill: A City, a Siege, a Revolution
by Nathaniel Philbrick [973.331 Phi]
Boston in 1775 is an island city occupied by British troops after a series of incendiary incidents by patriots who range from sober citizens to thuggish vigilantes. After the Boston Tea Party, British and American soldiers and Massachusetts residents have warily maneuvered around each other until April 19, when violence finally erupts at Lexington and Concord. In June, however, with the city cut off from supplies by a British blockade and Patriot militia poised in siege, skirmishes give way to outright war in the Battle of Bunker Hill. It would be the bloodiest battle of the Revolution to come, and the point of no return for the rebellious colonists.
Philbrick brings a fresh perspective to every aspect of the story. He finds new characters, and new facets to familiar ones. The real work of choreographing rebellion falls to a thirty-three year old physician named Joseph Warren who emerges as the on-the-ground leader of the Patriot cause and is fated to die at Bunker Hill. Others in the cast include Paul Revere, Warren's fianc#65533; the poet Mercy Scollay, a newly recruited George Washington, the reluctant British combatant General Thomas Gage and his more bellicose successor William Howe, who leads the three charges at Bunker Hill and presides over the claustrophobic cauldron of a city under siege as both sides play a nervy game of brinkmanship for control.
Lafayette in the Somewhat United States
by Sarah Vowell [Biography Lafayette]
Chronicling General Lafayette¿s years in Washington¿s army, Vowell reflects on the ideals of the American Revolution versus the reality of the Revolutionary War. Riding shotgun with Lafayette, Vowell swerves from the high-minded debates of Independence Hall to the frozen wasteland of Valley Forge, from bloody battlefields to the Palace of Versailles, bumping into John Adams, Thomas Jefferson, Lord Cornwallis, Benjamin Franklin, Marie Antoinette and various kings, Quakers and redcoats along the way.
Drawn to the patriots¿ war out of a lust for glory, Enlightenment ideas and the traditional French hatred for the British, young Lafayette crossed the Atlantic expecting to join forces with an undivided people, encountering instead fault lines between the Continental Congress and the Continental Army, rebel and loyalist inhabitants, and a conspiracy to fire George Washington, the one man holding together the rickety, seemingly doomed patriot cause.
The Road to Little Dribbling: Adventures of an American in Britain
by Bill Bryson [914 Bry]
A loving and hilarious–if occasionally spiky–valentine to Bill Bryson's adopted country, Great Britain. Prepare for total joy and multiple episodes of unseemly laughter.
Twenty years ago, Bill Bryson went on a trip around Britain to discover and celebrate that green and pleasant land. The result was Notes from a Small Island, a true classic and one of the bestselling travel books ever written. Now he has traveled about Britain again, by bus and train and rental car and on foot, to see what has changed–and what hasn't.
Following (but not too closely) a route he dubs the Bryson Line, from Bognor Regis in the south to Cape Wrath in the north, by way of places few travelers ever get to at all, Bryson rediscovers the wondrously beautiful, magnificently eccentric, endearingly singular country that he both celebrates and, when called for, twits. With his matchless instinct for the funniest and quirkiest and his unerring eye for the idiotic, the bewildering, the appealing, and the ridiculous, he offers acute and perceptive insights into all that is best and worst about Britain today.
Nothing is more entertaining than Bill Bryson on the road–and on a tear. The Road to Little Dribbling reaffirms his stature as a master of the travel narrative–and a really, really funny guy
Seven Brief Lessons on Physics
by Carlo Rovelli [530 Rov]
Seven Brief Lessons on Physics is a book about the joy of discovery. Carlo Rovelli brings a playful, entertaining, and mind-bending introduction to modern physics, offering surprising–and surprisingly easy to grasp–explanations of Einstein's general relativity, quantum mechanics, elementary particles, gravity, black holes, the complex architecture of the universe, and the role humans play in this weird and wonderful world. He takes us to the frontiers of our knowledge: to the most minute reaches of the fabric of space, back to the origins of the cosmos, and into the workings of our minds. "Here, on the edge of what we know, in contact with the ocean of the unknown, shines the mystery and the beauty of the world," Rovelli writes. "And it's breathtaking."
Girl in the Dark: A Memoir
by Anna Lyndsey [Biography Lyndsey]
Anna was living a normal life. She was ambitious and worked hard; she had just bought an apartment; she was falling in love. But then she started to develop worrying symptoms: her face felt like it was burning whenever she was in front of the computer. Soon this progressed to an intolerance of fluorescent light, then of sunlight itself. The reaction soon spread to her entire body. Now, when her symptoms are at their worst, she must spend months on end in a blacked-out room, losing herself in audio books and elaborate word games in an attempt to ward off despair. During periods of relative remission she can venture cautiously out at dawn and dusk, into a world that, from the perspective of her normally cloistered existence, is filled with remarkable beauty.
And throughout there is her relationship with Pete. In many ways he is Anna's savior, offering her shelter from the light in his home. But she cannot enjoy a normal life with him, cannot go out in the day, and even making love is uniquely awkward. Anna asks herself "By continuing to occupy this lovely man while giving him neither children nor a public companion nor a welcoming home–do I do wrong?" With gorgeous, lyrical prose, Anna brings us into the dark with her, a place from which we emerge to see love, and the world, anew.