Tracy's Online Book Talk
Zoom, September 4, 2020
Tracy T. (Anderson and Bethany Branch Libraries)
Tracy presented a talk about these 18 books during the first BooksTalk session of the Fall/Winter 2020 season — on Zoom!
The Testaments
by Margaret Atwood (Atwood)
In this brilliant sequel to The Handmaid's Tale, acclaimed author Margaret Atwood answers the questions that have tantalized readers for decades."Dear Readers: Everything you've ever asked me about Gilead and its inner workings is the inspiration for this book. Well, almost everything! The other inspiration is the world we've been living in." –Margaret Atwood
Sleeping Beauties
by Stephen King and Owen King (King)
In a future so real and near it might be now, something happens when women go to sleep; they become shrouded in a cocoon-like gauze. If they are awakened, and the gauze wrapping their bodies is disturbed or violated, the women become feral and spectacularly violent; and while they sleep they go to another place. The men of our world are abandoned, left to their increasingly primal devices. One woman, however, the mysterious Evie, is immune to the blessing or curse of the sleeping disease. Is Evie a medical anomaly to be studied, or is she a demon who must be slain?
Bitter is the New Black : Confessions of a Condescending, Egomaniacal, Self-Centered Smartass, Or, Why You Should Never Carry A Prada Bag to the Unemployment Office
by Jen Lancaster (Biography Lancaster)
Jen Lancaster was living the sweet life — until real life kicked her to the curb.
Find Her
by Lisa Gardner (Gardner)
Seven years ago, carefree college student Flora Dane was kidnapped while on spring break. For 472 days, Flora learned just how much one person can endure.
Miraculously alive after her ordeal, Flora has spent the past five years reacquainting herself with the rhythms of normal life. When Flora disappears again…it is all up to Detective D. D. Warren to find her.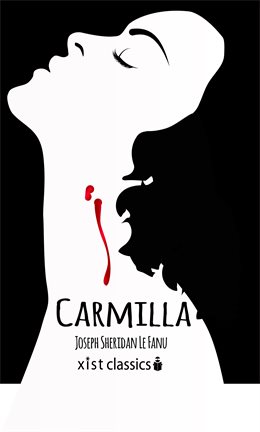 Carmilla
by Sheridan Le Fanu (eBook only in libraries)
Carmilla is an 1872 Gothic novella by Irish author Joseph Sheridan Le Fanu, and one of the early works of vampire fiction, predating Bram Stoker's Dracula by 26 years.
The Haunting of Hill House
by Shirley Jackson (Jackson)
First published in 1959, Shirley Jackson's The Haunting of Hill House has been hailed as a perfect work of unnerving terror. It is the story of four seekers who arrive at a notoriously unfriendly pile called Hill House. At first, their stay seems destined to be merely a spooky encounter with inexplicable phenomena. But Hill House is gathering its powers–and soon it will choose one of them to make its own.
Because We Are Bad: OCD and a Girl Lost in Thought
by Lily Bailey (Biography Bailey)
By the age of 13, Lily Bailey was convinced she was bad. She had killed someone with a thought, spread untold disease, and ogled the bodies of other children. Only by performing an exhausting series of secret routines could she make up for what she'd done. But no matter how intricate or repetitive, no act of penance was ever enough.
The Bassoon King: My Life in Art, Faith and Idiocy
by Rainn Wilson (Biography Wilson)
For nine seasons Rainn Wilson played Dwight Schrute, The Office's resident nemesis/ beet farmer. With this book, Rainn is ready to tell his own story, to explain how he developed his unique, off-kilter sense of humor and perspective on life.
The Round House
by Louise Erdrich (Erdrich)
The Round House, transports readers to the Ojibwe reservation in North Dakota. It is an exquisitely told story of a boy on the cusp of manhood who seeks justice and understanding in the wake of a terrible crime that upends and forever transforms his family.
Furiously Happy: A Funny Book About Horrible Things
by Jenny Lawson (Biography Lawson)
In Furiously Happy, a humor memoir tinged with just enough tragedy and pathos to make it worthwhile, Jenny Lawson examines her own experience with severe depression and a host of other conditions, and explains how it has led her to live life to the fullest.
American Dirt
by Jeanine Cummins (Cummins)
Lydia Quixano Perez lives in the Mexican city of Acapulco. She runs a bookstore. She has a son, Luca, the love of her life, and a wonderful husband who is a journalist. When Lydia's husband's tell-all profile of the leader of a cartel is published, none of their lives will ever be the same.
Talking to Strangers: What We Should Know About the People We Don't Know
by Malcolm Gladwell (302 Gla)
Talking to Strangers is all about what happens when we encounter people we don't know, why it often goes awry, and what it says about us. How do we make sense of the unfamiliar? Why are we so bad at judging someone, reading a face, or detecting a lie? Why do we so often fail to 'get' other people?
Rubyfruit Jungle
by Rita Mae Brown (Brown)
In bawdy, moving prose, Rita Mae Brown tells the story of Molly Bolt, the adoptive daughter of a dirt-poor Southern couple who boldly forges her own path in America. With her startling beauty and crackling wit, Molly finds that women are drawn to her wherever she goes — and she refuses to apologize for loving them back.
Horns
by Joe Hill (Hill)
Ignatius Perrish spent the night drunk and doing terrible things. He woke up the next morning with a thunderous hangover, a raging headache… and a pair of horns growing from his temples. A mental breakdown would have been the most natural thing in the world. But there was nothing natural about the horns, which were all too real.
The Turn of the Key
by Ruth Ware (Ware)
When Rowan stumbles across an ad for a live-in nanny, she's looking for something else completely. But it seems like too good an opportunity to miss — with a staggeringly generous salary. What Rowan doesn't know is that she's stepping into a nightmare — one that will end with a child dead and Rowan in prison awaiting trial for murder.
If It Bleeds
by Stephen King (King)
If it Bleeds is a collection of four new novellas — Mr. Harrigan's Phone, The Life of Chuck, Rat, and the title story If It Bleeds — each pulling readers into intriguing and frightening places.
Too Much and Never Enough: How My Family Created the World's Most Dangerous Man
by Mary L. Trump (Biography Trump)
In this revelatory, authoritative portrait of Donald J. Trump and the toxic family that made him, Mary L. Trump, a trained clinical psychologist and Donald's only niece, shines a bright light on the dark history of their family in order to explain how her uncle became the man who now threatens the world's health, economic security, and social fabric.
Kindred
by Octavia Butler (Butler)
First published in 1979, the book is the first-person account of a young African-American woman writer, Dana, who finds herself being shunted in time between her Los Angeles, California home in 1976 and a pre-Civil War Maryland plantation. There she meets her ancestors: a proud black freewoman and a white planter who has forced her into slavery and concubinage. As Dana's stays in the past become longer, the young woman becomes intimately entangled with the plantation community. She makes hard choices to survive slavery and to ensure her return to her own time.