The era leading up to, and encompassing, the years of World War II (late 1930s to 1945) revealed some of the greatest acts of patriotism, courage and heroism that mankind has ever witnessed, as well as revealing some of the darkest elements of humanity. For many years, most of the literature that had come out about that time period was focused on the contributions of men, specifically, with women often relegated to mere supporting roles. However, in the past 20 to 30 years, many new historical and/or biographical books have come out that celebrate the historic contributions of women to the war efforts, both in taking the industrial reins at home (see: Rosie the Riveter), but also working in the fields of espionage, the military and other social causes.
Some of the lack of coverage of women's achievements during this critical period in history was due to the often male-centric historic texts. But it can also be traced back to the tendency for women to occasionally downplay their own contributions in the historical narrative — "what they did is what anyone would have done…why tell this story?" As society has embraced a wider narrative, however, the books about women's contributions during that time period have multiplied and flourished.
This list is comprised of both Non-Fiction and Fiction, almost entirely in the adult collection (there are a few YA titles). First, a list of nearly 50 Non-Fiction books — historical and biographical — and DVDs, covering the experiences of specific women, and/or the general contributions of women during World War II. Then, we include a list of over 20 novels (and movies on DVD), which tell fictionalized stories of women from that time period.
Titles in both sections of this list are organized in alphabetical order — by author — and descriptions come straight from the libraries' on-line catalog. If you'd like to suggest additional titles for either the Non-Fiction or Fiction sections of this list, please e-mail BookGuide staff at the e-mail address at the bottom of the page.
(This booklist on BookGuide was inspired by (and expanded from) Telling Her Story: Books for Adult Readers About Women Heroes of WWII on the A Mighty Girl literary website.)
---
Non-Fiction titles, including Biographies & Memoirs
The Zookeeper's Wife: A War Story
by Diane Ackerman (940.531 Ack)
When Germany invaded Poland, bombers devastated Warsaw–and the city's zoo along with it. With most of their animals dead, zookeepers Jan and Antonina Zabinski began smuggling Jews into the empty cages. Another dozen "guests" hid inside the Zabinskis' villa, emerging after dark for dinner, socializing and, during rare moments of calm, piano concerts. Jan, active in the Polish resistance, kept ammunition buried in the elephant enclosure and stashed explosives in the animal hospital. Meanwhile, Antonina kept her unusual household afloat, caring for both its human and its animal inhabitants and refusing to give in to the penetrating fear of discovery, even as Europe crumbled around her.
The Unwomanly Face of War: An Oral History of Women in World War II
by Svetlana Alexievch (940.53 Ale)
For more than three decades, Svetlana Alexievich has been the memory and conscience of the twentieth century. When the Swedish Academy awarded her the Nobel Prize, it cited her invention of "a new kind of literary genre," describing her work as "a history of emotions…a history of the soul."
In The Unwomanly Face of War, Alexievich chronicles the experiences of the Soviet women who fought on the front lines, on the home front, and in the occupied territories. These women — more than a million in total — were nurses and doctors, pilots, tank drivers, machine-gunners, and snipers. They battled alongside men, and yet, after the victory, their efforts and sacrifices were forgotten.
Alexievich traveled thousands of miles and visited more than a hundred towns to record these women's stories. Together, this symphony of voices reveals a different aspect of the war — the everyday details of life in combat left out of the official histories.
Translated by the renowned Richard Pevear and Larissa Volokhonsky, The Unwomanly Face of War is a powerful and poignant account of the central conflict of the twentieth century, a kaleidoscopic portrait of the human side of war.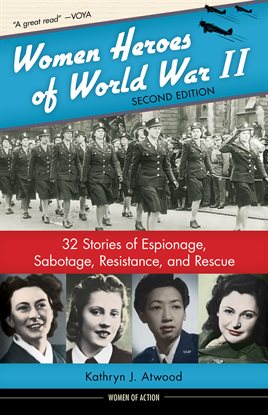 Women Heroes of World War II: 32 Stories of Espionage, Sabotage, Resistance, and Rescue
by Kathryn J. Atwood (Hoopla E-book)
Noor Inayat Khan was the first female radio operator sent into occupied France and transferred crucial messages to the Resistance. Johtje Vos, a Dutch housewife, hid Jews in her home and repeatedly outsmarted the Gestapo. Law student Hannie Schaft became involved in the most dangerous resistance work — sabotage, weapons transference, and assassinations. Soviet pilot Anna Yegorova flew missions against the Germans on the Eastern Front in an all-male regiment, eventually becoming a squadron leader. In these pages, young readers will meet these and many other similarly courageous women and girls who risked their lives to help defeat the Nazis.
Thirty-two engaging and suspense-filled stories unfold from across Germany, Poland, the Netherlands, France, Belgium, Denmark, Great Britain, the United States and, in this expanded edition, the Soviet Union, providing an inspiring reminder of women and girls' refusal to sit on the sidelines around the world and throughout history.
An overview of World War II and summaries of each country's entrance and involvement in the war provide a framework for better understanding each woman's unique circumstances, and resources for further learning follow each profile. (Also available: Women Heroes of World War II: The Pacific Theatre.)
The Light of Days: The Untold Story of Women Resistance Fighters in Hitler's Ghettos
by Judy Batalion (940.531 Bat)
One of the most important stories of World War II, already optioned by Steven Spielberg for a major motion picture: a spectacular, searing history that brings to light the extraordinary accomplishments of brave Jewish women who became resistance fighters — a group of unknown heroes whose exploits have never been chronicled in full, until now.
Witnesses to the brutal murder of their families and neighbors and the violent destruction of their communities, a cadre of Jewish women in Poland — some still in their teens — helped transform the Jewish youth groups into resistance cells to fight the Nazis. With courage, guile, and nerves of steel, these "ghetto girls" paid off Gestapo guards, hid revolvers in loaves of bread and jars of marmalade, and helped build systems of underground bunkers. They flirted with German soldiers, bribed them with wine, whiskey, and home cooking, used their Aryan looks to seduce them, and shot and killed them. They bombed German train lines and blew up a town's water supply. They also nursed the sick, taught children, and hid families.
Yet the exploits of these courageous resistance fighters have remained virtually unknown.
As propulsive and thrilling as Hidden Figures, In the Garden of Beasts, and Band of Brothers, The Light of Days at last tells the true story of these incredible women whose courageous yet little-known feats have been eclipsed by time. Judy Batalion — the granddaughter of Polish Holocaust survivors — takes us back to 1939 and introduces us to Renia Kukielka, a weapons smuggler and messenger who risked death traveling across occupied Poland on foot and by train. Joining Renia are other women who served as couriers, armed fighters, intelligence agents, and saboteurs, all who put their lives in mortal danger to carry out their missions. Batalion follows these women through the savage destruction of the ghettos, arrest and internment in Gestapo prisons and concentration camps, and for a lucky few — like Renia, who orchestrated her own audacious escape from a brutal Nazi jail — into the late 20th century and beyond.
Powerful and inspiring, featuring twenty black-and-white photographs, The Light of Days is an unforgettable true tale of war, the fight for freedom, exceptional bravery, female friendship, and survival in the face of staggering odds.
Invisible Heroes of World War II: Extraordinary Wartime Stories of Ordinary People
by Jerry Borrowman (YA 940.54 Bor)
Invisible Heroes of World War II documents ten fascinating true stories of a diverse group of soldiers and noncombatants from all over the world, including African Americans, women, and Native Americans, who fought with the Allies during World War II. These heroes made significant contributions in the war effort, and sometimes gave their lives for freedom and liberty, often without much recognition or fanfare. Some were frontline soldiers who were captured by the enemy and endured horrific conditions as POWs, others were ordinary citizens who fought in the French Resistance and provided vital operations to undermine Nazi occupation, while others were engineers, workers in industry, or war correspondents and photographers. All served with valor and distinction as part of the massive Allied forces who fought to free the world from tyranny and oppression.
Three Ordinary Girls: The Remarkable Story of Three Dutch Teenagers Who Became Spies, Saboteurs, Nazi Assassins and WWII Heroes
by Tim Brady (940.534 Bra)
Recruited as teenagers, Hannie Schaft, and Dutch sisters Truus and Freddie Oversteegen fulfilled their harrowing missions as spies, saboteurs, and Nazi assassins with remarkable courage, but their stories have remained largely unknown. Smart, fiercely political, devoted solely to the cause, Hannie, Truus, and Freddie took terrifying direct action against Nazi targets. That included sheltering fleeing Jews, political dissidents, and Dutch resisters. Harrowing, emotional, and unforgettable, Three Ordinary Girls finally moves these three icons of resistance into the forefront of world history.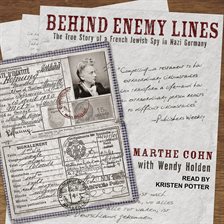 Behind Enemy Lines: The True Story of a French Jewish Spy in Nazi Germany
by Marthe Cohn and Wendy Holden (940.548 Coh)
Marthe Cohn was a young Jewish woman living just across the German border in France when Hitler rose to power. Her family began sheltering fellow Jews fleeing the Nazis, including Jewish children sent away by their terrified parents. But soon France also fell under Nazi rule. As the French Jews' basic human rights were stripped away under German occupation, Marthe's sister Stéphanie was arrested and deported to Auschwitz, where she was never heard from again. The rest of her family fled safely to the south of France, but Marthe — always a fighter — joined the French Army to help rid her country of the Nazis.
As a member of the intelligence service of the French First Army, Marthe risked her life to retrieve crucial information about Nazi troop movements by slipping behind enemy lines, utilizing her perfect German accent and blond hair to pose as a young German nurse desperately trying to obtain word of a fictional fiancé. By traveling throughout the countryside and approaching troops sympathetic to her plight, chancing exposure every time she did so, she learned where they were going next and alerted Allied commanders.
When, at the age of eighty, Marthe Cohn was awarded the Médaille Militaire, France's highest military honor, not even her children knew to what extent this modest woman had faced death daily while helping defeat the Nazi empire. At its heart, this remarkable memoir is the tale of an ordinary human being who, under extraordinary circumstances, became the hero her country needed her to be.
All the Frequent Troubles of Our Days: The True Story of the American Woman at the Heart of the German Resistance to Hitler
by Rebecca Donner (Biography Harnack)
Born and raised in Milwaukee, Mildred Harnack was twenty-six when she enrolled in a PhD program in Germany and witnessed the meteoric rise of the Nazi party. In 1932, she began holding secret meetings in her apartment — a small band of political activists that by 1940 had grown into the largest underground resistance group in Berlin. She recruited working-class Germans into the resistance, helped Jews escape, plotted acts of sabotage, and collaborated in writing leaflets that denounced Hitler and called for revolution. Her coconspirators circulated through Berlin under the cover of night, slipping the leaflets into mailboxes, public restrooms, phone booths. When the first shots of the Second World War were fired, she became a spy, couriering top-secret intelligence to the Allies. On the eve of her escape to Sweden, she was ambushed by the Gestapo. At a Nazi military court, a panel of five judges sentenced her to six years at a prison camp, but Hitler overruled the decision and ordered her execution. On February 16, 1943, she was strapped to a guillotine and beheaded.
Historians identify Mildred Harnack as the only American in the leadership of the German resistance, yet her remarkable story has remained almost unknown until now.
Harnack's great-great-niece Rebecca Donner draws on her extensive archival research in Germany, Russia, England, and the U.S. as well as newly uncovered documents in her family archive to produce this astonishing work of narrative nonfiction. Fusing elements of biography, real-life political thriller, and scholarly detective story, Donner brilliantly interweaves letters, diary entries, notes smuggled out of a Berlin prison, survivors' testimony, and a trove of declassified intelligence documents into a powerful, epic story, reconstructing the moral courage of an enigmatic woman nearly erased by history.
The Girls Who Stepped Out of Line: Untold Stories of the Women Who Changed the Course of World War II
by Mari Eder (940.53 Ede)
The Girls Who Stepped Out of Line are the heroes of the Greatest Generation that you hardly ever hear about. These women who did extraordinary things didn't expect thanks and shied away from medals and recognition. Despite their amazing accomplishments, they've gone mostly unheralded and unrewarded. No longer. These are the women of World War II who served, fought, struggled, and made things happen — in and out of uniform.
Young Hilda Eisen was captured twice by the Nazis and twice escaped, going on to fight with the Resistance in Poland. Determined to survive, she and her husband later emigrated to the U.S. where they became entrepreneurs and successful business leaders. Ola Mildred Rexroat was the only Native American woman pilot to serve with the Women's Airforce Service Pilots (WASP) in World War II. She persisted against all odds — to earn her silver wings and fly, helping train other pilots and gunners. Ida and Louise Cook were British sisters and opera buffs who smuggled Jews out of Germany, often wearing their jewelry and furs, to help with their finances. They served as sponsors for refugees, and established temporary housing for immigrant families in London. Alice Marble was a grand-slam winning tennis star who found her own path to serve during the war — she was an editor with Wonder Woman comics, played tennis exhibitions for the troops, and undertook a dangerous undercover mission to expose Nazi theft. After the war she was instrumental in desegregating women's professional tennis. Others also stepped out of line–as cartographers, spies, combat nurses, and troop commanders.
Retired U.S. Army Major General Mari K. Eder wrote this book because she knew their stories needed to be told — and the sooner the better. For theirs is a legacy destined to embolden generations of women to come.
The Woman Who Smashed Codes: A True Story of Love, Spies, and the Unlikely Heroine Who Outwitted America's Enemies
by Jason Fagone (Biography Friedman)
Joining the ranks of Hidden Figures and In the Garden of Beasts, the incredible true story of the greatest codebreaking duo that ever lived, an American woman and her husband who invented the modern science of cryptology together and used it to confront the evils of their time, solving puzzles that unmasked Nazi spies and helped win World War II.
In 1916, at the height of World War I, brilliant Shakespeare expert Elizebeth Smith went to work for an eccentric tycoon on his estate outside Chicago. The tycoon had close ties to the U.S. government, and he soon asked Elizebeth to apply her language skills to an exciting new venture: code-breaking. There she met the man who would become her husband, groundbreaking cryptologist William Friedman. Though she and Friedman are in many ways the "Adam and Eve" of the NSA, Elizebeth's story, incredibly, has never been told.
In The Woman Who Smashed Codes, Jason Fagone chronicles the life of this extraordinary woman, who played an integral role in our nation's history for forty years. After World War I, Smith used her talents to catch gangsters and smugglers during Prohibition, then accepted a covert mission to discover and expose Nazi spy rings that were spreading like wildfire across South America, advancing ever closer to the United States. As World War II raged, Elizebeth fought a highly classified battle of wits against Hitler's Reich, cracking multiple versions of the Enigma machine used by German spies. Meanwhile, inside an Army vault in Washington, William worked furiously to break Purple, the Japanese version of Enigma — and eventually succeeded, at a terrible cost to his personal life.
Fagone unveils America's code-breaking history through the prism of Smith's life, bringing into focus the unforgettable events and colorful personalities that would help shape modern intelligence. Blending the lively pace and compelling detail that are the hallmarks of Erik Larson's bestsellers with the atmosphere and intensity of The Imitation Game, The Woman Who Smashed Codes is page-turning popular history at its finest.
Diary of a Young Girl
by Anne Frank (940.548 F85AR 1967 and/or Biography Frank)
In 1942, with Nazis occupying Holland, a thirteen-year-old Jewish girl and her family fled their home in Amsterdam and went into hiding. For the next two years, until their whereabouts were betrayed to the Gestapo, they and another family lived cloistered in the "Secret Annex" of an old office building. Cut off from the outside world, they faced hunger, boredom, the constant cruelties of living in confined quarters, and the ever-present threat of discovery and death. In her diary Anne Frank recorded vivid impressions of her experiences during this period. By turns thoughtful, moving, and amusing, her account offers a fascinating commentary on human courage and frailty and a compelling self-portrait of a sensitive and spirited young woman whose promise was tragically cut short.
Anne Frank Remembered: The Story of the Woman Who Helped to Hide the Frank Family
by Miep Gies and Alison Leslie Gold (Biography Gies)
For more than two years, Miep Gies and her husband helped hide the Franks from the Nazis. Like thousands of unsung heroes of the Holocaust, they risked their lives each day to bring food, news, and emotional support to the victims.
She found the diary and brought the world a message of love and hope.
It seems as if we are never far from Miep's thoughts…Yours, Anne.
From her own remarkable childhood as a World War I refugee to the moment she places a small, red-orange, checkered diary — Anne'​s legacy — in Otto Frank's hands, Miep Gies remembers her days with simple honesty and shattering clarity. Each page rings with courage and heartbreaking beauty.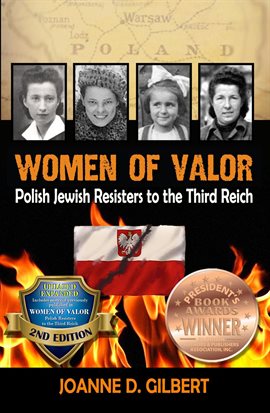 Women Of Valor: Polish Resisters to the Third Reich
by Joanne D. Gilbert (Hoopla E-book only)
Based on Gilbert's first-hand interviews, these remarkable true stories of the young Polish Jewish women who actively and successfully defied the Nazis provide a new perspective on women and the Holocaust.
Rosie the Riveter Revisited: Women, the War, and Social Change
by Sherna Berger Gluck (303.485 Glu)
The poster image of the blonde housewife working in a factory to help her soldier husband win World War II is dispelled by the 10 women (out of forty-five interviewed for an oral history project) who tell their stories here. Blacks and Latinas as well as whites, they entered industry, not only out of patriotism, but for economic opportunity. The experience changed their lives. They gained confidence as well as skills; their horizons broadened as they worked with people outside their own ethnic groups. War work was not an exception, but part of the occasionally interrupted continuum of their working lives.
The Children of Willesden Lane: Beyond the Kindertransport A Memoir of Music, Love, and Survival
by Mona Golabek and Lee Cohen (this adult title is not in libraries' collection – see note at the end of the blurb)
As the Nazi regime rose — and people began to suspect its aims — one program, the Kindertransport, brought 10,000 children into the United Kingdom for safety. Lisa Jura was a 14-year-old musical prodigy whose parents were offered the chance to send one of their three children to safety; they chose her. In a home for refugee children, she yearned for her family and dreaded what news might come. At the same time, her music offered hope to both her and many around her in the midst of the war. This book captures the pain caused by the war — even for those who didn't live through its horrors directly — and the power of music to grant peace. Though the libraries do not have this book for adults, this book is also available in a Young Readers edition, Hold on to Your Music: The Inspiring True Story of the the Children of Willesden Lane, for ages 8 to 12.
Born Survivors: Three Young Mothers and Their Extraordinary Story of Courage, Defiance, and Hope
by Wendy Holden (940.531 Hol)
The Nazis murdered their husbands but concentration camp prisoners Priska, Rachel, and Anka would not let evil take their unborn children too — a remarkable true story that will appeal to readers of The Lost and The Nazi Officer's Wife, Born Survivors celebrates three mothers who defied death to give their children life.
Eastern Europe, 1944: Three women believe they are pregnant, but are torn from their husbands before they can be certain. Rachel is sent to Auschwitz, unaware that her husband has been shot. Priska and her husband travel there together, but are immediately separated. Also at Auschwitz, Anka hopes in vain to be reunited with her husband. With the rest of their families gassed, these young wives are determined to hold on to all they have left — their lives, and those of their unborn babies. Having concealed their condition from infamous Nazi doctor Josef Mengele, they are forced to work and almost starved to death, living in daily fear of their pregnancies being detected by the SS.
In April 1945, as the Allies close in, Priska gives birth. She and her baby, along with Anka, Rachel, and the remaining inmates, are sent to Mauthausen concentration camp on a hellish seventeen-day train journey. Rachel gives birth on the train, and Anka at the camp gates. All believe they will die, but then a miracle occurs. The gas chamber runs out of Zyklon-B, and as the Allied troops near, the SS flee. Against all odds, the three mothers and their newborns survive their treacherous journey to freedom.
On the seventieth anniversary of Mauthausen's liberation from the Nazis by American soldiers, renowned biographer Wendy Holden recounts this extraordinary story of three children united by their mothers' unbelievable — yet ultimately successful — fight for survival.
Paper Bullets: Two Artists Who Risked Their Lives to Defy the Nazis
by Jeffrey H. Jackson (940.534 Jac)
Paper Bullets is the first book to tell the history of an audacious anti-Nazi campaign undertaken by an unlikely pair: two French women, Lucy Schwob and Suzanne Malherbe, who drew on their skills as Parisian avant-garde artists to write and distribute "paper bullets" — wicked insults against Hitler, calls to rebel, and subversive fictional dialogues designed to demoralize Nazi troops occupying their adopted home on the British Channel Island of Jersey. Devising their own PSYOPS campaign, they slipped their notes into soldier's pockets or tucked them inside newsstand magazines.
Hunted by the secret field police, Lucy and Suzanne were finally betrayed in 1944, when the Germans imprisoned them, and tried them in a court martial, sentencing them to death for their actions. Ultimately they survived, but even in jail, they continued to fight the Nazis by reaching out to other prisoners and spreading a message of hope.
Better remembered today by their artist names, Claude Cahun and Marcel Moore, the couple's actions were even more courageous because of who they were: lesbian partners known for cross-dressing and creating the kind of gender-bending work that the Nazis would come to call "degenerate art." In addition, Lucy was half Jewish, and they had communist affiliations in Paris, where they attended political rallies with Surrealists and socialized with artists like Gertrude Stein.
Paper Bullets is a compelling World War II story that has not been told before, about the galvanizing power of art, and of resistance.
The Daughters of Yalta: The Churchills, Roosevelts, and Harrimans: A Story of Love and War
by Catherine Grace Katz (940.53 Kat)
The untold story of the three intelligent and glamorous young women who accompanied their famous fathers to the Yalta Conference in February 1945, and of the conference's fateful reverberations in the waning days of World War II.
Tensions during the Yalta Conference in February 1945 threatened to tear apart the wartime alliance among Franklin Roosevelt, Winston Churchill, and Joseph Stalin just as victory was close at hand. Catherine Grace Katz uncovers the dramatic story of the three young women who were chosen by their fathers to travel with them to Yalta, each bound by fierce family loyalty, political savvy, and intertwined romances that powerfully colored these crucial days.
Kathleen Harriman was a champion skier, war correspondent, and daughter of U.S. Ambassador to the Soviet Union Averell Harriman. Sarah Churchill, an actress-turned-RAF officer, was devoted to her brilliant father, who depended on her astute political mind. Roosevelt's only daughter, Anna, chosen instead of her mother Eleanor to accompany the president to Yalta, arrived there as keeper of her father's most damaging secrets. Situated in the political maelstrom that marked the transition to a post- war world, The Daughters of Yalta is a remarkable story of fathers and daughters whose relationships were tested and strengthened by the history they witnessed and the future they crafted together.
The Girls of Atomic City: The Untold Story of the Women Who Helped Win World War II
by Denise Kiernan (940.53 Kie)
The incredible story of the young women of Oak Ridge, Tennessee, who unwittingly played a crucial role in one of the most significant moments in US history.
At the height of World War II, Oak Ridge, Tennessee, was home to 75,000 residents, consuming more electricity than New York City. But to most of the world, the town did not exist. Thousands of civilians — many of them young women from small towns across the South — were recruited to this secret city, enticed by solid wages and the promise of war-ending work. Kept very much in the dark, few would ever guess the true nature of the tasks they performed each day in the hulking factories in the middle of the Appalachian Mountains. That is, until the end of the war — when Oak Ridge's secret was revealed.
Drawing on the voices of the women who lived it — women who are now in their eighties and nineties — The Girls of Atomic City rescues a remarkable, forgotten chapter of American history from obscurity. Denise Kiernan captures the spirit of the times through these women: their pluck, their desire to contribute, and their enduring courage.
A Delayed Life: The True Story of the Librarian of Auschwitz
by Dita Kraus (Biography Kraus)
Dita Kraus grew up in Prague in an intellectual, middle-class Jewish family. She went to school, played with her friends, and never thought of herself as being different — until the advent of the Holocaust. Torn from her home, Dita was sent to Auschwitz with her family.
From her time in the children's block of Auschwitz to her liberation from the camps and on into her adulthood, Dita's powerful memoir sheds light on an incredible life — one that is delayed no longer.
The Women with Silver Wings: The Inspiring True Story of the Women Airforce Service Pilots of World War II
by Katherine Sharp Landeck (940.544 Lan)
When the Japanese attacked Pearl Harbor in December 1941, Cornelia Fort was already in the air. At twenty-two, Fort had escaped Nashville's debutante scene for a fresh start as a flight instructor in Hawaii. She and her student were in the middle of their lesson when the bombs began to fall, and they barely made it back to ground that morning. Still, when the U.S. Army Air Forces put out a call for women pilots to aid the war effort, Fort was one of the first to respond. She became one of just over 1,100 women from across the nation to make it through the Army's rigorous selection process and earn her silver wings.
The brainchild of trailblazing pilots Nancy Love and Jacqueline Cochran, the Women Airforce Service Pilots (WASP) gave women like Fort a chance to serve their country — and to prove that women aviators were just as skilled as men. While not authorized to serve in combat, the WASP helped train male pilots for service abroad, and ferried bombers and pursuits across the country. Thirty-eight WASP would not survive the war. But even taking into account these tragic losses, Love and Cochran's social experiment seemed to be a resounding success — until, with the tides of war turning, Congress clipped the women's wings. The program was disbanded, the women sent home. But the bonds they'd forged never failed, and over the next few decades they came together to fight for recognition as the military veterans they were — and for their place in history.
Code Name: Lise: The True Story of the Woman Who Became WWII's Most Highly Decorated Spy
by Larry Loftis (Biography Odette)
The year is 1942, and World War II is in full swing. Odette Sansom decides to follow in her war hero father's footsteps by becoming an SOE agent to aid Britain and her beloved homeland, France. Five failed attempts and one plane crash later, she finally lands in occupied France to begin her mission. It is here that she meets her commanding officer Captain Peter Churchill.
As they successfully complete mission after mission, Peter and Odette fall in love. All the while, they are being hunted by the cunning German secret police sergeant, Hugo Bleicher, who finally succeeds in capturing them. They are sent to Paris's Fresnes prison, and from there to concentration camps in Germany where they are starved, beaten, and tortured. But in the face of despair, they never give up hope, their love for each other, or the whereabouts of their colleagues.
In Code Name: Lise, Larry Loftis paints a portrait of true courage, patriotism, and love — of two incredibly heroic people who endured unimaginable horrors and degradations. He seamlessly weaves together the touching romance between Odette and Peter and the thrilling cat and mouse game between them and Sergeant Bleicher. With this amazing testament to the human spirit, Loftis proves once again that he is adept at writing "nonfiction that reads like a page-turning novel" (Parade).
The Princess Spy: The True Story of World War II Spy Aline Griffith, Countess of Romanones
by Larry Loftis (Biography Griffith)
When Aline Griffith was born in a quiet suburban New York hamlet, no one had any idea that she would go on to live "a life of glamour and danger that Ingrid Bergman only played at in Notorious" (Time). As the United States enters the Second World War, the young college graduate is desperate to aid in the war effort, but no one is interested in a bright-eyed young woman whose only career experience is modeling clothes.
Aline's life changes when, at a dinner party, she meets a man named Frank Ryan and reveals how desperately she wants to do her part for her country. Within a few weeks, he helps her join the Office of Strategic Services — forerunner of the CIA. With a code name and expert training under her belt, she is sent to Spain to be a coder, but is soon given the additional assignment of infiltrating the upper echelons of society, mingling with high-ranking officials, diplomats, and titled Europeans. Against this glamorous backdrop of galas and dinner parties, she recruits sub-agents and engages in deep-cover espionage.
Even after marrying the Count of Romanones, one of the wealthiest men in Spain, Aline secretly continues her covert activities, being given special assignments when abroad that would benefit from her impeccable pedigree and social connections.
"[A] meticulously researched, beautifully crafted work of nonfiction that reads like a James Bond thriller" (Bookreporter), The Princess Spy brings to vivid life the dazzling adventures of a spirited American woman who risked everything to serve her country.
This Is Really War: The Incredible True Story of a Navy Nurse POW in the Occupied Philippines
by Emilie Le Beau Lucchesi (Biography Danner)
In January 1940, navy nurse Dorothy Still eagerly anticipated her new assignment at a military hospital in the Philippines. Her first year abroad was an adventure. She dated sailors and attended dances. But as 1941 progressed, signs of imminent war grew more urgent. Military wives and children were shipped home to the States, and the sailors increased their daily drills. Days after Pearl Harbor was attacked, the Japanese military assaulted the Philippines.
When Manila fell to Japan in early January 1942, Dorothy was held captive in a hospital and then transferred to a civilian prison camp.  Under the direction of Chief Nurse Laura Cobb, Dorothy and ten other navy nurses maintained rank and reported each day to a makeshift hospital. Cramped conditions, disease, and poor nutrition meant the navy nurses and their army counterparts were overwhelmed caring for the camp.
In May 1943, a civilian physician asked Cobb if the navy nurses would consider transferring to a new prison camp in the countryside. The twelve nurses feared the unknown, but they could not deny they were needed. On the morning of their departure, inmates used the public address system to play the navy fight song, "Anchors Aweigh." The nurses were overwhelmed by the response. They had indeed been the anchors of the camp, who kept ill inmates form drifting.
In the new prison camp, the "twelve anchors" turned a stripped infirmary into a functioning hospital. Despite their own ailments, they provided nonstop care for starving, diseased, and abused inmates. Over the years, their friendships deepened, and several of the women, including Dorothy, even found love.
This Is Really War is an inspiring story about a young nurse who fought for life during a dark time.
The Correspondents: Six Women Writers on the Front Lines of World War II
by Judith Mackrell (070.449 Mac)
On the front lines of the Second World War, a contingent of female journalists were bravely waging their own battle. Barred from combat zones and faced with entrenched prejudice and bureaucratic restrictions, these women were forced to fight for the right to work on equal terms with men.
The Correspondents follows six remarkable women as their lives and careers intertwined: Martha Gellhorn, who got the scoop on Ernest Hemingway on D-Day by traveling to Normandy as a stowaway on a Red Cross ship; Lee Miller, who went from being a Vogue cover model to the magazine's official war correspondent; Sigrid Schultz, who hid her Jewish identity and risked her life by reporting on the Nazi regime; Virginia Cowles, a "society girl columnist" turned combat reporter; Clare Hollingworth, the first English journalist to break the news of World War II; and Helen Kirkpatrick, the first woman to report from an Allied war zone with equal privileges to men.
From chasing down sources and narrowly dodging gunfire to conducting tumultuous love affairs and socializing with luminaries like Eleanor Roosevelt, Picasso, and Man Ray , these six women are captured in all their complexity. With her gripping, intimate, and nuanced portrait, Judith Mackrell celebrates these courageous reporters who risked their lives for the scoop.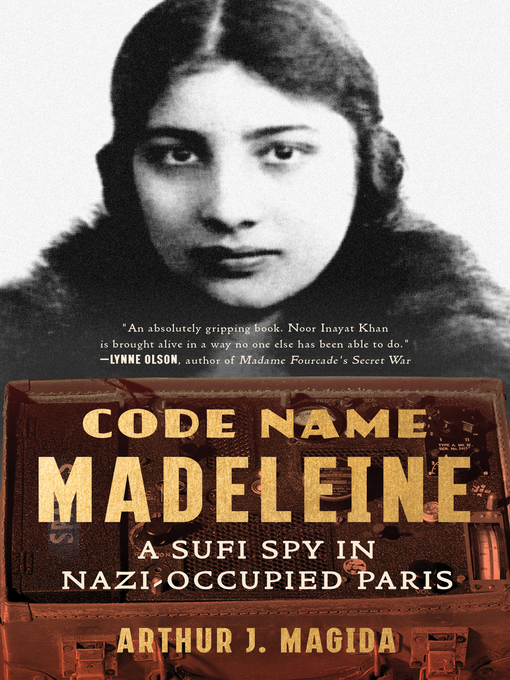 Code Name Madeleine: A Sufi Spy in Nazi-Occupied Paris
by Arthur J. Magida (Hoopla E-book and E-audiobooks only)
Raised in a lush suburb of 1920s Paris, Noor Inayat Khan was an introspective musician and writer, dedicated to her family and to her father's spiritual values of harmony, beauty, and tolerance. She did not seem destined for wartime heroism. Yet, faced with the evils of Nazi violence and the German occupation of France, Noor joined the British Special Operations Executive and trained in espionage, sabotage, and reconnaissance. She returned to Paris under an assumed identity immediately before the Germans mopped up the Allies' largest communications network in France. For crucial months of the war, Noor was the only wireless operator there sending critical information to London, significantly aiding the success of the Allied landing on D-Day. Code-named Madeleine, she became a high-value target for the Gestapo. When she was eventually captured, Noor attempted two daring escapes before she was sent to Dachau and killed just months before the end of the war.
Carefully distilled from dozens of interviews, newly discovered manuscripts, official documents, and personal letters, Code Name Madeleine is both a compelling, deeply researched history and a thrilling tribute to Noor Inayat Khan, whose courage and faith guided her through the most brutal regime in history.
Dutch Girl: Audrey Hepburn and World War II
by Robert Matzen (Biography Hepburn)
Twenty-five years after her passing, Audrey Hepburn remains the most beloved of all Hollywood stars, known as much for her role as UNICEF ambassador as for films like Roman Holiday and Breakfast at Tiffany's. Several biographies have chronicled her stardom, but none has covered her intense experiences through five years of Nazi occupation in the Netherlands. According to her son, Luca Dotti, "The war made my mother who she was." Audrey Hepburn's war included participation in the Dutch Resistance, working as a doctor's assistant during the "Bridge Too Far" battle of Arnhem, the brutal execution of her uncle, and the ordeal of the Hunger Winter of 1944. She also had to contend with the fact that her father was a Nazi agent and her mother was pro-Nazi for the first two years of the occupation. But the war years also brought triumphs as Audrey became Arnhem's most famous young ballerina. Audrey's own reminiscences, new interviews with people who knew her in the war, wartime diaries, and research in classified Dutch archives shed light on the riveting, untold story of Audrey Hepburn under fire in World War II. Also included is a section of color and black-and-white photos. Many of these images are from Audrey's personal collection and are published here for the first time.
Irena's Children: The Extraordinary Story of the Woman Who Saved 2,500 Children from the Warsaw Ghetto
by Tilar J. Mazzeo (Biography Sendler or YA PB (Non-Fiction) Mazzeo)
Irena Sendler was a young Polish woman living in Warsaw during World War II with an incredible story of survival and selflessness. And she's been long forgotten by history. Until now.
This young readers edition of Irena's Children tells Irena's unbelievable story set during one of the worst times in modern history. With guts of steel and unfaltering bravery, Irena smuggled thousands of children out of the walled Jewish ghetto in toolboxes and coffins, snuck them under overcoats at checkpoints, and slipped them through the dank sewers and into secret passages that led to abandoned buildings, where she convinced her friends and underground resistance network to hide them.
In this heroic tale of survival and resilience in the face of impossible odds, Tilar Mazzeo and adapter Mary Cronk Farrell share the true story of this bold and brave woman, overlooked by history, who risked her life to save innocent children from the horrors of the Holocaust.
The Secret Lives of Codebreakers: The Men and Women Who Cracked the Enigma Code at Bletchley Park
by Sinclair McKay (940.548 McK)
A remarkable look at day-to-day life of the codebreakers whose clandestine efforts helped win World War II.
Bletchley Park looked like any other sprawling country estate. In reality, however, it was the top-secret headquarters of Britain's Government Code and Cypher School–and the site where Germany's legendary Enigma code was finally cracked. There, the nation's most brilliant mathematical minds–including Alan Turing, whose discoveries at Bletchley would fuel the birth of modern computing–toiled alongside debutantes, factory workers, and students on projects of international importance. Until now, little has been revealed about ordinary life at this extraordinary facility. Drawing on remarkable first-hand interviews, The Secret Lives of Codebreakers reveals the entertainments, pastimes, and furtive romances that helped ease the incredible pressures faced by these covert operatives as they worked to turn the tide of World War II.
And If I Perish: Frontline U.S. Army Nurses in World War II
by Evelyn Monahan and Rosemary Neidel-Greenlee (940.547 Mon)
A galvanizing narrative of the wartime role played by U.S. Army nurses — from the invasion of North Africa to the bloody Italian campaign to the decisive battles in France and the Rhineland. More than 59,000 nurses volunteered to serve in the U.S. Army Nurse Corps alone: 217 lost their lives (16 by enemy action), and more than 1,600 were decorated for meritorious service and bravery under fire. But their stories have rarely been heard. Now, drawing on never-before-published eyewitness accounts — many heroic, some mundane and comic — Monahan and Neidel-Greenlee take us to the front lines, to the withering fire on the beaches of Anzio and Normandy, and to the field and evacuation hospitals, as well as bombed and burned hospital ships. We witness the nurses — and the doctors with whom they served — coping with the physical and psychological damage done to the soldiers in combat. We see them working — often with only meager supplies and overwhelmed by the sheer number of casualties — to save the lives and limbs of thousands of wounded troops. With them we experience the almost constant packing up and moving on to keep up with advancing troops, foxholes dug under camp beds, endless mud, and treacherous minefields. The vividness and immediacy of their recollections provide us with a powerfully visceral, deeply affecting sense of their experiences — terrifying and triumphant, exhausting and exhilarating. A revelatory work that at last gives voice to the nurses who played such an essential role in World War II.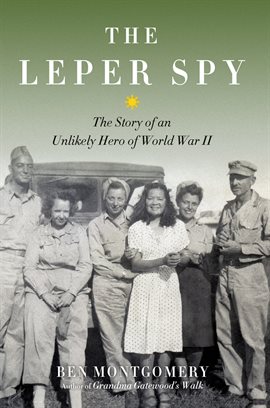 The Leper Spy: The Story of an Unlikely Hero of World War II
by Ben Montgomery (Hoopla E-book)
The GIs called her Joey. Hundreds owed their lives to the tiny Filipina woman who was one of the top spies for the Allies during World War II, stashing explosives, tracking Japanese troop movements, and smuggling maps of fortifications across enemy lines for Gen. Douglas MacArthur. As the Battle of Manila raged, young Josefina Guerrero walked through gunfire to bandage wounds and close the eyes of the dead. Her valor earned her the Medal of Freedom, but the thing that made her an effective spy was a disease that was destroying her.
Guerrero suffered from leprosy, which so horrified the Japanese they refused to search her. After the war, army chaplains found her in a nightmarish leper colony and campaigned for the US government to do something it had never done: welcome a foreigner with leprosy. The fight brought her celebrity, which she used on radio and television to speak for other sufferers. However, the notoriety haunted her after the disease was arrested, and she had to find a way to disappear.
A House in the Mountains: The Women Who Liberated Italy from Fascism
by Caroline Moorehead (940.534 Moo)
In the late summer of 1943, when Italy broke with the Germans and joined the Allies after suffering catastrophic military losses, an Italian Resistance was born. Four young Piedmontese women — Ada, Frida, Silvia and Bianca — living secretly in the mountains surrounding Turin, risked their lives to overthrow Italy's authoritarian government. They were among the thousands of Italians who joined the Partisan effort to help the Allies liberate their country from the German invaders and their Fascist collaborators. What made this partisan war all the more extraordinary was the number of women — like this brave quartet — who swelled its ranks.
The bloody civil war that ensued pitted neighbor against neighbor, and revealed the best and worst in Italian society. The courage shown by the partisans was exemplary, and eventually bound them together into a coherent fighting force. But the death rattle of Mussolini's two decades of Fascist rule — with its corruption, greed, and anti-Semitism — was unrelentingly violent and brutal.
Drawing on a rich cache of previously untranslated sources, prize-winning historian Caroline Moorehead illuminates the experiences of Ada, Frida, Silvia, and Bianca to tell the little-known story of the women of the Italian partisan movement fighting for freedom against fascism in all its forms, while Europe collapsed in smoldering ruins around them.
A Train In Winter: An Extraordinary Story of Women, Friendship, and Resistance in Occupied France
by Caroline Moorehead (940.531 Moo)
In January 1943, 230 women of the French Resistance were sent to the death camps by the Nazis who had invaded and occupied their country. This is their story, told in full for the first time–a searing and unforgettable chronicle of terror, courage, defiance, survival, and the power of friendship. Caroline Moorehead, a distinguished biographer, human rights journalist, and the author of Dancing to the Precipice and Human Cargo, brings to life an extraordinary story that readers of Mitchell Zuckoff's Lost in Shangri-La, Erik Larson's In the Garden of Beasts, and Laura Hillenbrand's Unbroken will find an essential addition to our retelling of the history of World War II — a riveting, rediscovered story of courageous women who sacrificed everything to combat the march of evil across the world.
Code Girls: The Untold Story of the American Women Code Breakers of World War II
by Liza Mundy (940.548 Mun)
Recruited by the U.S. Army and Navy from small towns and elite colleges, more than ten thousand women served as codebreakers during World War II. While their brothers and boyfriends took up arms, these women moved to Washington and learned the meticulous work of code-breaking. Their efforts shortened the war, saved countless lives, and gave them access to careers previously denied to them. A strict vow of secrecy nearly erased their efforts from history; now, through dazzling research and interviews with surviving code girls, bestselling author Liza Mundy brings to life this riveting and vital story of American courage, service, and scientific accomplishment.
Suzanne's Children: A Daring Rescue in Nazi Paris
by Anne Nelson (Biography Spaak)
A story of courage in the face of evil. The tense drama of Suzanne Spaak who risked and gave her life to save hundreds of Jewish children from deportation from Nazi Paris to Auschwitz. This is one of the untold stories of the Holocaust.
Suzanne Spaak was born into the Belgian Catholic elite and married into the country's leading political family. Her brother-in-law was the Foreign Minister and her husband Claude was a playwright and patron of the painter Renée Magritte. In Paris in the late 1930s her friendship with a Polish Jewish refugee led her to her life's purpose. When France fell and the Nazis occupied Paris, she joined the Resistance. She used her fortune and social status to enlist allies among wealthy Parisians and church groups.
Under the eyes of the Gestapo, Suzanne and women from the Jewish and Christian resistance groups "kidnapped" hundreds of Jewish children to save them from the gas chambers.
In the final year of the Occupation Suzanne was caught in the Gestapo dragnet that was pursuing a Soviet agent she had aided. She was executed shortly before the liberation of Paris. Suzanne Spaak is honored in Israel as one of the Righteous Among Nations.
We Band of Angels: The Untold Story of the American Women Trapped on Bataan
by Elizabeth Norman (940.547 Nor)
We Band of Angels is the story of women searching for adventure, caught up in the drama and danger of war.
On the same day the Japanese Imperial Navy launched its surprise attack on Pearl Harbor in Hawaii, it also struck American bases in the Far East, chief among them the Philippines. That raid led to the first major land battle for America in World War II and, in the end, to the largest defeat and surrender of American forces. Caught up in all of this were ninety-nine Army and Navy nurses–the first unit of American women ever sent into the middle of a battle.
The "Angels of Bataan and Corregidor" — as the newspapers called them — became the only group of American women captured and imprisoned by an enemy. And the story of their trials on a bloody battlefield, their desperate flight to avoid capture and their ultimate surrender, imprisonment, liberation and homecoming is a story of endurance, professionalism and raw pluck. Along the way, they helped build and staff hospitals in the middle of a malaria-infested jungle on the peninsula of Bataan. Then, short of supplies and medicine, they worked around the clock in the operating rooms and open-air wards, dealing with gaping wounds and gangrenous limbs, ministering to the wounded, the sick, the dying.
A few fell in love, only to lose their men to the enemy. Finally, on the tiny island of Corregidor in Manila Bay, the Japanese took them prisoner. For three long years in an internment camp — years marked by loneliness and starvation — they kept to their mission and stuck together. In the end, it was this loyalty, this sense of purpose, womanhood and honor, that both challenged and saved them. Through interviews with survivors and through unpublished letters, diaries and journals, Elizabeth M. Norman vividly re-creates that time, telling the story in richly drawn portraits and in a dramatic narrative delivered in the voices of the women who were there.
Inge's War: A German Woman's Story of Family, Secrets, and Survival Under Hitler
by Svenja O'Donnell (Biography Irmen)
Growing up in Paris as the daughter of a German mother and an Irish father, Svenja O'Donnell knew little of her family's German past. All she knew was that her great-grandparents, grandmother, and mother had fled their home city of Königsberg near the end of World War II, never to return. But everything changed when O'Donnell traveled to the city — now known as Kaliningrad, and a part of Russia — and called her grandmother, who uncharacteristically burst into tears. "I have so much to tell you," Inge said.
In this transporting and illuminating book, the award-winning journalist vividly reconstructs the story of Inge's life from the rise of the Nazis through the brutal postwar years, from falling in love with a man who was sent to the Eastern Front just after she became pregnant with his child, to spearheading her family's flight as the Red Army closed in, her young daughter in tow. Ultimately, O'Donnell uncovers the act of violence that separated Inge from the man she loved; a terrible secret hidden for more than six decades.
A captivating World War II saga, Inge's War is also a powerful reckoning with the meaning of German identity and inherited trauma. In retracing her grandmother's footsteps, O'Donnell not only discovers the remarkable story of a woman caught in the gears of history, but also comes face-to-face with her family's legacy of neutrality and inaction — and offers a rare glimpse into a reality too long buried by silence and shame.
Madame Fourcade's Secret War: The Daring Young Woman Who Led France's Largest Spy Network Against Hitler
by Lynne Olson (940.548 Ols)
In 1941 a thirty-one-year-old Frenchwoman, a young mother born to privilege and known for her beauty and glamour, became the leader of a vast intelligence organization — the only woman to serve as a chef de résistance during the war. Strong-willed, independent, and a lifelong rebel against her country's conservative, patriarchal society, Marie-Madeleine Fourcade was temperamentally made for the job. Her group's name was Alliance, but the Gestapo dubbed it Noah's Ark because its agents used the names of animals as their aliases. The name Marie-Madeleine chose for herself was Hedgehog: a tough little animal, unthreatening in appearance, that, as a colleague of hers put it, "even a lion would hesitate to bite."
No other French spy network lasted as long or supplied as much crucial intelligence — including providing American and British military commanders with a 55-foot-long map of the beaches and roads on which the Allies would land on D-Day — as Alliance. The Gestapo pursued them relentlessly, capturing, torturing, and executing hundreds of its three thousand agents, including Fourcade's own lover and many of her key spies. Although Fourcade, the mother of two young children, moved her headquarters every few weeks, constantly changing her hair color, clothing, and identity, she was captured twice by the Nazis. Both times she managed to escape — once by slipping naked through the bars of her jail cell — and continued to hold her network together even as it repeatedly threatened to crumble around her.
Now, in this dramatic account of the war that split France in two and forced its people to live side by side with their hated German occupiers, Lynne Olson tells the fascinating story of a woman who stood up for her nation, her fellow citizens, and herself.
A Woman Of No Importance: The Untold Story of the American Spy Who Helped Win World War II
by Sonia Purnell (Biography Goillot)
In 1942, the Gestapo sent out an urgent transmission: "She is the most dangerous of all Allied spies. We must find and destroy her."
The target in their sights was Virginia Hall, a Baltimore socialite who talked her way into Special Operations Executive, the spy organization dubbed Winston Churchill's "Ministry of Ungentlemanly Warfare." She became the first Allied woman deployed behind enemy lines and — despite her prosthetic leg — helped to light the flame of the French Resistance, revolutionizing secret warfare as we know it.
Virginia established vast spy networks throughout France, called weapons and explosives down from the skies, and became a linchpin for the Resistance. Even as her face covered wanted posters and a bounty was placed on her head, Virginia refused order after order to evacuate. She finally escaped through a death-defying hike over the Pyrenees into Spain, her cover blown. But she plunged back in, adamant that she had more lives to save, and led a victorious guerilla campaign, liberating swathes of France from the Nazis after D-Day.
Based on new and extensive research, Sonia Purnell has for the first time uncovered the full secret life of Virginia Hall — an astounding and inspiring story of heroism, spycraft, resistance, and personal triumph over shocking adversity. A Woman Of No Importance is the breathtaking story of how one woman's fierce persistence helped win the war.
Hedy's Folly: The Life and Breakthrough Inventions of Hedy Lamarr, the Most Beautiful Woman in the World
by Richard Rhodes (Biography Lamarr)
What do Hedy Lamarr, composer George Antheil, and your cell phone have in common? The answer is spread-spectrum radio. Without this technology, we would not have the digital comforts that we take for granted today.
Only a writer of Pulitzer Prize-winner Richard Rhodes's caliber could do justice to this remarkable story. Unhappily married to a Nazi arms dealer, Hedy Lamarr fled to America at the start of World War II. She brought with her not only her theatrical talent but also a gift for technical innovation. An introduction to Antheil at a Hollywood dinner table culminated in a U.S. patent for a jam- proof radio guidance system for torpedoes – the unlikely duo's gift to the U.S. war effort.
What other book brings together 1920s Paris, player pianos, Nazi weaponry, and digital wireless into one satisfying whole? In its juxtaposition of Hollywood glamour with the reality of a brutal war, Hedy's Folly is a riveting book.
D-Day Girls: The Spies Who Armed the Resistance, Sabotaged the Nazis, and Helped Win World War II
by Sarah Rose (940.548 Ros)
In 1942,  the Allies were losing, Germany seemed unstoppable, and every able man in England was on the front lines. To "set Europe ablaze," in the words of Winston Churchill, the Special Operations Executive  (SOE), whose spies were trained in everything from demolition to sharpshooting, was forced to do something unprecedented: recruit women. Thirty-nine answered the call, leaving their lives and families to become saboteurs in France.
In D-Day Girls, Sarah Rose draws on recently de­classified files, diaries, and oral histories to tell the thrilling story of three of these remarkable women. There's Andrée Borrel, a scrappy and streetwise Parisian who blew up power lines with the Gestapo hot on her heels; Odette Sansom, an unhappily married suburban mother who saw the SOE as her ticket out of domestic life and into a meaningful adventure; and Lise de Baissac, a fiercely independent member of French colonial high society and the SOE's unflap­pable "queen." Together, they destroyed train lines, ambushed Nazis, plotted prison breaks, and gathered crucial intelligence — laying the groundwork for the D-Day invasion that proved to be the turning point in the war.
Rigorously researched and written with razor-sharp wit, D-Day Girls is an inspiring story for our own moment of resistance: a reminder of what courage — and the energy of politically animated women — can accomplish when the stakes seem incalculably high.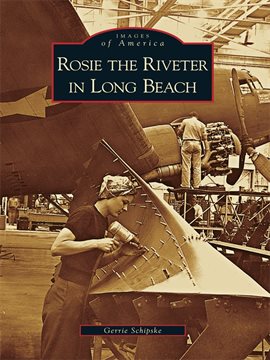 Rosie the Riveter in Long Beach
by Gary Schipske (Hoopla E-book only)
Based on Gilbert's first-hand interviews, these remarkable true stories of the young Polish Jewish women who actively and successfully defied the Nazis provide a new perspective on women and the Holocaust.
Underground In Berlin: A Young Woman's Extraordinary Tale of Survival in the Heart of Nazi Germany
by Marie Jalowicz Simon (Biography Simon)
In 1942, Marie Jalowicz, a twenty-year-old Jewish Berliner, made the extraordinary decision to do everything in her power to avoid the concentration camps. She removed her yellow star, took on an assumed identity, and disappeared into the city.
In the years that followed, Marie took shelter wherever it was offered, living with the strangest of bedfellows, from circus performers and committed communists to convinced Nazis. As Marie quickly learned, however, compassion and cruelty are very often two sides of the same coin.
Fifty years later, Marie agreed to tell her story for the first time. Told in her own voice with unflinching honesty, Underground In Berlin is a book like no other, of the surreal, sometimes absurd day-to-day life in wartime Berlin. This might be just one woman's story, but it gives an unparalleled glimpse into what it truly means to be human.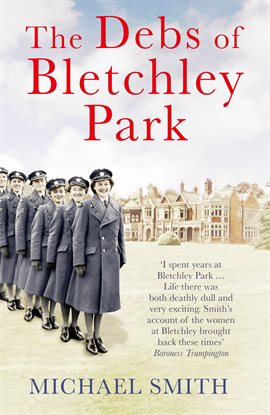 The Debs of Bletchley Park and Other Stories
by Michael Smith (Hoopla E-book)
For Winston Churchill the men and women at Bletchley Park were 'the geese the laid the golden eggs', providing important intelligence that led to the Allied victory in the Second World War.
At the peak of Bletchley's success, a total of twelve thousand people worked there of whom more than eight thousand were women. These included a former ballerina who helped to crack the Enigma Code; a debutante working for the Admiralty with a direct line to Churchill; the convent girl who operated the Bombes, the top secret machines that tested Enigma settings; and the German literature student whose codebreaking saved countless lives at D-Day. All these women were essential cogs in a very large machine, yet their stories have been kept secret.
In The Debs of Bletchley Park and Other Stories, author Michael Smith, trustee of Bletchley Park and chair of the Trust's Historical Advisory Committee, tells their tale. Through interviews with the women themselves and unique access to the Bletchley Park archives, Smith reveals how they came to be there, the lives they gave up to do 'their bit' for the war effort, and the part they played in the vital work of 'Station X'. They are an incredible set of women, and this is their story.
The Spymistress: The True Story of the Greatest Female Secret Agent of World War II
by William Stevenson (Biography Atkins)
She was stunning. She was ruthless. She was brilliant and had a will of iron. Born Vera Maria Rosenberg in Bucharest, she became Vera Atkins. William Stephenson, the spymaster who would later be known as "Intrepid", recruited her when she was twenty-three.
Vera spent most of the 1930s running too many dangerous espionage missions to count. When World War II began in 1939, her many skills made her one of the leaders of the Special Operations Executive (SOE), a covert intelligence agency formed by, and reporting to, Winston Churchill. She trained and recruited hundreds of agents, including dozens of women. Their job was to seamlessly penetrate deep behind the enemy lines.
As General Dwight D. Eisenhower said, the fantastic exploits and extraordinary courage of the SOE agents and the French Resistance fighters "shortened the war by many months." They are celebrated, as they should be.
But Vera Atkins's central role was hidden until after she died; Author William Stevenson promised to wait and publish her story posthumously. Now, Vera Atkins can be celebrated and known for the hero she was: the woman whose beauty, intelligence, and unwavering dedication proved key in turning the tide of World War II.
The Nine: The True Story of a Band of Women Who Survived the Worst of Nazi Germany
by Gwen Strauss (940.531 Str)
The Nine follows the true story of the author's great aunt Hélène Podliasky, who led a band of nine female resistance fighters as they escaped a German forced labor camp and made a ten-day journey across the front lines of WWII from Germany back to Paris.
The nine women were all under thirty when they joined the resistance. They smuggled arms through Europe, harbored parachuting agents, coordinated communications between regional sectors, trekked escape routes to Spain and hid Jewish children in scattered apartments. They were arrested by French police, interrogated and tortured by the Gestapo. They were subjected to a series of French prisons and deported to Germany. The group formed along the way, meeting at different points, in prison, in transit, and at Ravensbrück. By the time they were enslaved at the labor camp in Leipzig, they were a close-knit group of friends. During the final days of the war, forced onto a death march, the nine chose their moment and made a daring escape.
Drawing on incredible research, this powerful, heart-stopping narrative from Gwen Strauss is a moving tribute to the power of humanity and friendship in the darkest of times.
The Hiding Place
by Corrie Ten Boom, Elizabeth Sherrill, and John Sherrill (940.548 Ten)
Corrie ten Boom was a Dutch watchmaker who became a heroine of the Resistance, a survivor of Hitler's concentration camps, and one of the most remarkable evangelists of the twentieth century. In World War II she and her family risked their lives to help Jews and underground workers escape from the Nazis, and for their work they were tested in the infamous Nazi death camps. Only Corrie among her family survived to tell the story of how faith ultimately triumphs over evil.
Here is the riveting account of how Corrie and her family were able to save many of God's chosen people. For 35 years millions have seen that there is no pit so deep that God's love is not deeper still. Now The Hiding Place, repackaged for a new generation of readers, continues to declare that God's love will overcome, heal, and restore.
The Sisters of Auschwitz: The True Story of Two Jewish Sisters' Resistance in the Heart of Nazi Territory
by Roxane Van Iperen (940.531 Ipe)
The unforgettable story of two unsung heroes of World War II: sisters Janny and Lien Brilleslijper who joined the Dutch Resistance, helped save dozen of lives, were captured by the Nazis, and ultimately survived the Holocaust.
Eight months after Germany's invasion of Poland, the Nazis roll into The Netherlands, expanding their reign of brutality to the Dutch. But by the Winter of 1943, resistance is growing. Among those fighting their brutal Nazi occupiers are two Jewish sisters, Janny and Lien Brilleslijper from Amsterdam. Risking arrest and death, the sisters help save others, sheltering them in a clandestine safehouse in the woods, they called "The High Nest."
This secret refuge would become one of the most important Jewish safehouses in the country, serving as a hiding place and underground center for resistance partisans as well as artists condemned by Hitler. From The High Nest, an underground web of artists arises, giving hope and light to those living in terror in Holland as they begin to restore the dazzling pre-war life of Amsterdam and The Hague.
When the house and its occupants are eventually betrayed, the most terrifying time of the sisters' lives begins. As Allied troops close in, the Brilleslijper family are rushed onto the last train to Auschwitz, along with Anne Frank and her family. The journey will bring Janny and Lien close to Anne and her older sister Margot. The days ahead will test the sisters beyond human imagination as they are stripped of everything but their courage, their resilience, and their love for each other.
Based on meticulous research and unprecedented access to the Brilleslijpers' personal archives of memoirs and photos, The Sisters of Auschwitz is a long-overdue homage to two young women's heroism and moral bravery — and a reminder of the power each of us has to change the world.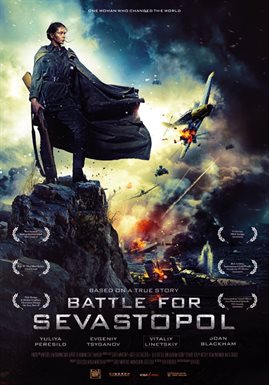 The Battle for Sebastopol (a.k.a. Indestructible")
starring Yulia Peresild and directed by Sergey Mokritskiy (Hoopla Movies)
The war catches a young student Lyudmila Pavlichenko off-guard in Odessa. She volunteers in the army and is moved to the front line after a brief stint in the sniper school. Her natural marksmanship and ability to keep calm under duress make her a true sharpshooter. Her personal hit list is over 309 names long. A biographical film about a woman who changed the course of history. (Pavlichenko's story is also fictionalized in the novel The Diamond Eye by Kate Quinn, below…)
A Call to Spy
written by and starring Sarah Meghan Thomas (DVD Call)
As Great Britain's forces were stretched thin during World War II, Winston Churchill's Special Operations Executive began to enlist women as spies. Their daunting mission: conduct sabotage and build a resistance. Spymistress Vera Atkins, later the inspiration for Ian Fleming's Miss Moneypenny in the James Bond franchise, was the chief recruiter for this secret army. Atkins selected two unusual candidates: Virginia Hall, an American journalist from Baltimore with a wooden leg, and Noor Inayat Khan, a wireless officer of Indian descent and an avowed pacifist. Together, they worked to undermine the Nazi regime in France. The courage, sacrifices and grit of these three women helped quell the Nazi occupation — and ultimately turned the tide of the war. (see individual books above on each of these three noteworthy women)
The Zookeeper's Wife
starring Jessica Chastain (DVD Zookeeper's)
The real-life story of one working wife and mother who became a hero to hundreds during World War II. In 1939 Poland, Antonina Zabinska and her husband, Dr. Jan Zabinski, have the Warsaw Zoo flourishing under his stewardship and her care. When the Germans invade their country, they are forced to report to the Reich's newly appointed chief zoologist, Lutz Heck. To fight back on their own terms, Antonina and Jan covertly begin working with the Resistance.
---
Historical Fiction Titles about Women's Experiences During WWII
Radar Girls
by Sara Ackerman (Ackerman)
In the aftermath of Pearl Harbor, Daisy Wilder enlists in a top secret program, replacing male soldiers in a war zone for the first time. Under fear of imminent invasion, the Women's Air Raid Defense (WARD) guides pilots into blacked-out airstrips and track unidentified planes across Pacific skies. Not everyone thinks the women are up to the job, and the new recruits meet resistance and heartache along the way. Determined to prove herself worthy — and with the man she's falling for out on the front lines — she cannot fail. She'll need her new team when the stakes are highest.
The Only Woman in the Room
by Marie Benedict (Benedict)
Hedy Kiesler is lucky. Her beauty leads to a starring role in a controversial film and marriage to a powerful Austrian arms dealer, allowing her to evade Nazi persecution despite her Jewish heritage. But Hedy is also intelligent. At lavish Vienna dinner parties, she overhears the Third Reich's plans. One night in 1937, desperate to escape her controlling husband and the rise of the Nazis, she disguises herself and flees her husband's castle. She lands in Hollywood, where she becomes Hedy Lamarr, screen star. But Hedy is keeping a secret even more shocking than her Jewish heritage: she is a scientist. She has an idea that might help the country and that might ease her guilt for escaping alone — if anyone will listen to her. Based on the incredible true story of the glamour icon and scientist whose groundbreaking invention revolutionized modern communication.
In Farleigh Field
by Rhys Bowen (Bowen)
World War II comes to Farleigh Place, the ancestral home of Lord Westerham and his five daughters, when a soldier with a failed parachute falls to his death on the estate. After his uniform and possessions raise suspicions, MI5 operative and family friend Ben Cresswell is covertly tasked with determining if the man is a German spy. The assignment also offers Ben the chance to be near Lord Westerham's middle daughter, Pamela, whom he furtively loves. But Pamela has her own secret: she has taken a job at Bletchley Park, the British code-breaking facility. As Ben follows a trail of spies and traitors, which may include another member of Pamela's family, he discovers that some within the realm have an appalling, history-altering agenda. Can he, with Pamela's help, stop them before England falls?
Resistance Women
by Jennifer Chiaverini (Chiaverini)
After Wisconsin graduate student Mildred Fish marries brilliant German economist Arvid Harnack, she accompanies him to his German homeland, where a promising future awaits. In the thriving intellectual culture of 1930s Berlin, the newlyweds create a rich new life filled with love, friendships, and rewarding work — but the rise of a malevolent new political faction inexorably changes their fate. As Adolf Hitler and his Nazi Party wield violence and lies to seize power, Mildred, Arvid, and their friends resolve to resist. Mildred gathers intelligence for her American contacts, including Martha Dodd, the vivacious and very modern daughter of the US ambassador. Her German friends, aspiring author Greta Kuckoff and literature student Sara Weiss, risk their lives to collect information from journalists, military officers, and officials within the highest levels of the Nazi regime. For years, Mildred's network stealthily fights to bring down the Third Reich from within. But when Nazi radio operatives detect an errant Russian signal, the Harnack resistance cell is exposed, with fatal consequences.
A Rose for the Resistance
by Angela K. Couch (Couch)
With her father in a German POW camp and her home in Sainte-Mère-Église, France, under Nazi occupation, Rosalie Barrieau will do anything to keep her younger brother safe…even from his desire to join the French resistance. Then she falls into the debt of a German solder — one who delivers a wounded British pilot to her door. Though not sure what to make of her German ally, Rosalie is thrust deep into the heart of the local underground. Franz Kafka has survived the war by following orders, but a brush with death and a transfer to Normandy, France, has him questioning the cost of his course. Even as he finds himself receiving a promotion and instructions to seek out the Resistance, his compassion for the French under German occupation can't be ignored — neither can a beautiful young woman often seen riding a bicycle through checkpoints. As tensions build toward the allied invasion of Normandy, they both must decide how much they are willing to risk for freedom — and love.
Mrs. Witherspoon Goes to War
by Mary Davis (Davis)
A WASP embarks on an unsanctioned secret mission. Full of intrigue, adventure, and romance, this new series celebrates the unsung heroes — the heroines of WWII. Peggy Witherspoon, a mother of two daughters, has been widowed due to the war in Europe. She comes from a long line of US war heroes and, considering it her duty, joins the female pilots flying for the WASP (Women's Airforce Service Pilots) in 1944. Most of Peggy's jobs are safe, predictable as she ferries airplanes between factories and military bases, and she can be home each night with her daughters. After being injured in combat, Army Air Corp Major Howie Berg is stationed at Bolling Field in Washington D.C., while he continues to recover. As the new reporting officer for the WASP, his first encounter with Peggy is when she disobeys one of his director orders. While flying a routine load of cargo to Cuba, Peggy learns about three US soldiers being held captive there. Furious that no rescue is planned due to Cuba's status as an American ally, Peggy and two of her fellow WASPs devise a secret rescue mission. However, if something goes wrong, she and the others will have no backup. Will Peggy go against orders to help the men–even risk her own life?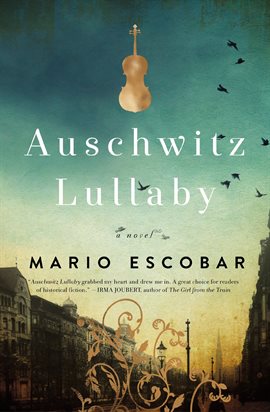 Auschwitz Lullaby
by Mario Escobar (Escobar)
On an otherwise ordinary morning in 1943, Helene Hannemann is preparing her five children for the day when the German police arrive at her home. Helene's worst fears come true when the police, under strict orders from the SS, demand that her children and husband, all of Romani heritage, be taken into custody. Though Helene is German and safe from the forces invading her home, she refuses to leave her family — sealing her fate in a way she never could have imagined. 
After a terrifying trek across the continent, Helene and her family arrive at Auschwitz and are thrown into the chaos of the camp. Her husband, Johann, is separated from them, but Helene remains fiercely protective of her children and those around her. When the powers-that-be discover that Helene is not only a German but also a trained nurse, she is forced into service at the camp hospital, which is overseen by the notorious Dr. Mengele himself. 
Helene is under no illusions in terms of Dr. Mengele's intentions, but she agrees to cooperate when he asks her to organize a day care and school for the Romani children in the camp. Though physically and emotionally brutalized by the conditions at Auschwitz, Helene musters the strength to protect the children in her care at any cost. Through sheer force of will, Helene provides a haven for the children of Auschwitz — an act of kindness and selflessness so great that it illuminates the darkest night of human history. 
Based on a true story, Mario Escobar's Auschwitz Lullaby demonstrates the power of sacrifice and the strength of human dignity — even when all hope seems lost.
When We Were Young and Brave
by Hazel Gaynor (Gaynor)
China, December 1941. Elspeth Kent left England for a teaching post at a missionary school in northern China. Ten-year-old Nancy Plummer has always felt safe at Chefoo School, protected by her British status. When Japan declares war on Britain and America, Japanese forces take control of the school. Nancy and her friends face privation, uncertainty and fear. The children look to their teachers — to Miss Kent and her new Girl Guide patrol especially — to provide a sense of unity and safety. Sent to a distant internment camp, even greater uncertainty and danger await.
The Nightingale
by Kristin Hannah (Hannah)
Viann and Isabelle have always been close despite their differences. Younger, bolder sister Isabelle lives in Paris while Viann lives a quiet and content life in the French countryside with her husband Antoine and their daughter. When World War II strikes and Antoine is sent off to fight, Viann and Isabelle's father sends Isabelle to help her older sister cope. As the war progresses, it's not only the sisters' relationship that is tested, but also their strength and their individual senses of right and wrong. With life as they know it changing in unbelievably horrific ways, Viann and Isabelle will find themselves facing frightening situations and responding in ways they never thought possible as bravery and resistance take different forms in each of their actions. Vivid and exquiste in its illumination of a time and place that was filled with great monstrosities, but also great humanity and strength, Kristin Hannah's novel will provoke thought and discussion that will have readers talking long after they turn the last page.
The Lost Girls of Paris
by Pam Jenoff (Jenoff)
From the author of the runaway bestseller The Orphan's Tale comes a remarkable story of friendship and courage centered around three women and a ring of female secret agents during World War II. 1946, Manhattan — One morning while passing through Grand Central Terminal on her way to work, Grace Healey finds an abandoned suitcase tucked beneath a bench. Unable to resist her own curiosity, Grace opens the suitcase, where she discovers a dozen photographs — each of a different woman. In a moment of impulse, Grace takes the photographs and quickly leaves the station. Grace soon learns that the suitcase belonged to a woman named Eleanor Trigg, leader of a network of female secret agents who were deployed out of London during the war. Twelve of these women were sent to Occupied Europe as couriers and radio operators to aid the resistance, but they never returned home, their fates a mystery. Setting out to learn the truth behind the women in the photographs, Grace finds herself drawn to a young mother turned agent named Marie, whose daring mission overseas reveals a remarkable story of friendship, valor and betrayal. Vividly rendered and inspired by true events, New York Times bestselling author Pam Jenoff shines a light on the incredible heroics of the brave women of the war and weaves a mesmerizing tale of courage, sisterhood and the great strength of women to survive in the hardest of circumstances.
Lilac Girls
by Martha Hall Kelly (Kelly)
On a September day in Manhattan in 1939, twenty-something Caroline Ferriday is consumed by her efforts to secure the perfect boutonniere for an important French diplomat and resisting the romantic advances of a married actor. Meanwhile across the Atlantic, Kasia Kuzmerick, a Polish Catholic teenager, is nervously anticipating the changes that are sure to come since Germany has declared war on Poland. As tensions rise abroad — and in her personal life — Caroline's interest in aiding the war effort in France grows and she eventually comes to hear about the dire situation at the Ravensbruck all-female concentration camp. At the same time, Kasia's carefree youth is quickly slipping away, only to be replaced by a fervor for the Polish resistance movement. Through Ravensbruck — and the horrific atrocities taking place there told in part by an infamous German surgeon, Herta Oberheuser — the two women's lives will converge in unprecedented ways and a novel of redemption and hope emerges that is breathtaking in scope and depth.
Code Name Hélène
by Ariel Lawhon (Lawhon)
Told in interweaving timelines organized around the four code names Nancy used during the war, Code Name Hélène is a spellbinding and moving story of enduring love, remarkable sacrifice and unfaltering resolve that chronicles the true exploits of a woman who deserves to be a household name.
It is 1936 and Nancy Wake is an intrepid Australian expat living in Paris who has bluffed her way into a reporting job for Hearst newspaper when she meets the wealthy French industrialist Henri Fiocca. No sooner does Henri sweep Nancy off her feet and convince her to become Mrs. Fiocca than the Germans invade France and she takes yet another name: a code name.
As Lucienne Carlier, Nancy smuggles people and documents across the border. Her success and her remarkable ability to evade capture  earns her the nickname The White Mouse from the Gestapo. With a five million franc bounty on her head, Nancy is forced to escape France and leave Henri behind. When she enters training with the Special Operations Executives in Britain, her new comrades are instructed to call her Hélène. And finally, with mission in hand, Nancy is airdropped back into France as the deadly Madam Andrée, where she claims her place as one of the most powerful leaders in the French Resistance, armed with a ferocious wit, her signature red lipstick, and the ability to summon weapons straight from the Allied Forces.
But no one can protect Nancy if the enemy finds out these four women are one and the same, and the closer to liberation France gets, the more exposed she — and the people she loves — become.
The Maggie Hope mystery series (starting with Mr. Churchill's Secretary)
by Susan Elia MacNeal (MacNeal)
London, 1940. Winston Churchill has just been sworn in, war rages across the Channel, and the threat of a Blitz looms larger by the day. But none of this deters Maggie Hope. She graduated at the top of her college class and possesses all the skills of the finest minds in British intelligence, but her gender qualifies her only to be the newest typist at No. 10 Downing Street. Her indefatigable spirit and remarkable gifts for codebreaking, though, rival those of even the highest men in government, and Maggie finds that working for the prime minister affords her a level of clearance she could never have imagined — and opportunities she will not let pass. In troubled, deadly times, with air-raid sirens sending multitudes underground, access to the War Rooms also exposes Maggie to the machinations of a menacing faction determined to do whatever it takes to change the course of history.
Ensnared in a web of spies, murder, and intrigue, Maggie must work quickly to balance her duty to King and Country with her chances for survival. And when she unravels a mystery that points toward her own family's hidden secrets, she'll discover that her quick wits are all that stand between an assassin's murderous plan and Churchill himself.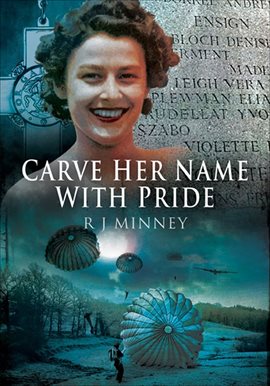 Carve Her Name With Pride
by R.J. Minney (Hoopla E-books)
Carve Her Name With Pride is the inspiring story of the half-French Violette Szabo who was born in Paris Iin 1921 to an English motorcar dealer, and a French Mother. She met and married Etienne Szabo, a Captain in the French Foreign Legion in 1940. Shortly after the birth of her daughter, Tania, her husband died at El Alamein. She became a FANY (First Aid Nursing Yeomanry) and was recruited into the SOE and underwent secret agent training. Her first trip to France was completed successfully even though she was arrested and then released by the French Police.
On June 7th, 1944, Szabo was parachuted into Limoges. Her task was to coordinate the work of the French Resistance in the area in the first days after D-Day. She was captured by the SS 'Das Reich' Panzer Division and handed over to the Gestapo in Paris for interrogation. From Paris, Violette Szabo was sent to Ravensbruck concentration camp where she was executed in January 1945. She was only 23 and for her courage was posthumously awarded The George Cross and the Croix de Guerre.
The Night Portrait: A Novel of World War II and da Vinci's Italy
by Laura Morelli (Morelli)
Milan, 1492: When a sixteen-year old beauty becomes the mistress of the Duke of Milan, she must fight for her place in the palace, and against those who want her out. Soon, she finds herself sitting before Leonardo da Vinci, who wants to ensure his own place in the ducal palace by painting his most ambitious portrait to date. Munich, World War II: After a modest conservator unwittingly places a priceless Italian Renaissance portrait into the hands of a high-ranking Nazi leader, she risks her life to recover it, working with an American soldier, part of the famed Monuments Men team, to get it back. Two women, separated by 500 years, are swept up in the tide of history as one painting stands at the center of their quests for their own destinies.
The Diamond Eye
by Kate Quinn (Quinn)
The bestselling author of The Rose Code returns with an unforgettable World War II tale of a quiet bookworm who becomes history's deadliest female sniper. Based on a true story. In 1937 in the snowbound city of Kiev (now known as Kyiv), wry and bookish history student Mila Pavlichenko organizes her life around her library job and her young son–but Hitler's invasion of Ukraine and Russia sends her on a different path. Given a rifle and sent to join the fight, Mila must forge herself from studious girl to deadly sniper–a lethal hunter of Nazis known as Lady Death. When news of her three hundredth kill makes her a national heroine, Mila finds herself torn from the bloody battlefields of the eastern front and sent to America on a goodwill tour. Still reeling from war wounds and devastated by loss, Mila finds herself isolated and lonely in the glittering world of Washington, DC–until an unexpected friendship with First Lady Eleanor Roosevelt and an even more unexpected connection with a silent fellow sniper offer the possibility of happiness. But when an old enemy from Mila's past joins forces with a deadly new foe lurking in the shadows, Lady Death finds herself battling her own demons and enemy bullets in the deadliest duel of her life. Based on a true story, The Diamond Eye is a haunting novel of heroism born of desperation, of a mother who became a soldier, of a woman who found her place in the world and changed the course of history forever.
The Huntress
by Kate Quinn (Quinn)
Shining a light on a shadow of history, The Huntress is an epic, sweeping Second World War novel from the New York Times bestselling author of The Alice Network. On the icy edge of Soviet Russia, bold and reckless Nina Markova joins the infamous Night Witches — an all-female bomber regiment — wreaking havoc on Hitler's eastern front. But when she is downed behind enemy lines and thrown across the path of a lethal Nazi murderess known as the Huntress, Nina must use all her wits to survive. British war correspondent Ian Graham has witnessed the horrors of war from Omaha Beach to the Nuremburg Trials. He abandons journalism after the war to become a Nazi hunter, yet one target eludes him: the Huntress. Fierce, disciplined Ian must join forces with reckless, cocksure Nina, the only witness to escape the Huntress alive. In post-war Boston, seventeen-year-old Jordan McBride is delighted when her long-widowed father brings home a fiancee. But Jordan grows increasingly disquieted by the soft-spoken German widow who seems to be hiding something. Delving into her new stepmother's past, Jordan slowly realizes that a Nazi killer may be hiding in plain sight.
The Rose Code
by Kate Quinn (Quinn)
1940. As England prepares to fight the Nazis, three very different women answer the call to Bletchley Park, where the best minds in Britain train to break German military codes. Osla puts her fluent German to use as a translator of decoded enemy secrets. Mab works the legendary codebreaking machines and looks for a socially advantageous husband. Beth's shyness conceals a brilliant facility with puzzles, and she becomes one of the Park's few female cryptanalysts.
1947. As the royal wedding of Princess Elizabeth and Prince Philip whips post-war Britain into a fever, the three women are reunited by a mysterious encrypted letter — the key to which lies buried in the long-ago betrayal that destroyed their friendship and left one of them confined to an asylum.
The Invisible Woman
by Erika Robuck (Robuck)
France, March 1944. Virginia Hall wasn't like the other young society women back home in Baltimore — she never wanted the debutante ball or silk gloves. Instead, she traded a safe life for adventure in Europe, and when her beloved second home is thrust into the dark days of war, she leaps in headfirst. Once she's recruited as an Allied spy, subverting the Nazis becomes her calling. But even the most cunning agent can be bested, and in wartime trusting the wrong person can prove fatal. Virginia is haunted every day by the betrayal that ravaged her first operation, and will do everything in her power to avenge the brave people she lost. While her future is anything but certain, this time more than ever Virginia knows that failure is not an option. Especially when she discovers what — and whom — she's truly protecting.
Sisters of Night and Fog
by Erika Robuck (Robuck)
A heart-stopping new novel, based on the extraordinary true stories of an American socialite and a British secret agent whose stunning acts of courage collide in the darkest hours of WWII, from the bestselling author of The Invisible Woman. Two women, two countries. Nothing in common but a call to resist. 1940. In a world newly burning with war, and in spite of her American family's wishes, Virginia decides to stay in occupied France with her French husband. She's sure that if they keep their heads down they'll make it through. But as the call to resist the enemy grows around her, Virginia must decide if she's willing to risk everything to help those in need. Nineteen-year-old Violette is a crack shot with an unquenchable spirit of adventure, and she's desperate to fight the Nazis however she can. When her mother sends her to find an exiled soldier, Violette meets the man who will change her life. Then tragedy strikes, and Britain's clandestine war organization-the Special Operations Executive-learns of Violette's dual citizenship and adept firearm handling and starts to recruit her. But Violette is no stranger to loss and must decide whether the cost of defiance is too great a price to pay. Set across the European theater of WWII, Sisters of Night and Fog tells the story of two women whose clandestine deeds come to a staggering halt when they are brought together at Ravensbrück concentration camp. A striking reminder of how deeply we are all connected, which forces us to ask, "Could I have done what they did?"
A Picture of Hope
by Liz Tolsma (Tolsma)
A photojournalist risks her life to save children in the second book of a series celebrating unsung heroes- the heroines of WWII. Journalist Nellie Wilkerson has spent the bulk of the war in London, photographing pilots taking off and landing — and she's bored. She jumps at the chance to go to France, where the Allied forces recently landed. She enlists Jean-Paul Breslau of the French underground to take her to the frontlines. On the journey, they come upon an orphanage where nuns shelter children with disabilities. Can they help save them before the Nazis come to liquidate it?
Code Name: Verity
by Elizabeth Wein (YA Wein)
Oct. 11th, 1943 — A British spy plane crashes in Nazi-occupied France. Its pilot and passenger are best friends. One of the girls has a chance at survival. The other has lost the game before it's barely begun. When "Verity" is arrested by the Gestapo, she's sure she doesn't stand a chance. As a secret agent captured in enemy territory, she's living a spy's worst nightmare. Her Nazi interrogators give her a simple choice: reveal her mission or face a grisly execution.
As she intricately weaves her confession, Verity uncovers her past, how she became friends with the pilot Maddie, and why she left Maddie in the wrecked fuselage of their plane. On each new scrap of paper, Verity battles for her life, confronting her views on courage, failure and her desperate hope to make it home. But will trading her secrets be enough to save her from the enemy? A Michael L. Printz Award Honor book that was called "a fiendishly-plotted mind game of a novel" in The New York Times, Code Name: Verity is a visceral read of danger, resolve, and survival that shows just how far true friends will go to save each other.
The Bletchley Circle: Cracking a Killer's Code
(DVD Bletchley)
Four women who worked as codebreakers at Bletchley Park have taken up civilian lives. Susan has collated data about a series of murders. She tries to convince the police she knows where another body is, but they are unable to locate it and dismiss her. She turns to her three friends and they work out where the next victim will be taken, find the body, and then decide they are the only ones who can track down the killer.
The Bletchley Circle: Season Two
(DVD Bletchley)
Four women who worked as codebreakers at Bletchley Park have taken up civilian lives.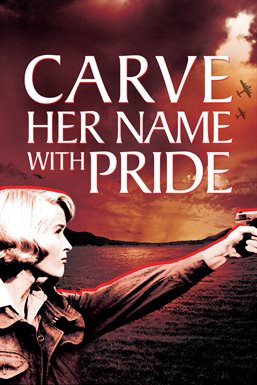 Carve Her Name With Pride
(Hoopla Movies)
During World War II, a recently widowed young woman is recruited to work as a spy in France. Based on the book by R.J. Minney. Starring Virginia McKenna.
Julia
(DVD Julia)
Born to great wealth, the fiercely independent Julia devotes her life to political causes, fighting fascism in the 1930's. While traveling in Europe, playwright Lillian Hellman, a friend of Julia's, is swept into a dangerous world, smuggling money across hostile borders.
Mrs. Miniver
(DVD Mrs.)
The story of a middle-class British family and their struggle to survive during WWII. Adapted from Jan Struther's book.
Won Oscars for Best Picture, Best Director – William Wyler, Best Actress – Greer Garson, and Best Supporting Actress – Teresa Wright.
posted to BookGuide in Aug 2022 sdc | last updated Aug 2022 sdc