In the Summer of 2021, Indian Residential Schools were in the news due to the uncovering of innumerable unmarked graves of children. September 30th, 2021 marked Canada's first National Day for Truth and Reconciliation — an annual commemoration honoring the children who died while attending residential schools and the survivors, families and communities still affected by the legacy of the residential school system. Earlier, in 2020, the Nebraska State Legislature declared October 11 as Indigenous Peoples Day. Both of these commemorations give us the opportunity to learn more and to create meaningful discussions, to endeavor to understand the past and to be part of a more positive future. This list includes books suitable for children as well as books for a mature audience.
---
Lincoln City Libraries — Physical Copies (some may be in digital formats as well)
Shin-Chi's Canoe
by Nicola I. Campbell, illustrated by Kim LaFave (jP Campbell)
This year, Shin-Chi would be going to the residential school for the first time, accompanying his big sister Shi-shi-etko. The children don't want to go, nor do their parents want to send them, but it's the law. Younger readers can connect with missing home and missing family; older readers will see between the lines to the abuse and indignities of the Residential Schools. Paying attention to the natural world around them was essential to the children's survival at home, now it gives them the mental strength to endure the separation from their family and home.
Fatty Legs
by Christy Jordan-Fenton & Margaret Pokiak-Fenton, illustrated by Liz Amini-Holmes (j Biography Pokiak-Fenton)
Young Olemaun (Margaret) really wants to learn to read the Outsiders' language and so begs her parents to take her to the Residential School, in spite of their reluctance and in spite of the advice of her older sister. Eventually her father gives in to her stubbornness. But when she arrives, she finds the warnings to be true, the chores never-ending and the lessons to be meager. She is picked on by the nuns and also by some classmates. She resolves to be strong and looks to the characters in books to help her maintain her courage.
When I Was Eight
by Christy Jordan-Fenton & Margaret Pokiak-Fenton, illustrated by Gabrielle Grimard (j Biography Pokiak-Fenton)
When I was Eight is the same story of Olemaun's (Margaret's) experience in the Residential School, told in picture book form with emphasis on the young girl's resistance and an age-appropriate telling of the mistreatment she endured.
When We Were Alone
by David A. Robertson, illustrated by Julie Flett (jP Robertson)
Nókom (grandmother) wears bright colors, wears her hair long, and spends her time with family and in When We Were Alone she explains to Nósisim (granddaughter) how when she lived in a Residential School she wasn't allowed these things, how she and her friends at the boarding school coped with the injustices and abuses inflicted upon them, and how now celebrating her culture and her family is precious to her.
Stolen Words
by Melanie Florence, illustrated by Gabrielle Grimard (jP Florence)
This is a story about a Grandpa who "lost his words" at a Residential School and his Granddaughter who helped him retrieve them.
The Train
by Jodie Callaghan, illustrated Georgia Lesley (jP Callaghan)
An Uncle shows his niece the place where the train stopped, sometimes to deliver goods, but then to pick up children to take them to the residential school where their hair was cut, their clothes were taken and they were told they were no longer native. Uncle is sad to tell his niece he worries that their people will not remember this place where their lives were changed forever. He asks his niece to know that he wants her to know where her family has come from, so she can be proud of where she is going.
I Am Not A Number
by Jenny Kay Dupuis & Kathy Kacer, illustrated by Gillian Newland (jP DuPuis)
Many survivors of Indian Residential Schools never told their stories. They were made to feel such shame about who they were and that shame followed them through their lives. When Jenny Kay Dupuis was a teenager, she wanted to learn and understand about the legacy of the residential school system. Her grandmother, Irene Couchie, rarely spoke of her experience. This book relates how Irene was taken to a Residential School and the mistreatment she endured there, and how, after returning home, when her father learned what had happened to her at the school, he hid her and her siblings so they wouldn't be forced to return.
Sugar Falls
by David A. Robertson, illustrated by Scott B. Henderson (YA PB (Graphic Novel) Robertson)
Inspired by true events, this story of strength, family, and culture shares the awe-inspiring resilience of Elder Betty Ross. When taken away to residential school, she is forced to endure abuse and indignity but the words spoken to her by her father helps her retain her resilience, strength and determination to survive.
As Long as the Rivers Flow
by by Larry Loyie, with Constance Brissenden, illustrated by Heather Holmlund (J970.3 Creyr)
Describes the summer of Larry Loyie with his family before he is forcibly taken to a government-sponsored residential school.
Speaking Our Truth: A Journey of Reconciliation
by Monique Gray Smith (j970.5 Gra)
Canada's relationship with its Indigenous people has suffered as a result of both the residential school system and the lack of understanding of the historical and current impact of those schools. Healing and repairing that relationship requires education, awareness and increased understanding of the legacy and the impacts still being felt by Survivors and their families. Guided by acclaimed Indigenous author Monique Gray Smith, readers will learn about the lives of Survivors and listen to allies who are putting the findings of the Truth and Reconciliation Commission into action.
Five Little Indians
by Michelle Good (Good)
In Five Little Indians, Michelle Good, a Cree writer and a member of the Red Pheasant Cree Nation in Saskatchewan, braids together the true stories of five fictional Residential School Survivors. At times humorous, often sobering, and always engrossing, this tale of five young people who struggled and survived their childhood experiences in Indian Residential Schools, drew me in, and left me with a better understanding of the repercussions of the Residential School system on individuals, their families, and their friends.
Indian Horse
by Richard Wagamese (DVD Indian)
Saul Indian Horse, an Ojibway boy, is torn from his family and committed to a residential school. At the school, Saul is denied the freedom to speak his language or embrace his heritage and is a witness to abuse by the people sworn to protect him. But Saul finds salvation in the unlikeliest of places, the rink. His incredible hockey talents lead him away from the school to bigger and better opportunities, but no matter how far Saul goes, the ghosts of his past are always close behind.
Seven Fallen Feathers: Racism, Death and Hard Truths in a Northern City
by Tanya Talaga (305.897 Tal)
Over the span of ten years, seven high school students died in Thunder Bay, Ontario. The seven were hundreds of miles away from their families, forced to leave their reserve because there was no high school there for them to attend. Award-winning journalist Tanya Talaga delves into the history of this northern city that has come to manifest, and struggle with, human rights violations past and present against aboriginal communities.
The Marrow Thieves
by Cherie Dimaline (YA PB Dimaline)
In a future world ravaged by global warming, people have lost the ability to dream, and the dreamlessness has led to widespread madness. The only people still able to dream are North America's indigenous population — and it is their marrow that holds the cure for the rest of the world. But getting the marrow — and dreams — means death for the unwilling donors. Driven to flight, a 15-year-old and his companions struggle for survival, attempt to reunite with loved ones, and take refuge from the "recruiters" who seek them out to bring them to the marrow-stealing 'factories.'
---
Available from Lincoln City Libraries only in Digital Formats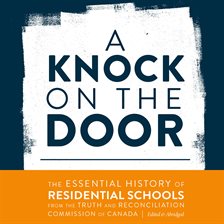 A Knock on the Door: The Essential History of Residential Schools
by The Truth and Reconciliation Commission of Canada (Hoopla eAudiobook)
"It can start with a knock on the door one morning. It is the local Indian agent, or the parish priest, or, perhaps, a Mounted Police officer." So began the school experience of many Indigenous children in Canada for more than a hundred years, and so begins the history of residential schools prepared by the Truth & Reconciliation Commission of Canada (TRC). Between 2008 and 2015, the TRC provided opportunities for individuals, families, and communities to share their experiences of residential schools and released several reports based on 7000 survivor statements and five million documents from government, churches, and schools, as well as a solid grounding in secondary sources. A Knock on the Door, published in collaboration with the National Research Centre for Truth & Reconciliation, gathers material from the several reports the TRC has produced to present the essential history and legacy of residential schools in a concise and accessible package that includes new materials to help inform and contextualize the journey to reconciliation that Canadians are now embarked upon. Survivor and former National Chief of the Assembly First Nations, Phil Fontaine, provides a Foreword, and an Afterword introduces the holdings and opportunities of the National Centre for Truth & Reconciliation, home to the archive of recordings, and documents collected by the TRC. As Aimée Craft writes in the Afterword, knowing the historical backdrop of residential schooling and its legacy is essential to the work of reconciliation. In the past, agents of the Canadian state knocked on the doors of Indigenous families to take the children to school. Now, the Survivors have shared their truths and knocked back. It is time for Canadians to open the door to mutual understanding, respect, and reconciliation.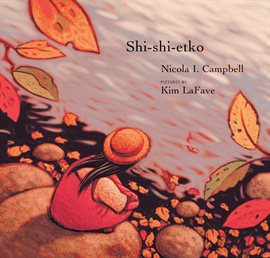 Shi-Shi-Etko
by Nicola I. Campbell, illustrated by Kim LaFave (Hoopla eBook)
In just four days young Shi-shi-etko will have to leave her family and all that she knows to attend residential school. She spends her last days at home treasuring the beauty of her world — the dancing sunlight, the tall grass, each shiny rock, the tadpoles in the creek, her grandfather's paddle song. Her mother, father and grandmother, each in turn, share valuable teachings that they want her to remember. And so Shi-shi-etko carefully gathers her memories for safekeeping. Richly hued illustrations complement this gently moving and poetic account of a child who finds solace all around her, even though she is on the verge of great loss — a loss that Indigenous Peoples have endured for generations because of the residential schools system.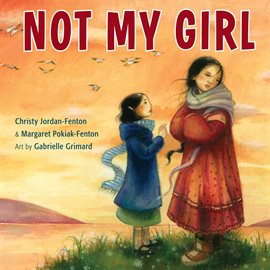 Not My Girl
by Christy Jordan-Fenton & Margaret-Olemaun Pokiak-Fenton, illustrated by Gabrielle Grimard (Hoopla eBook and eAudiobook)
Margaret can't wait to see her family, but her homecoming is not what she expected. Two years ago, Margaret left her Arctic home for the outsiders' school. Now she has returned and can barely contain her excitement as she rushes towards her waiting family — but her mother stands still as a stone. This strange, skinny child, with her hair cropped short, can't be her daughter. "Not my girl!" she says angrily. Margaret's years at school have changed her. Now ten years old, she has forgotten her language and the skills to hunt and fish. She can't even stomach her mother's food. Her only comfort is in the books she learned to read at school. Gradually, Margaret relearns the words and ways of her people. With time, she earns her father's trust enough to be given a dogsled of her own. As her family watches with pride, Margaret knows she has found her place once more.
Based on the true story of Margaret Pokiak-Fenton, and complemented by evocative illustrations, Not My Girl makes the original, award-winning memoir, A Stranger At Home, accessible to younger children. It is also a sequel to the picture book When I Was Eight. A poignant story of a determined young girl's struggle to belong, it will both move and inspire readers everywhere.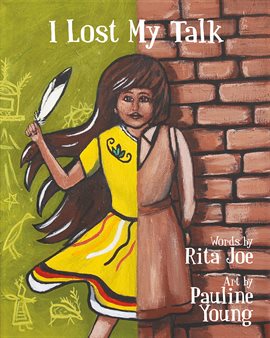 I Lost My Talk
by Rita Joe, illustrated by Pauline Young (Hoopla eBook)
I lost my talk The talk you took away When I was a little girl At Shubenacadie school.
One of Rita Joe's most influential poems, "I Lost My Talk" tells the revered Mi'kmaw Elder's childhood story of losing her language while a resident of the residential school in Shubenacadie, Nova Scotia. An often quoted piece in this era of truth and reconciliation, Joe's powerful words explore and celebrate the survival of Mi'kmaw culture and language despite its attempted eradication.
A companion book to the simultaneously published I'm Finding My Talk by Rebecca Thomas, I Lost My Talk is a necessary reminder of a dark chapter in Canada's history, a powerful reading experience, and an effective teaching tool for young readers of all cultures and backgrounds. Includes a biography of Rita Joe and striking colour illustrations by Mi'kmaw artist Pauline Young.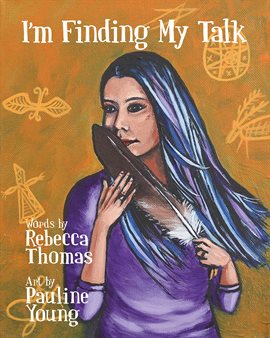 I'm Finding My Talk
by Rebecca Thomas, illustrated by Pauline Young (Hoopla eBook)
I'm finding my talk, And it may take some time, But I'm learning to speak, In a language that's mine.
A response to Rita Joe's iconic poem "I Lost My Talk," and published simultaneously with the new children's book edition illustrated by Pauline Young, comes a companion picture book by award-winning spoken-word artist and Mi'kmaw activist Rebecca Thomas. A second-generation residential school survivor, Thomas writes this response poem openly and honestly, reflecting on the process of working through the destructive effects of colonialism.
From sewing regalia to dancing at powow to learning traditional language, I'm Finding My Talk is about rediscovering her community, and finding culture. Features stunning, vibrant illustrations by Mi'kmaw artist Pauline Young.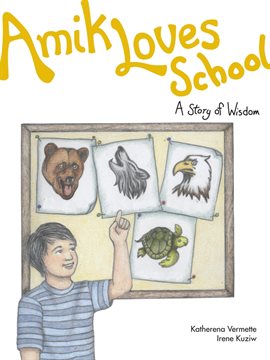 Amik Loves School
by Katherena Vermette, illustrated by Irene Kuziw (Hoopla eBook)
Amik tells Moshoom about his wonderful school. Then his grandfather tells him about the residential school he went to, so different from Amik's school, so Amik has an idea…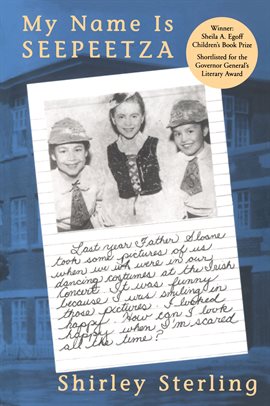 My Name is Seepeetza
by Shirley Sterling (Hoopla and Overdrive eBooks)
An honest, inside look at life in an Indian residential school in the 1950s, and how one indomitable young spirit survived it. At six years old, Seepeetza is taken from her happy family life on Joyaska Ranch to live as a boarder at the Kalamak Indian Residential School. Life at the school is not easy, but Seepeetza still manages to find some bright spots. Always, thoughts of home make her school life bearable.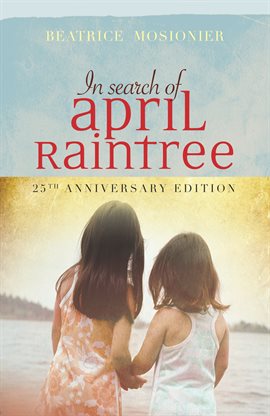 In Search of April Raintree
by Beatrice Mosionier (Hoople eBook and eAudiobook, Overdrive eAudiobook)
Two young sisters are taken from their home and family. Powerless to change their fortunes, they are separated, and each put into different foster homes. Yet over the years, the bond between them grows. As they each make their way in a society that is, at times, indifferent, hostile, and violent, one embraces her Métis identity, while the other tries to leave it behind. In the end, out of tragedy, comes an unexpected legacy of triumph and reclamation.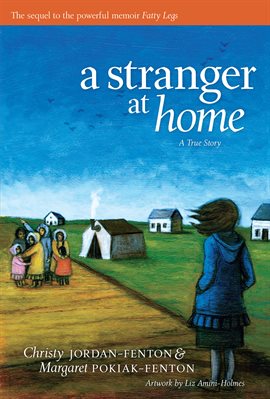 A Stranger At Home
by Christy Jordan-Fenton & Margaret-Olemaun Pokiak-Fenton, illustrated by Liz Amini-Holmes (Hoopla eBook and eAudiobook)
Traveling to be reunited with her family in the arctic, 10-year-old Margaret Pokiak can hardly contain her excitement. It's been two years since her parents delivered her to the school run by the dark-cloaked nuns and brothers. Coming ashore, Margaret spots her family, but her mother barely recognizes her, screaming, "Not my girl." Margaret realizes she is now marked as an outsider. And Margaret is an outsider: she has forgotten the language and stories of her people, and she can't even stomach the food her mother prepares. However, Margaret gradually relearns her language and her family's way of living. Along the way, she discovers how important it is to remain true to the ways of her people — and to herself.Highlighted by archival photos and striking artwork, this first-person account of a young girl's struggle to find her place will inspire young readers to ask what it means to belong.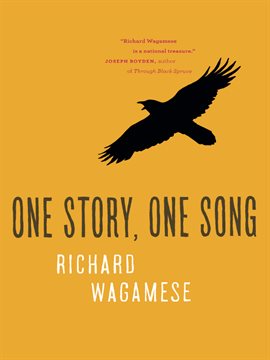 One Story, One Song
by Richard Wagamese (Hoopla eBook and eAudiobook)
A new collection of warm, wise and inspiring stories from the author of the bestselling One Native Life. In this new book, Richard Wagamese again invites readers to accompany him on his travels. This time his focus is on stories: how they shape us, how they empower us, how they change our lives. Ancient and contemporary, cultural and spiritual, funny and sad, the tales are grouped according to the four essential principles Ojibway traditional teachers sought to impart: humility, trust, introspection and wisdom.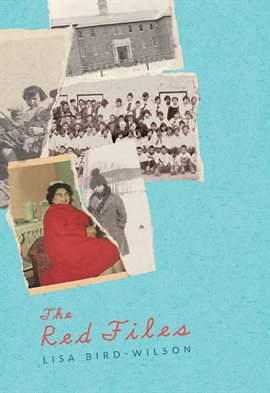 The Red Files
by Lisa Bird-Wilson (Hoopla eBook)
This debut poetry collection from Lisa Bird-Wilson reflects on the legacy of the residential school system: the fragmentation of families and histories, with blows that resonate through the generations.
Inspired by family and archival sources, Bird-Wilson assembles scraps of a history torn apart by colonial violence. The collection takes its name from the federal government's complex organizational structure of residential schools archives, which are divided into "black files" and "red files." In vignettes as clear as glass beads, her poems offer affection to generations of children whose presence within the historic record is ghostlike, anonymous and ephemeral.
The collection also explores the larger political context driving the mechanisms that tore apart families and cultures, including the Sixties Scoop. It depicts moments of resistance, both personal and political, as well as official attempts at reconciliation: "I can hold in the palm of my right hand / all that I have left: one story-gift from an uncle, / a father's surname, treaty card, Cree accent echo, metal bits, grit– / and I will still have room to cock a fist."
The Red Files concludes with a fierce hopefulness, embracing the various types of love that can begin to heal the traumas inflicted by a legacy of violence.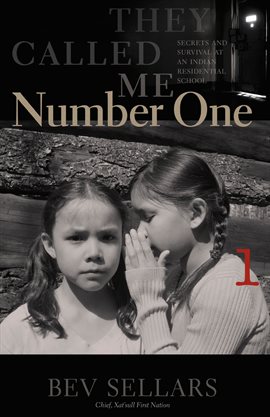 They Called Me Number One
by Bev Sellars (Hoopla eBook)
Like thousands of Aboriginal children in the United States, Canada, and elsewhere in the colonized world, Xatsu'll chief Bev Sellars spent part of her childhood as a student in a church-run residential school.
These institutions endeavored to "civilize" Native children through Christian teachings; forced separation from family, language, and culture; and strict discipline. Perhaps the most symbolically potent strategy used to alienate residential school children was addressing them by assigned numbers only — not by the names with which they knew and understood themselves.
In this frank and poignant memoir of her years at St. Joseph's Mission, Sellars breaks her silence about the residential school's lasting effects on her and her family — from substance abuse to suicide attempts — and eloquently articulates her own path to healing. They Called Me Number One comes at a time of recognition — by governments and society at large — that only through knowing the truth about these past injustices can we begin to redress them.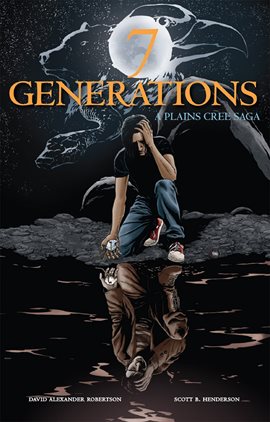 7 Generations: A Plains Cree Saga
by David A. Robertson, illustrated by Scott B. Henderson (Hoopla eComicbook)
7 Generations: A Plains Cree Saga includes the four graphic novels: Stone, Scars, Ends/Begins, and The Pact. Edwin is facing an uncertain future. Only by learning about his family's past — wars, the smallpox epidemic, a residential school — will he be able to face the present and embrace the future.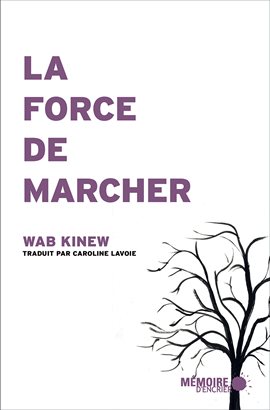 The Reason You Walk
by Wab Kinew (Hoopla eBook — our libraries only have this as a French translation — La Force de Marcher)
When his father was given a diagnosis of terminal cancer, Winnipeg broadcaster and musician Wab Kinew decided to spend a year reconnecting with the accomplished but distant aboriginal man who'd raised him. The Reason You Walk spans the year 2012, chronicling painful moments in the past and celebrating renewed hopes and dreams for the future. As Kinew revisits his own childhood in Winnipeg and on a reserve in Northern Ontario, he learns more about his father's traumatic childhood at residential school. An intriguing doubleness marks The Reason You Walk, a reference to an Anishinaabe ceremonial song. Born to an Anishinaabe father and a non-native mother, he has a foot in both cultures. He is a Sundancer, an academic, a former rapper, a hereditary chief, and an urban activist. His father, Tobasonakwut, was both a beloved traditional chief and a respected elected leader who engaged directly with Ottawa. Internally divided, his father embraced both traditional native religion and Catholicism, the religion that was inculcated into him at the residential school where he was physically and sexually abused. In a grand gesture of reconciliation, Kinew's father invited the Roman Catholic bishop of Winnipeg to a Sundance ceremony in which he adopted him as his brother. Kinew writes affectingly of his own struggles in his twenties to find the right path, eventually giving up a self-destructive lifestyle to passionately pursue music and martial arts. From his unique vantage point, he offers an inside view of what it means to be an educated aboriginal living in a country that is just beginning to wake up to its aboriginal history and living presence.
---
This list is based on a list originated by David A. Robertson, a Cree author. He posted his list on Twitter, and then repurposed it for CBC Books. ( Click here to see the original post. )
Booklist created by Carrie K. and posted to BookGuide Oct 2021