A booklist for: Finishing School
Production dates: January 25 – February 3, 2019
This is a booklist created by Gere Branch library staff to accompany the stage production of Finishing School at Gere's neighbor, The Lincoln Community Playhouse.
Finishing School is a 90-minute stage play by Elaine Liner. This comedy about life's second act finds older gents Al and Wizzer meeting on a park bench every morning to read and mock newspaper obits. Their daily rituals— shooting the bull about sports, women loved and lost and the many annoyances of aging—are suddenly shaken up by the appearance of a friendly young woman and her flirty mom. Wizzer pep-talks lonely widower Al to convince him to break out of his self-imposed "quantum of solace" and maybe find love again, while also dealing with his own fear of ending up in the memory care unit at their assisted living facility. Punctuated with true-to-life moments familiar to anyone with an aging parent or spouse, the play takes an upbeat attitude toward life after 60, 70 and beyond.
Reading Recommendations
Waiting for God (Series)
by Stephanie Cole [DVD Waiting]
At the Bayview Retirement Village, the elderly are expected to grow old gracefully, enjoying their final years in peace, quiet and comfort– but not if Tom and Diana have anything to do with it! Meet two elderly eccentrics who refuse to put up with the appalling food and condescending staff in this BAFTA-nominated comedy series.
The Little Old Lady Who Broke All the Rules
by C. Ingelman-Sundberg [Ingelman-Sundberg]
Martha Andersson may be seventy-nine-years-old and live in a retirement home, but that doesn't mean she's ready to stop enjoying life. So when the new management of Diamond House starts cutting corners to save money, Martha and her four closest friends–Brains, The Rake, Christina and Anna-Gretta (a.k.a. The League of Pensioners)–won't stand for it. Fed up with early bedtimes and overcooked veggies, this group of feisty seniors sets about to regain their independence, improve their lot, and stand up for seniors everywhere.
Their solution? White collar crime. What begins as a relatively straightforward robbery of a nearby luxury hotel quickly escalates into an unsolvable heist at the National Museum. With police baffled and the Mafia hot on their trail, the League of Pensioners has to stay one walker's length ahead if it's going to succeed…
No! I Don't Want to Join a Book Club: Diary of a Sixtieth Year
by Virginia Ironside [Ironside]
A delightful novel about letting go of youth and embracing the sassy curmudgeon withinDon't harass her about parasailing or taking Italian language courses. Forget about suggesting she join a gym. Marie Sharp may be a little creaky in the bones as she heads toward the big 6-0, but she's fine with it. She would rather do without all the moving-to-Florida-bicycling-across- Mongolia-for-the-hell-of-it hoopla that her friends insist upon. She's already led an exciting life: She came of age in the 1960s, after all. Now, with both a new grandchild and a new man on the horizon, all she wants to do is make the most of what she considers the most interesting stage of her life. In this wonderfully astute novel based on the author's own experiences, No! I Don't Want to Join a Book Clubis the funny—and often poignant—fictionalized diary of an older woman . . . a decade or two past her prime and content to leave it all behind her. So don't tell her to take a gourmet cooking class, and whatever you do, don't you dare tell her to join a book club. Fresh and truly unique, moving gracefully on in years has never been more hilarious than in this forthright grandma's take on the "third phase" of life.
Going Gray: What I Learned About Beauty, Sex, Work, Motherhood, Authenticity, and Everything Else That Really Matters
by Anne Kreamer [Kreamer]
Anne Kreamer thought she was a youthful 49 until she saw a photo taken with her teenage daughter that stopped her in her tracks. She set out for herself a program to let her hair become its true colour, and to discover her true self. This is an exploration of that experience and a frank investigation of aging.
Planes, Canes, and Automobiles: Connecting With Your Aging Parents Through Travel
by Valerie M. Grubb [306.873 Gru]
If the thought of vacationing with your parents makes you cringe, fear no more! Help is here!
Planes, Canes, and Automobiles: Connecting With Your Aging Parents Through Travel is a gold mine of practical advice, funny anecdotes, and tales of triumphs and travails from Val Grubb, who has traveled more than 300,000 miles (and counting!) with her 84-year old mother over the past twenty years.
When planning a recent trip overseas, however, Grubb realized that her mom's physical and mental capabilities had suddenly changed. Her mom now needed a wheelchair, for example, and was afraid to travel alone (even on short flights to meet her daughter for a long trip together). Grubb set out to find suggestions for handling these changes and after much research was struck by the lack of resources to help people plan vacations with an aging friend or family member. She couldn't find any comprehensive information that shed light on the nuances of globetrotting with aging parents.
Breaking Out of Bedlam
by Leslie Larson [Larson]
Cora Sledge is horrified when her children, who doubt her ability to take care of herself, plot to remove her from her home. So what if her house is a shambles? Who cares when she last changed her clothes? If an eighty-two-year-old widow wants to live on junk food, pills, and cigarettes, hasn't she earned the right? When her kids force her into The Palisades, an assisted living facility, Cora takes to her bed, planning to die as soon as possible. But life isn't finished with her yet, not by a long shot.
Written in the form of a tell-all journal that is by turns profound, gossipy, and confessional, Breaking Out of Bedlam captures the loneliness and secrets that lurk within families, the reality facing women with limited choices, and the triumph of the human spirit.
The Lido
by Libby Page [Page]
We're never too old to make new friends — or to Make a Difference. Rosemary Peterson has lived in Brixton, London, all her life but everything is changing.
The library where she used to work has closed. The family grocery store has become a trendy bar. And now the lido, an outdoor pool where she's swum daily since its opening, is threatened with closure by a local housing developer. It was at the lido that Rosemary escaped the devastation of World War II; here she fell in love with her husband, George; here she found community during her marriage and since George's death.
Twentysomething Kate Matthews has moved to Brixton and feels desperately alone. A once promising writer, she now covers forgettable stories for her local paper. That is, until she's assigned to write about the lido's closing. Soon Kate's portrait of the pool focuses on a singular woman: Rosemary. And as Rosemary slowly opens up to Kate, both women are nourished and transformed in ways they never thought possible.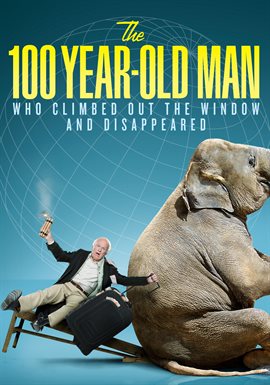 The 100 Year Old Man Who Climbed Out a Window and Disappeared
based on a novel by Robert Gustafsson [DVD 100]
When Allan lands in a nursing home, he refuses to celebrate his 100th birthday and instead escapes out a window to embark on a journey that involves a suitcase of cash and a gang of criminals. Flashbacks reveal that Allan played a key role in 20th century history when he was pals with U.S. presidents and Russian tyrants.
The Blackberry Tea Club: Women in Their Glory Years
by Barbara Herrick [305.244 Her]
Midlife crisis is not a crisisit is a passage into joy. This was the essential truth discovered by the four women of a certain age, founding members of the Blackberry Tea Club, which began as latenight conversations while sipping blackberry tea with a little kick added. Those conversations about children, men, jobs, weight, clothes, food, travel, gossip, politics, medicine, healing, spirituality, adventure, and books grew slowly, beautifully into The Blackberry Tea Club and the discovery of the Glory Years.
The Blackberry Tea Club weaves together essays, stories, and poetry, celebrating midlife in all its silliness, sorrow, and glory. Bottom line: middle age is much more than menopause. These are the Glory Years for women, years that bring about the expansion and reorganizing of the mind, heart, and spirit, and the birthing of a larger self of immense compassion, intellect, will, spirit, love, and capability.
Displacement
by Lucy Knisley [Biography Knisley]
In her graphic memoirs, New York Times-best selling cartoonist Lucy Knisley paints a warts-and-all portrait of contemporary, twentysomething womanhood, like writer Lena Dunham (Girls). In the next installment of her graphic travelogue series, Displacement, Knisley volunteers to watch over her ailing grandparents on a cruise. (The book's watercolors evoke the ocean that surrounds them.) In a book that is part graphic memoir, part travelogue, and part family history, Knisley not only tries to connect with her grandparents, but to reconcile their younger and older selves. She is aided in her quest by her grandfather's WWII memoir, which is excerpted. Readers will identify with Knisley's frustration, her fears, her compassion, and her attempts to come to terms with mortality, as she copes with the stress of travel complicated by her grandparents' frailty.
Created in partnership with the Lincoln Community Playhouse by ka/Gere Branch January 2019 | Modified for use on BookGuide by sdc/bmpl