A booklist for: Forbidden Broadway's Greatest Hits
Production dates: April 8-17, 2011
This is a booklist created by Gere Branch library staff to accompany the stage production of Forbidden Broadway's Greatest Hits at Gere's neighbor, The Lincoln Community Playhouse.
Forbidden Broadway is a series of semi-annual Broadway parody shows, mainly written by humorist lyricist Gerard Allesandrini, that's been playing off-Broadway for many years. The biggest hits from huge Broadway musicals are mercilessly mocked, with lots of inside jokes. Anyone who considers themselves a fan of tradition Broadway music should appreciate this loving parody. In this stage version (available to be performed by community theatres) of the long-running Off-Broadway hit musical revue, Broadway's greatest musical legends meet Broadway's greatest satirist in this hilarious, loving, and endlessly entertaining tribute to some of the theatre's greatest stars and songwriters. Some of the shows parodied in this production include: Chicago, Annie, Wicked, Mamma Mia, Les Misérables, Rent, Spamalot, Fiddler on the Roof, A Chorus Line and Hairspray.
Recommendations for fans of Forbidden Broadway's style of parody:
Forbidden Broadway: 20th Anniversary Edition
by Gerard Allesandrini [Compact Disc 782.14 For — multiple albums are also available through our online Hoopla Digital Music service]
This 20th anniversary CD (and on Hoopla) features some of the most popular parodies from Forbidden Broadway's first 20 years — including parody songs based on hits from The Music Man, My Fair Lady, Annie, The Sound of Music, Into the Woods, West Side Story, Les Miserables, Ragtime, Aspects of Love, Dreamgirls, Cats, Fiddler on the Roof, and more…
Pride and Prejudice and Zombies: The Classic Regency Romance — Now With Ultraviolent Zombie Mayhem!
by Seth Grahame-Smith [Grahame-Smith]
A mysterious plague has fallen upon the quiet English village of Meryton – and the dead are returning to life! Feisty heroine Elizabeth Bennet is determined to wipe out the zombie menace, but she's soon distracted by the arrival of the haughty and arrogant Mr. Darcy.
Confessions of a Teen Sleuth: A Parody
by Chelsea Cain [Cain]
America's favorite girl detective is back to set the record straight. According to our titian-haired heroine, she was not a fictional character, but an intrepid real-life sleuth who investigated some of the twentieth century's biggest mysteries. And the famous series she starred in was not cooked up by a team of writers, but plagiarized from her exploits by a nosy college roommate-who, not surprisingly, got a whole lot wrong.
Whatever Happened to Humpty Dumpty?: And Other Surprising Sequels to Mother Goose Rhymes
by David T. Greenberg [jP Greenberg]
Humorous verses are added to traditional Mother Goose rhymes.
Goodnight Goon: A Petrifying Parody
by Michael Rex [jP Rex]
It's time for bed, but one little goon still isn't ready for sleep! With lively rhymes and cheeky art that'll get readers howling, this hilarious take on the beloved classic will have a whole new audience saying, "Goodnight monsters everywhere!"
The Taking Tree: A Selfish Parody
by Shrill Travesty [jP Travesty]
The Taking Tree is not happy when the boy takes it's twigs, then it's apples, and then it's branches to build a house he burns for the insurance money, and when the boy asks for even more, the Tree decides it is time to get even.*
The Malcontents: The Best Bitter, Cynical, and Satirical Writing in the World
by Joe Queenan [809.7 Que]
Popular satirist Joe Queenan proves that cynicism in literature flourished long before Generation X in this acerbic compendium of the best classic satirical writing from the last several centuries, as well as from Ancient Greece. The collection encompasses essays, short stories, plays, and novels, with Queenan's insightful biographies of each featured writer.
Earth (the book): A Visitor's Guide to the Human Race
by Jon Stewart [817 Ste]
Jon Stewart and the writers of 'The Daily Show' embark on a massive mission to write a book that summed up the human race: What we looked like; what we accomplished; our achievements in society, government, religion, science, and culture. Here is the definitive guide to our species – completely unburdened by objectivity, journalistic integrity, or even accuracy.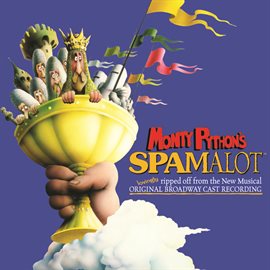 Monty Python's Spamalot: A CD Lovingly Ripped Off From the New Musical, Original Broadway Cast Recording
by Monty Python / Eric Idle and John DuPrez [Compact Disc 782.14 Mon, Hoopla, and Sheet Music Collection]
Based on the 1970s film Monty Python and the Holy Grail, Spamalot pokes loving fun at the standard tropes of the King Arthur mythology. Terribly silly lyrics included in booklet.
Created in partnership with the Lincoln Community Playhouse by ka/Gere Branch April 2011 | Modified for use on BookGuide by sdc/bmpl