A booklist for: Ring of Fire
Production dates: September 6 – 22, 2019
This is a booklist created by Lincoln City Libraries' staff to accompany the stage production of the musical Ring of Fire at Gere Branch Library's neighbor, The Lincoln Community Playhouse.
Ring of Fire is what is referred to as a "jukebox musical" — it uses performances of 38 Johnny Cash songs by 5 or 6 characters, to tie together several storylines involving several characters on stage. Ring of Fire came from an idea by William Meade, and was created and originally directed by Richard Maltby Jr. The musical originally opened on Broadway with a 6-person cast for a short run in 2006. In 2013, a "reconceived" version, also by Maltby, was made available for local and regional performances, with the cast trimmed to five performers.
Reading/Viewing/Listening Recommendations for fans of "Ring of Fire":
Johnny Cash: The Life
by Robert Hilburn [Biography Cash]
People don't just listen to Johnny Cash – they believe in him.
Although part of his life has been told on film, there are many compelling layers to his story that have remained hidden – until now. Robert Hilburn tells the unvarnished truth about a musical icon whose personal life was far more troubled and his artistry much more profound than even his most devoted fans have realized. As music critic for the Los Angeles Times, Hilburn knew Cash well throughout his life – he was the only music journalist at the legendary Folsom Prison concert in 1968, and he interviewed him extensively just before Cash's death in 2003.
Drawing upon his personal experience with Cash and a trove of never-before seen material from the singer's inner circle, Hilburn gives us a compelling, human portrait of one of the most iconic figures in modern popular culture – not only a towering figure in country music, but also a seminal influence in rock.
Johnny Cash: The Biography
by Michael Streissguth [Music 781.642 CasYs]
To millions, Johnny Cash was the rebellious Man in Black, the unabashed patriot, the redeemed Christian-the king of country music. But Johnny Cash was also an uncertain country boy whose dreams were born in the cotton fields of Arkansas and who struggled his entire life with a guilt-ridden childhood, addictions, and self-doubt. A sensitive songwriter with profound powers of musical expression, Cash told America and the world the stories of a nation's heroes and outcasts.Johnny Cash: The Biography explores in depth many often-overlooked aspects of the legend's life and career. It examines the powerful artistic influence of his older brother, Roy, and chronicles Cash's air force career in the early 1950s, when his songwriting took form…and when he purchased his first guitar. It uncovers the origins of his trademark boom-chicka-boom rhythm and traces his courtship of Bob Dylan in the folk revival era of the 1960s.Johnny Cash also delves into the details of Cash's personal life, including his drug dependency, which dogged him long after many thought he had beaten it. It unflinchingly recounts his relationships with his first wife, Vivian Liberto, his second wife, June Carter Cash, and his children. And it follows Cash as man and musician from his early years of success through the commercially desolate years of the 1980s to his reemergence under the influence of producer Rick Rubin-and association that revitalized his career yet raised contradictions about Cash's values and craft. Scrupulously researched, passionately told, Johnny Cash: The Biography is the unforgettable portrait of an enduring American icon.
Johnny Cash: A Twentieth-Century Life
by Anne E. Neimark [Music 781.642 CasYn]
Johnny Cash was so much more than a country-music star. The only musician ever to be inducted into three halls of fame (Country Music, Rock and Roll, and Songwriters), his music and his legacy have influenced performers ranging from Bob Dylan to U2 to Nine Inch Nails.
Johnny Cash: The Man in Black
by Edward Willett [j Biography Cash]
When country music legend Johnny Cash took the stage at Folsom State Prison in 1968, he solidified the public's perception of him as a rebel who followed his own path. Born in Arkansas during the Great Depression, Cash endured poverty, the death of his older brother, and a difficult relationship with his father. He turned to gospel and country music to express the pain, and after many years of struggling, his songs of hardship and hope would finally reach the ears of those waiting for an artist who represented them, ordinary people fighting to survive.
Johnny Cash: The Life and Legacy of the Man in Black
by Alan Light [Music 781.642 Cas]
Johnny Cash: The Life and Legacy of the Man in Black is a Cash biography like no other. It reveals Cash's personal and professional life through largely unpublished material from the Cash family, including his handwritten notes and set lists; personal photographs of Cash with his family, traveling, and performing onstage; and beloved objects from his home and private recording studio. Alan Light, one of America's leading music journalists, traces Cash's story from his origins in rural Arkansas to his early recordings with Sun Records; from his battles with drug dependency and divorce to his romance with June Carter; and from his commercial musical successes, including At Folsom Prison and American Recordings, to his death and legacy. The book also includes vignettes on four sustaining themes of Cash's life: his musical influences, his social justice advocacy, his relationship with June, and his religious beliefs. Rich and revealing, Johnny Cash: The Life and Legacy of the Man in Black is ideal for all those who want to learn more about the personal side of the beloved performer.
Cash: The Autobiography
by Johnny Cash [Music 781.642 Cas]
He was the "Man in Black," a country music legend, and the quintessential American troubadour. He was an icon of rugged individualism who had been to hell and back, telling the tale as never before. In his unforgettable autobiography, Johnny Cash tells the truth about the highs and lows, the struggles and hard-won triumphs, and the people who shaped him.
In his own words, Cash set the record straight – and dispelled a few myths – as he looked unsparingly at his remarkable life: from the joys of his boyhood in Dyess, Arkansas to superstardom in Nashville, Tennessee, the road of Cash's life has been anything but smooth. Cash writes of the thrill of playing with Elvis, the comfort of praying with Billy Graham; of his battles with addiction and of the devotion of his wife, June; of his gratitude for life, and of his thoughts on what the afterlife may bring. Here, too, are the friends of a lifetime, including Willie Nelson, Roy Orbison, Bob Dylan, and Kris Kristofferson. As powerful and memorable as one of his classic songs, Cash is filled with the candor, wit, and wisdom of a man who truly "walked the line." [NOTE: A follow-up to his earlier 1975 autobiography, The Man in Black.]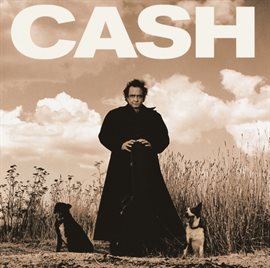 The "American" Album Series
by Johnny Cash [Compact Disc 781.642 Cas and on Hoopla]
After decades of recording with either Columbia or Mercury Records, Cash spent the final 9 years of his life releasing a series of new albums through American Recordings, to great critical acclaim. Those albums were "American Recordings" (1994), "American II: Unchained" (1996), "American III: Solitary Man" (2000), "American IV: The Man Comes Around" (2002), and post-humously "American V: A Hundred Highways" (2006) and "American VI: Ain't No Grave" (2010). These albums featured some of his most unique recordings — ranging from simplistic "one man and a guitar" pieces recorded in his own living room, to Cash's versions of hits from groups like Nine Inch Nails and Soundgarden. This final 9-year period of his career was one of the most productive of his life, with Johnny recording or re-recording several hundred songs to serve as his legacy.
Biography: Johnny Cash [A&E Biography]
by A&E Biography [DVD 781.642 Cas]
Johnny Cash, the Man in Black, was a singer, guitarist and songwriter whose music innovatively mixed country, rock, blues and gospel influences.
Born in 1932 in Arkansas, Johnny Cash grew up in a poor farming community and joined the Air Force in 1950. He co-founded a band following his discharge, and within a few years Johnny Cash and the Tennessee Two had scored hits with songs like "Walk the Line." Cash's career was nearly derailed in the 1960s by a serious substance-abuse problem, but his marriage to June Carter and acclaimed album Johnny Cash at Folsom Prison (1968) put him back on track. In later years, Cash joined the country supergroup the Highwaymen and released a series of recordings with producer Rick Rubin. He died of complications from diabetes on September 12, 2003.
The Winding Stream: The Carters, the Cashes and the Course of Country Music
directed by Amy Harrington [DVD 781.642 Win]
This is the story of the family at the heart of American roots music – The Carters and the Cashes. Part history, part family saga, the film highlights a who's who of country music including Johnny Cash, George Jones, Rosanne Cash, Kris Kristofferson, John Prine, The Carolina Chocolate Drops and more.
Walk the Line
directed by James Mangold [DVD Walk]
Before Johnny Cash was the Man in Black, he was just another musician struggling to make something of himself. 'Walk the Line' chronicles the extraordinary rise to fame of a musical legend. Overcoming early hardships such as the accidental death of his brother, Cash (Joaquin Phoenix) stormed Nashville with his innovative blend of rock, folk, blues, gospel and country. But even as his creativity blossomed, his heavy drug use took a toll, leading to a period of destructive behavior and the failure of his first marriage. It was June Carter (Reese Witherspoon), daughter of the first family of country music, who lifted Cash out of his emotional chaos and helped him to become the man and the musician he was meant to be.
Cash: An American Man
by Bill Miller [Music 781.642 Cas]
Singer. Songwriter. With an unmistakable voice that resonates with millions, lyrics that speak volumes in the span of three minutes, and a career that lasted nearly five decades, Johnny Cash was peerless in his style and had a vast influence on country, folk, and rock music. The legendary "Man in Black" (who originally wanted to be a gospel singer) wrote his first hit record for Sam Phillips at Sun Records in the 1950s…and in 2003 turned a Nine Inch Nails song into one of the most deeply moving music videos ever created. A man of uncommon grace and innate goodness, Johnny Cash plied his gifts, fought his demons, and lived a life that was his alone — enjoying one of the great love stories of the century with his wife, June, while somehow managing to leave a little of himself with people all over the world. In Cash: An American Man, fans of his music are now given a unique and personal glimpse into his life through hundreds of photographs, private letters, handwritten lyrics, his final interview given just three weeks before his death, and other astonishing memorabilia — a one-of-a-kind collection fully authorized by the Johnny Cash Estate and created in cooperation with his friend, confidant, and lifelong fan, Bill Miller. Lavishly illustrated and designed by the award-winning team at Rare Air Media, Cash: An American Man is sure to be one of the most talked-about books of the year, and the ultimate tribute to one of the music's most enduring figures.
The Cash and Carter Family Cookbook: Recipes and Recollections From Johnny and June's Table
by John Carter Cash [641.504 Cas]
Come to the Table with Johnny and June Carter Cash
People the world over loved Johnny and June Carter Cash for their charismatic stage presence and powerful, soul-stirring music. But those who knew them personally remember them best for their warm hospitality and the meals from their kitchen. Family, friends, and fellow artists were always welcomed to a beautiful table set with June's fine linens, china, and crystal–and to a table overflowing not only with Southern comfort food but also international dishes the couple gathered on tours around the world. 
In The Cash and Carter Family Cookbook, John Carter Cash shares the stories and recipes that flowed from his family's dinner table. From Johnny's Old Iron-Pot Chili recipe and June's Tomato, Red Onion, and Avocado Salad to Jamaican Peas and Rice and Veal Cutlets with Caper Cream Sauce, the family favorites collected here are perfect for an intimate gathering or for hosting a crowd. In addition, the book contains the memories and reminiscences of the musicians and film stars welcomed in the home, from Loretta Lynn and Adam Clayton of U2 to Jane Seymour and Billy Bob Thornton. The Cash and Carter Family Cookbook is the perfect gift for Carter and Cash fans as well as anyone who wants to experience the love, comfort, and hospitality of sitting at Johnny and June's table.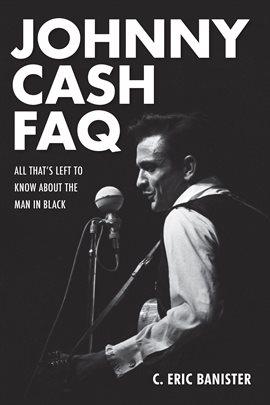 Johnny Cash FAQ
by C. Eric Banister [Hoopla]
Johnny Cash remains one of the most recognizable artists in the world. Starting in 1956, he released an album every year until his death in 2003. In addition to these albums, there were also some posthumous releases in the years after his death. From rockabilly to country, folk to comedy, gospel to classical, the prolific Cash touched them all. His hit singles crossed over from country to pop, as he transcended genres and became a superstar around the globe.
Cash skyrocketed from the beginning, flying through the '60s until he was one of the country's biggest stars by the end of the decade. Following his own muse through the '70s, Cash slowly faded commercially until he nearly disappeared in the '80s. Instead of giving up, he made an incredible late-career run in the '90s that took him into the new millennium, along the way collaborating with various contemporary rock and pop artists.
His offstage problems often overshadowed the music, and his addiction often takes center stage in the story, pushing the music off the page. But Johnny Cash FAQ celebrates the musical genius of Cash and takes a look at every album Cash released, the stories behind the hits, and how he sustained a fantastic nearly 50-year career.
Created in partnership with the Lincoln Community Playhouse by sdc/Bennett Martin Public Library September 2019 | Modified for use on BookGuide by sdc/bmpl