A booklist for: Sweeney Todd: The Demon Barber of Fleet Street
Production dates: March 10-19, 2023
This is a booklist created by Gere Branch library staff to accompany the stage production of Sweeney Todd: The Demon Barber of Fleet Street at Gere's neighbor, The Lincoln Community Playhouse.
The musical Sweeney Todd opened in 1979, and features music by Stephen Sondheim and a book by Hugh Wheeler. It was adapted into musical form from a 1970 stage play by Christopher Bond. Both the musical and the play owe their origins to Sweeney Todd's first appearances in a Victorian-era penny dreadful novel, The String of Pearls, which originally appeared in 1846-1847. The musical opened on Broadway in 1979 and London's West End in 1980 and went on the win the Tony Award (in the U.S.) for Best Musical and the Olivier Award (in the U.K.) for the Best New Musical. Though the penny dreadful novel was lurid and sensationalistic, Bond's stage play created a psychological back story to explain Todd's violent activities, which the musical built upon. For the musical, 80% of the dialog is sung or is lyrical, which is extensive for a Sondheim production.
The plot, in a nutshell: Sweeney Todd was a barber who was railroaded for a crime he didn't commit, by a corrupt judge (Turpin), who desired Todd's wife. Todd, was sent to the penal colony in Australia. When he returns to London, he discovers that Turpin had his way with Todd's wife, who subsequently committed suicide, and that Turpin now is guardian to Todd's young daughter Johanna. Todd, unrecognizable after years of depredation in prison, takes the room for rent about Mrs. Lovett's struggling meat pie shop, and vows revenge against Turpin. Returning to his former profession of Barbering (with his razor-sharp implements), Todd makes his plans for revenge against the judge and his assistant, but when a former ally tries to blackmail Todd, Todd kills him with his straight razor. Suffering a break from reality, Todd vows to kill all his future barbering clients, and Mrs. Lovett comes up with the idea to supplement the meager supply of meat in her pies with the bodies of Todd's victims. As Todd's bloody trail of vengeance grows longer, a subplot develops with a young seaman falling in love with Johanna and wishing to marry her, and some of Todd's associates realizing the depth of his madness and working to stop him.
Sweeney Todd has enjoyed several revivals over the years since 1979, and both the 1994 and 2012 British revivals won the Olivier Award for Best Revival. In 2007, the musical was adapted into a feature film, directed by Tim Burton and starring his frequent collaborator, Johnny Depp as Todd, with Helena Bonham Carter as Mrs. Lovett and Alan Rickman as Turpin.
A slightly-shorter version of this booklist is also available as a simple printer-friendly one-page PDF (without descriptive blurbs or hotlinks to the library catalog).
---
If you're interested in Sweeney Todd, you may wish to try these books…
Finishing the Hat: Collected Lyrics (1954-1981) With Attendant Comments, Principles, Heresies, Grudges, Whines and Anecdotes
by Stephen Sondheim (Music 782.14 qSon)
Stephen Sondheim's career spanned more than half a century; his lyrics are synonymous with musical theater and popular culture. Sondheim–the winner of seven Tonys, an Academy Award, seven Grammys, a Pulitzer Prize and more–treats us to never-before-published songs from each show, songs that were cut or discarded before seeing the light of day, along with the lyrics for all of his musicals from 1954 to 1981, including West Side Story, Company, Follies, A Little Night Music and Sweeney Todd.
He discusses his relationship with his mentor, Oscar Hammerstein II, and his collaborations with extraordinary talents such as Leonard Bernstein, Arthur Laurents, Ethel Merman, Richard Rodgers, Angela Lansbury, Harold Prince and a panoply of others. The anecdotes–filled with history, pointed observations and intimate details–transport us back to a time when theater was a major pillar of American culture. Best of all, Sondheim appraises his work and dissects his lyrics, as well as those of others, offering unparalleled insights into songwriting that will be studied by fans and aspiring songwriters for years to come.
Accompanying Sondheim's sparkling writing are behind-the-scenes photographs from each production, along with handwritten music and lyrics from the songwriter's personal collection.
Penetrating and surprising, poignant, funny and sometimes provocative, Finishing the Hat is not only an informative look at the art and craft of lyric writing, it is a history of the theater that belongs on the same literary shelf as Moss Hart's Act One and Arthur Miller's Timebends. It is also a book that will leave you humming the final bars of Merrily We Roll Along, while eagerly anticipating the next volume.
Look, I Made a Aat: Collected Lyrics (1981-2011) With Attendant Comments, Amplifications, Dogmas, Harangues, Digressions, Anecdotes and Miscellany
by Stephen Sondheim (Music 782.14 qSon)
Picking up where he left off in Finishing the Hat, Sondheim gives us all the lyrics, along with excluded songs and early drafts, of the Pulitzer Prize-winning Sunday in the Park with George, Into the Woods, Assassins and Passion. Here, too, is an in-depth look at the evolution of Wise Guys, which subsequently was transformed into Bounce and eventually became Road Show. Sondheim takes us through his contributions to both television and film, some of which may surprise you, and covers plenty of never-before-seen material from unproduced projects as well. There are abundant anecdotes about his many collaborations, and readers are treated to rare personal material in this volume, as Sondheim includes songs culled from commissions, parodies and personal special occasions–such as a hilarious song for Leonard Bernstein's seventieth birthday. As he did in the previous volume, Sondheim richly annotates his lyrics with invaluable advice on songwriting, discussions of theater history and the state of the industry today, and exacting dissections of his work, both the successes and the failures.
 
Filled with even more behind-the-scenes photographs and illustrations from Sondheim's original manuscripts, Look, I Made a Hat is fascinating, devourable and essential reading for any fan of the theater or this great man's work.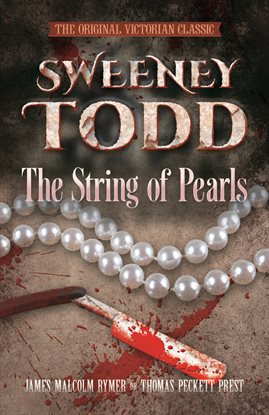 Sweeney Todd and the String of Pearls
by James Malcolm Rymer (Hoopla E-book)
The exploits of Sweeney Todd, The Demon Barber of Fleet Street , have been recounted many times in plays, films and musicals, but the origins of the character largely were forgotten for many years. The String of Pearls – the original tale of Sweeney Todd, a classic of British horror – was first published as a weekly serial in 1846-7 by Edward Lloyd, the King of the Penny Dreadfuls. One of the earliest detective stories, it became an important source for Bram Stoker's Dracula, but it was after over 150 years of obscurity that it appeared first in book form in the Wordsworth edition published in 2005. The one great mystery that has surrounded the book is who the author was – or was it possibly the work of more than one man? In his new introduction to this fully revised second edition, Dick Collins, by means of detailed research of contemporary records, has established finally the identity of the creator of this legendary figure. So here is the original story of the terrifying owner of that famous London barber-shop, and the secret recipe for Mrs Lovett's delicious pies…
The Invention of Murder: How the Victorians Reveled in Death and Detection and Created Modern Crime
by Judith Flanders (364.152 Fla)
In this fascinating exploration of murder in nineteenth century England, Judith Flanders examines some of the most gripping cases that captivated the Victorians and gave rise to the first detective fiction
Murder in the nineteenth century was rare. But murder as sensation and entertainment became ubiquitous, with cold-blooded killings transformed into novels, broadsides, ballads, opera, and melodrama-even into puppet shows and performing dog-acts. Detective fiction and the new police force developed in parallel, each imitating the other-the founders of Scotland Yard gave rise to Dickens's Inspector Bucket, the first fictional police detective, who in turn influenced Sherlock Holmes and, ultimately, even P.D. James and Patricia Cornwell.
In this meticulously researched and engrossing book, Judith Flanders retells the gruesome stories of many different types of murder in Great Britain, both famous and obscure: from Greenacre, who transported his dismembered fiancée around town by omnibus, to Burke and Hare's bodysnatching business in Edinburgh; from the crimes (and myths) of Sweeney Todd and Jack the Ripper, to the tragedy of the murdered Marr family in London's East End. Through these stories of murder-from the brutal to the pathetic-Flanders builds a rich and multi-faceted portrait of Victorian society in Great Britain. With an irresistible cast of swindlers, forgers, and poisoners, the mad, the bad and the utterly dangerous, The Invention of Murder is both a mesmerizing tale of crime and punishment, and history at its most readable.
Sondheim on Music: Minor Details and Major Decisions
by Mark Eden Horowitz (Music 782.14 Sondheim)
This is primarily a transcript of a series of interviews with Stephen Sondheim, focusing on his work as a composer. During the interviews, he and the author look through Sondheim's manuscripts and sketches and discuss the creative process. The discussions focus on six shows: Passion, Assassins, Into the Wood, Sunday in the Park with George, Sweeney Todd and Pacific Overtures but every Sondheim score comes up in conversation. Among the topics discussed are how Sondheim approaches characters and dramatic moments, how motif s and thematic material are created and used, how harmony, melody and rhythm reflect character, the structuring of a score, the use of pastiche and the practical aspects of collaboration. Wish I'd Written, his reasons behind some of those choices and the messages he received from composers and lyricists whose songs were included on the list. An extensive song listing and a discography follow which attempt to list every commercial recording of a Sondheim song and provide publishing information with vocal ranges.
The Art of the English Murder
by Lucy Worsley (364.152 Wor)
Murder–a dark, shameful deed, the last resort of the desperate or a vile tool of the greedy. And a very strange, very English obsession. But where did this fixation develop? And what does it tell us about ourselves? In The Art of the English Murder, Lucy Worsley explores this phenomenon in forensic detail, revisiting notorious crimes like the Ratcliff Highway Murders, which caused a nation-wide panic in the early nineteenth century, and the case of Frederick and Maria Manning, the suburban couple who were hanged after killing Maria's lover and burying him under their kitchen floor. Our fascination with crimes like these became a form of national entertainment, inspiring novels and plays, prose and paintings, poetry and true-crime journalism. At a point during the birth of modern England, murder entered our national psyche, and it's been a part of us ever since.The Art of the English Murder is a unique exploration of the art of crime–and a riveting investigation into the English criminal soul by one of our finest historians.
Everything We Didn't Say
by Nicole Baart (Baart)
Juniper Baker had just graduated from high school and was deep in the throes of a summer romance when Cal and Beth Murphy, a childless couple who lived on a neighboring farm, were brutally murdered. When her younger brother became the prime suspect, June's world collapsed and everything she loved that summer fell away. She left, promising never to return to tiny Jericho, Iowa. Until now. Officially, she's back in town to help an ill friend manage the local library. But really, she's returned to repair her relationship with her teenage daughter, who's been raised by Juniper's mother and step-father since birth-and to solve the infamous Murphy murders once and for all. She knows the key to both lies in the darkest secret of that long-ago summer night, one that's haunted her for nearly fifteen years. As history begins to repeat itself and a dogged local true crime podcaster starts delving into the murders, the race to the truth puts past and present on a dangerous collision course. Juniper lands back in an all-too-familiar place with the answers to everything finally in her sights, but this time it's her daughter's life that hangs in the balance. Will revealing what really happened mean a fresh start? Or will the truth destroy everything Juniper loves for a second time? Baart once again brilliantly weaves mystery into family drama in this expertly-crafted novel for fans of Lisa Jewell and Megan Miranda.
Stay Sexy and Don't Get Murdered: The Definitive How-To Guide
by Karen Kilgraff (920.72 Kil)
A conversation between friends Karen Kilgariff and Georgia Hardstark about what they've learned from their biggest mistakes, their most triumphant successes, their favorite therapists, and their mutual obsession with true crime. From growing up as latchkey kids to their formative years working at the Gap and Hot Topic to their struggles with substances and mental health, Karen and Georgia share a series of captivating stories about some of the most significant moments in their lives. Together they inspect their own hard-earned wisdom with brutal and hilarious candor. In a culture that mythologizes killers, celebrates 'personality-corrupting toxic masculinity bulls**t,' and holds victims responsible for the violence committed against them, Karen and Georgia preach self-advocacy, self-love, and freedom from responsibility for other people's choices. Guided by their own experiences and revelations with a little help from the Riot Grrrl movement, Ann Rule, and 'billions of hours of therapy,' Karen and Georgia are here to encourage you to put your own needs first and become unf**kwithable. Part dual memoir, part life manual, [this book] is an account of two lives that collided over the dark stuff. Inspired by the empowering and offbeat battle cries made famous on their hit podcast, Karen and Georgia recount the formative moments of their lives that taught them everything they know, and everything they don't, about life, friendship, and various pancake situations.
I Have Some Questions For You
by Rebecca Makkai (On Order)
A successful film professor and podcaster, Bodie Kane is content to forget her past–the family tragedy that marred her adolescence, her four largely miserable years at a New Hampshire boarding school, and the murder of her former roommate, Thalia Keith, in the spring of their senior year. Though the circumstances surrounding Thalia's death and the conviction of the school's athletic trainer, Omar Evans, are hotly debated online, Bodie prefers–needs–to let sleeping dogs lie.
But when the Granby School invites her back to teach a course, Bodie is inexorably drawn to the case and its increasingly apparent flaws. In their rush to convict Omar, did the school and the police overlook other suspects? Is the real killer still out there? As she falls down the very rabbit hole she was so determined to avoid, Bodie begins to wonder if she wasn't as much of an outsider at Granby as she'd thought–if, perhaps, back in 1995, she knew something that might have held the key to solving the case.
In I Have Some Questions for You, award-winning author Rebecca Makkai has crafted her most irresistible novel yet: a stirring investigation into collective memory and a deeply felt examination of one woman's reckoning with her past, with a transfixing mystery at its heart. Timely, hypnotic, and populated with a cast of unforgettable characters, I Have Some Questions for You is at once a compulsive page-turner and a literary triumph.
All Good People Here
by Ashley Flowers (Flowers)
In this propulsive debut novel from the host of the #1 true crime podcast Crime Junkie, a journalist uncovers her hometown's dark secrets when she becomes obsessed with the unsolved murder of her childhood neighbor–and the disappearance of another girl twenty years later. You can't ever know for sure what happens behind closed doors … Everyone from Wakarusa, Indiana, remembers the infamous case of January Jacobs, who was discovered in a ditch hours after her family awoke to find her gone. Margot Davies was six at the time, the same age as January-and they were next-door neighbors. In the twenty years since, Margot has grown up, moved away, become a big-city journalist. But she's always been haunted by the fear that it could've been her. And the worst part is, January's killer has never been brought to justice. When Margot returns home to help care for her uncle after a diagnosis of early-onset dementia, it all feels like walking into a time capsule. Wakarusa is exactly how she remembered–genial, stifled, secretive. Then news breaks about five-year-old Natalie Clark from the next town over, who's gone missing under eerily similar circumstances. With all the old feelings rushing back, Margot vows to find Natalie and solve January's murder once and for all. But the police, the family, the townspeople–they all seem to be hiding something. And the deeper Margot digs into Natalie's disappearance, the more resistance she encounters, and the colder January's case feels. Could the killer still be out there? Could it be the same person who took Natalie? And what will it cost to finally discover what truly happened that night? Twisty, chilling, and intense, All Good People Here is a searing tale that asks: What are your neighbors really capable of when they think no one is watching?
True Crime Story
by Joseph Knox (Knox)
A strikingly original novel in the vein of Daisy Jones and the Six  meets Riley Sager, True Crime Story twists together transcripts, emails, and documents into an investigation of a missing college girl, also weaving in the mysteries of how the narrator "Joseph Knox" came to be in possession of these files and what fate befell the original author, as well as why Knox might not be telling us everything he knows. Zoe Nolan disappeared from Manchester University in 2011. Her story was sad, certainly, but hardly sensational, Joseph Knox thought. As a crime writer, he felt that dead girls were everywhere, and the missing ones just didn't cut it. He wouldn't have given her any more thought were it not for Evelyn Mitchell. Another writer struggling to come up with a new idea, Evelyn attended one of Joseph's publicity events, and she was wondering just what happened to all the girls who go missing. What were the stories there? What happened to Zoe? So Evelyn began investigating herself, and sending Joseph emails with chapters of the novel she was writing with her findings. Uneasy with the novel's corkscrew twists and turns, Joseph pays closer attention to the real story… TRUE CRIME STORY is an ambitious, sharp exploration of our obsession with all things true crime, from a former crime bookseller.
The Night Swim
by Megan Goldin (Goldin)
In The Night Swim, a new thriller from Megan Goldin, author of the "gripping and unforgettable" (Harlen Coben) The Escape Room, a true crime podcast host covering a controversial trial finds herself drawn deep into a small town's dark past and a brutal crime that took place there years before. After the first season of her true crime podcast became an overnight sensation and set an innocent man free, Rachel Krall is now a household name-and the last hope for thousands of people seeking justice. But she's used to being recognized for her voice, not her face. Which makes it all the more unsettling when she finds a note on her car windshield, addressed to her, begging for help. The small town of Neapolis is being torn apart by a devastating rape trial. The town's golden boy, a swimmer destined for Olympic greatness, has been accused of raping a high school student, the beloved granddaughter of the police chief. Under pressure to make Season Three a success, Rachel throws herself into interviewing and investigating-but the mysterious letters keep showing up in unexpected places. Someone is following her, and she won't stop until Rachel finds out what happened to her sister twenty-five years ago. Officially, Jenny Stills tragically drowned, but the letters insists she was murdered-and when Rachel starts asking questions, nobody seems to want to answer. The past and present start to collide as Rachel uncovers startling connections between the two cases that will change the course of the trial and the lives of everyone involved. Electrifying and propulsive, The Night Swim asks: What is the price of a reputation? Can a small town ever right the wrongs of its past? And what really happened to Jenny?
Nothing More to Tell
by Karen McManus (YA McManus)
Four years ago, Brynn left Saint Ambrose School following the shocking murder of her favorite teacher–a story that made headlines after the teacher's body was found by three Saint Ambrose students in the woods behind their school. The case was never solved. Now that Brynn is moving home and starting her dream internship at a true-crime show, she's determined to find out what really happened. The kids who found Mr. Larkin are her way in, and her ex-best friend, Tripp Talbot, was one of them. Without his account of events, the other two kids might have gone down for Mr. Larkin's murder. They've never forgotten what Tripp did for them that day. Just like he hasn't forgotten that everything he told the police was a lie. Digging into the past is bound to shake up the present, and as Brynn begins to investigate what happened in the woods that day, she begins to uncover secrets that might change everything–about Saint Ambrose, about Mr. Larkin, and about her ex-best friend, Tripp Talbot. Four years ago someone got away with murder. The most terrifying part is that they never left.
Sadie
by Courtney Summers (YA Summers)
"Today, WNRK is launching the first episode of our new serialized podcast, The Girls , created and hosted by West McCray."
When popular radio personality West McCray receives a desperate phone call from a stranger imploring him to find nineteen-year-old runaway Sadie Hunter, he's not convinced there's a story there; girls go missing all the time. But when it's revealed that Sadie fled home after the brutal murder of her little sister, Mattie, West travels to the small town of Cold Creek, Colorado, to uncover what happened.
Sadie has no idea that her journey to avenge her sister will soon become the subject of a blockbuster podcast. Armed with a switchblade, Sadie follows meager clues hoping they'll lead to the man who took Mattie's life, because she's determined to make him pay with his own. But as West traces her path to the darkest, most dangerous corners of big cities and small towns, a deeply unsettling mystery begins to unfold–one that's bigger than them both. Can he find Sadie before it's too late?
Alternating between Sadie's unflinching voice as she hunts the killer and the podcast transcripts tracking the clues she's left behind, Courtney Summers' Sadie is a breathless thriller about the lengths we go to protect the ones we love and the high price we pay when we can't. It will haunt you long after you reach the final page.
If I Disappear
by Eliza Jane Brazier (Brazier)
When her favorite true crime podcast host goes missing, an adrift young woman sets out to investigate and plunges headfirst into the wild backcountry of Northern California and her own dangerous obsession.
Sera loves true crime podcasts. They give her a sense of control in a world where women just like her disappear daily. She's sure they are preparing her for something. So when Rachel, her favorite podcast host, goes missing, Sera knows it's time to act. Rachel has always taught her to trust her instincts.
Sera follows the clues hidden in the episodes to an isolated ranch outside Rachel's small hometown to begin her search. She's convinced her investigation will make Rachel so proud. But the more Sera digs into this unfamiliar world, the more off things start to feel. Because Rachel is not the first woman to vanish from the ranch, and she won't be the last…
Rachel did try to warn her.
The Restless Dark
by Erica Waters (YA Waters)
Enter Cloudkiss Canyon at your own risk.
Sadie meets Wilder Girls in this unnerving tale about the struggle for survival, the twisted satisfaction of revenge, and the darkness hiding in all of us. From Erica Waters, the acclaimed author of Ghost Wood Song and The River Has Teeth, this mystery will haunt you to the end.
The Cloudkiss Killer is dead. Now a true-crime podcast is hosting a contest to find his bones.
Lucy was almost the serial killer's final victim. Carolina is a true-crime fan who fears her own rage. Maggie is a psychology student with a little too much to hide.
All of them are looking for answers, for a new identity, for a place to bury their secrets.
But there are more than bones hiding in the shadows…sometimes the darkness inside is more frightening than anything the dead leave behind.
Dark Circles
by Cait Dolan-Leach (Dolan-Leach)
Olivia Reed needs a break. She doesn't want to think about her name plastered on tabloids or be reminded of her recent meltdown on a Manhattan street. Her micromanaging publicist has just the thing in mind: a remote retreat in upstate New York–the House of Light. It's not rehab; it's a Spiritual Center, a site for seeking realignment and personal growth. There will be yoga and morning meditation, soft bamboo-blend fabrics and no shortage of crystals to cleanse her energy.
But Liv will soon find that the House of Light is filled with darkness. A prickly local, Ava, informs her that something twisted is lurking behind the Light's veneer. There have been a series of mysterious suicides committed by women caught in the Light's web, and no matter who Ava talks to, no one believes the Center is involved. To find out what's really happened and put her celebrity to good use, Liv starts a podcast, seeking to connect the dots and expose the Light's true intentions. Because beneath the glowing skin of the Light's inhabitants lie rotten souls, and Liv starts to wonder if anything–even her own life–is how it appears.
Caite Dolan-Leach brings her tantalizing voice, her gift for atmosphere, and a cast of delightfully devious and absorbing characters to this riveting novel of suspense.
The Sorority Murder
by Allison Brennan (Brennan)
Lucas Vega is obsessed with the death of Candace Swain, who left a sorority party one night and never came back. Her body was found after two weeks, but the case has grown cold. Three years later while interning at the medical examiner's, Lucas discovers new information, but the police are not interested.
Lucas knows he has several credible pieces of the puzzle. He just isn't sure how they fit together. So he creates a podcast to revisit Candace's last hours. Then he encourages listeners to crowdsource what they remember and invites guest lecturer Regan Merritt, a former US marshal, to come on and share her expertise.
New tips come in that convince Lucas and Regan they are onto something. Then shockingly one of the podcast callers turns up dead. Another hints at Candace's secret life, a much darker picture than Lucas imagined–and one that implicates other sorority sisters. Regan uses her own resources to bolster their theory and learns that Lucas is hiding his own secret. The pressure is on to solve the murder, but first Lucas must come clean about his real motives in pursuing this podcast–before the killer silences him forever.
Conviction
by Denise Mina (Mina)
The day Anna McDonald's quiet, respectable life exploded started off like all the days before: Packing up the kids for school, making breakfast, listening to yet another true crime podcast. Then her husband comes downstairs with an announcement, and Anna is suddenly, shockingly alone.
Reeling, desperate for distraction, Anna returns to the podcast. Other people's problems are much better than one's own — a sunken yacht, a murdered family, a hint of international conspiracy. But this case actually is Anna's problem. She knows one of the victims from an earlier life, a life she's taken great pains to leave behind. And she is convinced that she knows what really happened.
Then an unexpected visitor arrives on her front stoop, a meddling neighbor intervenes, and life as Anna knows it is well and truly over. The devils of her past are awakened — and they're in hot pursuit. Convinced she has no other options, Anna goes on the run, and in pursuit of the truth, with a washed-up musician at her side and the podcast as her guide.
Her Last Word
by Mary Burton (Burton)
Fourteen years ago, Kaitlin Roe was the lone witness to the abduction of her cousin Gina. She still remembers that lonely Virginia road. She can still see the masked stranger and hear Gina's screams. And she still suffers the guilt of running away in fear and resents being interrogated as a suspect in the immediate aftermath. Now Kaitlin has only one way to assuage the pain and nightmares–by interviewing everyone associated with the unsolved crime for a podcast that could finally bring closure to a case gone cold.
But when a woman Kaitlin questions is later found stabbed to death, she fears that she's drawn a killer out of hiding. It's Detective John Adler's fear that the murders have only just begun. Now his job is to keep Kaitlin safe.
As a bond between Kaitlin and Adler builds, the past closes in just as fast–and it's darker than Kaitlin remembers. Soon, her wish will come true. She's going to find out exactly what happened to Gina. Someone has been dying to tell her.
---
Versions and variations of Sweeney Todd in the libraries' collection:
Sweeney Todd: The Demon Barber of Fleet Street: [a musical thriller]
by Stephen Sondheim (Music 782.14 Swe 2006)
Sheet music collection.
Sweeney Todd: The Demon Barber of Fleet Street: [original Broadway cast album]
by Stephen Sondheim (Music 782.14 Swe 2006)
Compact disc of the original 1979 Broadway cast, including Len Cariou as Sweeney Todd and Angela Lansbury as Mrs. Lovett.
Sweeney Todd: The Demon Barber of Fleet Street
by Stephen Sondheim (DVD Sweeney)
Reinventing himself as Sweeney Todd, a man unjustly sent to prison returns to exact revenge on those who ruined his life, especially the evil Judge Turpin who sent the man to prison. 2007 movie based on the musical by Stephen Sondheim and Hugh Wheeler, from an adaptation by Christopher Bond.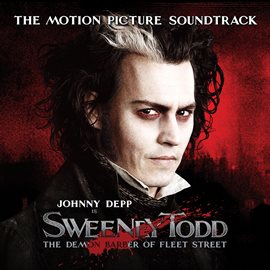 Sweeney Todd: The Demon Barber of Fleet Street: Highlights From the Motion Picture Soundtrack
by Stephen Sondheim (Compact Disc 782.14 Swe)
Based on the macabre Victorian legend of London's "Demon Barber of Fleet Street," Stephen Sondheim's "Sweeney Todd" has stood for nearly 30 years as one of the composer's most celebrated musical theater creations, as well as his most operatic score. The songs and score boldly propel the action in Burton's sixth collaboration with Johnny Depp, making his singing debut as the falsely imprisoned barber transformed into a murdere by his thirst for revenge. The music is available on a highlight album.
Sweeney Todd: The Demon Barber of Fleet Street
by Stephen Sondheim (Music 781.5421 qSon)
(Vocal Selections). 15 piano/vocal arrangements from the 2007 feature film of the Stephen Sondheim classic starring Johnny Depp. Includes: By the Sea * The Contest * Epiphany * God, That's Good! * Green Finch and Linnet Bird * Johanna * A Little Priest * My Friends * No Place like London * Not While I'm Around * Pirelli's Miracle Elixir * Poor Thing * Pretty Women * Wait * The Worst Pies in London.
Sweeney Todd: The Demon Barber of Fleet Street: [2006 revival cast album]
by Stephen Sondheim (Music 782.14 Swe 2006)
Compact disc of the 2006 revival cast album, featuring Michael Cerveris as Sweeney Todd and Patti Lupone as Mrs. Lovett.
Created in partnership with the Lincoln Community Playhouse by lg/Gere Branch March 2023 | Modified for use on BookGuide by sdc/bmpl