A booklist for: The Mountaintop
Production dates: January 26 – February 5, 2023
This is a booklist created by Gere Branch library staff to accompany the stage production of The Mountaintop at Gere's neighbor, The Lincoln Community Playhouse.
On April 4th, 1968, Civil Rights icon Dr. Martin Luther King Jr. was assassinated — shot on the balcony outside room 306 at the Loraine Hotel in Memphis, TN. The day before, he gave one of his most famous speeches — I've Been to the Mountaintop. The play The Mountaintop is by American playwright Katori Hall. It is a fictional depiction of Martin Luther King Jr.'s last night on earth set entirely in Room 306 of the Lorraine Motel on the eve of his assassination.
Katori Hall is an American actress, journalist and playwright, who was born in and continues to live in Memphis. She was inspired to write The Mountaintop by the experiences of her mother, who was prevented from attending what ended up being King's final speech. The play is a two-person play, featuring an extended conversation between Dr. King and Camae (named after Hall's mother, Carrie Mae), a beautiful young hotel maid, who may be more than she appears. The play had its world premiere in London in 2010, where Katori Hall became the first black female playwright in history to win the Olivier Award for best new play. The sold-out British run featured actors David Harewood and Lorraine Burroughs. When The Mountaintop opened for the first time on Broadway in the Fall of 2011, it featured the Broadway debut of Samuel L. Jackson as King, and Angela Bassett as Camae.
This booklist is also available as a simple printer-friendly two-page PDF (without hotlinks to the library catalog).
If you're interested in the topics of The Mountaintop, try these books…
The Fire Next Time
by James Baldwin (305.8 Bal)
NATIONAL BESTSELLER * The book that galvanized the nation, gave voice to the emerging civil rights movementin the 1960s–and still lights the way to understanding race in America today. * "The finest essay I've ever read." –Ta-Nehisi Coates

At once a powerful evocation of James Baldwin's early life in Harlem and a disturbing examination of the consequences of racial injustice, the book is an intensely personal and provocative document from the iconic author of If Beale Street Could Talk and Go Tell It on the Mountain. It consists of two "letters," written on the occasion of the centennial of the Emancipation Proclamation, that exhort Americans, both black and white, to attack the terrible legacy of racism. 
Described by The New York Times Book Review as "sermon, ultimatum, confession, deposition, testament, and chronicle … all presented in searing, brilliant prose," The Fire Next Time stands as a classic of literature.
Freshwater Road
by Denise Nichols (Nicholas)
When University of Michigan sophomore Celeste Tyree travels to Mississippi to volunteer her efforts in Freedom Summer, she's assigned to help register voters in the small town of Pineyville, a place best known for a notorious lynching that occurred only a few years earlier. As the long, hot summer unfolds, Celeste befriends several members of the community, but there are also those who are threatened by her and the change that her presence in the South represents. Finding inner strength as she helps lift the veil of oppression and learns valuable lessons about race, social change, and violence, Celeste prepares her adult students for their showdown with the county registrar. All the while, she struggles with loneliness, a worried father in Detroit, and her burgeoning feelings for Ed Jolivette, a young man also in Mississippi for the summer. By summer's end, Celeste learns there are no easy answers to the questions that preoccupy her — about violence and nonviolence, about race, identity, and color, and about the strength of love and family bonds.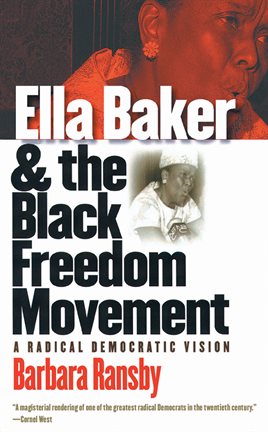 Ella Baker and the Black Freedom Movement
by Barbara Ransby (Hoopla E-book and E-audiobook)
One of the most important African American leaders of the twentieth century and perhaps the most influential woman in the civil rights movement, Ella Baker (1903-1986) was an activist whose remarkable career spanned fifty years and touched thousands of lives.
A gifted grassroots organizer, Baker shunned the spotlight in favor of vital behind-the-scenes work that helped power the black freedom struggle. She was a national officer and key figure in the National Association for the Advancement of Colored People, one of the founders of the Southern Christian Leadership Conference, and a prime mover in the creation of the Student Nonviolent Coordinating Committee. Baker made a place for herself in predominantly male political circles that included W. E. B. Du Bois, Thurgood Marshall, and Martin Luther King Jr., all the while maintaining relationships with a vibrant group of women, students, and activists both black and white.
In this deeply researched biography, Barbara Ransby chronicles Baker's long and rich political career as an organizer, an intellectual, and a teacher, from her early experiences in depression-era Harlem to the civil rights movement of the 1950s and 1960s. Ransby shows Baker to be a complex figure whose radical, democratic worldview, commitment to empowering the black poor, and emphasis on group-centered, grassroots leadership set her apart from most of her political contemporaries. Beyond documenting an extraordinary life, the book paints a vivid picture of the African American fight for justice and its intersections with other progressive struggles worldwide across the twentieth century.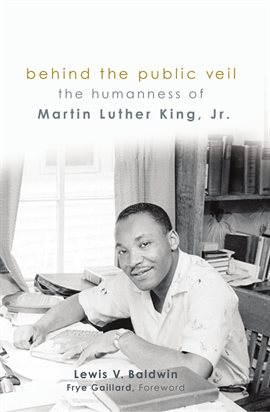 Behind the Public Veil: The Humanness of Martin Luther King Jr.
by Lewis Baldwin (Hoopla E-book)
What was Martin Luther King Jr. really like? In this groundbreaking volume, Lewis V. Baldwin answers this question by focusing on the man himself. Drawing on the testimonies of friends, family, and closest associates, this volume adds much-needed biographical background to the discussion, as Baldwin looks beyond all of the mythic, messianic, and iconic images to treat King in terms of his fundamental and vivid humanness. Special attention is devoted to Kings personal insecurities and struggles, his humility and affinity to common people, his delight in pleasant and passionate conversation, his insatiable love for the precious but ordinary things of life, his robust appetite for artfully-prepared and delicious soul food, his enduring appreciation for music and dance, his cheerful and playful attitude and spirit, his abiding interest in games and sports, and his amazing gift of wit, humor, and laughter.
King emerges here as an ordinary human being who enjoyed and celebrated life to the fullest, but was never bigger than life. Here we see the personal qualities of King as a real, fleshly human being and also as a man shaped by his social and cultural experiences and locations. Behind the Public Veil reclaims the man behind the mythology.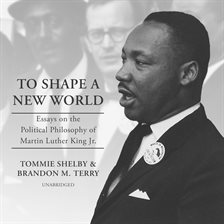 To Shape a New World
by Tommy Shelby (Hoopla E-audiobook)
Martin Luther King, Jr., is one of America's most revered figures, yet despite his mythic stature, the significance of his political thought remains underappreciated. In this indispensable reappraisal, leading scholars ― including Cornel West, Martha Nussbaum, and Danielle Allen ― consider the substance of his lesser known writings on racism, economic inequality, virtue ethics, just-war theory, reparations, voting rights, civil disobedience, and social justice and find in them an array of compelling challenges to some of the most pressing political dilemmas of our time.

Marching to the Mountaintop
by Ann Bausum (Hoopla and Overdrive E-books and E-audiobooks)
In early 1968 the grisly on-the-job deaths of two African-American sanitation workers in Memphis, Tennessee, prompted an extended strike by that city's segregated force of trash collectors. Workers sought union protection, higher wages, improved safety, and the integration of their work force. Their work stoppage became a part of the larger civil rights movement and drew an impressive array of national movement leaders to Memphis, including, on more than one occasion, Dr. Martin Luther King, Jr.
King added his voice to the struggle in what became the final speech of his life. His assassination in Memphis on April 4 not only sparked protests and violence throughout America; it helped force the acceptance of worker demands in Memphis. The sanitation strike ended eight days after King's death.
The connection between the Memphis sanitation strike and King's death has not received the emphasis it deserves, especially for younger readers. Marching to the Mountaintop explores how the media, politics, the Civil Rights Movement, and labor protests all converged to set the scene for one of King's greatest speeches and for his tragic death.
Freedom's Daughters: The Unsung Heroines of the Civil Rights Movement From 1830 to 1970
by Lynn Olson (323.4 Ols)
The first comprehensive history of the role of women in the civil rights movement, Freedom's Daughters fills a startling gap in both the literature of civil rights and of women's history. Stokely Carmichael, Andrew Young, John Lewis, and other well-known leaders of the civil rights movement have admitted that women often had the ideas for which men took credit. In this groundbreaking book, credit finally goes where credit is due ― to the bold women who were crucial to the movement's success and who refused to give up the fight.
From the Montgomery bus boycott to the lunch counter sit-ins to the Freedom Rides, Lynne Olson's Freedom's Daughters offers a remarkable corrective to the standard history as she tells the long overlooked story of the extraordinary women, both black and white, who were among the most fearless, resourceful, and tenacious leaders of the civil rights movement. Reminding us that the story of women fighting for civil rights began much earlier than the 1950s and 1960s, Olson puts the formal civil rights movement into the context of a much larger history of women's activism. From the abolitionist and suffragist movements to women's liberation, Olson proves that the political activity of women has been the thread connecting the big reform movements from the 1830s to 1970. Into this context, then, she introduces portraits and cameos of more than sixty women ― many until now forgotten and some never before written about ― from the key figures (Pauli Murray, Ida Wells, Eleanor Roosevelt, Ella Baker, and Septima Clark, among others) whose activism spanned several different movements and decades to some of the smaller players who represent the hundreds and hundreds of women who each came forth to do her own small part and who together ultimately formed the mass movements that made the difference.
As one male activist said of the movement in Mississippi: It was a woman's war. This is the story of women making difficult choices, trying to balance lives as wives and mothers with their all-consuming work, defying society's standards of proper female behavior. It's the story of indomitable black women like Diane Nash who refused to give up the civil rights fight, even as the formal movement collapsed, and of white female civil rights activists mourning the loss of their old movement while helping to launch a new one ― the battle for women's rights. Freedom's Daughters puts a human face on the civil rights struggle ― and shows that that face was often female.
Parting the Waters: American in the King Years, 1954-1963
by Taylor Branch (973.921 Bra)
Hailed as the most masterful story ever told of the American civil rights movement, Parting the Waters is destined to endure for generations. Moving from the fiery political baptism of Martin Luther King, Jr., to the corridors of Camelot where the Kennedy brothers weighed demands for justice against the deceptions of J. Edgar Hoover, here is a vivid tapestry of America, torn and finally transformed by a revolutionary struggle unequaled since the Civil War. Taylor Branch provides an unsurpassed portrait of King's rise to greatness and illuminates the stunning courage and private conflict, the deals, maneuvers, betrayals, and rivalries that determined history behind closed doors, at boycotts and sit-ins, on bloody freedom rides, and through siege and murder. Epic in scope and impact, Branch's chronicle definitively captures one of the nation's most crucial passages.
The Radical King
collected by Cornel West (Biography King)
"The radical King was a democratic socialist who sided with poor and working people in the class struggle taking place in capitalist societies. . . . The response of the radical King to our catastrophic moment can be put in one word- revolution-a revolution in our priorities, a reevaluation of our values, a reinvigoration of our public life, and a fundamental transformation of our way of thinking and living that promotes a transfer of power from oligarchs and plutocrats to everyday people and ordinary citizens… Could it be that we know so little of the radical King because such courage defies our market-driven world?"-Cornel West, from the Introduction
Every year, Dr. Martin Luther King, Jr., is celebrated as one of the greatest orators in US history, an ambassador for nonviolence who became perhaps the most recognizable leader of the civil rights movement. But after more than forty years, few people appreciate how truly radical he was.
Arranged thematically in four parts, The Radical King includes twenty-three selections, curated and introduced by Dr. Cornel West, that illustrate King's revolutionary vision, underscoring his identification with the poor, his unapologetic opposition to the Vietnam War, and his crusade against global imperialism. As West writes, "Although much of America did not know the radical King-and too few know today-the FBI and US government did. They called him 'the most dangerous man in America.' … This book unearths a radical King that we can no longer sanitize."
The Autobiography of Martin Luther King Jr.
by Martin Luther King Jr. (B K585 or Biography King)
With knowledge, spirit, good humor, and passion, The Autobiography of Martin Luther King Jr. brings to life a remarkable man whose thoughts and actions speak to our most burning contemporary issues and still inspire the desires, hopes, and dreams of us all.
Written in his own words, this history-making autobiography is Martin Luther King: the mild-mannered, inquisitive child and student who chafed under and eventually rebelled against segregation; the dedicated young minister who continually questioned the depths of his faith and the limits of his wisdom; the loving husband and father who sought to balance his family's needs with those of a growing, nationwide movement; and the reflective, world-famous leader who was fired by a vision of equality for people everywhere.
Relevant and insightful, The Autobiography of Martin Luther King Jr. offers King's seldom disclosed views on some of the world's greatest and most controversial figures: John F. Kennedy, Malcolm X, Lyndon B. Johnson, Mahatma Gandhi, and Richard Nixon. It also paints a rich and moving portrait of a people, a time, and a nation in the face of powerful change. Finally, it shows how everyday Americans from all walks of life confronted themselves, each other, and the burden of the past-and how their fears and courage helped shape our future.
Alabama v. King: Martin Luther King Jr. and the Criminal Trial That Launched the Civil Rights Movement
by Dan Abrams (Biography Gray)
The defense lawyer for Martin Luther King, Jr., Rosa Parks, the Selma marchers, and other civil rights heroes reveals the true story of the historic trial that made Dr. King a national hero.
Fred D. Gray was just twenty-four years old when he became the defense lawyer for Dr. Martin Luther King, Jr., a young minister who had become the face of the bus boycott that had rocked the city of in Montgomery, Alabama. In this incredible history, Gray takes us behind the scenes of that landmark case, including such unforgettable moments as:
Martin Luther King's courageous response to a bomb threat on his own home
Poignant, searing testimony that exposed the South's racist systems to an worldwide audience
The conspiracy to destroy Gray's career and draft him into the Vietnam War
The unforgettable moment when a Supreme Court ruling brought the courtroom to a halt
Alabama v. King captures a pivotal moment in the fight for equality, from the eyes of the lawyer who Dr. King called "the brilliant young leader who later became the chief counsel for the protest movement."
The Three Mothers: How the Mothers of Martin Luther King Jr, Malcolm X, and James Baldwin Shaped a Nation
by Anna Malaika Tubbs (3058 AfrYt)
Much has been written about Berdis Baldwin's son James, about Alberta King's son Martin Luther, and Louise Little's son Malcolm. But virtually nothing has been said about the extraordinary women who raised them. In her groundbreaking and essential debut The Three Mothers, scholar Anna Malaika Tubbs celebrates Black motherhood by telling the story of the three women who raised and shaped some of America's most pivotal heroes.

Berdis Baldwin, Alberta King, and Louise Little were all born at the beginning of the 20th century and forced to contend with the prejudices of Jim Crow as Black women. These three extraordinary women passed their knowledge to their children with the hope of helping them to survive in a society that would deny their humanity from the very beginning ― from Louise teaching her children about their activist roots, to Berdis encouraging James to express himself through writing, to Alberta basing all of her lessons in faith and social justice. These women used their strength and motherhood to push their children toward greatness, all with a conviction that every human being deserves dignity and respect despite the rampant discrimination they faced.
These three mothers taught resistance and a fundamental belief in the worth of Black people to their sons, even when these beliefs flew in the face of America's racist practices and led to ramifications for all three families' safety. The fight for equal justice and dignity came above all else for the three mothers.
These women, their similarities and differences, as individuals and as mothers, represent a piece of history left untold and a celebration of Black motherhood long overdue.
To the Promised Land: Martin Luther King and the Fight for Economic Justice
by Michael K. Honey (Biography King)
Drawing on a new generation of scholarship about the civil rights era in America, To the Promised Land goes beyond the iconic view of Martin Luther King as an advocate of racial harmony to explore his profound commitment to the poor and working class, and his call for "non-violent resistance" to all forms of oppression, including economic injustice.
Phase one of that struggle led to the Civil Rights and Voting Rights Acts. In phase two, King organized poor people and demonstrated for union rights, while seeking a "moral revolution" to replace the self-seeking individualism of the rich with an overriding concern for the common good. To the Promised Land asks us to think about what it would mean to truly fulfill King's legacy and move towards what he called "the Promised Land" in our own time.
March
by John Lewis (Biography Lewis) (Graphic Novel)
Congressman John Lewis (GA-5) is an American icon and key figure of the civil rights movement. His commitment to justice and nonviolence has taken him from an Alabama sharecropper's farm to the halls of Congress, from a segregated schoolroom to the 1963 March on Washington, and from receiving beatings from state troopers to receiving the Medal of Freedom from the first African-American president.
Now, to share his remarkable story with new generations, Lewis presents March, a graphic novel trilogy, in collaboration with co-writer Andrew Aydin and New York Times best-selling artist Nate Powell (winner of the Eisner Award and LA Times Book Prize finalist for Swallow Me Whole).
March is a vivid first-hand account of John Lewis' lifelong struggle for civil and human rights, meditating in the modern age on the distance traveled since the days of Jim Crow and segregation. Rooted in Lewis' personal story, it also reflects on the highs and lows of the broader civil rights movement.
Book One spans John Lewis' youth in rural Alabama, his life-changing meeting with Martin Luther King, Jr., the birth of the Nashville Student Movement, and their battle to tear down segregation through nonviolent lunch counter sit-ins, building to a stunning climax on the steps of City Hall.
Many years ago, John Lewis and other student activists drew inspiration from the 1958 comic book "Martin Luther King and the Montgomery Story." Now, his own comics bring those days to life for a new audience, testifying to a movement whose echoes will be heard for generations.
The Movement: The African American Struggle for Civil Rights
by Thomas C. Holt (323.4 Hol)
The civil rights movement was among the most important historical developments of the twentieth century and one of the most remarkable mass movements in American history. Not only did it decisively change the legal and political status of African Americans, but it prefigured as well the moral premises and methods of struggle for other historically oppressed groups seeking equal standing in American society. And, yet, despite a vague, sometimes begrudging recognition of its immense import, more often than not the movement has been misrepresented and misunderstood. For the general public,a singular moment, frozen in time at the Lincoln Memorial, sums up much of what Americans know about that remarkable decade of struggle.
In The Movement, Thomas C. Holt provides an informed and nuanced understanding of the origins, character, and objectives of the mid-twentieth-century freedom struggle, privileging the aspirations and initiatives of the ordinary, grassroots people who made it. Holt conveys a sense of these developments as a social movement, one that shaped its participants even as they shaped it. He emphasizes the conditions of possibility that enabled the heroic initiatives of the common folk over those of their more celebrated leaders. This groundbreaking book reinserts the critical concept of"movement" back into our image and understanding of the civil rights movement.
The Two Lives of Sara
by Catherine Adel West (West)
In 1960s Memphis, a young mother finds refuge in a boardinghouse where family encompasses more than just blood and hidden truths can bury you or set you free.
Sara King has nothing, save for her secrets and the baby in her belly, as she boards the bus to Memphis, hoping to outrun her past in Chicago. She is welcomed with open arms by Mama Sugar, a kindly matriarch and owner of the popular boardinghouse The Scarlet Poplar.
Like many cities in early 1960s America, Memphis is still segregated, but change is in the air. News spreads of the Freedom Riders. Across the country, people like Martin Luther King Jr. are leading the fight for equal rights. Black literature and music provide the stories and soundtrack for these turbulent and hopeful times, and Sara finds herself drawn in by conversations of education, politics and a brighter tomorrow with Jonas, a local schoolteacher. Romance blooms between them, but secrets from Mama Sugar's past threaten their newfound happiness and lead Sara to make decisions that will reshape the rest of their lives.
With a charismatic cast of characters, The Two Lives of Sara is an emotional and unforgettable story of hope, the limitations of resilience and unexpected love.
The Movement Made Us: A Father, a Son, and the Legacy of a Freedom Ride
by Dennis David Jr. (305.896 Den)
A dynamic family exchange that pivots between the voices of a father and son, The Movement Made Us is a unique work of oral history and memoir, chronicling the extraordinary story of the Civil Rights Movement of the 1960s and its living legacy embodied in Black Lives Matter. David Dennis Sr, a core architect of the movement, speaks out for the first time, swapping recollections both harrowing and joyful with David Jr, a journalist working on the front lines of change today.
Taken together, their stories paint a critical portrait of America, casting one nation's image through the lens of two individual Black men and their unique relationship. Playful and searching, anxious and restorative, fearless and driving, this intimate memoir features scenes from across David Sr's life, as he becomes involved in the movement, tries to move beyond it, and ultimately returns to it to find final solace and new sense of self–revealing a survivor who travels eternally with a cabal of ghosts.
A crucial addition to Civil Rights history, The Movement Made Us is the story of a nation reckoning with change and the hopes, struggles, setbacks, and triumphs of modern Black life. This is it: the extant chronicle of why we live, why we move, and for what we are made.
Insurrection: Rebellion, Civil Rights, and the Paradoxical State of Black Citizenship
by Hawa Allen (305.8 AfrYa)
The little-known and under-studied 1807 Insurrection Act was passed to give the president the ability to deploy federal military forces to fend off lawlessness and rebellion, but it soon became much more than the sum of its parts. Its power is integrally linked to the perceived threat of black American equity in what lawyer and critic Hawa Allan demonstrates is a dangerous paradox. While the Act was initially used to repress rebellion against slavery, during Reconstruction it was invoked by President Grant to quell white-supremacist uprisings in the South. During the civil rights movement, it enabled the protection of black students who attended previously segregated educational institutions. Most recently, the Insurrection Act has been the vehicle for presidents to call upon federal troops to suppress so-called "race riots" like those in Los Angeles in 1992, and for them to threaten to do so in other cases of racial justice activism. Yet when the US Capitol was stormed in January 2021, the impulse to restore law and order and counter insurrectionary threats to the republic lay dormant. Allan's distinctly literary voice underscores her paradigm-shifting reflections on the presence of fear and silence in history and their shadowy impact on the law. Throughout, she draws revealing insight from her own experiences as one of the only black girls in her leafy Long Island suburb, as a black lawyer at a predominantly white firm during a visit from presidential candidate Barack Obama, and as a thinker about the use and misuse of appeals to law and order. Elegant and profound, deeply researched and intensely felt, Insurrection is necessary reading in our reckoning with structural racism, government power, and protest in the United States.
Righteous Troublemakers: Untold Stories of the Social Justice Movement in America
by Al Sharpton (305.8 AfrYs)
While the world may know the major names of the Civil Rights movement, there are countless lesser-known heroes fighting the good fight to advance equal justice for all, heeding the call when no one else was listening, often risking their lives and livelihoods in the process.
Righteous Troublemakers shines a light on everyday people called to do extraordinary things ― like Pauli Murray, whose early work informed Thurgood Marshall's legal argument for Brown v. Board of Education, Claudette Colvin, who refused to give up her seat on a segregated bus months before Rosa Parks did the same, and Gwen Carr, whose private pain in losing her son Eric Garner stoked her public activism against police brutality. Sharpton also illuminates the lives of more widely known individuals, revealing overlooked details, historical connections, and a perspective informed by years of working on the front line of the social justice movement, to provide a behind-the-scenes look at the wheels of justice and the individuals who have helped advance its cause.
Four Hundred Souls: A Community History of African America, 1619-2019
edited by Ibram X. Kendi (305.8 AfrYf)
#1 NEW YORK TIMES BESTSELLER * A chorus of extraordinary voices tells the epic story of the four-hundred-year journey of African Americans from 1619 to the present–edited by Ibram X. Kendi, author of How to Be an Antiracist, and Keisha N. Blain, author of Set the World on Fire.
The story begins in 1619–a year before the Mayflower ― when the White Lion disgorges "some 20-and-odd Negroes" onto the shores of Virginia, inaugurating the African presence in what would become the United States. It takes us to the present, when African Americans, descendants of those on the White Lion and a thousand other routes to this country, continue a journey defined by inhuman oppression, visionary struggles, stunning achievements, and millions of ordinary lives passing through extraordinary history. 
Four Hundred Souls is a unique one-volume "community" history of African Americans. The editors, Ibram X. Kendi and Keisha N. Blain, have assembled ninety brilliant writers, each of whom takes on a five-year period of that four-hundred-year span. The writers explore their periods through a variety of techniques: historical essays, short stories, personal vignettes, and fiery polemics. They approach history from various perspectives: through the eyes of towering historical icons or the untold stories of ordinary people; through places, laws, and objects. While themes of resistance and struggle, of hope and reinvention, course through the book, this collection of diverse pieces from ninety different minds, reflecting ninety different perspectives, fundamentally deconstructs the idea that Africans in America are a monolith ― instead it unlocks the startling range of experiences and ideas that have always existed within the community of Blackness. 
This is a history that illuminates our past and gives us new ways of thinking about our future, written by the most vital and essential voices of our present.
Created in partnership with the Lincoln Community Playhouse by lg/Gere Branch January 2023 | Modified for use on BookGuide by sdc/bmpl