A booklist for: The Sunshine Boys
Production dates: March 6-15, 2020
This is a booklist created by Gere Branch library staff to accompany the stage production of The Sunshine Boys at Gere's neighbor, The Lincoln Community Playhouse in March 2020.
The Sunshine Boys is a two-act comedy play by Neil Simon, which premiered in December 1972 on Broadway and originally starred Jack Albertson and Sam Levene. The play is set in the 1970s, and deals with the fractured relationship between a pair of comedians who formed the legendary vaudeville comedy team "Lewis and Clark". Their partnership fizzled out decades before, but the opportunity to reunited for a television retrospective looking at the history of comedy forces them to confront each other and the reasons they split in the first place.
The 1972 play has enjoyed several revivals over the years, and has been adapted three times for film — a 1975 feature film starred George Burns and Walter Matthau, a 1977 TV-series pilot starred Lionel Stander and Red Buttons, and a 1996 TV-movie starred Woody Allen and Peter Falk.
Recommended Reading/Viewing for fans of "The Sunshine Boys"
The Collected Plays of Neil Simon
by Neil Simon [812 Sim – multiple editions, multiple volumes]
This multi-volume set of The Collected Plays of Neil Simon contains the triumphs that put his unique brand of comic genius on the American stage, and made him the most successful playwright of his generation.
[
Volume 1
: Come Blow Your Horn, Barefoot in the Park, The Odd Couple, Plaza Suite, The Star Spangled Girl, Promises Promises, Last of the Red Hot Lovers;
Volume 2
: California Suite, The Sunshine Boys, Chapter Two, Little Me, The Prisoner of Second Avenue, The Gingerbread Lady, The Good Doctor, God's Favorite;
Volume 3
: Sweet Charity, They're Playing Our Song, I Oughta Be In Pictures, Fools, The Odd Couple (Female Version), Brighton Beach Memoirs, Biloxi Blues, Broadway Bound;
Volume 4
: Rumors, Lost in Yonkers, Jake's Women, Laughter on the 23rd Floor, London Suite.]
The Odd Couple
by Neil Simon [812 Si48o — also included in several collections]
This classic comedy opens as a group of the guys assembled for cards in the apartment of divorced Oscar Madison. And if the mess is any indication, it's no wonder that his wife left him. Late to arrive is Felix Unger who has just been separated from his wife. Fastidious, depressed and none too tense, Felix seems suicidal, but as the action unfolds Oscar becomes the one with murder on his mind when the clean-freak and the slob ultimately decide to room together with hilarious results as The Odd Couple is born. (Another version for an all-female cast has been released as well.)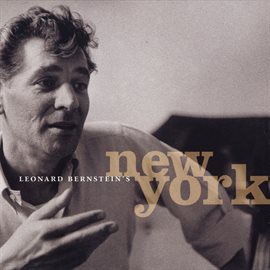 Leonard Bernstein's New York
by Leonard Bernstein [Compact Disc 782.14 Ber + Hoopla Audio]
Leonard Bernstein's New York comprises a selection of songs about New York culled from the composer's musicals (West Side Story, On the Town, and many others). The songs are performed by six stage and cabaret singers — including Mandy Patinkin and Audra McDonald — who are all supported by the Orchestra of St. Luke's. All of the vocalists deliver the material with style and passion, which makes Leonard Bernstein's New York an entertaining and effective — if a bit brief — overview of the composer's rich career. — from AllMusic.com's review
20 10-Minute Plays for Teens, Vol. 1
by Kristen Dabrowski [j812.08 Dab]
Contemporary! New! Real! These plays reflect the interests, issues, humor, and speech patterns of teens. They vary from four to twenty-two characters, gritty drama to farcical comedy. The plays can even interlock to create a longer piece, if desired! This is the must-have book for teachers and students looking for juicy material for teens.
Stories on Stage
by Aaron Shepard [j812.08 She]
Stories on Stage is a collection of reader's theater scripts for young readers, adapted from stories by fifteen different authors, including Louis Sachar, Nancy Farmer, and Roald Dahl. Coming from such genres as humor, fantasy, and multicultural folktales, stories were selected for their dramatic quality, literary value, and appeal to young people. The scripts may be freely copied for noncommercial purposes. With a focus on ages 8 to 15, the collection features a wide range of reading levels.
Magnificent Monologues for Teens
by Chambers Stevens [812.045 Ste]
Provides 11-17 year-olds with comedic and dramatic monologues, all 100% teen tested, all age appropriate, written by today's top teen's acting coach in Hollywood.
Tumbling Turner Sisters
by Juliette Fay [Fay]
Set against the turbulent backdrop of American Vaudeville, four sisters embark on an unexpected adventure–and a last-ditch effort to save their family.
It's 1919, and the Turners are barely scraping by. When their father loses his job, their irrepressible mother decides that vaudeville is their best chance to make the rent–and create a more exciting life for herself in the process.
Traveling by train from town to town, teenagers Gert, Winnie, and Kit, and recent widow Nell soon find a new kind of freedom in the company of performers who are as diverse as their acts. There is a seamier side to the business, however, and the young women face dangers and turns of fate they never could have anticipated. Heartwarming and surprising, Tumbling Turner Sisters is ultimately a story of awakening–to unexpected possibilities, to love and heartbreak, and to the dawn of a new American era.
Best Short Plays 1984
by Raymond Delgado [812.08 Bes]
Editor Ramon Delgado dedicates this year's collection of Best Short Plays to the Actors Theatre of Louisville, which has contributed significantly to the popularity of the one-act play through its annual SHORTS festival. Four plays in this volume made their debuts at 'Shorts' festivals.
A Chorus Line: Original Broadway Cast Recording
by Marvin Hamlisch [Compact Disc 782.14 Cho]
Michael Bennett's 1975 valentine to "gypsies," the dancers who are often treated as so much mobile scenery in Broadway musicals, is sometimes considered to have broken new ground with it's frank portraits of talented but frustrated performers. The score by Marvin Hamlisch and Edward Kleban is a favorite of "theater people" everywhere, but was designed to showcase the abilities of dancers rather than singers. Consequently, only the ballad "What I Did for Love" has had a life outside of the show's context.
The Producers: The New Mel Brooks Musical: Original Broadway Cast Recording
by Mel Brooks [Compact Disc 782.14 Pro]
The Producers was the vehicle that first proclaimed Mel Brooks's decidedly singular comic vision as a film director in 1968. At the time, the world may not have been entirely ready for the depth charges of hilarity he unleashed; but more than three decades later, it seemed almost foreordained that the film's retooling as a full-fledged musical — directed and choreographed by Susan Stroman — would become the smash hit of the 2000-2001 Broadway season (even before opening at the St. James Theatre in April). Brooks is, of course, no stranger to the Broadway musical genre or to songwriting, but skeptics might find themselves taken by surprise at just how outrageously well all the threads come together for the new show.
The film's absurd core vignette — the infamous "Springtime for Hitler" — if anything gains a few notches in hilarity when framed by a character-rich musical that comes off as both parody and valentine in its mimicry of Broadway's "golden age." Brooks (with the help of idiomatically expert arrangements by Glen Kelly) has cooked up a variety of numbers constituting a virtual primer of old-fashioned American musical comedy styles (there's even a toying with Cabaret-style decadence), but they're always coated with an extra layer of zaniness. In fact, the whole show becomes a Chinese box of parodies within parodies. But what really gets the whole mix working is a surefire cast headed by Nathan Lane playing Max Bialystock and Matthew Broderick doing a delightfully nebbish turn with delusions of misplaced glory as his sidekick, Leo Bloom.
From his first big number (musically winking at Fiddler on the Roof), Lane hungrily lays claim to the role, undaunted by his formidable predecessor, Zero Mostel. Even on disc, you can visualize his over-the-top mugging as a dethroned "king of Broadway" who was "the first producer ever to do summer stock in the winter." Comedy, as they say, is all about timing, and that's exactly what Lane gets right. His interactions with Bloom, Franz Liebkind (Brad Oscar), and Roger de Bris (Gary Beach) are priceless, even when only in sound. As for the tunes, Brooks crafts a number of truly memorable ones–don't be surprised to find yourself horrified as you hum along with "Der Guten Tag Hop-Clop" and, of course, "Springtime for Hitler."
Below are additional titles not previously included in the list when posted on the Lincoln Community Playhouse's web site:
The Encyclopedia of Vaudeville
by Anthony Slide [R 792.7 Sli — non-circulating Reference volume]
The Encyclopedia of Vaudeville provides a unique record of what was once America's preeminent form of popular entertainment from the late 1800s through the early 1930s. It includes entries not only on the entertainers themselves, but also on those who worked behind the scenes, the theatres, genres, and historical terms. Entries on individual vaudevillians include biographical information, samplings of routines and, often, commentary by the performers. Many former vaudevillians were interviewed for the book, including Milton Berle, Block and Sully, Kitty Doner, Fifi D'Orsay, Nick Lucas, Ken Murray, Fayard Nicholas, Olga Petrova, Rose Marie, Arthur Tracy, and Rudy Vallee. Where appropriate, entries also include bibliographies. The volume concludes with a guide to vaudeville resources and a general bibliography.
Aside from its reference value, with its more than five hundred entries, The Encyclopedia of Vaudeville discusses the careers of the famous and the forgotten. Many of the vaudevillians here, including Jack Benny, George Burns and Gracie Allen, Jimmy Durante, W. C. Fields, Bert Lahr, and Mae West, are familiar names today, thanks to their continuing careers on screen. At the same time, and given equal coverage, are forgotten acts: legendary female impersonators Bert Savoy and Jay Brennan, the vulgar Eva Tanguay with her billing as "The I Don't Care Girl," male impersonator Kitty Doner, and a host of "freak" acts.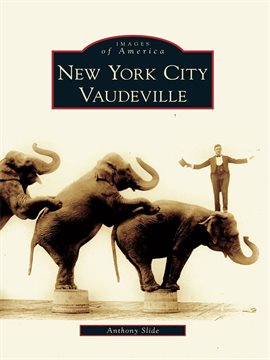 New York City Vaudeville
by Anthony Slide [Hoopla E-book]
New York City Vaudeville provides a unique pictorial record of America's preeminent entertainment medium in the late 1800s through the early 1930s. New York's Palace Theatre served as the flagship for vaudeville, on which stage every vaudevillian aspired to perform. New York City Vaudeville features photographs of some of the greatest names from the Palace Theatre, including Jack Benny, George Burns and Gracie Allen, Anna Held, the Marx Brothers, and Eva Tanguay, as well as legendary African American performers such as Bill Robinson, Ethel Waters, and Bert Williams. Through the photographs and the capsule biographies, the reader is transported back to a time when vaudeville was the people's entertainment, with a new bill of fare each week and an ever-changing number of performers with ever-changing styles of presentation.
The Comedians: Drunks, Thieves, Scoundrels and the History of American Comedy
by Kliph Nesteroff [792.2 Nes]
In The Comedians, comedy historian Kliph Nesteroff brings to life a century of American comedy with real-life characters, forgotten stars, mainstream heroes and counterculture iconoclasts. Based on over two hundred original interviews and extensive archival research, Nesteroff's groundbreaking work is a narrative exploration of the way comedians have reflected, shaped, and changed American culture over the past one hundred years.
Starting with the vaudeville circuit at the turn of the last century, Nesteroff introduces the first stand-up comedian–an emcee who abandoned physical shtick for straight jokes. After the repeal of Prohibition, Mafia-run supper clubs replaced speakeasies, and mobsters replaced vaudeville impresarios as the comedian's primary employer. In the 1950s, the late-night talk show brought stand-up to a wide public, while Lenny Bruce, Mort Sahl, and Jonathan Winters attacked conformity andstaged a comedy rebellion in coffeehouses. From comedy's part in the Civil Rights movement and the social upheaval of the late 1960s, to the first comedy clubs of the 1970s and the cocaine-fueled comedy boom of the 1980s, The Comedians culminates with a new era of media-driven celebrity in the twenty-first century.
Cavalcade of Comedy – Paramount Comedy Shorts 1929-1933
by various [DVD 817 Cav]
Hollywood Boulevard intersects Broadway in this lively collection of classic shorts from the Paramount Studios. In the late 1920s and early '30s – when the movie industry was just learning to talk – Paramount wisely turned to the New York stage for a new crop of entertainers who had already mastered the nuances of verbal comedy. This anthology serves as a laugh-filled time capsule of the brightest lights of vaudeville, showcasing the early works of such American legends as Jack Benny, Bing Crosby, Burns & Allen, Eddie Cantor, and George Jessel (who originated the lead role of The Jazz Singer on stage). It also provides a fascinating historical record of some of the stage legends who have begun to fade from memory, including Lulu McConnell, Tom Howard and Smith and Dale (the inspiration for Neil Simon's The Sunshine Boys). Also included are Lighthouse Love and Cleaning Up, a pair of Mack Sennett comedies that disprove the myth that sound technology destroyed the slapstick tradition. This DVD reveals three incarnations of a popular subgenre of slapstick, the home-builder's nightmare: The Plasterers, Plastered and A Put Up Job. Watching the three films together (made in 1929, 1930 and 1931), one can follow the evolution of vaudeville slapstick to its own truly cinematic form.
Who's Who in Comedy: Comedians, Comics and Clowns – From Vaudeville to Today's Stand-Ups
by Ronald L. Smith [R 792.2 qSmi — non-circulating Reference volume]
Over 400 profiles of performers (the hot and the nearly forgotten) from every comic medium. Entries go beyond mere biography to describe each artist's comedic style, relate trademark jokes or gags, list complete credits, and often, to offer colleague's insights into their work. Includes three appendixes listing comedians by nickname, category, and catch phrase.
Created in partnership with the Lincoln Community Playhouse by hu/Gere Branch March 2020 | Modified and expanded for use on BookGuide by sdc/bmpl