A booklist for: The Wizard of Oz (Young Performer's Edition)
Production dates: June 6-16, 2019
This is a booklist created by Gere Branch library staff to accompany the Penguin Project stage production of The Wizard of Oz (Young Performers Edition) at Gere's neighbor, The Lincoln Community Playhouse.
The Wizard of Oz (Young Performers Edition) is a one-hour stage musical version adaptation of the classic 1901 L. Frank Baum fantasy novel for children, designed to be performed by elementary school children. With Music and Lyrics by Harold Arlen and E. Y. Harburg, Background Music by Herbert Stothart, Dance and Vocal Arrangements by Peter Howard, and Orchestration by Larry Wilcox. Kansas farmgirl Dorothy Gale faces a crisis and home but then is whisked away by a tornado, with her little dog Toto, and lands (with her family farmhouse) in the magical land of Oz. Her farmhouse actually lands on top of the Wicked Witch of the East, killing her. The good witch, Glinda, of the North, gifts her with the ruby slippers of the East witch, to protect her from the vengeful Wicked Witch of the West, and tells her she needs to visit the all-powerful Wizard of Oz in the Emerald City to learn how to return to her home in Kansas. After befriending the tiny residents known as Munchkins, Dorothy and Toto journey down the yellow brick road to the Emerald City, meeting and befriending some of the locals along the way — the Scarecrow, the Tin Man and the Cowardly Lion. Adventures ensue, all so Dorothy can return to Kansas with Toto. The musical features songs made popular in the 1939 live-action film, including "Somewhere Over the Rainbow", "(Follow the) Yellow Brick Road", "If I Only Had a Brain", "We're Off to See the Wizard" and more.
This version of the show was performed as the 2019 Penguin Project production by the Lincoln Community Playhouse, in which all the youthful performers were kids facing various physical challenges, partnered with youth mentors.
Recommendations for fans of the musical, The Wizard of Oz: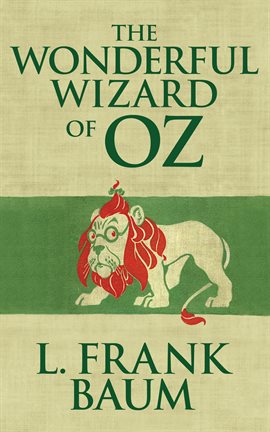 The Wonderful Wizard of Oz
by L. Frank Baum [j Baum]
First published in 1901, "The Wonderful Wizard of Oz" follows the magical adventure of Dorothy, a young girl who lives with her Aunt Em and Uncle Henry on a farm in Kansas. One day when Dorothy is caught up in tornado with her little dog, Toto, she finds her farmhouse has been magically transplanted to Munchkin Country in the mystical Land of Oz. Her house lands on the evil Wicked Witch of the East, killing her, and freeing the Munchkins from her rule. As a reward the Good Witch of the North gives Dorothy the magical Silver Shoes that belonged to the Witch and sets her on her way down the yellow brick road to the Emerald City to ask the Wizard for help in returning to Kansas. Along the way she meets several interesting characters including the Scarecrow, the Tin Woodman, and the Cowardly Lion who join her on her travels to ask the Wizard for help of their own. The journey is not without peril though, as the Wicked Witch of the West, who wants revenge for the killing of her sister and to regain the magical Silver Shoes, unleashes numerous dangers against Dorothy and her companions. "The Wonderful Wizard of Oz" is a classic story of fantasy which is considered to be the first American fairy tale..
Beyond the Pond
by Joseph Kuefler [jP Kuefler]
A stunning picture book about the power of imagination, perfect for fans of Extra Yarn and Journey, from debut author-illustrator Joseph Kuefler.
Just behind an ordinary house
filled with too little fun,
Ernest D. decides that today will be the day he explores the depths of his pond.
Beyond the pond, he discovers a not-so-ordinary world that will change him forever.
The Magician's Nephew
by C.S. Lewis [j Lewis]
Narnia . . . a land frozen in eternal winter . . . a country waiting to be set free
Witness the creation of a magical land in The Magician's Nephew, the first title in C. S. Lewis's classic fantasy series, which has captivated readers of all ages for over sixty years.
On a daring quest to save a life, two friends are hurled into another world, where an evil sorceress seeks to enslave them. But then the lion Aslan's song weaves itself into the fabric of a new land, a land that will be known as Narnia. And in Narnia, all things are possible.
This is a stand-alone novel, but if you want to journey back to Narnia, read The Lion, the Witch and the Wardrobe, the second book in The Chronicles of Narnia.
Where the Wild Things Are
by Maurice Sendak [jP Sendak]
Where the Wild Things Are is fifty-five years old as of 2017! Maurice Sendak's Caldecott Medal-winning picture book has become one of the most highly acclaimed and best-loved children's books of all time. A must for every child's bookshelf.
Introduce a new generation to Max's imaginative journey with this special anniversary edition. Let the wild rumpus continue as this classic comes to life like never before with new reproductions of Maurice Sendak's artwork.
Astonishing state-of-the-art technology faithfully captures the color and detail of the original illustrations. Sendak himself enthusiastically endorsed this impressive new interpretation of his art before his death in 2012. This iconic story has inspired a movie, an opera, and the imagination of generations..
A Wrinkle in Time
by Madeline L'engle [j L'engle]
It was a dark and stormy night; Meg Murry, her small brother Charles Wallace, and her mother had come down to the kitchen for a midnight snack when they were upset by the arrival of a most disturbing stranger.
"Wild nights are my glory," the unearthly stranger told them. "I just got caught in a downdraft and blown off course. Let me sit down for a moment, and then I'll be on my way. Speaking of ways, by the way, there is such a thing as a tesseract."
A tesseract (in case the reader doesn't know) is a wrinkle in time. To tell more would rob the reader of the enjoyment of Miss L'Engle's unusual book. A Wrinkle in Time, winner of the Newbery Medal in 1963, is the story of the adventures in space and time of Meg, Charles Wallace, and Calvin O'Keefe (athlete, student, and one of the most popular boys in high school). They are in search of Meg's father, a scientist who disappeared while engaged in secret work for the government on the tesseract problem.
A Wrinkle in Time is the winner of the 1963 Newbery Medal.
Free Fall
by David Wiesner [jP Wiesner]
When he falls asleep with a book in his arms, a young boy dreams an amazing dream-about dragons, about castles, and about an unchartered, faraway land. And you can come along.
The Phantom Tollbooth
by Norton Just [j Juster]
For Milo, everything's a bore. When a tollbooth mysteriously appears in his room, he drives through only because he's got nothing better to do. But on the other side, things seem different. Milo visits the Island of Conclusions (you get there by jumping), learns about time from a ticking watchdog named Tock, and even embarks on a quest to rescue Rhyme and Reason! Somewhere along the way, Milo realizes something astonishing. Life is far from dull. In fact, it's exciting beyond his wildest dreams…
Zathura
by Chris VanAllsburg [jP VanAllsburg]
On the last page of the Caldecott-winning book Jumanji, young Danny Budwing is seen running after his brother, Walter, with a game tucked under his arm. Now after twenty years, Chris Van Allsburg is ready to reveal what happens when Danny and Walter roll the dice. This time the name of the game is Zathura and the battling Budwing boys are in for the ride of their lives.
Zathura unleashes intergalactic challenges that require even the quarreling Budwing brothers to work as a team.
Harry Potter and the Sorcerer's Stone
by J.K. Rowling [j Rowling]
Harry Potter has no idea how famous he is. That's because he's being raised by his miserable aunt and uncle who are terrified Harry will learn that he's really a wizard, just as his parents were. But everything changes when Harry is summoned to attend an infamous school for wizards, and he begins to discover some clues about his illustrious birthright. From the surprising way he is greeted by a lovable giant, to the unique curriculum and colorful faculty at his unusual school, Harry finds himself drawn deep inside a mystical world he never knew existed and closer to his own noble destiny.
Journey
by Aaron Becker [jP Becker]
A lonely girl draws a magic door on her bedroom wall and through it escapes into a world where wonder, adventure, and danger abound. Red marker in hand, she creates a boat, a balloon, and a flying carpet that carry her on a spectacular journey toward an uncertain destiny. When she is captured by a sinister emperor, only an act of tremendous courage and kindness can set her free. Can it also lead her home and to her heart's desire? With supple line, luminous color, and nimble flights of fancy, author-illustrator Aaron Becker launches an ordinary child on an extraordinary journey toward her greatest and most exciting adventure of all. First in a trilogy, followed by Quest and Return.
Created in partnership with the Lincoln Community Playhouse by ka/Gere Branch June 2019 | Modified for use on BookGuide by sdc/bmpl