At the beginning of 2017 Bennett Martin Public Library rearranged and added a Makerspace to our teen area. Along with the physical space, we also purchased kits to use for programs. Some of those kits consist of Lego Mindstorm, Dot & Dash, Connectagons, Ozobots, sewing machines, a green screen and some 3D Printers, among other things. After a summer full of planning we started hosting monthly programs in the Fall of 2017. Our programs all fit under 5 different Makerspace categories:
Arts & Crafts
Electrical & Computer
Educational Toys
Science Projects
Hardware & Power Tools
During our time preparing for our special programs, we've done a lot of research about what other libraries or schools are doing for programs. We've found dozens of websites and gleaned a lot of useful information from them. But, as librarians, we're always using books for research as well. The following is a list of books (and eBooks) about Makerspaces, and also some with ideas for what to do for public programs. We've divided them into the 5 categories that we use for our programming here at the Lincoln City Libraries, along with a category on Makerspaces in general.
Books on Makerspaces or Starting a Makerspace
Makerspaces: A Practical Guide for Librarians
by Burke, John J.
027 Bur
STEM Play: Integrating Inquiry Into Learning Centers
by Englehart, Deirdre
372.35 Eng
The Everything STEM HandBook: Help Your Child Learn and Succeed in the Fields of Science, Technology, Engineering, and Math
by Sawah, Rihab
372.35 Saw
The Art of Tinkering: Meet 150+ Makers Working at the Intersection of Art, Science & Technology
by Wilkinson, Karen
500 Wil
Tinkerlab: A Hands-On Guide for Little Inventors
by Doorley, Rachelle
600 Doo
Tinkering: Kids Learn by Making Stuff
by Gabrielson, Curt
620 Gab
The Big Book of Makerspace Projects: Inspiring Makers to Experiment, Create, and Learn
by Graves, Colleen
620 Gra
The Big Book of Maker Skills: Tools & Techniques for Building Great Tech Projects
by Hackett, Chris
620 Hac
The Maker's Manual: A Practical Guide to the New Industrial Revolution
by Maietta, Andrea
620 Mai
Makerspaces
by Roslund, Samantha
j620 Ros
The Maker Movement Manifesto: Rules for Innovation in the New World of Crafters, Hackers, and Tinkerers
by Hatch, Mark
658.406 Hat
Make Space: How to Set the Stage for Creative Collaboration
by Doorley, Scott
729 Doo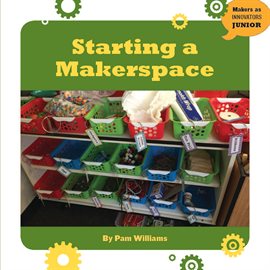 Starting a Makerspace
by Williams, Pam
Hoopla eBook
---
Arts & Crafts
Superhero Sewing: Playful, Easy-to-Sew and No-Sew Designs for Powering Kids' Big Adventures
by Huerta, Lane
646.478 Hue
Make: Props and Costume Armor: Create Realistic Science Fiction and Fantasy Weapons, Armor, and Accessories
by Thorsson, Shawn
646.478 Tho
The Steampunk Adventurer's Guide: Contraptions, Creations, and Curiosities Anyone Can Make
by Willeford, Thomas
646.48 Wil
Paper Panda's Guide to Papercutting
by Firchau, Louise
736.98 Fir
Made by Dad: 67 BluePrints for Making Cool Stuff — Projects You Can Build For (and With) Your Kids!
by Bedford, Scott
745.5 Bed
Screen-Free Crafts Kids Will Love: Hands-On Projects That Promote Learning
by Lilly, Lynn
745.5 Lil
Martha Stewart's Favorite Crafts for Kids: 175 Projects for Kids of All Ages to Create, Build, Design, Explore, and Share
by Martha Stewart Living Omnimedia
j745.5 Mar
Awesome Paper Projects You Can Create
by Ventura, Marne
j745.5 Ven
Amazing Recycled Projects You Can Create
by Ventura, Marne
j745.5 Ven
Cool Cardboard Projects You Can Create
by Ventura, Marne
j745.5 Ven
Incredible Duct Tape Projects You Can Create
by Ventura, Marne
j745.5 Ven
Playing With Pop-Ups: The Art of Dimensional, Moving Paper Designs
by Hiebert, Helen
745.54 Hie
Dad's Book of Awesome Projects: From Stilts and Super-Hero Capes to Tinker Boxes and Teeter-Totters, 25 + Fun Do-It-Yourself Projects for Families
by Adamick, Mike
745.59 Ada
Make Your Own Ideabook: Create Handmade Art Journals and Bound Keepsakes to Store Inspiration and Memories
by Nerjordet, Arne
745.593 Ner
Wen Redmond's Digital Fiber Art: Combine Photos & Fabric–Create Your Own Mixed-Media Masterpiece
by Redmond, Wen
751.491 Red
Big Book of Building: Duct tape, Paper, Cardboard, and Recycled Projects to Blast Away Boredom
by Ventura, Marne
jPB (Non-Fiction) Ventura
---
Electrical & Computer
Getting the Most Out of Makerspaces to Explore Arduino & Electronics
by Rauf, Don
j004.165 ArdYr
Understanding Coding With Lego WeDo
by Harris, Patricia
j005.133 LegYh
Learn to Program With Scratch: A Visual Introduction to Programming With Games, Art, Science, and Math
by Marji, Majed
j005.133 ScrYm
Help Your Kids With Computer Coding: A Unique Step-by-Step Visual Guide, From Binary Code to Building Games
by Vorderman, Carol
005.133 Vor
The Big Book of Maker Skills: Tools & Techniques for Building Great Tech Projects
by Hackett, Chris
620 Hac
Physical Computing and Makerspaces
by Leavitt, Amie Jane
j620 Lea
The Big Book of Hacks: 264 Amazing DIY Tech Projects
by Popular Science
620 Pop
Electric Mischief: Battery-Powered Gadgets Kids Can Build
by Bartholomew, Alan
j621.31 Bar
Electronics Projects for Dummies
by Boysen, Earl
621.381 Boy
Build Your Own Laser, Phaser, Ion Ray Gun: & Other Working Space-Age Projects
by Iannini, Robert E.
621.381 Ian
High-Tech DIY Projects With Electronics, Sensors, and LEDs
by Murphy, Maggie
j621.381 Mur
High-Tech DIY Projects With Microcontrollers
by Murphy, Maggie
j621.381 Mur
Make: Electronics
by Platt, Charles
621.381 Pla
High-Tech DIY Projects With Flying Objects
by Murphy, Maggie
j621.435 Mur
Fabricated: The New World of 3D Printing
by Lipson, Hod
621.988 Lip
Getting the Most Out of Makerspaces to Create With 3-D Printers
by Petrikowski, Nicki Peter
j621.988 Pet
High-Tech DIY Projects With 3D Printing
by Murphy, Maggie
j621.998 Mur
Build a Drone: A Sep-by-Step Guide to Designing, Constructing, and Flying Your Very Own Drone
by Davies, Barry
629.133 Dav
Build Your Own Electric Bicycle
by Slinn, Matthew
629.227 Sli
Getting the Most Out of Makerspaces to Build Robots
by Cohen, Jacob
j629.892 Coh
Understanding Coding With Lego Mindstorms
by Harris, Patricia
j629.892 Har
Robots, Androids, and Animatrons: 12 Incredible Projects You Can Build
by Iovine, John
629.892 Iov
High-Tech DIY Projects With Robotics
by Murphy, Maggie
j629.892 Mur
Make: Wearable Electronics
by Hartman, Kate
646.43 Har
DIY Solar Projects: Small Projects to Whole-Home Systems: Tap Into the Sun
by Smith, Eric W.
697.78 Smi
High-Tech DIY Projects With Musical Instruments
by Murphy, Maggie
j784.19 Mur
Understanding Coding With Minecraft
by Harris, Patricia
j793.93 Har
The Big Book of Building, Mods & Circuits
by Talley, Trevor
793.93 Tal
---
Educational Toys
Make: Fun!: Create Your Own Toys, Games, and Amusements
by Knetzger, Bob
620 Kne
Building With Virtual LEGO: Getting Started With LEGO Digital Designer, ldraw, and Mecabricks
by Baichtal, John
629.892 Bai
Getting to Know Lego Mindstorms
by Shea, Therese
j629.892 She
Cool Doughs, Putties, Slimes & Goops: Crafting Creative Toys & Amazing Games
by Felix, Rebecca
j745.5 Fel
See-Me-Learn Toys
by Geiger, Jennifer
745.592 Gei
Storybook Toys: Sew 16 Projects From Once Upon a Time – Dolls, Puppets, Softies & More
by Hamor, Jill
745.592 Ham
Picture Puzzles
by Godwin, Edward X.
j793.73 God
Logic Puzzles
by Godwin, Edward X.
j793.74 God
Awesome LEGO Creations With Bricks You Already Have: 50 New Robots, Dragons, Race Cars, Planes, Wild Animals and Other Exciting Projects to Build Imaginative Worlds
by Dees, Sarah
jPB (Non-Fiction) Dees
Build It! Things That Float: Make Supercool Models With Your Lego Classic Set
by Kemmeter, Jennifer
jPB (Non-Fiction) Kemetter
Build It! Things That Fly: Make Supercool Models With Your Lego Classic Set
by Kemmeter, Jennifer
jPB (Non-Fiction) Kemetter
Build It! Things That Go: Make Supercool Models With Your Lego Classic Set
by Kemmeter, Jennifer
jPB (Non-Fiction) Kemetter
---
Science Projects
Super Simple Experiments With Electricity: Fun and Innovative Science Projects
by Polinsky, Paige V.
j507 Pol
Super Simple Experiments With Elements: Fun and Innovative Science Projects
by Polinsky, Paige V.
j507 Pol
Super Simple Experiments With Forces: Fun and Innovative Science Projects
by Polinsky, Paige V.
j507 Pol
Super Simple Experiments With Heat and Cold: Fun and Innovative Science Projects
by Polinsky, Paige V.
j507 Pol
Super Simple Experiments With Light and Color: Fun and Innovative Science Projects
by Polinsky, Paige V.
j507 Pol
Super Simple Experiments With Mass: Fun and Innovative Science Projects
by Polinsky, Paige V.
j507 Pol
Edible Science: Experiments You Can Eat
by Wheeler-Toppen, Jodi
j507 Whe
Dad's Book of Awesome Science Experiments: From Boiling Ice and Exploring Soap to Erupting Volcanoes and Launching Rockets, 30 Inventive Experiments to Excite the Whole Family!
by Adamick, Mike
507.8 Ada
Fire Bubbles and Exploding Toothpaste: More Unforgettable Experiments That Make Science Fun
by Spangler, Steve
j507.8 Spa
Try This!: 50 Fun Experiments for the Mad Scientist in You
by Young, Karen Romano
j507.8 You
The Kids' Book of Weather Forecasting: Build a Weather Station, "Read" the Sky & Make Predictions
by Breen, Mark
j551.63 Bre
15 Dangerously Mad Projects for the Evil Genius
by Monk, Simon
621.381 Mon
Maker Dad: Lunch Box Guitars, Antigravity Jars, and 22 Other Incredibly Cool Father-Daughter DIY Projects
by Frauenfelder, Mark
745.59 Fra
---
Hardware & Power Tools
Workshop Mastery With Jimmy Diresta: A Guide to Working With Metal, Wood, Plastic, and Leather
by DiResta, Jimmy
620 Dir
Getting Started in Pinewood Derby: Step-by-Step Workbook to Building Your First Car!
by Thorne, Troy
j629.221 Tho
The Useful Book: 201 Life Skills They Used to Teach in Home Ec and Shop
by Bowers, Sharon
640 Bow
100 Weekend Projects Anyone Can Do: Easy, Practical Projects Using Basic Tools and Standard Materials
643.7 One
Build Stuff With Wood: Make Awesome Projects With Basic Tools
by Christiana, Ana
684.08 Chr
The Kids' Building Workshop: 15 Woodworking Projects for Kids and Parents to Build Together
by Robertson, J. Craig.
j684.08 Rob
DIY Industrial Pipe Furniture & Decor: Creative Projects for Every Room of Your Home
by Angus, James (Set designer),
684.1 Ang
Hand-Built Outdoor Furniture: 20 Step-by-Step Projects Anyone Can Build
by Jackson, Katie
684.1 Jac
The Handbuilt Home: 34 Simple, Stylish & Budget-Friendly Woodworking Projects for Every Room
by White, Ana
684.1 Whi
Fun Family Projects: (15 Great Ideas That Mom, Dad, and Kids Can Build and Enjoy)
by This Old House Books
684.18 Thi
Compiled for the web December 2017 cr / last updated December 2017 cr/sdc