A list of works by Nebraska author
Lorraine "Margaret" Keilstrup (a.k.a. M.K. Lorens, a.k.a. Margaret Lawrence)
Lorraine "Margaret" Keilstrup was born on February 23, 1945. She attended Fremont Public Schools, where she graduated as Valedictorian. Margaret graduated summa cum laude from Midland Lutheran College (now Midland University) in 1967. She was a Woodrow Wilson Fellow, and earned both Master of Arts and Doctor of Philosophy degrees from the University of Nebraska-Lincoln.
She taught at Fort Hays State College in Fort Hays, KS and at The University of Nebraska-Lincoln, during which time she won several writing competitions and had plays produced locally and in New York City, including a reading in the prestigious New York Shakespeare Festival. She gave up teaching to pursue writing full-time, first as a playwright in New York City. Her first produced play, "Holding On", was actually performed in New York City while she was still teaching full-time, and she was unable to see it on stage. Her second play, "The Passion of Martin Crown," won a prize from the Omaha Community Playhouse, where it was performed. Her play "Wonderland", about a small Nebraska town that creates a huge amusement park, was a 1981-82 finalist in the international Susan Smith Blackburn Prize for Best Play in English by a Woman Dramatist, and was produced and performed by the Hudson Guild in New York City.
She briefly wrote for television, with at least one episode of the CBS suspense/thriller series The Equalizer, however she was so disappointed in the changes that were made to her script for the 1988 episode "Riding the Elephant" that she first used her pseudonym of M.K. Lorens for her on-screen credit. Around 1990, she returned to Fremont, NE to care for ailing relatives, and remained there for the rest of her life, in an ancestral home that had been in her family for over 120 years — the oldest house in Fremont continuously occupied by the original family. She wrote the screenplay for a TV-movie produced by Nebraska Educational Television, "The Malady", which was filmed in various locations in eastern Nebraska.
Following her return to Fremont, she mainly focused on writing novels, first with five volumes in the mystery series featuring Winston Marlowe Sherman, a small-town, portly English professor who writes mystery and romance novels under a female pseudonym. A sixth Winston Sherman novel, The Very Dead of Winter, was mentioned by Keilstrup in an interview, and she gave a reading from it during a Lincoln City Libraries Heritage Room program, but it was apparently never published. She followed the Sherman series with three historical fiction novels featuring Hannah Trevor, a midwife in Rufford, Maine, just after the War of Independence. Her final two published novels were stand-alones, The Iceweaver and Roanoke: A Novel of Elizabethan Intrigue. She also published poems and short stories. Her novels were published in the U.S. by Bantam Doubleday Dell, Morrow/Avon and Random House. Her UK publisher was Macmillan, and her works were translated for distribution in Denmark, Sweden, the Netherlands, Germany, the Czech Republic and Japan.
Keilstrup was a thorough researcher, often taking months to make sure the details in her novels were accurate. In addition to English, she was fluent in Danish, German, Spanish and French. She sang, and played the piano, even composing some folk songs. She was an active needleworker and also quilted. She loved gardening, and the flower garden at her family home contained her grandmother's roses and poppies, first planted from seeds brought from Flanders Field after World War I. She was also fascinated with the art form known as Danish paper cutting, even putting out a book on the subject, Elegant Designs for Paper Cutting, the last of her known professional publications.
Margaret Keilstrup also wrote under several aliases, including M.K. Lorens, and Margaret Lawrence. Her most well-known pseudonym, M.K. Lorens uses M.K. from her own initials, and the Dutch spelling of her father's name, Lawrence.
Margaret Keilstrup passed away on January 8, 2012. She is buried in Ridge Cemetery in Fremont, Nebraska.
(Photo used above accompanied Keilstrup's obituary in the Fremont paper and on her funeral home's online memorial.)
Books written by Lorraine "Margaret" Keilstrup
Sweet Narcissus [Lorens] [1989]
Winston Marlowe Sherman, vol. 1
Written as by M.K. Lorens
Ropedancer's Fall [Lorens] [1990]
Winston Marlowe Sherman, vol. 2
Written as by M.K. Lorens
Deception Island [Lorens] [1990]
Winston Marlowe Sherman, vol. 3
Written as by M.K. Lorens
Dreamland [Lorens] [1992]
Winston Marlowe Sherman, vol. 4
Written as by M.K. Lorens
Sorrowheart [Lorens] [1993]
Winston Marlowe Sherman, vol. 5
Written as by M.K. Lorens
Hearts and Bones [Lawrence] [1996]
Hannah Trevor, vol 1.
Written as by Margaret Lawrence
Finalist for the 1996 Agatha Award for Best Novel
Finalist for the 1997 Anthony Award for Best Mystery
Finalist for the 1997 Barry Award for Best Novel
Finalist for the 1997 Edgar Award for Best Mystery
Finalist for the 1997 Macavity Award for Best Novel
Finalist for the 1997 Dilys Award
Blood Red Roses [Lawrence] [1997]
Hannah Trevor, vol 2.
Written as by Margaret Lawrence
The Burning Bride [Lawrence] [1998]
Hannah Trevor, vol 3.
Written as by Margaret Lawrence
Iceweaver [2000] [YEAR]
Written as by Margaret Lawrence
Roanoke: A Novel of Elizabethan Intrigue [Lawrence] [2009]
Written as by Margaret Lawrence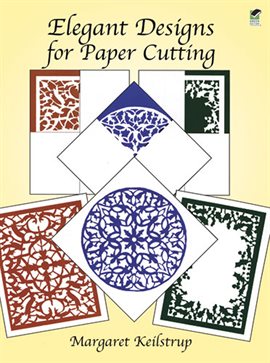 Elegant Designs for Paper Cutting [Hoopla] [2011]
Written as by Margaret Keilstrup
This page added to the BookGuide site in July 2018 sdc — Last updated July 2018 sdc