The novels of Nebraska fantasy author
Terry Goodkind
Terry Goodkind was born in 1948 and raised in Omaha, NE. Following a childhood plagued by the social stigma and educational difficulties of the learning disorder dyslexia, Goodkind chose to drop out of college fairly early on. His career path took him to numerous jobs, including carpenter, violin-maker, hypnotherapist, wildlife artist, and restorer of rare and exotic artifacts and/or antiques. Though born and raised in Nebraska, Goodkind and his wife, Jeri, have settled into homes on an island off the coast of Maine, and at Boulder City, Nevada.
Goodkind's writing career began in his 40s, as he started his long-running Sword of Truth saga. The first volume in that series, Wizard's First Rule, was sold at auction in 1994 for more than six times the record price ever paid for a first fantasy novel at that time. All volumes in the series have gone on to become both U.S. and international bestsellers.
Terry Goodkind passed away on September 17, 2020, at his home in Boulder City, NV. At the time of his passing, his Sword of Truth series included 17 volumes, as well as several books outside that fantasy series.
Additional information about Terry Goodkind can be found at the following Web sites:
---
Wizard's First Rule
(1994)
Book One of The Sword of Truth saga
Stone of Tears
(1995)
Book Two of The Sword of Truth saga
Blood of the Fold
(1996)
Book Three of The Sword of Truth saga
Temple of the Winds
(1997)
Book Four of The Sword of Truth saga
Legends: Short Novels by the Masters of Modern Fantasy (anthology)
(1998)
Contains the Terry Goodkind novella, "Debt of Bones", a part of the Sword of Truth saga, later expanded into a full-length novel in 2001
Soul of the Fire
(1999)
Book Five of The Sword of Truth saga
Faith of the Fallen
(2000)
Book Six of The Sword of Truth saga
The Pillars of Creation
(2001)
Book Seven of The Sword of Truth saga
Debt of Bones
(2001)
Prequel to The Sword of Truth saga
An expanded version of the novella that originally appeared in 1998
Naked Empire
(2003)
Book Eight of The Sword of Truth saga
Chainfire
(2005)
Book Nine of The Sword of Truth saga
Volume 1 of the Chainfire trilogy
Phantom
(2006)
Book Ten of The Sword of Truth saga
Volume 2 of the Chainfire trilogy
Confessor
(2007)
Book Eleven of The Sword of Truth saga
Volume 3 of the Chainfire trilogy
The Law of Nines
(2009)
Stand-alone title
The Omen Machine
(2011)
Book Twelve of The Sword of Truth saga / Also Book One of Richard and Kahlen
The First Confessor
(2012)
Prequel to The Sword of Truth Saga
The Third Kingdom
(2013)
Book Thirteen of The Sword of Truth saga / Also Book Two of Richard and Kahlen
Severed Souls
(2014)
Book Fourteen of The Sword of Truth saga / Also Book Three of Richard and Kahlen
Warheart
(2015)
Book Fifteen of The Sword of Truth saga / Also Book Four of Richard and Kahlen
Nest
(2016)
Stand-alone title
Death's Mistress
(2017)
Book One of the Nicci Chronicles
Shroud of Eternity
(2017)
Book Two of the Nicci Chronicles
The Girl in the Moon
(2018)
Book One in the Angela Constantine series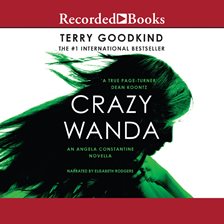 Crazy Wanda
(2018)
Novella associated with the Angela Constantine series
Siege of Stone
(2018)
Book Three of the Nicci Chronicles
The Scribbly Man
(2019)
A novella in the Richard and Kahlen series / Also Book One in the Children of D'Hara series
Hateful Things
(2019)
A novella in the Richard and Kahlen series / Also Book Two in the Children of D'Hara series
Wasteland
(2019)
A novella in the Richard and Kahlen series / Also Book Three in the Children of D'Hara series
Heart of Black Ice
(2020)
Book Three of the Nicci Chronicles
Witch's Oath
(2020)
A novella in the Richard and Kahlen series / Also Book Four in the Children of D'Hara series
Into Darkness
(2020)
A novella in the Richard and Kahlen series / Also Book Five in the Children of D'Hara series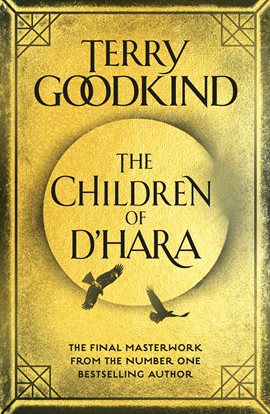 Children of D'Hara
(2021)
Compilation of all the Children of D'Hara novellas above
Legend of the Seeker
(2018)
Season One: 2008-2009
Legend of the Seeker
(2018)
Season Two: 2009-2010
Posted March 2006 sdc / last updated May 2023 sdc