It's the season of monsters, mischief, and morosity — the twisted, creepy, and otherwordly take center stage as we don our favorite costumes and pretend to be something more than ourselves for one night. But that's just a normal Thursday at your local drag show. It's no secret that those of us in the LGBTQ+ community love celebrating ourselves — our identities as social and cultural "others" have long been used against us, but we reclaim that otherness with a sense of pride. June is recognized as Pride month, but there's no reason to contain our celebration of pride to one month — we can celebrate all year long, and October is no exception. So, to help you get in the spirit (or spirits, ghosts, vampires…), here's 10 LGBTQ+ horror novels to haunt your dreams and your to-be-read shelves.
---
The Drowning Girl
by Caitlin Kiernan
(not currently in the Lincoln City Libraries' collection but we have several others by this same author — see Caitlin Kiernan link for a list)
India Morgan Phelps — Imp to her friends — is schizophrenic. She can no longer trust her own mind, because she is convinced that her memories have somehow betrayed her, forcing her to question her very identity. Struggling with her perception of reality, Imp must uncover the truth about an encounter with a vicious siren, or a helpless wolf that came to her as a feral girl, or neither of these things but something far, far stranger…
Caitlin Kiernan is a masterful author of gothic fiction, invoking dream-like prose that makes you question the reality of the book and the reality of yourself. Dark and introspective, The Drowning Girl is a book with hauntings and horror, but still gives voice to a schizophrenic protagonist with empathy and without cheapening the impact of mental illness.
Her Body and Other Parties
by Carman Maria Machado (Machado)
A wife refuses her husband's entreaties to remove the green ribbon from around her neck. A woman recounts her sexual encounters as a plague slowly consumes humanity. A salesclerk in a mall makes a horrifying discovery within the seams of the store's prom dresses. One woman's surgery-induced weight loss results in an unwanted house guest. And in the bravura novella "Especially Heinous," Machado reimagines every episode of Law & Order: Special Victims Unit, a show we naively assumed had shown it all, generating a phantasmagoric police procedural full of doppelgangers, ghosts, and girls with bells for eyes.
Her Body and Other Parties is an anthology of horror short stories, each as devilishly terrifying and unsettling as the last. A masterwork of queer, feminist horror, Machado intricately weaves together the daily horrors of womanhood with the brutal complexities of personhood and identity, all while maintaining a clever (if dark) humor in a shocking compilation of modern horror.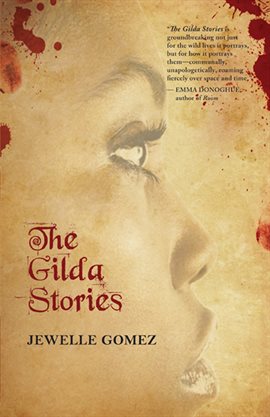 The Gilda Stories
by Jewelle Gomez (eBook only)
Escaping from slavery in the 1850s Gilda's longing for kinship and community grows over two hundred years. Her induction into a family of benevolent vampyres takes her on an adventurous and dangerous journey full of loud laughter and subtle terror.
A classic of queer horror, The Gilda Stories is a lesbian vampire epic and spiritual successor to Carmilla in more ways than one. Compelling, fierce, and as unapologetic as it is gory, Jewelle Gomez delivers an instant cult classic.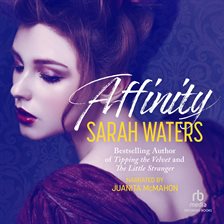 Affinity
by Sarah Waters (eAudiobook only)
An upper-class woman recovering from a suicide attempt, Margaret Prior has begun visiting the women's ward of Millbank prison, Victorian London's grimmest jail, as part of her rehabilitative charity work. Amongst Millbank's murderers and common thieves, Margaret finds herself increasingly fascinated by an apparently innocent inmate, the enigmatic spiritualist Selina Dawes. Selina was imprisoned after a séance she was conducting went horribly awry, leaving an elderly matron dead and a young woman deeply disturbed. Although initially skeptical of Selina's gifts, Margaret is soon drawn into a twilight world of ghosts and shadows, unruly spirits and unseemly passions, until she is at last driven to concoct a desperate plot to secure Selina's freedom, and her own. 
Sarah Waters is known for her turn of the century lesbian mysteries and thrillers, and Affinity is no exception. Set within the back drop of a grimy, dark Victorian London, Waters draws inspiration from the spiritualist movement and the brutality of 19th century criminal justice – or what passes for justice, anyways. Blurring the line between the supernatural and the terrifyingly real, Affinity pulls aside the veil on a world of intriguing mystery and unsettling spirits.
Wilder Girls
by Rory Power (YA Power)
It started slow. First the teachers died one by one. Then it began to infect the students, turning their bodies strange and foreign. Now, cut off from the rest of the world and left to fend for themselves on their island home, the girls don't dare wander outside the school's fence, where the Tox has made the woods wild and dangerous. They wait for the cure they were promised as the Tox seeps into everything.
While we might all be sick (no pun intended) of plague fiction in October 2021, Wilder Girls is worth the read. In the isolated environment of an all-girls school on an isolated island, the body-mutating Pox takes the students slowly and gruesomely. Combining body horror, survival horror, and dystopia with tender moments of devoted love, Rory Powers delivers a thrilling story you won't be able to put down until you're finished.
Sawkill Girls
by Claire Legrand (YA Legrand)
The stories of three girls come together on the island of Sawkill Rock, where gleaming horses graze in rolling pastures and cold waves crash against black cliffs. Where kids whisper the legend of an insidious monster at parties and around campfires.
Where girls have been disappearing for decades, stolen away by a ravenous evil no one has dared to fight… until now. 
Sawkill Girls is the queer, young adult horror you've been waiting for. Moody and atmospheric, Claire Legrand transports you into the unsettling and dark setting she has masterfully crafted…and there's no escape. Utilizing all the best elements of horror, from brutal deaths and mangled bodies to jump scares and night stalking monsters, Sawkill Girls is, to quote another reviewer, "sharp as a dagger and cold as a corpse."
Sorrowland
by Rivers Solomon (Solomon)
Vern – seven months pregnant and desperate to escape the strict religious compound where she was raised – flees for the shelter of the woods. There, she gives birth to twins, and plans to raise them far from the influence of the outside world.
But even in the forest, Vern is a hunted woman. Forced to fight back against the community that refuses to let her go, she unleashes incredible brutality far beyond what a person should be capable of, her body wracked by inexplicable and uncanny changes.
Rivers Solomon is known for their genre-bending, lusciously written prose and Sorrowland is no exception. A gothic masterpiece, Sorrowland explores religious trauma, personhood, and is an unflinching expose on the brutal and dark history of racial violence in America. While not necessarily an easy read, Sorrowland will consume you – heart and mind – and lay you bare.
Blood Countess
by Lana Popovic (YA Popovic)
In 16th century Hungary, Anna Darvulia has just begun working as a scullery maid for the young and glamorous Countess Elizabeth Báthory. When Elizabeth takes a liking to Anna, she's vaulted to the dream role of chambermaid, a far cry from the filthy servants' quarters below. She receives wages generous enough to provide for her family, and the Countess begins to groom Anna as her friend and confidante. It's not long before Anna falls completely under the Countess's spell — and the Countess takes full advantage. Isolated from her former friends, family, and fiancé, Anna realizes she's not a friend but a prisoner of the increasingly cruel Elizabeth. Then come the murders, and Anna knows it's only a matter of time before the Blood Countess turns on her, too. 
If you're a fan of vampires, murderesses, or historical horror stories, chances are you've heard of Elizabeth Báthory before – the cruel, sadistic countess who bathed in the blood of her victims to gain eternal youth. Lana Popovic certainly has and has done her research, as evidenced by the rich historical backdrop to the chilling dark fairy tale. The naivete of the protagonist is quickly challenged, and the twisted psyche of Báthory herself is slowly revealed in bloody, disturbing detail. As much a psychological thriller as it is historical horror, Blood Countess will leave you terrified and desperate for more.
The Taking of Jake Livingston
by Ryan Douglass (YA Douglass)
Jake Livingston is one of the only Black kids at St. Clair Prep, one of the others being his infinitely more popular older brother. It's hard enough fitting in but to make matters worse and definitely more complicated, Jake can see the dead. In fact he sees the dead around him all the time. Most are harmless. Stuck in their death loops as they relive their deaths over and over again, they don't interact often with people. But then Jake meets Sawyer. A troubled teen who shot and killed six kids at a local high school last year before taking his own life. Now a powerful, vengeful ghost, he has plans for his afterlife – plans that include Jake. Suddenly, everything Jake knows about ghosts and the rules to life itself go out the window as Sawyer begins haunting him and bodies turn up in his neighborhood. High school soon becomes a survival game – one Jake is not sure he's going to win.
Though not as viscerally horrific as other stories on this list, The Taking of Jake Livingston is a powerful debut featuring a queer Black protagonist and doesn't shy away from the realities that entails – racism, homophobia, and mental illness are all present forces in this book that create the foundation for the supernatural horror of the plot. Thoughtful characterization and a slow burn romance come together to elevate a ghost story like you've never read before.
White is For Witching
by Helen Oyeyemi (Oyeyemi)
In a vast, mysterious house on the cliffs near Dover, the Silver family is reeling from the hole punched into its heart. Lily is gone and her twins, Miranda and Eliot, and her husband, the gentle Luc, mourn her absence with unspoken intensity. All is not well with the house, either, which creaks and grumbles and malignly confuses visitors in its mazey rooms, forcing winter apples in the garden when the branches should be bare. Generations of women inhabit its walls. And Miranda, with her new appetite for chalk and her keen sense for spirits, is more attuned to them than she is to her brother and father. She is leaving them slowly – Slipping away from them –
And when one dark night she vanishes entirely, the survivors are left to tell her story.
Helen Oyeyemi has used her distinct voice to create a dreamlike, surreal novel full of all the ghosts – both supernatural and internal- that you'd expect in a haunted house story. But when the house itself is a narrator, the way the story unfolds is strange, unique, and illogical in a way that makes you twist your brain to find out. Unsettling and uncomfortable in all the right ways, White is For Witching gives you a strange nightmare stretching generations. If you're a fan of The Haunting of Hill House, then you should definitely add this book to your list.
Added to BookGuide in Oct 2021 | LG