A list of works by Nebraska mystery author
Sean Doolittle
Sean Doolittle grew up in southeastern Nebraska, graduating from Norris High School. His first novel, Dirt [2001], was chosen as one of the "100 Best Books of 2005" by the editors of Amazon.com, and his second novel, Burn [2003], was the winner of the gold medal in the mystery category of ForeWord Magazine's 2003 Book of the Year award. His latest novel is Lake Country [2012].
Doolittle's earliest publishing success came in the form of short stories, with his first published story appearing in 1991, in the now-defunct Cavalier magazine. Many of his early short stories fell into the "horror" genre. His short fiction has appeared in numerous publications, including the 2002 volume of The Year's Best Mystery Stories (James Ellroy, guest editor). He lives in western Iowa with his family. 
(Additional information about Sean Doolittle can be found at the following Web sites:)
Dirt
(2001)
It's a clear autumn L.A. morning and professional loafer Quince Bishop is sitting in the front row of his best friend's funeral, when a band of guerrilla environmentalists crash the ceremony to deliver a lecture on the high cost of dying in America. One violent impulse later, Quince finds himself up to his waist in dirt…and he hasn't even begun to dig himself a hole.
Doolittle's premiere novel was named one of the 100 Best Books of 2001 by the editors at Amazon.com, and a Book of the Day at BookSense.com.
Burn
(2003)
It's the middle of a sweltering late-summer heat wave in Los Angeles. In the nearby mountains, a seasonal wildfire burns out of control. If not for this fire, authorities might never have discovered wreckage of an Alfa Romeo convertible — or the body of the car's driver — in the dense underbrush at the bottom of Topanga Canyon. But when firefighters happen across the crash site while battling the nearby blaze, it's only a matter of time and basic forensics before the apparent accident is upgraded to homicide.
Winner of the Barry Award for Best Paperback Original.
Rain Dogs
(2005)
It was one hell of an inheritance for former Chicago reporter Tom Coleman: a broken-down pickup truck, ramshackle campground, a canoe livery — and one pot-smoking, barely working employee he doesn't need, doesn't want, and can't afford. But the truth is, after losing a child and a marriage, Tom doesn't really care. And life is nice and quiet in the middle of nowhere. Until a drug lab blows up near his property — putting Tom in contact with the woman he once loved, a small-town cop with a chip on his shoulder, and a powerful local who doesn't want him poking his nose where it doesn't belong.
The Cleanup
(2006)
Busted to night patrol at a robbery-prone Omaha supermarket, Matthew Worth is doing time, wearing his uniform, and asking shoppers if they want paper or plastic. If that isn't enough, he suspects he might be falling for Gwen, the shy checkout girl who may be an even bigger mess than he is. When Gwen comes to him one night scared and desperate for help, Worth discovers just how far he's willing to go to protect and serve.
Safer
(2009)
In Safer, a young couple moves into an idyllic little cul-de- sac — and ignites a harrowing journey into darkness as a shocking accusation is made, a family is shattered, and the mystery of a long-ago crime begins to unravel.
Lake Country
(2012)
After Mike Barlowe's friend — Darryl Potter, a fellow ex-Marine combat veteran — kidnaps the daughter of a man who killed Darryl's friend in a hit-and-run, it is up to Mike to stop his friend before he does something he truly regrets, but a news reporter, the police and a bounty hunter begin to complicate things.
Winner of the International Thriller Writers Award for Best Paperback Original.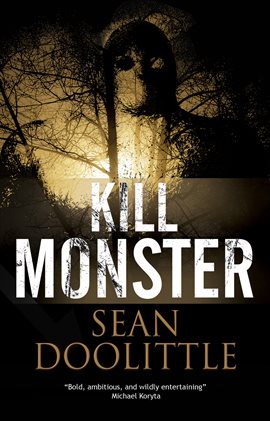 Kill Monster
(2019) (released originally as an audiobook via "Audible" — subsequently released in hardback and paperback editions)
When treasure hunters excavate the long-lost wreck of the Steamship Arcadia from a Kansas cornfield, a buried creature awakens — a mindless brute made of accursed earth, shaped like a man, but in no way mortal. A century and a half after its creation, the creature's sole mission resumes: to assassinate a savage pro-Confederate guerilla commander wreaking havoc on the frontier.
The target, of course, is long dead. But his closest surviving descendant—a 39-year-old corporate IT burnout named Ben Middleton — is still available. Ben Middleton's life hasn't exactly gone according to plan, but no experience could have prepared him for the soulless horror now shambling his way. And that's not even his biggest problem.
Because there's one last stop in Bloody Bill's bloodline: Ben's teenage son, Charley. Ben would do anything to protect Charley, if he doesn't strangle the kid himself first. To do that, he must enlist the help of his fellow nerds from First Floor IT, his ex-wife, and mysterious Anabeth Glass from the marketing department. They're up against a supernatural arms dealer with ties to known terrorist cells, a council of mystic overseers, state and local police, Ben's manager at work, and—last but certainly not least — a 150-year-old mud monster with no "Off" switch. If all that weren't enough, his 40th birthday is right around the corner.
Device Free Weekend
(2023)
Ryan Cloverhill, founder and CEO of the world's most popular social media platform, invites his six best friends from college to his home on his private island near Puget Sound. For Stephen, Emma, Perry, Will, Beau, and Lainie, day one is just what the doctor ordered: amazing food, many drinks, lots of laughter, and a sunset cruise around the island aboard their host's custom Van Dutch 55. Day two, however, takes a bewildering turn when the six hungover guests wake up to find that their host has disappeared, along with all connection to the mainland. A touchscreen tablet of unknown make awaits them, blatantly defying the rules of the weekend with its on-screen challenge: Unlock Me! The passcode to the tablet is hidden somewhere in the group's shared history. But what seems at first like just another silly game turns deadly serious when the group discovers what unlocking the tablet really means. Is it the key to their futures, a Pandora's box none of them will ever be able to close, or both? Only one thing is clear: their old friend Ryan has something unthinkable planned. Now it's up to the six of them to stop him. And when this weekend is over, the world will never be the same.
Additional Sean Doolittle material in the libraries' collection
Sean Doolittle Author
(DVD 813 Doo) (Also available for viewing on the library's YouTube at this link)
(2008)
An April 17, 2008 appearance by Sean Doolittle in the Heritage Room of Nebraska Author's John H. Ames Reading series, in which he gives a reading from his novel and answers some questions from the audience.
posted to the web March 2006 sdc / last updated May 2023 sdc