The Gilded Age was a period of American history, generally covering the era from the late-1870s to the late-1890s, though some scholars consider its beginnings to overlap with the last few years of the post-Civil War Reconstruction period (which ended in 1877), and some consider the basic trends of the Gilded Age to have to continued all the way to the start of World War I in 1917. The phrase "The Gilded Age" comes from one of Mark Twain's lesser-known novels, written with Charles Dudley Warner, The Gilded Age: A Tale of Today (1873). In that novel, the phrase was used in a satirical fashion, to describe an era of serious social problems, masked by a thin gold "gilding" of economic expansion.
This period in history was, indeed, one of rapid economic growth, especially in the northern states and the rapidly expanding settled portions of the American West. Massive growth in the country lead to increasing industrialization, and more and more fields of employment requiring a larger work force — therefore the United States saw a huge influx of millions of European immigrants. Despite two short economic depressions (in both 1873 and 1893), this was a period of escalating wealth but also great wealth disparity, between the "captains of industry" and "robber barons", and great class of laborers and common people. The economic titans were mainly found in the steel, petroleum and transportation (railroad) industries, and featured such significant figures in American society as John D. Rockefeller, Andrew Carnegie, Cornelius Vanderbilt, Leland Stanford and J.P. Morgan.
In the 1920s and 1930s, historians looking to identify the specific periods of recent American history began to use the term "The Gilded Age" as a legitimate description of the aforementioned time period. For many of them, though it was something of a pejorative terms, describing materialistic excesses at the same time as issues associated with extreme poverty, the terminology caught on, and has remained in common usage until today.
Following the smash success of his TV series and movie follow-ups entitled Downton Abbey (2010-2015, 2019, 2022), writer/producer/director Julian Fellowes launched his new series, The Gilded Age, on the HBO cable network in January 2022. This booklist was inspired by the immediate popularity of that series, and subsequent interest in that time period!
---
The Gilded Age — Biographies
When the Astors Owned New York: Blue Bloods and Grand Hotels in a Gilded Age (2006)
by Justin Kaplan (B AS9k)
Empty Mansions: The Mysterious Life of Huguette Clark and the Spending of a Great American Fortune (2013)
by Bill Dedman and Paul Clark Newell Jr. (Biography Clark)
The Millionaire and the Mummies: Theodore Davis's Gilded Age in the Valley of the Kings (2013)
by John M. Adams (Biography Davis)
The Murder of Jim Fisk for the Love of Josie Mansfield: A Tragedy of the Gilded Age (2011)
by H.W. Brands (Biography Fisk)
The Richest Woman in America: Hetty Green in the Gilded Age (2012)
by Janet Wallach (Biography Green)
The Inventor and the Tycoon: A Gilded Age Murder and the Birth of Moving Pictures (2013)
by Edward Ball (Biography Muybridge)
Bringing Down the Colonel: A Sex Scandal of the Gilded Age, and the "Powerless" Woman Who Took on Washington (2018)
by Patricia Miller (Biography Pollard)
Emily Post: Daughter of the Gilded Age, Mistress of American Manners (2008)
by Laura Claridge (Biography Post)
The Vanderbilt Era: Profiles of a Gilded Age (1989)
by Louis Auschincloss (B V2785a)
The First Tycoon: The Epic Life of Cornelius Vanderbilt (2009)
by T.J. Stiles (Hoopla E-book)
A Disposition to Be Rich: Ferdinand Ward, the Greatest Swindler of the Gilded Age (2013)
by Geoffrey C. Ward (Biography Ward)
---
The Gilded Age — Non-Fiction
Sensational: The Hidden History of America's "Girl Stunt Reporters" (2021)
by Kim Todd (071 Tod)
Banquet at Delmonico's: Great Minds, the Gilded Age, and the Triumph of Evolution in America (2009)
by Barry Werth (303.409 Wer)
Passing Strange: A Gilded Age Tale of Love and Deception Across the Color Line (2009)
by Martha A. Sandweiss (305.896 San)
The Givers: Wealth, Power, and Philanthropy in a New Gilded Age (2017)
by David Callahan (361.74 Cal)
The Murder of the Century: the Gilded Age Crime That Scandalized a City and Sparked the Tabloid Wars (2011)
by Paul Collins (364.152 Col)
The Architect of Desire: Beauty and Danger in the Stanford White Family (1996)
by Suzannah Lessard (364.152 Les)
After the Ball: Gilded Age Secrets, Boardroom Betrayals, and the Party That Ignited the Great Wall Street Scandal of 1905 (2003)
by Patricia Beard (368.32 EquYb)
Music of the Gilded Age (2007)
by John Ogasapian (Music 780.973 Oga)
American Politics in the Gilded Age, 1868-1900 (1997)
by Robert W. Cherny (Heritage 973.8 CHE)
Gilded City: Scandal and Sensation in Turn-of-the-Century New York (2000)
by M.H. Dunlop (974.71 Dun)
Mrs. Astor's New York: Money and Social Power in a Gilded Age (2002)
by Eric Homberger (974.71 Hom)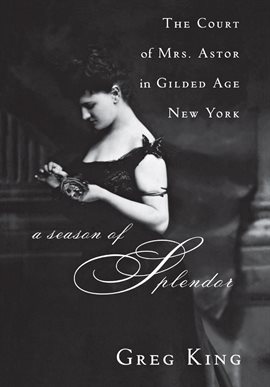 A Season of Splendor: The Court of Mrs. Astor in Gilded Age New York (2002)
by Greg King (Hoopla E-book)
Heiresses: Lives of the Million Dollar Babies (2002)
by Laura Thompson (currently on order)
---
The Gilded Age — Fiction
The Illness Lesson (2020)
by Clare Beams (Beams)
The Swans of Fifth Avenue (2016)
by Melanie Benjamin (Benjamin)
The Widow of Rose House (2019)
by Diana Biller (Biller)
The Fifth Avenue Artists Society (2016)
by Joy Callaway (Callaway)
The Angel of Darkness (1997)
by Caleb Carr (Carr)
The Address (2017)
by Fiona Davis (Davis)
The Gilded Hour (2017)
by Sara Donati (Donati)
Belgravia (2016)
by Julian Fellowes (Fellowes)
A Well-Behaved Woman: A Novel of the Vanderbilts (2018)
by Therese Fowler (Fowler)
The American Heiress (2011)
by Daisy Goodwin (Goodwin)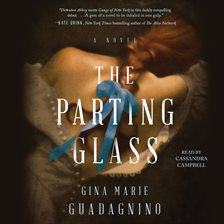 The Parting Glass (2019)
by Gina Marie Guadagnino (E-audiobook from either Hoopla or Overdrive)
The Gods of Newport (2006)
by John Jakes (Jakes)
The Last Days of Night (2016)
by Graham Moore (Moore)
Cartier's Hope (2020)
by M.J. Rose (Rose)
The Social Graces (2021)
by Renée Rosen (YA PB Rosen)
The Gilded Years (2016)
by Karin Tanabe (Tanabe)
Rules of Civility (2011)
by Amor Towles (Towles)
The Gilded Age and Later Novels (1873)
by Mark Twain (Twain)
Our Kind of People (2021)
by Carol Wallace (Wallace)
The Age of Innocence (2020)
by Edith Wharton (Wharton)
The English Wife (2018)
by Lauren Willig (Willig)
The Book of Lost Friends (2020)
by Lisa Wingate (Wingate)
The Engineer's Wife (2020)
by Tracey Enerson Wood (Wood)
Savage Girl (2014)
by Jean Zimmerman (Zimmerman)
---
The Gilded Age — DVDs
Affairs of the Heart: Classic Tales of Love and Loss Based on the Fiction of Henry James (2008)
Based on the fiction of Henry James (DVD Affairs)
The Age of Innocence (1993)
based on the novel by Edith Wharton (DVD Age)
The Alienist (Seasons One and Two) (2020)
by Tamsin Greig (DVD Belgravia)
The American (2008)
Based on a novel by Henry James (DVD James – produced for Masterpiece Theatre)
Belgravia (Season One) (2020)
by Tamsin Greig (DVD Belgravia)
The Buccaneers (2020)
based on the novel by Edith Wharton (DVD Wharton)
Citizen Kane (1941)
by Orson Welles (DVD Citizen)
The Forsyte Saga (1967)
based on the novels by John Galsworthy (DVD Forsyte – produced for Masterpiece Theatre)
The Forsyte Saga (2002-2003)
based on the novels by John Galsworthy (DVD Forsyte – produced for Masterpiece Theatre)
The Gilded Age (2018)
by Sarah Colt (DVD 973.8 GIL)
The Haunting of Bly Manor (2020)
Based on a novel by Henry James (DVD Haunting)
The Heiress (1949)
with Olivia De Havilland (DVD Heiress)
Hello Dolly (1969)
with Barbara Streisand (DVD Hello)
Hester Street (1975)
Based on Yekl by Abraham Cahan (DVD Hester)
The House of Mirth (2001)
based on the novel by Edith Wharton (DVD House)
Meet Me in St. Louis (1944)
starring Judy Garland (DVD Meet)
The Music Man (1962 — also available in a 2003 version)
musical from Meredith Wilson (DVD Music)
Portrait of a Lady (1968 – limited TV series)
Based on the novel of Henry James (DVD James)
Ragtime (2020)
based on the novel by E.L. Doctorow (DVD Ragtime)
Tesla (2020)
starring Ethan Hawke (DVD Tesla)
Titanic (1997)
directed by James Cameron (DVD Titanic)
The Turn of the Screw (1999)
Based on a novel by Henry James (DVD James – produced for Masterpiece Theatre)