If You Like Louise Penny's "Inspector Gamache" series… (a.k.a. the "Three Pines series")
Try These Authors/Titles/Series
Canadian author Louise Penny published her first book featuring Armand Gamache and the setting of Three Pines, in 2005 — Still Life. Since then, she has averaged one new Gamache novel per year. Penny has been nominated for, or has won, nearly every mystery-related literary award, some of them many times over — Agatha, Anthony, Barry, Dilys, Macavity and Dagger. In fact, she started her publishing career by submitting Still Life into the Debut Dagger competition in the U.K., where it took second place out of 800 entries.
The books in the Gamache series are traditional classic mysteries, patterned in the classic British mystery style, with a very strong sense of place — whether that be the Canadian village of Three Pines, where many of them are set, or any of the other locations that Chief Inspector Gamache is called to. There is a core group of recurring characters, both with Gamache and his fellow detectives, and in the town of Three Pines. The relationships among all of these are constantly evolving over the course of, and for many readers, one of the greatest pleasures in reading this series is picking up with the lives of these beloved characters.
Penny's husband, Michael, who was (in part) the inspiration for Inspector Gamache, passed away from Alzheimer's-related ailments in 2016. Louise was Michael's primary caretaker, and reader have noted that the Gamache series has taken a slightly darker turn since around 2011 or 2012. This is definitely a series to read in order, due to the changes in character relationships and career developments. But readers new to the series should be aware that the tone changes as time progresses.
If this type of classic mystery, in which the location and/or character growth is sometimes even more important than the main plot, appeals to you, you might wish to sample some of the the authors and/or series listed below. In all but one case below, the title (and cover) listed is for the first book in the series mentioned — the one exception is Martha Grime's Richard Jury series, of which the libraries do not have the first book. The author names (or titles) in the list below are hotlinked to their holdings in our catalog, so that you may check on the availability of their titles in print, audio or downloadable formats.
---
Be aware that a straight-to-DVD movie was made from the first Gamache novel, Still Life, starring Nathaniel Parker as Gamache, in 2013. Most fans don't consider it a very accurate adaptation of any of Penny's characters. However, a new series is in production, Three Pines, with Alfred Molina starring as Gamache, and fans are eagerly anticipating that series' arrival later in 2022 on the Amazon Prime streaming service. (See the Wikipedia page for Three Pines.) In the meantime, you can check out the existing movie here:
Still Life
---
Death at La Fenice
or others in the Commissario Guido Brunetti series by Donna Leon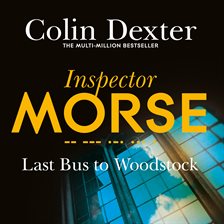 Last Bus to Woodstock
or others in the Inspector Morse series by Colin Dexter
A Test of Wills
or others in the Ian Rutledge series by Charles Todd (pseudonym for a mother-and-son writing team of Caroline and Charles Todd / Caroline passed away in 2021)
A Duty to the Dead
or others in the Bess Crawford series by Charles Todd (pseudonym for a mother-and-son writing team of Caroline and Charles Todd / Caroline passed away in 2021)
Gallow's View
or others in the Inspector Banks novels by Peter Robinson
Cover Her Face
or others in the Adam Dalgliesh novels of P.D. James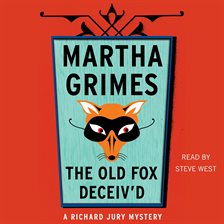 The Old Fox Deceiv'd
or others in the Inspector Richard Jury series by Martha Grimes
The Shape of Water
or others in the Inspector Montalbani series by Andrea Camilleri
The Crow Trap
or others in the Vera Stanhope series by Ann Cleeves
A Share in Death
or others in the Duncan Kincaid/Gemma James series by Deborah Crombie
In the Bleak Midwinter
or others in the Clare Ferguson and Russ Van Alystyne series by Julia Spencer-Fleming
Haunted Ground
or others in the Nora Gavin quartet by Erin Hart
A Great Deliverance
or others in the Inspector Lynley series by Elizabeth George
A Beautiful Blue Death
or others in the Charles Lenox series by Charles Finch
Case Histories
or others in the Jackson Brodie series by Kate Atkinson
In the Woods
or others in the Dublin Murder Squad series by Tana French
From Doon With Death
or others in the Inspector Wexford series by Ruth Rendell
Maisie Dobbs
or others in the Maisie Dobbs series by Jacqueline Winspear
The Widows of Malabar Hill
or others in the Perveen Mistry series by Sujata Massey
The Kill Artist
or others in the Gabriel Allon series by Daniel Silva
Iron Lake
or others in the Cork O'Connor series by William Kent Krueger
The Unquiet Dead
or others in the Rachel Getty and Essa Khattack series by Ausma Zehanat Khan
Bluebird, Bluebird
or others in the Highway 59 series by Attica Locke
The Thursday Murder Club
or others in the Thursday Murder Club series by Richard Osman
The Crossing Places
or others in the Ruth Galloway series by Elly Griffiths
Murder in the Marais
or others in the Aimee Leduc series by Cara Black
last updated July 2022 sdc