If You Like The Curious Incident of the Dog in the Night-Time…
Try These Authors/Titles
"Christopher John Francis Boone knows all the countries of the world and their capitals and every prime number up to 7,057. He relates well to animals but has no understanding of human emotions. He cannot stand to be touched. Although gifted with a superbly logical brain, Christopher is autistic. Everyday interactions and admonishments have little meaning for him. Routine, order, and predictability shelter him from the messy wider world. Then, at fifteen, Christopher's carefully constructed world falls apart when he finds his neighbor's dog, Wellington, impaled on a garden fork, and he is initially blamed for the killing.
Christopher decides that he will track down the real killer and turns to his favorite fictional character, the impeccably logical Sherlock Holmes, for inspiration. But the investigation leads him down some unexpected paths and ultimately brings him face to face with the dissolution of his parents' marriage. As he tries to deal with the crisis within his own family, we are drawn into the workings of Christopher's mind."
If you liked Mark Haddon's The Curious Incident of the Dog in the Night-Time, you're not alone. Haddon's tale, of a just-functional autistic boy's solo journey to try to solve the mystery of who killed a neighborhood dog is both touching, engaging and thought-provoking. This book includes several major elements: Mystery, British Setting, Troubled Family Relationships, and a strong, unique, youthful narrative voice. The titles and authors listed below include many of these same elements, although some of the authors listed may write works that are similar to The Curious Incident of the Dog in the Night-Time in only tangential ways. We recommend reading the full jacket blurbs on any of these authors' works before you commit to an entire novel. The individual book titles are hotlinked to their holdings in our catalog, so that you may check on the availability of those titles in print format.
Howard Buten's When I Was 5 I Killed Myself [This is eight-year-old Burton Rembrant's story as written in pencil on the walls of the Quiet Room at a home for disturbed children.]

Mick Cochrane's Sport [Sad and funny, warm and wise, "Sport" is the story of a boy's search for order and belonging in a world where the rules keep changing.]

Chris Crutcher's Staying Fat for Sarah Byrnes [The daily class discussions about the nature of humankind, the existence of God, abortion, organized religion, suicide and other contemporary issues serve as a backdrop for a high-school senior's attempt to answer a friend's dramatic cry for help.]

G.D. Gearino's What the Deaf-Mute Heard [The narrator is Sammy Ayers, 62, who was abandoned by his mother at the age of 10 in a bus station in Georgia. Such was his fear he could not speak and people assumed he was deaf and dumb. He played along for the rest of his life, exploiting his misfortune to obtain odd jobs and to listen in on conversations, people not being afraid to speak freely in front of a deaf-mute.]

George Dawes Green's The Caveman's Valentine [A homeless man who lives in a cave in New York City wages a one-man battle against an evil — and imaginary — power-broker responsible for society's ills. When he finds a corpse outside his cave, he launches an obsessive quest for answers that leads him back to the bowels of the "civilized world".]

Daniel Hecht's Skull Session [A gothic mystery featuring Paul Skoglund, a man suffering from Tourette's Syndrome, which causes ticks, fidgeting and outbursts of swearing. Not able to work, he and his girlfriend jump at the opportunity to restore a vandalized house and come up against unseen forces. But are the forces occult or human?]

Kimberly Willis Holt's When Zachary Beaver Came to Town [During the summer of 1971 in a small Texas town, thirteen-year-old Toby and his best friend Cal meet the star of a sideshow act, 600-pound Zachary, the fattest boy in the world.]

Daniel Keyes' Flowers for Algernon [Charly realizes that he's not that bright. As part of an experiment, he allows doctors to operate on his brain. They hope the operation and special medication will increase his intelligence, as it has done for the lab mouse, Algernon. Charlie keeps a daily diary of what is happening to him.]

Marti Leimbach's Daniel Isn't Talking [A British husband and American wife struggle to try to provide their autistic son, Daniel, with an environment that will encourage him to speak with them.]

Jonathan Lethem's Motherless Brooklyn [A black comedy in New York's criminal underworld. The twitching hero–he suffers from Tourette's syndrome–is one of four misfits who were rescued from an orphanage by a man who gave them jobs in his detective agency. Now the man has been killed and the boys intend to get the killer.]

Lois Lowry's The Silent Boy [Through Katy's eyes, readers can see the human face so often hidden under modern psychological terminology and experience for themselves the haunting impact of her friendship with the silent boy.]

Ann M. Martin's A Corner of the Universe [The summer that Hattie turns twelve, she meets the childlike uncle she never knew and becomes friends with a girl who works at the carnival that comes to Hattie's small town.]

Steve Martin's The Pleasure of My Company [Daniel Pecan Cambridge, 30, 35, 38, or 27, depending on how he feels that day, is a young man whose life is rich and full, provided he never leaves his Santa Monica apartment. After all, outside there are 8-inch-high curbs and there's always the horrible chance he might see a gas station attendant wearing a blue hat.]

Elizabeth Moon's The Speed of Dark [Written with love and expertise by the mother of an autistic teenager, "The Speed of Dark" is a riveting exploration into the mind of an autistic man as he struggles with the question of whether he should risk a medical procedure that could make him "normal."]

Laura of Moriarty's The Center of Everything [Evelyn Bucknow is living with her single mother, Tina, in a small apartment outside Kerrville, Kansas. Though Tina is warm and loving, she is still young and immature herself, prone to making hotheaded decisions that help create a precarious financial situation for her increasingly anxious daughter.]

Abigail Padgett's The Dollmaker's Daughter [Officer Bo Bradley of the San Diego Child Protective Service investigates child abuse, murder and a cover-up by her service. It is a tricky case as it involves her supervisor.]

Gwyn Hyman Rubio's Icy Sparks [At the age of 10, an Appalachian girl develops croaks, jerks and spasms, which leads to her expulsion from school. After treatment–she has Tourette's syndrome–she learns to control herself, attends college and there is a happy ending.]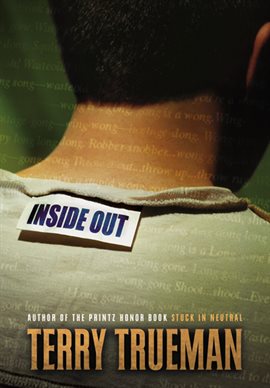 Terry Trueman's Inside Out [A sixteen-year-old with schizophrenia is caught up in the events surrounding an attempted robbery by two other teens who eventually hold him hostage.]

Terry Trueman's Stuck in Neutral [Fourteen-year-old Shawn McDaniel, who suffers from severe cerebral palsy and cannot function, relates his perceptions of his life, his family, and his condition, especially as he believes his father is planning to kill him.]

Posted October 2008 sdc | Last updated March 2018 sdc