Starting in April 2002, and continuing through November 2018, a panel of library staff members have appeared somewhat regularly on Cathy Blythe's Problems and Solutions program on radio station KFOR 1240 AM & 103.3 FM in a segment called "Book Chat," sharing information about books, literacy and library programs. Here is a list of the books discussed on the shows during 2003:
December 2003
This Year It Will Be Different by Maeve Binchy
From the New York Times best-selling author of Circle of Friends, The Glass Lake, and Evening Class comes a stunning collection of fifteen Christmas stories filled with Maeve Binchy's trademark wit, charm, and sheer storytelling genius. In "A Typical Irish Christmas," a grieving widower heads for a holiday in Ireland and finds an unexpected destination not just for himself but for a father and daughter in crisis. In "Pulling Together," a teacher not yet out of her twenties sees her affair with a married man at a turning point as Christmas Eve approaches. And in the title story, "This Year It Will Be Different," a woman with a complacent husband and grown children enters a season that will forever alter her life, and theirs.
Visions of Sugar Plums by Janet Evanovich
Christmas in bounty hunter Stephanie Plum's world isn't quite like Christmas in Whoville. With only four days to go before December 25, she doesn't have a decorated tree in her apartment or any presents bought. Plus she's chasing an elusive bail-jumper named Sandy Claws; a hunky guy named Diesel is literally popping in and out of her apartment; and a mob of manic elves is threatening to assault her with cookies. The end result is that Stephanie is feeling a tad stressed over the holiday season. Life isn't any calmer over at her parents' home in the Burg, where Grandma Mazur is dating a new octogenarian stud muffin; sister Valerie is wailing over some unwelcome news; and Stephanie's mother is coping by belting back tumblers of Red Roses in the kitchen. Just where is the elusive Mr. Claws hiding, and why? What's causing the power blackouts all over Trenton? And what about the mysterious villain, Mr. Ring? Is all of this real, or is Stephanie just having a very bad dream?
Oryx and Crake by Margaret Atwood
The narrator of Atwood's riveting novel calls himself Snowman. When the story opens, he is sleeping in a tree, wearing an old bed sheet, mourning the loss of his beloved Oryx and his best friend Crake, and slowly starving to death. He searches for supplies in a wasteland where insects proliferate and pigoons and wolvogs ravage the pleeblands, where ordinary people once lived, and the Compounds that sheltered the extraordinary. As he tries to piece together what has taken place, the narrative shifts to decades earlier. How did everything fall apart so quickly? Why is he left with nothing but his haunting memories? Alone except for the green-eyed Children of Crake, who think of him as a kind of monster, he explores the answers to these questions in the double journey he takes – into his own past, and back to Crake's high-tech bubble-dome, where the Paradice Project unfolded and the world came to grief.
One Thousand White Women: The Journals of May Dodd by Jim Fergus
An American western with a most unusual twist, this is an imaginative fictional account of the participation of May Dodd and others in the controversial "Brides for Indians" program, a clandestine U.S. government-sponsored program intended to instruct "savages" in the ways of civilization and to assimilate the Indians into white culture through the offspring of these unions. May's personal journals, loaded with humor and intelligent reflection, describe the adventures of some very colorful white brides (including one black one), their marriages to Cheyenne warriors, and the natural abundance of life on the prairie before the final press of the white man's civilization.
Guide to Earth and Space by Isaac Asimov [520 Asi]
The late Isaac Asimov has now published at least 460 books and his list continues to grow. In this one, he tells us what scientists know today about the nature of the universe. He does so through 111 short (two- or three-page) chapters, each headed by a simple question: "What is sunlight?"; "What are stars?"; "How old is the universe?"; etc. The answers include historical background and current theory, presented in simple, easy-to-read terms. Although most of this is familiar ground to regular readers of scientific books and magazines, it is a fine introduction to modern astronomical theory for the intellectually curious high school student or intelligent but scientifically illiterate adult.
On Gold Mountain by Lisa See [305.8 ChiYs]
A cover blurb from the New York Times Book Review says it all, "The See family's adventures would be incredible if (the book) were fiction". This is the amazing story of the Chinese-American See family, of their roots in China and their attempts to assimilate into American culture. Each generation faces its own challenges and reaps its own rewards, while trying to understand their place in the world. Great stuff for fans of family sagas, Amy Tan's fiction or just those who love a good rags-to-riches yarn.
Death's Jest Book by Reginald Hill
This is the 20th installment in this series of British whodunits featuring Yorkshire detectives Andy Dalziel and Peter Pascoe. This book works well both as a continuation of the series and as a stand-alone tale. The plot involves an attempt to hijack some ancient valuables, the Elsecar Horde, as well as some disturbing letters being sent to Peter Pascoe by an ex-con turned literary scholar. Is he really just trying to clear the air with the man who sent him to prison, or is he trying to involve Pascoe in a series of suspiciously convenient "accidental" deaths ? And then there's the ongoing romance between detective "Hat" Bowler, and a beautiful librarian's assistant, who just happens to moonlight as a serial killer. Sound complex? It's that, and a whole lot of fun as well. Plus you'll get to brush up on your mid-Yorkshire slang!
Christmas in the Midwest edited by Clarence Andrews [813.08 And]
A delightful collection of stories, poems and illustrations with a holiday theme, by noted Midwestern authors. Included in this volume are writings by Bess Streeter Aldrich, Ted Kooser, Marjorie Holmes and many others. There's something here for everyone, and the quality of the writing is excellent.
November 2003
Ice Cream For Breakfast: If You Follow All the Rules, You Miss Half the Fun! by Leslie G. Levine [152.42 Lev]
How often do you break the rules? Not often enough! Remember when you were a kid and your life was governed by rule after rule? Clean your room. Eat your vegetables. Don't talk back. But remember too, how good it felt to assert your independence now and again and rebel against those rules? After all, misbehaving and being bad could make you feel pretty good. In Ice Cream for Breakfast, author Leslie Levine serves up 52 ways to break the rules in order bust out of the ho-hum routine of daily life. According to Levine, breaking the rules can give you a fresh perspective, shake things up a bit, and force you to see life through a slightly different lens.
The Bridge by Doug Marlette
From Pulitzer Prize winner Doug Marlette comes the captivating story of Pick Cantrell, a successful newspaper cartoonist whose career has hit the skids. In the grip of a midlife meltdown, Pick returns with his wife and son to a small North Carolina town, where he confronts the ghosts of his past in the form of the family matriarch and his boyhood nemesis, Mama Lucy. What follows is an extraordinary story within a story, as Pick uncovers startling truths about himself and about the role his grandmother played in the tragic General Textile Strike Of 1934. A novel about family, love, and forgiveness, The Bridge explores how much we ever really know about others, and most important, about ourselves.
Born Confused by Tanuja Desair Hidier
The story of Dimple Lala, a high school junior who lives in two worlds. She is the daughter of East Indian immigrants, and also a typical American teenager. The book follows Dimple through problems with friends, arranged marriage, peer pressure, cross-dressers and much more. Even though the main character is a young adult, this book would be great for adults as well. One of the book's most fascinating aspects is the glimpse it provides into the culture of Southeast Asian immigrants in the United States.
Aztec Treasure House by Evan Connell [930.1 Con]
Aztec Treasure House is a collection of essays written by Evan Connell, who has written fictional works with such diverse subjects as the Crusades, Custer, and an elderly American couple's marriage. These essays are both fascinating and laugh-out-loud funny. The chapter on Antarctic explorers is just a scream ! If you find it hard to believe that essays about scattered events in world history could be that funny, check out Aztec Treasure House and be very pleasantly surprised.
Who Moved My Cheese? by Spencer Johnson [155.24 Joh]
Change can be a blessing or a curse, depending on your perspective. The message of Who Moved My Cheese? is that all can come to see it as a blessing, if they understand the nature of cheese and the role it plays in their lives. Who Moved My Cheese? is a parable that takes place in a maze. Four beings live in that maze: Sniff and Scurry are mice–nonanalytical and nonjudgmental, they just want cheese and are willing to do whatever it takes to get it. Hem and Haw are "littlepeople," mouse-size humans who have an entirely different relationship with cheese. It's not just sustenance to them; it's their self-image. Their lives and belief systems are built around the cheese they've found. Most of us reading the story will see the cheese as something related to our livelihoods–our jobs, our career paths, the industries we work in–although it can stand for anything, from health to relationships. The point of the story is that we have to be alert to changes in the cheese, and be prepared to go running off in search of new sources of cheese when the cheese we have runs out.
Monstrous Regiment: A Discworld Novel by Terry Pratchett
What do you get when you cross a vampire, a troll, Igor, a collection of misfits, and a young woman who shoves a pair of socks down her pants to join the army? The answer's simple. You have Monstrous Regiment, the characteristically charming novel by Terry Pratchett. Polly becomes Private Oliver Perks, who is on a quest to find her older brother, who's recently MIA in one of the innumerable wars the tiny nation of Borogravia has a habit of starting with its neighbors. This peevish tendency has all but expended Borogravia's ranks of cannon fodder. Whether Sergeant Jackrum knows her secret or not, he can't afford to be choosy, as Perks and her/his comrades are among the last able-bodied recruits left in Borogravia. This collection of misfits includes the aforementioned vampire (reformed and off the blood, thank you), troll, and macabre Igor, who is only too happy to sew you a new leg if you aren't too particular about previous ownership. Off to war, Polly/Oliver learns that having a pair of, um, socks is a good way to open up doors in this man's army.
Irish Born by Nora Roberts
Three novels in one. Set in Ireland, this is a re-release of Born in Fire, Born in Ice and Born in Shame. Each book tells the story of three sisters. Born in Fire focuses on Maggie Concannon a talented glass sculptor and her relationship with her family and her new agent. Born in Ice is about Maggie's sister Brianna who has realized her dream of opening a Bed and Breakfast. When an author comes to stay, Brianna falls in love. The final book, Born in Shame, takes us to America to meet Maggie and Brianna's step sister Shannon Bodine. Reluctant to even meet her step-sisters Shannon travels to Ireland and finds more than she bargained for.
Everyday Sacred: A Woman's Journey Home by Sue Bender [291.4 Ben]
This is Sue Bender's second book, after Plain and Simple: A Woman's Journey to the Amish. Going home after her visit with the Amish, Sue finds herself falling back into old patterns. She becomes inspired by a begging bowl. The story is of her journey to acceptance of what is placed in her begging bowl each day and how she can learn to be grateful for what is given her.
October 2003
Bones Would Rain From the Sky: Deepening Our Relationship With Dogs by Suzanne Clothier [636.708 Clo]
For anyone who has ever dreamed of being able to really talk to their dog/graphicsr' what they have to say. Akin to Monty Roberts's The Man Who Listens to Horses and going light-years beyond The Hidden Life of Dogs or any training manual, Suzanne Clothier takes a radical new direction in understanding our life with dogs…and our mutual love. Drawing on a lifetime of experience with dogs, this nationally renowned dog trainer brings us astonishing new lessons about our animals–and ourselves.Gently, with intelligence, humor, and unfailing patience, Suzanne Clothier guides us to truly comprehend another creature's mind and heart.
Trading in Danger by Elizabeth Moon
In this far-flung science fiction saga, Kylara Vatta attempts to buck her family's long-standing interstellar shipping traditions by going into the military. But with a single error in judgement, her military future goes up in flames, and she returns home publicly humiliated and with a black mark on her record. When a rare shot at redemption presents itself, as the Captain of a Vatta Transport ship, Ky jumps at the chance. Piloting a condemned ship on its way to a scrapyard, Ky attempts to rebuild her future, and ends up taking a motley crew into the heart of an interstellar conflict. A rip-roaring adventure, with a headstrong, engaging female protagonist.
Tularosa by Michael McGarrity
It's been two years since an on-the-job shooting forced ex-Santa Fe chief of detectives Kevin Kerney to retire. He is drawn back into action when Terry Yazzi, his former partner and the man responsible for his wounds, pleads for Kerney's help. Yazzi's son, a soldier, has disappeared in the barren desert surrounding the White Sands Missile Range. Kerney's investigation resurrects the long-forgotten thrill of the hunt — and other emotions surface after meeting the tough-but-beautiful Capt. Sara Brannon, the Army's investigating officer. Together, they uncover a crime far greater than an AWOL soldier: a conspiracy of death that snakes from the secretive world of military operations, to the cutthroat alleys of a Mexican border town, leading them to a final, shocking revelation that may cost them both their lives…
The Da Vinci Code by Dan Brown
While in Paris on business, Harvard symbologist Robert Langdon receives an urgent late-night phone call: the elderly curator of the Louvre has been murdered inside the museum. Near the body, police have found a baffling cipher. While working to solve the enigmatic riddle, Langdon is stunned to discover it leads to a trail of clues hidden in the works of Da Vinci — clues visible for all to see — yet ingeniously disguised by the painter. Langdon joins forces with a gifted French cryptologist, Sophie Neveu, and learns the late curator was involved in the Priory of Sion — an actual secret society whose members included Sir Isaac Newton, Botticelli, Victor Hugo, and Da Vinci, among others. In a breathless race through Paris, London, and beyond, Langdon and Neveu match wits with a faceless powerbroker who seems to anticipate their every move. Unless Langdon and Neveu can decipher the labyrinthine puzzle in time, the Priory's ancient secret — and an explosive historical truth — will be lost forever. See more books like this in our Da Vinci Code readalikes booklist
Extreme Measures by Renee Halverson
This debut novel by Halverson is a historical romance set in 1879 Denver, where Andre Dubois, the owner of a high-class saloon, falls for Faith O'Malley, a woman desperately trying to run Heart House — an orphanage for abandoned children of prostitutes, of which she is one herself. Filled with class conflict, traditional romantic misunderstandings and hidden motives, and peopled by a cast of strong supporting characters, Extreme Measures should appeal to most fans of historical romances.
Life Strategies by Dr. Phil McGraw [158 McG]
In Life Strategies, Phillip McGraw tells his readers how to make the dramatic changes in their lives that they've craved for so long. Whether readers are in a bad relationship or a bad marriage, stuck in a dull career or in harmful habits, he helps readers to wake up and get out of their ruts. These ten strategies are eye-opening and no-nonsense. McGraw tells readers they have to take charge of and responsibility for their lives, and get ready to act and move on. The strategies are: 1. You either get it, or you don't; 2. There are no accidents; 3. People do what works; 4. You cannot change what you do not acknowledge; 5. Life rewards action; 6. There is no reality, only perception; 7. Life is managed, not cured; 8. We teach others how to treat us; 9. There is freedom in forgiveness; and 10. You have to name it to claim it. McGraw's straightforward and powerful advice will speak to the hearts of readers who are tired of being told to wallow in self-pity.
How to Keep a Sketchbook Journal by Claudia Nice [741.2 qNic]
Everyone, even those who claim they can't draw, can keep an illustrated sketchbook journal. Learning how to creatively illustrate their thoughts, ideas and feelings, readers will delight in recording the world around them as well as the events and details of their lives. Claudia Nice begins by introducing readers to the wide variety of journals available and the materials they will need, then shows them how to make a sketch using basic art supplies like a pencil, colored pencils and pen & ink. She continues with instruction for using a basic watercolor palette and applying watercolor washes to a journal. The remainder of the book deals with each type of journal individually, giving ideas and techniques to make every effort successful. Types include theme journals, discovery and exploration journals, travel journals, reference journals, in-depth study journals, fantasy journals, garden journals and life journals.
Blacklist by Sara Paretsky
This is a story of secrets and betrayals that stretch across four generations-secrets political, social, sexual, financial: all of them with the power to kill. Eager for something physical to do in the spirit-exhausting wake of 9/11, private investigator V.I. Warshawski accepts a request from an old client to check up on an empty family mansion. Surprising an intruder in the dark and giving chase, V.I. topples into a pond and grasps for something to hold on to, her fingers closing around a lifeless human hand. It is the body of a reporter who had been investigating events of 45 years earlier, during the McCarthy era. V.I.'s discovery quickly sucks her into the history of two great Chicago families — their fortunes intertwined by blood, sex, money, and scandals that may or may not have resulted in murder all these years later.
September 2003
Plumbing: Basic, Intermediate & Advanced Projects by Merle Henkenius [696.1 qHen]
If you need to know how plumbing works, this is the book for you. It is a very good do-it-yourself guide, with wonderful illustrations and clear illustrations. It covers nearly every plumbing problem and lets the reader decide what to tackle and when to call a plumber.
Angry Housewives Eating Bon Bons by Lorna Landvik
Five friends who live on Freesia Court in Minnesota meet and form a monthly book club. Each chapter gives a very brief description of the book they read (and the reason they chose it) and then brings the reader up to date on the major events in their lives. For thirty years, through childbirth, divorce, war and weddings, these women read books and help each other. It's a good story with some good suggestions for further reading.
Color! [from the Trading Spaces series] by Brian Kramer [ed.] [747.94 qTra]
This is one of several do-it-yourself books from the wildly popular Trading Spaces television series. It's also one of the few home decorating books that is fun to just sit down and read. It's great to see how the TS designers work their magic with slip covers and faux finishes, and the book breaks the processes down so you can try them on your own space. The ideas are inspiring, and the designers tell you a lot about how to blend different colors to achieve a desired effect. One thing it doesn't tell you? How to convince your neighbors to come to your house and do all the work!
Isaac's Storm: A Man, a Time and the Deadliest Hurricane in Human History by Erik Larson [976.413 Lar]
In this amazing true story, Erik Larson blends science and history to recount the tale of September 8, 1900 – the day of the great Galveston hurricane. This mammoth storm killed over 10,000 people and completely wiped out much of the thriving Texas coastal city. Larson follows the stories of many of the town's residents, but the action centers mainly on Isaac Cline, stalwart employee of the newly-formed National Weather Bureau stationed in Galveston. Cline considered himself a hero, and claimed to have saved many lives by warning the town's populace of impending doom, but Larson paints a different picture. This is a tale of how missed opportunities, stubborn resistance to change and a misplaced sense of loyalty all conspired to magnify the damage and death toll of one of Nature's most devastating disasters. An unforgettable reading experience, and a sobering lesson in human folly!
The Sand-Reckoner by Gillian Bradshaw
A wonderful fictionalized account of the life of Archimedes, eminent engineer and mathematicion of ancient Greece. With wonderful historical detail the author manages to bring to life this mythic figure. The reader is transported into the world of the ancient Greeks, where Archimedes has returned home to Syracuse to work as an engineer for the king, defending his city from the attacking Romans. Great period detail and plenty of fascinating information about a genius 2000 years ahead of his time.
Outhouses by Roger Welsch [690.89 Wel] [Nebraska Author!]
Welsch's latest collection of essays cover a myriad of subjects, and all of them came to the author's mind while he was "contemplating" in the nicely furnished outhouse on his home in the Sandhills. Bathrooms and the role they play in our everyday lives are treated with a dignity and a gentle humor that makes for great storytelling. The essays are nicely separated so that each can be read in one, uh, "sitting."
August 2003
The Inner Experience: Notes on Contemplation by Thomas Merton [248.2 Mer] "Thomas Merton's final book explores the meaning and daily practice of contemplation – the heart of monastic and religious experience. This is his most comprehensive work on the subject. And now, the Merton Legacy Trust has decided to produce this expertly edited treatment, which Merton was finishing at the time of his death. The Inner Experience is a major addition to the Merton canon." "Faithfully edited by Merton scholar William H. Shannon, The Inner Experience bridges Merton's early, thoroughly Catholic works on contemplation with his later, wide-ranging writings This book signals his growing interest in Eastern, especially Buddhist, traditions of meditation and spirituality, which would significantly influence his thinking and writing in the last decade of his life." — from the book jacket
Healthy Homestyle Cooking by Evelyn Tribole [641.563 Tri] Inside Healthy Homestyle Cooking you'll find more than 200 family favorite recipes dramatically reduced in fat, calories, cholesterol, and sodium without sacrificing taste or texture. It also includes a complete guide to transforming any dish into a healthier irresistible version.
Lads Before the Wind: Adventures in Porpoise Training by Karen Pryor [599.53 Pry] Twenty-five years ago biologist Karen Pryor was living in Hawaii with three children, a dog and a pony and a dolphin in her back yard pool. The dolphin belonged to a new oceanarium, Sea Life Park, where Karen became head trainer, working with dozens of dolphins and whales, penguins and even wild sea birds. Using purely positive methods, Karen and her team opened the door to a whole new world of animal communication.
Now, Karen tells us of her dolphin adventures after Sea Life Park. She went to sea on tuna boats, diving in the nets to study wild dolphin schools. She was the first to report on Brazil's remarkable human/dolphin fishing cooperative. She introduces us to Josephine, a wise old research dolphin who could use her training encounters not only to express opinions but also to make jokes. Finally, Karen explains how this kind of training is transforming the way we can communicate with any animal, even our own cats and dogs.
I Know What You're Thinking: Using the Four Codes of Reading People to Improve Your Life by Lillian Glass [153.69 Gla] Knowing how to read people — picking up on and interpreting their hidden cues — is a tremendous asset for virtually anything you do, from your home life to your work life to your love life. Now, in I Know What You're Thinking, psychologist, bestselling author, and communications expert Dr. Lillian Glass helps you develop a tremendous new set of skills that will make you more perceptive, more powerful, and more successful.
In the Bleak Midwinter by Julia Spencer-Fleming
It's a cold, snowy December in the upstate New York town of Millers Kill. When a newborn baby is abandoned and a young mother is brutally murdered, newly-ordained Clare Fergusson has to pick her way through the secrets and silence that shadow the town like the ever-present Adirondack mountains.
The Bone Collector by Jeffery Deaver
A terrifying ride into two ingenious minds — that of a physically-challenged detective and the scheming killer he must stop. The detective (Lincoln Rhyme) was the former head of forensics at the NYPD, but is now a quadriplegic who can only exercise his mind. The killer is a man whose obsession with old New York helps him choose his next victim. Now, with the help of a beautiful young cop, Rhyme must stop this diabolical killer before he can strike again! See more books like this in our "Forensic Fiction" booklist
The Sweet Trade by Elizabeth Garrett
While in Nassau with hopes of a governor's pardon that will enable him to leave his trade, devious pirate Calico Jack Rackham instead recruits two new members of his crew: Anne Bonny, a bored Southern Belle, and Mary Read, an Englishwoman who has lived her life as a merchant sailor disguised as a man. See more books like this in our "Anchors Aweigh" naval adventures booklist.
July 2003 — One Book, One Lincoln finalists:
Empire Falls by Richard Russo
In this droll, unsentimental, and occasionally hilarious bestselling novel, Russo tells the story of a big-hearted man who becomes the unlikely hero of a small town with a glorious past but a dubious future.
Fried Green Tomatoes at the Whistlestop Cafe by Fannie Flagg
This classic and folksy novel takes readers back to the thirties, where a friendship blooms between two girls who run a homey, little cafe in Alabama. A story of food, love, laughter, and even murder unfolds as an elderly woman relates her life story to a middle-aged friend.
The Weight of Dreams by Jonis Agee [Nebraska Author!] Twenty years after a bout of vandalism ends in the brutal beating of a young Indian, a young man returns to the sandhills of Nebraska to face his past.
Bel Canto by Ann Patchett
A novel that is as lyrical and profound as it is unforgettable, "Bel Canto" engenders in the reader the very passion for art and the language of music that its characters discover. A virtuoso performance by an important writer.
Angle of Repose by Wallace Stegner
Four generations in the life of an American family are chronicled as retired historian Lyman Ward, confined to a wheelchair, decides to write his grandparent's history. The Pulitzer Prize-winning classic has been selected by the board of the Modern Library as one of the best hundred novels of the 20th century.
June 2003 [Youth & Young-Adult Focus]
The Sisterhood of the Traveling Pants by Ann Brasheres
Four best girlfriends spend the biggest summer of their lives enchanted by a magical pair of pants.
Coraline by Neil Gaiman
Looking for excitement, Coraline ventures through a mysterious door into a world that is similar, yet disturbingly different from her own, where she must challenge a gruesome entity in order to save herself, her parents, and the souls of three others.
Dinotopia by James Gurney
Arthur Denison, a Victorian scientist, and his son Will are shipwrecked and washed up on an uncharted island where dinosaurs still exist and live in peace with humans. The illustrations have as much magic as Harry Potter.
Turnabout by Margaret Peterson Haddix
Melly and Anny Beth were old old women when they entered Project Turnabout – a secret experiment which halts the aging process. The experiment cannot be stopped and Melly and Anny Beth keep getting younger and younger. Now they must find some one to care for them before they become toddlers and then infants.
Alanna: The First Adventure by Tamora Pierce
Alanna and Thom are twins, sent off to school to be a sorcerer and knight. Unfortunately Alanna doesn't want to be a sorcerer and Thom is not thrilled with becoming a knight. So they decide to switch schools and Alanna becomes Alan and she goes off to train to be a knight. This book chronicles her years as a page, training and her first adventure with Jonathon the crown prince.
Queen's Own Fool: A Novel of Mary Queen of Scots by Jane Yolen & Robert Harris
Eleven year old Nicola falls at Queen Mary's feet, and piques the queens interest. Taken under the wing of Mary, she is tutored in 'proper' ladies behavior, but expected to be the queen's fool. Expected never to lie, she walks the tightrope between the truth and offense.
Sabriel: Book One of the Old Kingdom Series by Garth Nix
Sabriel is a young woman who attends school near the borderlands of the countries of Ancelstierre and the Old Kingdom. The school is in Ancelstierre, where students learn modern subjects like math, physics, and etiquette, but the winds of magic often blow from the Old Kingdom, so students are taught in the basic workings of "good" magic. Unfortunately, necromancers wander the Old Kingdom, raising the dead and casting evil spells designed to enslave the inhabitants of both countries. The only defense the Old Kingdom and Ancelstierre have against such men is the Abhorsen, a necromancer who has been trained in good magic and used his necromancy to lay the dead to rest. And the current Abhorsen is Sabriel's father. But when he goes missing, Sabriel must learn her father's magic to save both countries from an evil Dead sorceror who craves power and will stop at nothing to get it.
Ella Enchanted by Gail Carson Levine
An interesting twist of the Cinderella fairy tale. Ella is a young lady who is "cursed" with the gift of obedience at birth. No matter what the command, Ella must obey all that is asked of her or die. Her only safety is keeping the secret of her enchantment. But when her mother dies and her father remarries a rich woman with two horrid daughters of her own, Ella finds herself virtually their slave. Matters worsen when the Prince of the land falls in love with her – with Ella compelled to obey every command, even those that may endanger those she loves, she must refuse the Prince in order to keep the kingdom safe. Miserable, Ella, with the help of the fairy godmother who helped raise her, tries to find a cure for the curse.
Listener Recommended titles:
The Secret Life of Bees by Sue Monk Kidd
Among the Hidden by Margaret Peterson Haddix
Dr. Seuss and Mr. Geisel: a Biography by Judith and Neil Morgan [B G2696m] An Ocean Apart by Robin Pilcher
The Phantom Tollbooth by Norton Juster
The Life of Reilly: The Best of Sports Illustrated's Rick Reilly by Rick Reilly [796 Rei]

May 2003
Fix It and Forget It: Recipes for Entertaining by Phyllis Pellman Good & Dawn J. Ranck [641.588 Goo] Crockpot cooking kicked up a notch.
The Prize Winner of Defiance, Ohio: How My Mother Raised 10 Kids on 25 Words or Less by Terry Ryan [B R94r] Evelyn Ryan, the subject of this biography, kept her family afloat by writing jingles, slogans and essays for contest entries. She "wrote" at the ironing board and raised her 10 children while coping with an alcoholic husband. Her story reads like fiction and at times, her wins are truly miraculous.
Along the Inca Road: A Woman's Journey Into an Ancient Empire by Karin Muller [918 Mul] With the backing of the National Geographic, and accompanied by one of their cameramen, Muller attempts to travel along the fabled Inca Road. She is an explorer in every sense of the word, and is willing to try just about anything. From being slapped with a guinea pig by a traditional healer to stepping into the bull ring (with a bull, of course), she experiences the great variety of cultures and peoples along this ancient highway.
The Wall Street Journal Guide to Wine by Dorothy Gaiter & John Brecher [641.22 Gai] Don't let the title of this one fool you-it's more than just a dull book of wine reviews. It's full of wonderful stories about the authors' love affair with wine and with each other – they're a married couple who travel and write about wine together for the Wall Street Journal. This book both makes wine seem special and de-mystifies it. They even have wine recommendations for meat loaf and beef stew!
Atonement by Ian McEwan
Excellent vacation reading about an attack on a young woman at a family gathering in 1935 and a case of mistaken identity.
Lusitania: An Epic Tragedy by Diana Preston [940.451 Pre] Preston's gripping, thoroughly researched re-creation of the 1915 torpedoing of the Lusitania provides new insight into this world-shattering historical event.
The Darwin Awards II: Unnatural Selection by Wendy Northcutt [081 Nor 2001] A collection of amusing anecdotes relating how certain members of our species kindly and stupidly remove themselves from the gene pool, thereby bettering the species.
April 2003
Dish: The Inside Story on the World of Gossip by Jeanette Walls [302.24 Wal] Have you ever wondered just how and why Michael Jackson and Liz Taylor got to be such good friends? Or who all those "friends of the star" are who are quoted in the gossip columns? And, can you ever believe ANYTHING the supermarket tabloids say? If these questions, and others like them, intrigue you, then dig right in to Dish: the Inside Story of the World of Gossip, by Jeanette Walls. This book goes behind the scenes to expose the real story of the "tabloid-ization" of the world press. Trace the rise of reporters like Geraldo Rivera, Barbara Walters, Dan Rather and Liz Smith, as well as some spectacular falls. There are definitely spoilers in this book. If you really believe that reporters from small-town newspapers get face-to-face, one-on-one unscripted interviews with mega-stars like Tom Cruise, don't read this! But if you want a well-researched, snappily written expose on the history of gossip, this is the book for you!
Cut to the Heart: Clara Barton and the Darkness of Love and War by Ava Dianne Day
Clara Barton, famous as a crusader for better conditions in Civil War hospitals, finds mystery, love and danger in the Georgia Sea islands in Ava Dianne Day's Cut to the Heart. With war as the backdrop, Day weaves a spell-binding tale involving Gullah culture, forbidden passion, and a killer falling ever deeper into madness. Based on actual field journals of both Clara and Colonel John Elwell, this book is at once a love story, a mystery and historical fiction. The best part is that many of the characters are based on real historical figures. Day includes a list in the back of who's real, and who's not.
The Gardener's Gripe Book by Abby Adams [635 Ada] Adams dishes the real dirt on gardening. With wonderful humor, she takes on pretentious pronouncements on all aspects of gardening and pokes holes in them. Adams gives us a history of gardening from Eve to Martha Stewart, addresses everyday problems and gives wonderfully humorous definitions of garden terms.
The Master Butchers Singing Club by Louise Erdrich
This is a saga of a young German man who walks home from WWI, emigrates to America with a suitcase full of sausages he made, and makes a life for himself in North Dakota. Fidelis Waldvogel is an unlikely hero, but his story and those of his wives, sons, friends, and enemies are absorbing and rich.
McCarthy's Bar by Pete McCarthy [914.15 McC] Despite the many exotic places Pete has visited, nothing can match the wonder of West Ireland, his mother's homeland. In McCarthy's bar, his journey takes him from Cork to Donegal, following his rule to "stop at every pub that has your name on it." In McCarthy's bars up and down Ireland he meets fascinating people, at the same time affectionately portraying a rapidly changing country.
Round Ireland With a Fridge by Tony Hawks [914.15 Haw] On a bet, Tony Hawks agrees to hitchhike around Ireland with a small refrigerator. Some local radio press has him accepting rides from all sorts of eccentric, helpful, and sometimes downright insane people, all of whom are fascinated by the man traveling with the fridge. The book tells all of Tony's adventures as he circumnavigates the county by car, with his fridge in tow.
Dune: The Butlerian Jihad by Brian Herbert & Kevin J. Anderson
This prequel to the science fiction epic Dune, written by the original author's son, fills in the details of humanity's troubled past and gives readers the details of wars, heroes, and betrayals that are only hinted at in the original series. The origination of the two great Houses, Harkonnen and Atreides, and the cause of the blood feud between them are explained, as are the mysterious Navigators and, of course, the first discovery of the "Spice." The main difficulty with designing sci-fi novels in whole new worlds is giving the reader enough detail to understand what's going on while keeping the plot moving, something that Frank Herbert, the author of the original Dune series, did excellently. His son has inherited the knack.
The Worst Case Scenario Survival Handbook by Joshua Piven & David Borgenicht [613.69 Piv] Full of practical advice for surviving when you find yourself in terrifyingly impractical situations, this handbook gives all sorts of useful advice, such as how to leap from a building into a dumpster, to fend off a shark attack, and to jump from a motorcycle into a moving car. While there is a bit of tongue in cheek and humor in the book, all the advice given is sound, based on the author's extensive wilderness survival junkets and careers as stuntmen. This is entertaining reading as well as practical (the advice given for escaping a rapidly sinking car is useful). However, it would appear the best way to survive the various scenarios presented by the authors is not to get into them in the first place.
March 2003
Owen Archer mysteries (series) by Candace Robb
What is a medieval Captain of Archers to do when he loses the sight in one eye? That is the dilemma which confronts the main character in Candace Robb's Owen Archer mystery series. In the first book of the series, The Apothecary Rose, Owen is offered the chance to work for John Thoresby, Archbishop of York and Lord Chancellor of England. He will be Thoresby's "eyes and ears" in York, where two suspicious deaths have brought scandal and intrigue to the usually peaceful St. Mary's abbey. While sorting out the mystery, Owen meets a fascinating cast of characters, and begins to lose his heart to one of them, the lovely. but married, Lucie Wilton. This series is perfect for anyone who enjoys historical mysteries, and Robb recreates the England of the 14th century with amazing detail and insight. There are currently eight novels in the series.
The Other End of the Leash by Patricia McConnell [636.708 McC]
Have you ever wondered why your dog loves to roll around in foul-smelling stuff? Or why your precious pooch and furry best friend goes bonkers when you show up wearing a new winter coat ? Patricia McConnell has the answers to these and other dog-related questions in her wonderful book, The Other End of the Leash. This book is both a self-help book for dog owners and a look at the most basic underpinnings of dog behavior. McConnell is an expert in ethology, or animal behavior, who specializes in working with aggressive dogs and their people. She gives practical advice interspersed with true accounts from her life as a dog behaviorist and the leader of a pack that includes border collies, a Great Pyrenees, cats, sheep and other critters. Her suggestions really work, you'll definitely learn something new about your dog, and you'll love her sense of humor! Two paws way up for The Other End of the Leash.
The Not So Big House by Sarah Susanka [728.37 Sus]
People everywhere around the country are building bigger and bigger houses, hoping that more square footage will make them feel "at home". In this wonderful book, the author describes that what people are really looking for is the comfort and security of rooms that are livable; that is, used every day. Susanka goes back to the turn of the century Arts and Crafts movement for her model house for today's single person, couples, and families, saying that the money that people spend on more space should rightly go to the details, because the individual personalities of the people that live there are what makes a house a home.
God's Diet by Dorothy Gault-McNemee, M.D. [613.25 Gau]
The world's thinnest diet book, this author's nutrition principles are similar to Dr. Atkins, though easier to follow. If you can't pick it from a tree, pluck it from a vine, dig it out of the ground or kill it, don't eat it. This simple precept is followed by case studies and recipes. An excellent book for those who are attracted to Dr. Atkins low-carb plan but find the diet too restricting.
February 2003
Law of Gravity by Stephen Horn
A murder mystery taking place in the nation's capital. Phillip Barkley must overcome a fall from grace, personal tragedy, and make unlikely alliances to discover if a missing Senator was a spy. Phillip's problem is that he is required to deliver the "right" result, but he feels he must be faithful to the truth.
Peace Like a River by Leif Enger
Narrated by 12 year old Reuben Land, he tells about the life of his family, beginning with his own birth, death, and rebirth where he starts to breathe at his father's command. His father, Jeremiah, performs miracles as far as Reuben is concerned. Set in 1962, this is a story of right, wrong, and betrayal.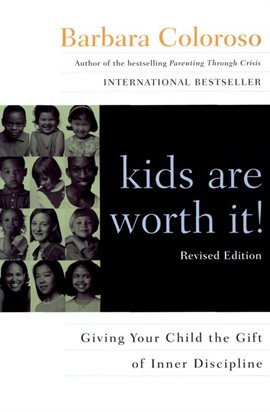 Kids Are Worth It!: Giving Your Child the Gift of Inner Discipline by Barbara Coloroso [649.64 Col]
The author begins her message by stating that "good parenting begins with treating kids with respect." By using examples of everyday family situations, she illustrates proper responses given by good parents that teach children to grow into responsible, resourceful, and resilient adults.
The Devil in the White City by Erik Larson [364.152 Lar]
The author tells the outstanding true story of two men, an architect and a serial killer, whose fates were linked by the greatest fair in American history: The Chicago World's Fair of 1893, nicknamed "The White City".
This Damn House! My Subcontract With America by Margo Kaufman [817 Kau]
This book chronicles the mind-numbing, gut-turning, wallet-emptying free fall of home renovation. The author and her husband attempt to make their dream house come true by remodeling their dark, dank, and depressing house in Venice, California.
Track of the Cat by Nevada Barr
Anna Pigeon left the city to seek peace in the Southwestern wilderness as a ranger in America's national park. Her peace is broken by the brutal death of a fellow ranger which looks suspiciously like murder to Anna. Her unauthorized investigation into the mystery puts her in harm's way, and she must confront the dark side of the desert and the dark side of the human heart to confront the mystery.
Do Not Talk to, Touch, Marry, or Otherwise Fiddle with Frogs: How to Find Prince Charming by Finding Yourself by Nailah Shami [646.77 Sha]
This practical and inspiring guide offers a 12 step recovery program for women who are hopelessly addicted to the wrong men. The author offers positive strageties and life-affirmations to help women develop healthy self-esteem while seeking the right date to mate.
The Red Tent by Anita Diamant
The author takes a character from a violent footnote in the Bible and creates a compelling, inspiring story of the role of women and one woman's adventures in Biblical times. Dinah, the only daughter of Jacob, grows up in the care of her four mothers: Leah, Rachel, Zilpah, and Bilbah. They teach her the story of women as she grows, but ultimately she must leave their house after Dinah's brothers murder her new husband and his family. The story is compelling, thrilling, and and a fascinating continuation of the Biblical story of Jacob and his sons.
January 2003
A Course in Life by Joan Gattuso [291.44 Gat]
It's easy to forget to live spiritually in our modern society that concentrates on me; not we. Joan Gattuso's book (the author of A Course in Love) offers lessons and exercise on the twelve laws of being: Faith, Vision, Wisdom, Abundance, Divine Purpose, Joy, Non-Attachment, Forgiveness, Love, Consciousness, Power, and Life. The author bases much of her teachings on A Course in Miracles by the Foundation to Inner Peace.
Mid-Life Confidential: The Rock-Bottom Remainders Tour America with 3 Chords and an Attitude by The Rock Bottom Remainders [781.66 Roc]
Did you ever want to be in a rock band? A group of successful writers, all with visions of the garage-band days of their youth, decide that they can recapture them by coming together and performing at the American Booksellers Association Conference one year, thereby blowing away the myth that everyone can sing. But, after a year of practice and public humiliation at karaoke bars, they take to the road for the "real" audiences, determined to entertain, humorously if not musically. This is their story.
A Long Way From Home: Growing Up in the American Heartland by Tom Brokaw [070.192 Bro]
Tom Brokaw writes about growing up in the American heartland and how the people, culture and vala boy's life as it was from 1940 to 1960, and relates it to happenings in the larger world. This book shows that while it may be true that you can't go home again, you always take a piece of home with you wherever you go.
Around the House and in the Garden: a Memoir of Heartbreak, Healing and Home Maintenance by Dominique Browning [306.88 Bro]
Browning shares her emotions following her divorce, when she neglected her house and surroundings. Her recovery as she starts rebuilding her life and refurnishing her home has lessons for all of us. These essays are thought provoking and amusing and touch a place in the heart.
Raising Abel by W. Michael Gear and Kathleen O'Neal Gear
Someone is killing paleobiologists and other scientists in a particularly grisly way, and torching their houses and offices-but why ? This is the question that becomes a very personal one for Dr. Veronica Tremain and Dr. Bryce Johnson, two of the main characters in the Gears' new novel of anthropological suspense. Hired assassins are stalking all of the people involved in mysterious genetic research that Veronica's brother was conducting. As if this weren't enough of a mystery, Veronica meets a little boy named Abel, who may or may not be the son of her brother and his girl friend. Abel's true identity turns out to be the key to the roller-coaster like plot of this exciting book!
The Four Agreements: A Toltec Wisdom Book by Don Mighuel Ruiz [299.792 Rui]
This little book presents a big challenge. Can you follow four seemingly simple pieces of wise advice, and improve your relations with yourself and others ? Don Miguel Ruiz gives wonderful examples of how to live the four agreements – Don't take things personally; Don't make assumptions; Be impeccable with your word; Always do your best – and tells the story of the Toltecs,and how they came to hold these beliefs. A book for everyone, no matter what your faith background, or lack of one. Makes self-improvement seem like a goal we can all achieve.
The Jane Austen Mysteries (series) by Stephanie Barron
This series is delightful, and will please a wide range of readers. From fans of Jane Austen's novels, to historical mystery lovers, and even those just looking for something "different" in their mystery series, these books have something to offer. The first book in the series, Jane and the Unpleasantness at Scargrave Manor, finds Jane desperately trying to help a dear friend beat a murder charge. Barnett knows Austen's work and life inside and out, and bases many of her characters and plots on people and place referred to in Jane's letters and journals.
Other KFOR Book Chat pages: