Starting in April 2002, and continuing through November 2018, a panel of library staff members have appeared somewhat regularly on Cathy Blythe's Problems and Solutions program on radio station KFOR 1240 AM & 103.3 FM in a segment called "Book Chat," sharing information about books, literacy and library programs. Here is a list of the books discussed on the shows during 2008:
November 20, 2008
Team of Rivals: the Political Genius of Abraham Lincoln
by Doris Kearns Goodwin [B L63g]
Goodwin makes the case for Lincoln's political genius by examining his relationships with three men he selected for his cabinet, all of whom were opponents for the Republican nomination in 1860: William H. Seward, Salmon P. Chase, and Edward Bates. These men, all accomplished, nationally known, and presidential, originally disdained Lincoln for his backwoods upbringing and lack of experience, and were shocked and humiliated at losing to this relatively obscure Illinois lawyer. Yet Lincoln not only convinced them to join his administration — Seward as secretary of state, Chase as secretary of the treasury, and Bates as attorney general — he ultimately gained their admiration and respect as well. — from Amazon.com
Same Kind of Different as Me
by Ron Hall and Denver Moore, with Lynn Vincent [B H1455]
A modern-day slave and an international art dealer are bound together by a dying woman's faith. Will Ron, the art dealer, be able to embrace Denver, who's been homeless for almost 20 years? Will Denver learn to trust a white man? There's pain and laughter, doubt and tears, and in the end a triumphal story.
Dress Codes: Of Three Girlhoods – My Mother's, My Father's and Mine
by Noelle Howey [B H839]
Noelle Howey grew up an only child in a middle-class American family. Her youth was much like that of other kids – until her teen years. When Noelle was 15, her distant and moody father finally acknowledged that he should have been a woman. While Noelle struggled through her own adolescence, her father transitioned from a man to a woman. Noelle's memoir is neither sensational nor sappy. Rather, it is the loving story of a young woman and her complicated relationships with each of her parents.
Little Heathens: Hard Times and High Spirits on an Iowa Farm During the Great Depression
by Mildred Armstrong Kalish [Biography Kalish]
Kalish's memoir of her Iowa childhood, set against the backdrop of the Depression, captures a vanished way of traditional living and a specific moment in American history in a story both illuminating and memorable. Kalish lived with her siblings, mother and grandparents-seven in all-both in a town home and, in warmer weather, out on a farm. The lifestyle was frugal in the extreme: "The only things my grandparents spent money on were tea, coffee, sugar, salt, white flour, cloth and kerosene." But in spite of the austere conditions, Kalish's memories are mostly happy ones: keeping the farm and home going, caring for animals, cooking elaborate multi-course meals and washing the large family's laundry once a week, by hand. Here, too, are stories of gossiping in the kitchen, digging a hole to China with the "Big Kids" and making head cheese at butchering time. Kalish skillfully rises above bitterness and sentiment, giving her memoir a clear-eyed narrative voice that puts to fine use a lifetime of careful observation: "Observing the abundance of life around us was just so naturally a part of our days on the farm that it became a habit." Simple, detailed and honest, this is a refreshing and informative read for anyone interested in the struggles of average Americans in the thick of the Great Depression. — from Publisher's Weekly
Loose Threads: Stories to Keep Quilters in Stitches
by Helen Kelley [746.46 Kel]
Helen Kelley has been a contributor to Quilter's Newsletter magazine since 1983. Her monthly column "Loose Threads" shares her thoughts about quilting and what it means to live the life of a quilter. This book of the same title is a compilation of her essays.
In the Frame: My Life in Words and Pictures
by Helen Mirren [Biography Mirren]
Helen Mirren has been an internationally ac-claimed actress — and the recipient of many awards, transferring between stage, cinema and television — for over 40 years. Known in her youth for a forthright style, a liberated attitude and a bohemian outlook, she has never ceased to be out of the public eye, with legions of admiring fans all over the world. This illustrated memoir is an account of an extraordinary talent, and a life well lived.
My Word is My Bond: A Memoir
by Roger Moore [Biography Moore]
Actor Moore reveals himself to be a natural storyteller, employing his self-deprecating wit to great effect in behind-the-scenes accounts of The Saint and the James Bond franchise. There's no dirt dishing, but film fanatics will still eat it up. [For more on Bond, see Neal Wyatt's recent RA Crossroads and Raya Kuzyk's Movie Tie-In Madness: Bond, Button, and McCarthy.-Ed.] Background: In this perhaps inevitably titled memoir, Moore reminisces about his life and 60-year acting career. A sickly only child from a close-knit family in South London, Moore has really enjoyed his life and success without becoming jaded. He had an artistic bent and might have been an animator but was fired from his job as a trainee for failing to deliver rushes from the film lab to his company's office. It may come as a surprise that Moore is not only an actor but also a TV and movie director. In recent years, Moore has devoted a great deal of his time to the charity UNICEF. — from Library Journal
Kabul Beauty School: And American Woman Goes Behind the Veil
by Deborah Rodriguez [958.1 Rod]
In 2002, just months after the Taliban had been driven out of Afghanistan, Rodriguez, a hairdresser from Holland, MI, joined a small nongovernmental aid organization on a mission to the war-torn nation. That visit changed her life. In Kabul, she chronicles her efforts to help establish the country's first modern beauty school and training salon; along with music and kite-flying, hairdressing had been banned under the previous regime. This memoir offers a glimpse into a world Westerners seldom see–life behind the veil. Rodriguez was entranced with the delightful personalities that emerged when her students removed their burqas behind closed doors, but her book is also a tale of empowerment–both for her and the women. In a city with no mail service, she went door-to-door to recruit students from clandestine beauty shops, and there were constant efforts to shut her down. She had to convince Afghan men to work side by side with her to unpack cartons of supplies donated from the U.S. The students, however, are the heroines of this memoir. Women denied education and seldom allowed to leave their homes found they were able to support themselves and their families. Rodriguez's experiences will delight readers as she recounts such tales as two friends acting as parents and negotiating a dowry for her marriage to an Afghan man or her students puzzling over a donation of a carton of thongs. Most of all, they will share her admiration for Afghan women's survival and triumph in chaotic times. — from School Library Journal
Wesley the Owl : the Remarkable Love Story of an Owl and His Girl
by Stacey O'Brien [598.97 Obr]
On Valentine's Day 1985, biologist Stacey O'Brien first met a four-day-old baby barn owl – a fateful encounter that would turn into a 19-year saga. With nerve damage in one wing, the owlet's ability to fly was forever compromised, and he had no hope of surviving on his own in the wild. O'Brien, a young assistant in the owl laboratory at Caltech, was immediately smitten, promising to care for the helpless owlet and give him a permanent home. Wesley the Owl is the funny, poignant story of their dramatic two decades together.
September 18, 2008
A Girl's Global Guide to Guys
by Theresa Alan [ not in the libraries' collection — try our InterLibrary Loan service ]
From London to Paris to Greece and back to Boulder, two best friends embark on a trip around the world and have the adventure of a lifetime–because when it comes to travel, men, and love, nothing goes according to plan.
[Note: Theresa Alan was one of the author guests at the 2006 Turning the Pages of Romance conference, hosted by the Lincoln City Libraries.]
Take Big Bites: Adventure Around the World and Across the Table
by Linda Ellerbee [641.013 Ell]
Linda Ellerbee's first two books were instant classics: "And So It Goes," and Move On. Now she takes us both farther afield and closer to home, in a memoir of food, travel, and personal (mis)adventure that brims with warmth, wit, uncommon honesty, and inspired storytelling … and a few recipes as well." "In Vietnam, preconceptions collide with the soup … In France, lust flares with the pate and dies with the dessert … In Bolivia, a very young missionary finds her food flavored with hypocrisy … While at the bottom of the Grand Canyon, an older woman discovers gorp is good, fear is your friend, and Thai chicken tastes best when you're soaked by rain and the Colorado River."
Blue Latitudes: Boldly Going Where Captain Cook Has Gone Before
by Tony Horwitz [910.92 Hor]
In an entertaining, informative look at the life and travels of Capt. James Cook, Horwitz (Confederates in the Attic; Baghdad Without a Map) combines a sharp eye for reporting with subtle wit and a wonderful knack for drawing out the many characters he discovers. The book is both a biography of Cook, the renowned 18th-century British explorer who's widely considered one of the greatest navigators in maritime history, and a travel narrative. On one level, Horwitz recounts Cook's rise from poverty in a large family in rural England to an improbable and dazzling naval career that brought him worldwide fame. On another, he tells his own story of following in Cook's wake, visiting his far-flung destinations (with the exception of Antarctica) and investigating his legacy. It is satisfying in both regards, Horwitz skillfully pacing the book by intertwining his own often quite funny adventures with tales of Cook and his men. Despite the historical focus, Horwitz doesn't stray too far from the encounters with everyday people that gave his previous books such zest. His travels bring him face-to-face with a violent, boozing gang of Maori New Zealanders called the Mongrel Mob, who are violently critical of Cook, arguing that "Cook and his mob, they put us in this position," Moari activists "wondering at those who would honour the scurvy, the pox, the filth and the racism" that they feel he brought to their island, and the King of Tonga, who couldn't seem to care less about what the explorer meant to his domain. With healthy doses of both humor and provocative information, the book will please fans of history, exploration, travelogues and, of course, top-notch storytelling. — from Publisher's Weekly
The Jungle Book
by Rudyard Kipling
No child should be allowed to grow up without reading The Jungle Books. Published in 1894 and 1895, the stories crackle with as much life and intensity as ever. Rudyard Kipling pours fuel on childhood fantasies with his tales of Mowgli, lost in the jungles of India as a child and adopted into a family of wolves. Mowgli is brought up on a diet of Jungle Law, loyalty, and fresh meat from the kill. Regular adventures with his friends and enemies among the Jungle-People–cobras, panthers, bears, and tigers–hone this man-cub's strength and cleverness and whet every reader's imagination. Mowgli's story is interspersed with other tales of the jungle, such as "Rikki-Tikki-Tavi," lending depth and diversity to our understanding of Kipling's India. In much the same way Mowgli is carried away by the Bandar-log monkeys, young readers will be caught up by the stories, swinging from page to page, breathless, thrilled, and terrified. — from Amazon.com
Speaking You English: A Lighthearted Guide to World Travel
by Kenneth Morgan [910.2 Mor] [ not in the libraries' collection — try our InterLibrary Loan service ]
This gem of a travel guide packs lots of practical advice for the modern world traveler into a humorous, easily accessible package. Despite its no-so-recent publication date, many of the travel tips offered here are still applicable today. Although some of the information is outdated, his amusing descriptions of most places are accurate even now.
The Secret Servant
by Daniel Silva
Israeli operative Gabriel Allon (The Messenger ) is back again in Silva's excellent new thriller, and that means truly bad news for terrorists and other bad guys. In a typical Silva plot that is extremely exciting, suspenseful, and complex, Allon must investigate why a Muslim immigrant murdered a terrorism analyst in Amsterdam and find the kidnappers of Elizabeth Halton, the goddaughter of the U.S. President. His hunt occurs as bombs explode all over Europe. The terrorists hope repressive actions to find Halton will result in an Islamic fundamentalist revolution in Egypt. Almost as chilling as the terrorists' actions is Silva's depiction of the inertia afflicting several European countries that, for all intents and purposes, do not believe there is a threat from Islamic extremists and whose immigration policies make them prime candidates for their own Islamic revolution. At any rate, the exploits of Allon and his team make for great entertainment and a thought-provoking cautionary tale. Highly recommended. — from The Library Journal
Smile When You're Lying: Confessions of a Rogue Travel Writer
by Chuck Thompson [910.4 Tho]
Chuck Thompson has been described as a "travel writer for people who don't like travel writing". He himself describes himself as someone who has "traveled on assignment in more than thirty-five countries, written two guidebooks, edited two others, worked as an editor at four magazines—including a year as editor in chief of Travelocity.com's short-lived newsstand magazine, at the end of which I was drop-kicked out the door—and been involved as writer, editor, or photographer in a conservative count of two thousand travel stories.". In "Smile While You're Lying", he dares to tell the truth about many of the places he's been and the real things he's seen. This is not a genteel, polite account of Mr. Thompson's journeys around the globe. It's raucous, ribald, and R-rated in places, but well worth reading for all that. You'll meet colorful characters, encounter unforgettable situations, and generally wonder why you haven't heard these stories from travel writers before. Not for the easily offended, but perfect for anyone who wants the real, gritty armchair travel experience that is missing from almost all modern travel writing.
The Geography of Bliss-One Grump's Search for the Happiest Places in the World
by Eric Weiner [910.4 Wei]
Eric Weiner goes off in search of the nature of happiness. What makes one destination more happy and content than another ? Are people in Singapore happier than people elsewhere because the government limits their choice ? Are people in Switzerland so pleasant because their government is neutral and democratic to a fault ? Weiner vows to find out what it takes to make a place great to visit, and the people who live there welcoming and warm. Funny, engaging and, yes, grumpy, Weiner makes the best kind of traveling companion-one who sees the places he visits as they really are, and likes them anyway.
July 17, 2008
Summer Sisters
by Judy Blume
When beautiful, rich, and reckless Caitlin Somers chooses Victoria Leonard to be her friend, Victoria's world changes forever. Throughout elementary school, high school, and college, Victoria spends summers with Caitlin on Martha's Vineyard. The girls are inseparable and become "summer sisters." However, their magical friendship comes to an abrupt end when Caitlin betrays Victoria one too many times.
The Little Lady Agency
by Hester Browne
Melissa Romney-Jones loses her job as a receptionist and discovers her inner Busnesswoman. Very good at organizing things, Melissa — or, Honey, as she calls herself — becomes a Girl Friday of sorts. Wearing a blond wig and corset, gives Melissa the self esteem to become "Mary Poppins in silk stockings." From giving fashion advice to helping someone break off a relationship, Melissa (or Honey) is willing to do just about anything to help her clients.
Agnes and the Hitman
by Jennifer Crusie and Bob Mayer
Agnes' life goes awry when a dognapper invades her kitchen, hampering her attempts to put on a wedding. And then Shane shows up. Hes got a big hit scheduled, a rival trying to take him out, and an ex-mobster uncle asking him to protect little Agnes in this sexy, hilarious romp.
The Dangerous Book for Dogs
by Rex and Sparky (with the assistance of Joe Garden and others) [817 Gar]
First, there was The Dangerous Book for Boys, and then The Daring Book for Girls. It was only a matter of time before our four-footed family members got a book of their own. Rex and Sparky (with a little help from some humans) give their fellow canines helpful advice in, among other things, dealing with cats, embarrassing your humans, cultivating just the right foul odor, and removing humiliating dog costumes. There are great stories about historic dogs and even some practical advice on dogs for those who love them. A laugh-out-loud book, perfect for long summer car trips, or lazy days at the dog run.
Across the Nightingale Floor – Tales of the Otori, Book 1
by Lian Hearn
This is the first book in the wonderful Tales of the Otori series by author Lian Hearn. Tomasu is a young boy who alone survives the destruction of his remote village. His is a world reminiscent of feudal Japan and Imperial China. He is rescued by a member of a very powerful family, and brought up as an adopted son of the Otori clan. But things don't go according to plan — Tomasu, now called Takeo, has powers and abilities that go beyond the merely human, and he quickly comes to realize that his adoptive father wished to make use of them for his own ends. This is a tale full of court intrigue, secrets, daring deeds and even a little romance. Look for a movie version to be released in 2009.
What Now?
by Ann Patchett [155.24 Pat]
Based on her lauded commencement address at Sarah Lawrence College, Ann Patchett shares her journey from student to waitress to successful author in What Now? Through her own story, Ann offers hope and inspiration to anyone at a crossroads in life. She encourages us all to embrace the possibilities that the future holds.
The panelists on today's episode also discussed the five finalists for One Book — One Lincoln in 2008: Double Bind by Chris Bohjalian; The Memory of Running by Ron McLarty; Three Cups of Tea by Greg Mortenson; The Thirteenth Tale by Diane Setterfield; and The Book Thief by Markus Zusak.
May 15, 2008
Mummy Dearest
by Joan Hess
On a honeymoon trip to Luxor, Egypt, with her new husband, Lt. Peter Rosen, teenage daughter Caron, and Caron's best friend Inez, Arkansas bookseller Claire Malloy suddenly finds her honeymoon turned upside down when the two girls are chased through back alleys by unknown pursuers and a blonde college student is kidnapped by two young men on horseback.
Organize Your Corpses
by Mary Jane Maffini
Charlotte Adams is a professional organizer. Nothing is out of place in her closets–but her life's a mess. So she's dumped her cheating fiance, moved back home to Woodbridge, New York, and started making up to-do lists–some of which include solving the occasional murder. This first title of a new series featured tips on getting organized.
A Deadly Yarn
by Maggie Sefton
Knitter Kelly Flynn is thrilled that her friend Allison is joining a New York designer's studio. But when Allison's new life ends before it even begins, Kelly starts to unravel Allison's messy, fast-track social circle. Includes a knitting pattern and recipe.
The Anatomists
by Hal McDonald [ not in the libraries' collection — try our InterLibrary Loan service ]
If they want to truly learn about the human body, London medical students Edward Montague and Jean-Claude Legard have no choice but to become common criminals. The authorities have long looked the other way as budding anatomists dug up fresh graves. But Edward and Jean-Claude still greet the task of defiling the final resting place of Abigail Darcy with unease, especially when they discover that the cadaver stolen from the graveyard is not the late Mrs. Darcy but a man—and that he's been murdered!
A Carrion Death
by Michael Stanley
In the aftermath of the murder of an anonymous victim, assistant superintendent David Bengu begins his career on Botswana, where his convivial passions and determined methods earn him a local nickname that likens him to a hippopotamus.
The Grand Complication
by Allen Kurzweil [ not in the libraries' collection — try our InterLibrary Loan service ]
Puckish and erudite, Kurzweil's new novel is a book about books, and about people who live through books. Henry James Jesson III, the kind of wealthy eccentric who seems to exist only to send other men on wild-goose chases, hires Alexander Short, a down-on-his-luck librarian, to help solve the mystery of an eighteenth-century cabinet of wonders that is missing one of its objects. Eager to escape his problems with his wife, a French artist and pop-up-book designer, Short discovers that the missing item is a fantastically precise timepiece that allegedly belonged to Marie Antoinette, and he is soon consumed by the quest for the watch. Kurzweil's intricately constructed novel has no shortage of esoterica, and the author's fondness for sexual comedy supplies a welcome counterweight. — from The New Yorker
The Book of Illusions
by Paul Auster
It all begins when a Vermont English professor, paralyzed with grief over the loss of his wife and young sons in a plane crash, sees a clip of silent film star and director Hector Mann's witty shtick on television and laughs for the first time in months. David embarks on an intense study of Mann's nearly forgotten work, an arduous quest given the fact that Mann disappeared at the peak of his powers, then ends up embroiled in Mann's complicated and tragic secret life after a woman with a prominent birthmark and a gun takes him to New Mexico. Auster limns Mann's many-layered cinematic and earthly worlds in mesmerizing and voluptuous detail within an artful, poignantly metaphysical, and delectably Hitchcockian tale of mayhem, murder, and myriad illusions within illusions. — from Booklist Review
March 20, 2008
Planet Cat: a Cat-alog
by Sandra Choron, Harry Choron, and Arden Moore [636.8 Cho]
This book has a lot to offer, even for non-cat lovers. There are chapters on cats in literature, famous cats in history, cat care and cat lore. With over 400 different themed lists, this book is both a practical guide for cat owners and a lively, entertaining read. Have fun with such activities as the cat intelligence test, and aggravate those "dog people" in you life with facts from the "Why Cats are Better than Dogs" section. This would make a terrific gift for any cat lover in your life, or a great book to read aloud to the cats who share your life.
The 100 Best Vacations to Enrich Your Life
by Pam Grout [790.1 Gro]
The 100 Best Vacations to Enrich Your Life is more than a travel guide — it's a spirited collection of experiences filled with tips to inspire, awaken, teach, challenge and more. It tells you all you need to know to ensure your next vacation won't just be time off — it will be time well spent.
Lasagna Gardening: A New Layering System for Bountiful Gardens
by Patricia Lanza [635.9 Lan]
This intriguingly titled book-which has nothing to do with pasta and everything to do with layering-serves up a time-saving approach to gardening that will come as welcome news to the overworked and the horticulturally challenged. Lanza exhorts readers to build soil up, "instead of digging down," by simply layering organic materials onto a prospective garden site and close-planting directly into it. Together with generous mulching, she contends, this process eliminates some of gardening's more labor-intensive chores?tilling, double-digging, weeding and frequent watering. After outlining her basic premise, Lanza zeroes in on the specific areas of interest, including vegetables, herbs, berries and flowers, providing an abundance of detail on a wide selection of planting materials. Although this method of creating instant raised beds is not new, Lanza has refined it into a step-by-step procedure that she conveys with simplicity and clarity, and her chatty, first-person narrative makes the text a pleasure to read. Of particular interest to fledgling gardeners, this title will also appeal to those looking for new ways to streamline the demands of their favorite pastime.
Helping Me Help Myself: One Skeptic, Ten Self-Help Gurus, and a Year on the Brink of the Comfort Zone
by Beth Lisick [158.1 Lis]
Grappling with her lifelong phobia of anything slick, cheesy, or remotely claiming to provide self-empowerment, Beth Lisick wakes up on New Year's Day 2006 with an unprecedented feeling. She is finally able to admit to herself that she's grown tired of embracing the same old set of nagging problems year after year. She has no savings account. Her house feels unorganized and chaotic. She and her husband never hang out together. The last time she exercised regularly was as a member of her high school track team almost twenty years ago. To counter this slide into lifestyle laxity, Beth decides to turn to the pros. From Seven Habits to Venus and Mars, with a little Chicken Soup thrown it, we get the lowdown on self-help. While there is plenty of debunking in the book, readers will also appreciate the practical tips that the author does take away from many of the gurus she consults.
Microtrends: The Small Forces Behind Tomorrow's Big Changes
by Mark J. Penn [303.49 Pen]
Mark J. Penn, the man who identified "soccer moms" as a crucial constituency in President Clinton's 1996 re-election campaign, is known for his ability to detect relatively small patterns of behavior in our culture that are wielding large influence on business, politics, and our personal lives. Only one percent of the public, or three million people, can create a microtrend capable of launching a business or a social movement. Penn shows readers how to identify the microtrends that can transform a business enterprise or spark a movement. His book makes a convincing case that small groups can have a big impact.
Yankee Magazine's Vinegar, Duct Tape, Milk Jugs & More: 1,001 Ingenious Ways to Repair, Restore, Revive or Replace Just About Everything in Your Life
by Earl Proulx [640.41 Pro]
With his trademark folksy wisdom, Earl Proulx tells you how to recycle those things we all have lying around the house into ingenious household solutions without spending money on fancy cleaning products or pricey gadgets. Some of Earl's particular favorites are cat litter (as a cleaner for oil spills and as a base for a soothing facial mask) and, of course, vinegar (to clean just about anything, unclog showerheads, as well as trap fruit pests), duct tape (as both tick remover and a protection against blisters), and milk jugs (bird feeders and clothespin holders). His fun and inventive ideas also include: Ant-proof your home with lemon juice; Cover up furniture scratches with a dab of iodine; Use powdered milk to soothe sunburn and remove makeup; Make an earring holder out of window screen; Recycle bubble wrap for a toilet tank insulator. Organized by location inside and outside of the house, this essential compendium will make you pause each time you start to throw something (old blue jeans, ice cube trays, coat hangers, egg cartons) out in the trash.
January 17, 2008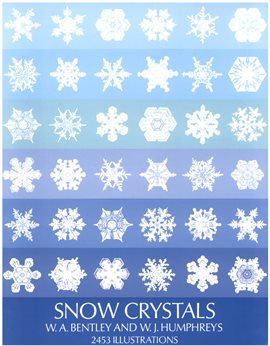 Snow Crystals
by W.A. Bentley [currently owned only as a Hoopla E-book ]
Snow Crystals is the lifework of W.A. Bentley. It is a collection of 2500 photographs of snowflakes taken over a period of years between 1885 and 1930. When Bentley began taking these photos, the science of photography was still very young, the equipment clumsy, and the results uncertain. He picked up his snowflakes with a broomstraw, and smoothed them with a turkey feather. (Really high tech!) The result is a blizzard of beauty — wonderful to browse, even better to share with a child.
Snowflake Man
by Duncan C. Blanchard [B B4429b]
Snowflake Man and Snowflake Bentley are biographies of W.A. Bentley, "the Snowflake Man." I really recommend the children's version, as the illustrations are outstanding, and the book is almost as pretty as the original Snow Crystals. For more depth, the Blanchard book is better.
Snowflake Bentley
by Jacqueline Briggs Martin [jB B444m]
Snowflake Man and Snowflake Bentley are biographies of W.A. Bentley, "the Snowflake Man." I really recommend the children's version, as the illustrations are outstanding, and the book is almost as pretty as the original Snow Crystals. For more depth, the Blanchard book is better.
The Daring Book for Girls
by Andrea Buchanan and Miriam Peskowitz [031.02 Buc]
The Daring Book for Girls is the manual for everything that girls need to know—and that doesn't mean sewing buttonholes! Whether it's female heroes in history, secret note-passing skills, science projects, friendship bracelets, double dutch, cats cradle, the perfect cartwheel or the eternal mystery of what boys are thinking, this book has it all. But it's not just a guide to giggling at sleepovers—although that's included, of course! Whether readers consider themselves tomboys, girly-girls, or a little bit of both, this book is every girl's invitation to adventure.
The Winter Rose
by Jennifer Donnelly
The year is 1900 and the dangerous streets of East London are no place for a wellbred woman. But India Selwyn Jones is headstrong: she has trained as one of a new breed, a woman doctor, and is determined to practice where the need is greatest. It is on these grim streets where India meets – and saves the life of – London's most notorious gangster, Sid Malone. Hard, violent, devastatingly attractive, Malone is the opposite of India's cool, aristocratic fiancé, a rising star in the House of Commons. Though Malone represents all she despises, India finds herself unwillingly drawn ever closer to him – enticed by his charm, intrigued by his hidden, mysterious past.
A Cold Day in Paradise
by Steve Hamilton
On a bitter cold night in Michigan's Upper Peninsula, ex-Detroit cop Alex McKnight answers a cry for help from wealthy Edwin Fulton–only to find the man–a compulsive gambler who had gone to meet with a bookmaker–in his motel room with his throat cut.
The Spy Who Came in From the Cold
by John LeCarre
It would be an international crime to reveal too much of the jeweled clockwork plot of Le Carré's first masterpiece, The Spy Who Came in From the Cold. But we are at liberty to disclose that Graham Greene called it the "finest spy story ever written," and that the taut tale concerns Alec Leamas, a British agent in early Cold War Berlin. Leamas is responsible for keeping the double agents under his care undercover and alive, but East Germans start killing them, so he gets called back to London by Control, his spy master. Yet instead of giving Leamas the boot, Control gives him a scary assignment: play the part of a disgraced agent, a sodden failure everybody whispers about. Control sends him back out into the cold–deep into Communist territory to checkmate the bad-guy spies on the other side. The political chessboard is black and white, but in human terms the vicinity of the Berlin Wall is a moral no-man's land, a gray abyss patrolled by pawns.
Winter: a Spiritual Biography of the Season
by Gary D. Schmidt, Susan M. Felch and Barry Moser [810 Sch]
This outstanding anthology features top-flight nature and spirituality writers on the fierce, inexorable season of winter. This is not the place to seek warm fuzzy odes to sleigh rides and hot cider, though those images appear occasionally. Rather, these authors speak to the brutal barrenness of winter, its frozen tundra a witness to the manner in which spirituality requires dormant, seemingly infertile periods before bursting into life.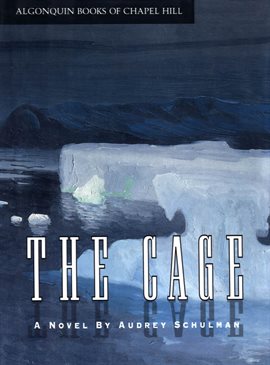 The Cage
by Audrey Schulman [ currently only available from the libraries as a Hoopla E-book ]
Beryl, a young photographer applies for the job taking pictures of Polar bears in the wild. Her previous experience has been photographing animals in zoos; she gets the job because she will fit in the cage. A small iron cage built to keep the photographer safe from the hungry and fearless bears. When Beryl and her team get stranded out in the very cold, remote wilderness, they must rely on inner strength to get them to safety.
Other KFOR Book Chat pages: